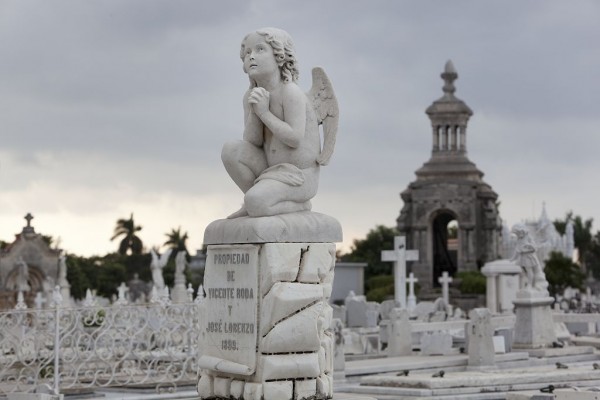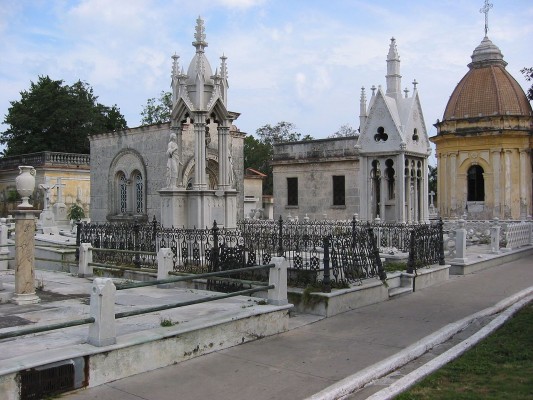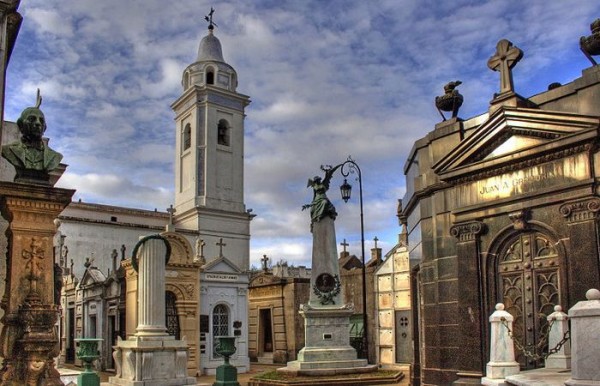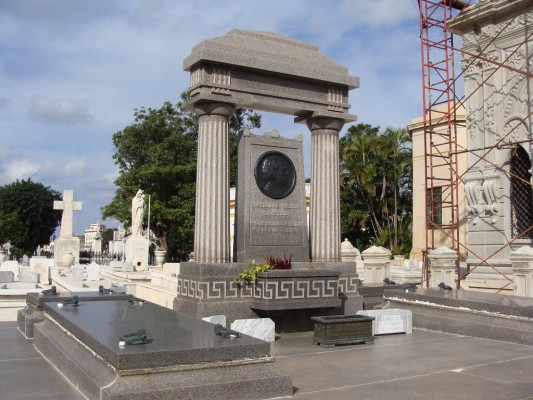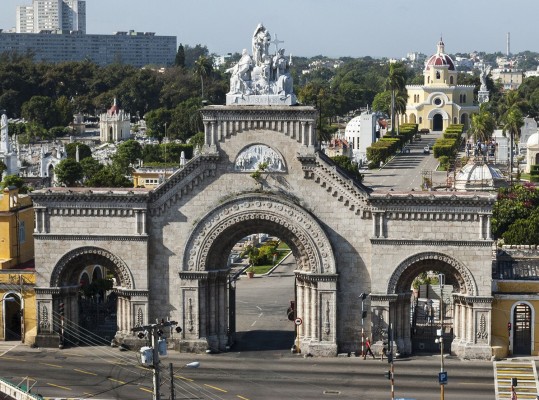 Guided by
Walking Tour Around Cristóbal Colón Cemetery
Walking Tour Around Cristóbal Colón Cemetery
Walking Tour
Overview
Cuba Libro (Hostel of 2 and 21 streets)
23 Street
12 Street
Colon Cemetery (5 different ways to take the tour.) You can choose the itinerary you prefer.

Itinerary I. North Gate - Mortera's Count Mausoleum- Cuban Inmigrants Mausoleum- Loredo Berbal Crypt – Julian Alvarez Crypt – General Major Maximo Gomèz Baez- Constantino Ribalagua Grave (A famous Floridita's Bar Tender)- Julian del Casal Mausoleum (First Modern Poet of Cuba)- Marquees' Argudin Mausoleum- Counts' San Esteban de Cañongo Mausoleum – Marquis's Balboa Mausoleum- North Square (Cristobal Colon Square)- Pietà (remarkable replica form Michael Angelo master piece)Raul and Nicolas de Cardenas Benitez, XIX Century- Aspuru Family Crypt- Family Mesa Crypt- Zayas Jaen Crypt- The Sort Angel, Family Blanco Crypt- Bombers Mausoleum. Catalina Lasa Mausoleum- Jesus Crist and the Angel- Jesus Ascensions- The Member of Spanish Royal Family Mausoleum- Central Chapel- Grave of Manuel Arteaga y Betancourt, Havana Cardinal- Counts Rivero Mausoleum.

Itinerary II. Grave of Carlos Roloff General- The Dominos Grave- Hubert de Blank's Grave (Musician)- The ABC Mausoleum (polity partied)- Eduardo Chivas Grave (political figure)- Northwest Square- Nuñes Galves Crypt- Churruchaga Widow Crypt- The Thinking Lady- The White King of Jose Raul Capablanca – San Francisco de Asis- The Androgynous Angel- The Singer "Da Terriña"- The Plane (Mausoleum dedicated to the Orfila Victims)- Naturales de Ortiguiera Crypt- Grave of Rafael Maria de Mendive (remarkable maestro and poet)- The Miserere Street- Lebanese Society Mausoleum- Francisco Franchi Alfaro Mausoleum- Jose Alvarez Crypt- Major General Quintin Banderas Crypt- Pyramid of Architect Jose F. Matta- Lourdes Virgin.

Itinerary III. Naturales de Asturias Mausoleum- The Silence Angel- Burke Hedges Crypt- Juan Gualberto Gomez Grave (Patriot) - Antonio Guiteras Holmes Tomb (Patriot) – Veterans and Patriots Mausoleum- Athletic Mausoleum- Revolution Scholars Mausoleum- Grave of Jose Francisco Marti Zayas Bazan (Son of Jose Marti)- Mausoleum of Second War Victims- Devotion Tomb- Joseito Fernandez Tomb (Author of Guantanamera Song)- Mausoleum to the Armeria Victims- Rita Montaner "The Unique"( famous Cuban singer)- Sculpture of Saint Barbara on Manuel Pereira Quintana Crypt- Corynthia Victims Mausoleum- Usagara Mutanga Efo Society Mausoleum ( African Society)- Symbolic Tomb of Robaina Family- Southwest Square- The Needle Lady- Mausoleum to the Granma Expeditions Victims- Juan F. Noyola Tomb (Remarkable Economist from Mexico)- Japanese Colony Mausoleum- General Jose Lacret Morlot Mausoleum- Cuban Army Mausoleum- Naturales de Cataluña Mausoleum- Archer Tomb- South Gate- Coralia's Tomb- Preload's Square- Young Liederman`s Tomb- Dolores Rodriguez Tio Tomb (Poet from Puerto Rico)- American Legion Mausoleum- Andre Voison Tomb (Eminent French Scientific)- Caridad of Cupper Virgin, Cuban Mater- Perseverance Logia Mausoleum.

Itinerary IV. Tomb of Engineer Coroner Don Francisco de Albear y Lara ( Designer and Constructor of Havana Aqueduct)- Ramiro Guerra Tomb ( Cuban economist, historian and educationalist)- Eusebio Delfin Tomb (Remarkable Cuban compositor)- Tomb of Leocadia Perez Herrero, the "Ta Jose" Medium- The Baseball Players Mausoleum- Gerardo Abreu Fontan Tomb (Undercover fighter)- Evelio Rodriguez Curbelo (Mountains fighter)- The Love Tomb of Modesto and Margarita. Spanish Army Tombs- Mausoleum to Victims of March 13 Attack- Ossuary- Old Cruise from Espada Cemetery.

Itinerary V. Frank Steinhart Crypt- Luisa Perez de Zambrana( Cuban poet)- General Domingo Mèndez Capote Crypt- Amelia Goyre de la Hoz Tomb " The Miracle Lady "- Ramon Crusellas Tomb- The Giant Angel, Jose Manuel Cortina Crypt- Cemetery First Crypt- Tomb of Maria de Covancho Santiuste- Fernando Ortiz Fernandez, Third Cuba Discoverer- Mausoleum to the Medicine Students ( executed on November 27, 1871)- The Hearing Angel- Oscar Cardenas Tomb (First War Cuban Soldier)- Samuel A. Cohner (Cuban photographer executed because of his tight color )- Cardenas Castañer Mausoleum- Emilio Roig de Leuchsenring (Havana Historian)- Alejo Carpentier Tumb( remarkable Cuban writer)- Esteban Pichardo Tapia Tomb(Eminent Cartographer, author of Cuban Maps)- Jose Antonio Saco ( Cuban Patricio)- Jose de la Luz y Caballero Tomb (Cuban philosopher)- Eugenio Casimiro Rodriguez Carta Crypy (up buried)- Jose Antonio Cortina Tomb- North East Square- Jose Gener y Batet Mausoleum- Tobia's Gallery- Obispo Tombs- Victims of unique French Prussian Battle- Tumb of Carlos J. Finlay (eminent scientific who discover the Yellow Fiber transmission)- Ricardo Arnauto Tomb ( joker who produced a war)- Eduardo Saborit (remarkable musician)- Ruben Martinez Villena (eminent intellectual and fighter)- Sergio Gonzalez Lopez, "El Curita" (victim of the covert fight)- The Medicine Student Common Tomb- Eduardo Sanchez de Fuentes Grave(remarkable musician)- Cecilia Valdes Tomb (character of famous Cuban Novel of XIX Century)- Marcelo Salado Lastra Grave (covert fight victim)- Eduardo Fesser Mausoleum (Art curiosity)- Fe del Valle Tomb (first victim of Pluto Operation)- Victor Muñoz Tomb(journalist who promoted the Mother's Day in Cuba)- Egyptians tombs located on Fray Jacinto Avenue- Capilla Sixtina replica, Zarraga Family Crypt- Coroner Jose Alvarez Perz and his three sons (the illuminant gorrion bird burial).

Attractions: History of Cuba, Sculpture, Architecture, Urban Tales.

meeting location
ending location
Avenida Paseo, Calle 23, Vedado
Price Does Not Include
Transportation. The transportation to the site could be arranged separately from the tour price.
Additional Information
The price also includes coffee or tea at meeting point.
Lunch included.
Heritage Tour sets the standard in custom–designed private tour to Havana's suburbs, where stories and legends of the area are highlighted. Then all tours can be combined according to the customer's interest.