If you are going to Cuba for tourism, you almost certainly need a Cuba Tourist Card or Tourist Visa. But there is the green and the pink Tourist Visa, which one should you get? What if you are flying from the US?
This article will cover everything you need to know about the Cuba Tourist Visa, including how to apply for the right one depending on where you are flying from.
Do You Need a Cuba Tourist Card?
Almost everyone traveling to Cuba for tourism needs a Cuba Tourist Card ("Tarjeta del Turista"). The only countries exempt from the Cuba Tourist Card are Antigua and Barbuda, Barbados, Belarus, Benin, Bosnia, China, Dominica, Grenada, Macedonia, Malaysia, Montenegro, Mongolia, Namibia, Saint Kitts, Saint Lucia, Saint Vincent, Serbia, Singapore, and Vietnam.
The Cuba Tourist Card temporarily permits you to visit Cuba. A standard Cuba Tourist Card grants you a maximum stay of 30 days in Cuba unless you're Canadian – then you get 90 days! You can also use it within 180 days of issuance.
Pink or Green: What Cuba Tourist Visa Should You Get?
Cuban Tourist Cards come in two colors: pink and green. The color depends on the country of origin you're traveling from. If you travel directly from the U.S. to Cuba, you'll need a pink Cuban Tourist Card.
Green Cuban Tourist Cards are used for travelers who make a pit stop in a non-U.S. country before arriving in Cuba.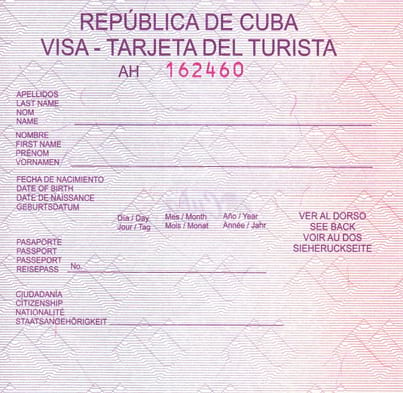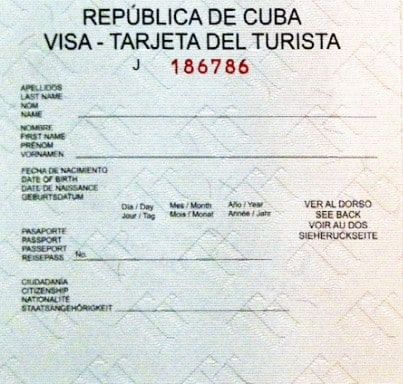 Knowing the distinction between the two colors is easy, but knowing which one to buy can be trickier, especially if you're taking a multi-leg flight. Before buying your card online, look at your itinerary and check the last airport you depart from: this is the airport that determines which color card you need.
FYI: pink cards are pricier than green cards because of the rocky relationship between the U.S. and Cuba.
Do You Need a Special Visa to Cuba from the USA?
Nope! Americans get the same Cuba Tourist Card as travelers from Canada or Europe.
If you fly to Cuba from the U.S., you'll need a pink version of the Cuba Tourist Visa. If you fly from a different country, you'll need the green Tourist Card, even if you're an American citizen.
Remember that the U.S. government has a few other stipulations for American travelers. For example, before you head to Cuba, you'll need to declare a travel category, like Support for the Cuban People. It sounds tricky, but we promise that our article for Americans traveling to Cuba makes it easy.
What Are the Cuba Tourist Card Requirements?
The application process is easy, and you only need to fulfill a few requirements. Here's what you need to get a Cuba Tourist Visa:
If you only have the first two, you can still get started with your application. You'll only need your itinerary and travel insurance when you arrive at the airport in Cuba.
How Much Does the Cuba Tourist Visa Cost?
You can expect the Cuba Tourist Card to cost anywhere between 25 USD and 85 USD, depending on where you get it. While the card's price isn't high, you may have to pay additional airline fees, or shipping costs if you order it online.
Look at the section below for a more detailed price breakdown for each option.
How to Get a Cuba Tourist Card?
You can get the Cuba Tourist Visa online, from your airline or travel agency, or at the Cuban embassy in your country. There's no right or wrong way, but you'll probably find that some methods are easier or less expensive than others.
Here are the four ways to get a Cuba Tourist Card for your upcoming trip:
1. Buy it Online
This is by far the easiest way to get your Cuba Tourist Card. Sites like EasyTouristCard make ordering quick and convenient from the comfort of your home. Plus, you can purchase it well ahead of time and have it mailed to your address, so you don't need to worry about picking it up at the last minute. You'll also be able to skip the Tourist Card line at the airport, which means you have to stand in one less line before arriving in sunny Cuba.
2. Buy it From Your Airline
Some airlines allow you to purchase the Cuba Tourist Card directly from them. Every airline handles the Tourist Card process differently, so we recommend checking in with your airline of choice to ensure you're on the same page.
Some airlines have you pick up your tourist card at the gate before boarding your flight, while others hand out the card mid-flight. If you need to pick up your card in person, be sure to pad in some extra time if there's a line.
The cost of the Cuba Tourist Visa is usually bundled in with your flight, but the price itself (shown in USD) varies from airline to airline.
American Airlines: $85.00 ($50.00 visa price + $35.00 processing fee). Buy your card online or at the gate in Miami before departure.
Southwest: $75.00 ($50.00 visa price: + $25.00 processing fee). Order online or via phone and pick up your card inside the Ft. Lauderdale (FLL) or Tampa (TPA) airport at check-in or your departure gate.
Delta: $50.00. Purchased at the gate.
Jet Blue: $50.00. Purchased from JetBlue at gateway airport.
Air Canada: Passed out during the flight.
United Airlines: $75.00 ($50 Visa price + $25 processing fee).
3. Buy it From Your Country's Cuban Embassy or Consulate
This is the hardest way to buy the Cuba Tourist Visa since you have to go in person with the necessary paperwork. Price varies depending on the embassy, but you can expect to pay between $20 and $75 for the card.
4. Buy it from your travel agency
Traveling through an agency or tour company can be extremely helpful since they'll take care of most of the details for you – as long as they're reputable. Most travel agencies will bundle the Cuba Tourist Card into their existing Cuba travel packages.
5. Get it upon arrival
Technically, you can get the Cuba Tourist Visa at Havana Airport, or any other Cuban airport, for the equivalent of about 25 USD (you won't be able to buy it in Cuban currency or US dollars). However, you can't even board your flight in most cases if you don't have a Cuba Tourist Card.
If somehow you manage to get to Cuba without a card, prepare yourself for the experience of navigating the Cuban infrastructure, which could entail long lines, empty booths, and slow service. This will be a true test of your patience since you won't be able to leave the airport until your Tourist Card is in hand.
Cuba Tourist Card vs. Regular Visa
You may need a regular visa for Cuba if you travel for business, journalism, and family purposes. In other special cases, such as when traveling as a student or holding events, the Cuban government may require you to apply for a visa.
An interesting fact about Cuba is that citizens of certain African countries, the Middle East, and Asia will need a regular Cuba Visa regardless of their visit purpose. The countries are Afghanistan, Bangladesh, Cameroon, Eritrea, Ethiopia, Ghana, Guinea, India, Iran, Iraq, Jordan, Kenya, Nepal, Nigeria, Pakistan, Philippines, Sierra Leone, Somalia, and Sri Lanka.
If you are from any of these countries, contact the Consulate or Embassy of Cuba in your country to apply for a visa for Cuba.
Not Too Complicated, Right?
We hope this guide to getting the Cuba Tourist Card makes the process as smooth and stress-free as possible. Bottom line: if your airline or travel agency didn't include the Tourist Visa, it's better to purchase it online. If you are flying from the US, get the pink one; if not, apply for the green one.
Have you recently traveled to Cuba with a Tourist Visa? Tell us about your experience in the comments below!
Essential Travel Logistics For Cuba
Cuban Tourist Card – If your Cuban Tourist Card (a.k.a Cuban Tourist Visa) isn't bundled into your airline ticket or travel package, buy it only through EasyTouristCard. 
Travel Health Insurance – Travel medical insurance is an entry requirement for Cuba, so you can't skip it. Travelers can get travel health insurance for Cuba via Insubuy. Travel protection benefits such as trip interruption and cancellation, baggage delay insurance, etc., are not required.
Essential Items to Pack – Bring the essential travel necessities that you may not be able to get in Cuba:
Read our complete packing list for Cuba.
Find Accommodations – Find hotels or casas particulares (private accommodations) on Skyscanner, which lists thousands of accommodations available in Cuba.
Book Your Flight – Book cheap flights to Cuba on Skyscanner, our favorite flight search engine to find deals on flights to Cuba.