Traveling to Cuba? You probably already realized there's a distinct lack of solid, practical Cuba travel tips for first-time visitors. Worse, the information may not be accurate at all in 2023!
Figuring out things like the Cuban currency, how to save money, what to pack, how to dress, how to access the Internet, or even how to stay safe and healthy can be confusing! This can be especially difficult for Americans since visiting Cuba was strictly forbidden for many years.
Until now! We've compiled the most complete list of things to know before traveling to Cuba, and they all work in 2023! We also cover the latest Cuba travel restrictions concerning the COVID-19 pandemic. Absolutely everything you must know.
Travel planning tips for Cuba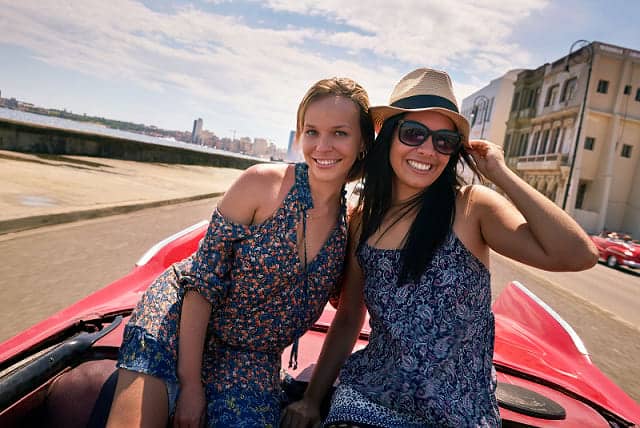 1. Travel in the dry season (November to April)
Although the beaches in Cuba remain absolutely beautiful at any time of the year, the rainy season in Cuba (May to October) can bring hotter and more humid weather. The tail end of the rainy season is also well-known for hurricanes and lots of mosquitoes!
Therefore, if the weather is a big priority for you, the best time to go to Cuba is the dry season.
2. Get the Cuban Tourist Card
Travelers from most countries will need a Cuba Tourist Card or Cuba Visa to enter the country.
Cuban Tourist Cards come in two colors: pink and green. If you travel directly from the U.S. to Cuba, you'll need a pink Cuban Tourist Card. Otherwise, get a green Tourist Card.
You can get the Cuban Tourist Card online (through sites like EasyTouristCard), from your airline or travel agency, or at your country's Cuban Embassy. Technically, you can also buy the Tourist Card at Cuban airports for about 25 USD, but the reality is that you can't even board your flight if you don't have it.
3. Get travel health insurance
Travel health insurance is an entry requirement for Cuba, so you can't skip it. Visitors to Cuba are required to have travel insurance to cover medical expenses on the island. Companies like Insubuy offer travel health insurance for Cuba starting at 8 USD per week per person.
Before you land in Cuba, review the medical portions of your insurance plan, so you know exactly what situations you're covered for during your trip. If an emergency strikes, the last thing you want to do is have to shuffle through your insurance paperwork.
4. Bring the essential packing list for Cuba. Packing tips for Cuba
There are certain things you don't want to travel to Cuba without.
With Cuba's rationed economy, supplies are limited on the island. So, you may be unable to pick up some of your travel necessities if you forget to pack them in your bag. Double check this list to make sure your bags are ready to go before you board your flight!
For a full rundown of what you need to bring to Cuba, check out our ultimate packing guide for Cuba.
5. Bring appropriate clothes to Cuba. Dressing tips for Cuba
Dressing for Cuba will vary based on your style. Still, two things to consider are the weather and the kinds of activities you'd like to do while in Cuba.
Cuba has two seasons: the wet season (May – October) and the dry season (November – April). The wet season brings lots of rain, humidity, and high temperatures, so dress accordingly!
Here are recommended clothes for the hot, humid weather in Cuba:
For a woman traveling to Cuba:
For male travelers to Cuba:
6. Rent your car in advance
If you stay a few days in a city, you won't want to get into the hassle of renting a car in Cuba. Believe me, it can be complicated.
However, if you want to rent a car to visit all the fantastic places on the island, you better do it in advance. Car inventory is always limited, fleet management is inefficient, and the service is terrible. This is especially true during peak season.
Therefore, at least three months in advance, rent your car from online travel agencies like Cuba Travel Network, or Holiplus.
7. Fill out the health and customs forms online
Instead of borrowing pens, filing out annoying forms, and wasting your precious time in the airport, sign up for D'Viajeros.
D'Viajeros is the official website of the Cuban Customs, where you can complete all the required documentation to enter Cuba. Then, just print the documents and bring them with you.
8. Brace for arrival
There are a few things that you need to know about airports in Cuba:
They are pretty disorganized: long lines, poorly-maintained bathrooms, and hot!
There are certain items that you cannot take through customs. Check the Cuban Customs website for more details.
If you want to exchange your home currency for Cuban Pesos (CUP) at the airport, prepare for a long line.
Don't count on ATMs! There are a few, but they are not reliable.
You can connect to WiFi at 25 CUP/hour.
Outside the airport, you can hire state or private taxis for transfers to the city. There are also car rental offices in most Cuban airports.
To learn more about arriving at Cuban airports, read our guide to Havana Airport.
Cuban currency tips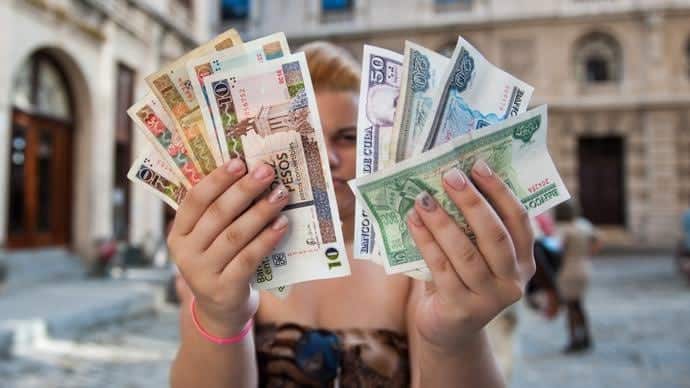 9. Understand the Cuban currency
Two official Cuban currencies circulated on the island until January 2021: the CUC (Cuban Convertible Peso) and the CUP (Cuban Peso). Contrary to what many outdated articles say, you can no longer use the CUC in Cuba! You must use the CUP instead (also known as "moneda nacional" or MN), which is accepted at most facilities and tourist attractions.
However, you must consider that all-inclusive hotels and some resorts won't accept cash for non-covered services or products. They will still charge you in Cuban Pesos, but you must pay with your credit card and assume the currency conversion fees.
The CUP is available in bills of 1, 3, 5, 10, 20, 50, 100, 200, 500, and 1000. You should always have bills in lower denominations to pay for:
Street vendors and food stalls
Bus tickets
Purchases at a flea market
Purchases made at small local bodegas and convenience marts
Remember that the US dollar and other foreign currencies are not accepted at state facilities such as hotels, airports, and restaurants. You will have to use CUP to pay for products and services from these state facilities. However, most private businesses in Cuba welcome hard currencies.
You can exchange your currency for CUP at state currency exchange offices (CADECA), airports, banks, hotels, and resorts.
For more Cuba travel tips related to Cuba's currency system, check out this Ultimate Guide for Travelers.
10. Bring cash to Cuba, a lot
You can pay for all things in Cuba in cash. In fact, just a few businesses accept credit and debit cards, so you should always carry cash.
Due to US restrictions, credit cards issued by U.S. banks are not accepted in Cuba.
If you need to re-stock up on cash during your visit, Cuba has about 780 ATMs. They are mostly located in larger cities like Havana, Matanzas (Varadero), Santiago de Cuba, and Holguin. Again, credit cards issued by American banks won't work.
11. Don't count on bringing Cuban Pesos
The Cuban Peso (CUP) is the official currency in Cuba. You can't get it in advance! And if you do, you can import only 2,000 CUP, which is like 80 USD. It's better to wait until you land on the island to exchange.
12. Bring Euros if you can, but USD dollars are fine
If it's not a hassle for you, bring Euros to Cuba. Euros have one of the highest exchange rates in Cuba and are widely accepted. They also incur the lowest exchange rate fee of 2%.
You can also bring US dollars and sell them to CADECA or in the informal market. Just consider that US dollars may not be accepted at some state-owned facilities in Cuba, and they will incur the highest exchange fee (8%).
How much money to bring to Cuba?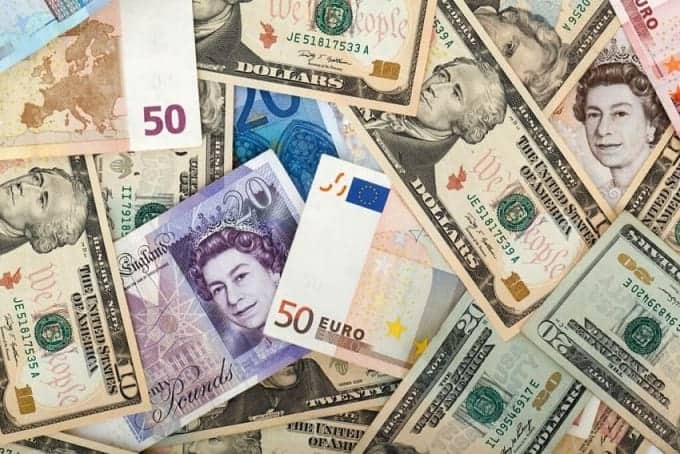 13. Calculate the approximate daily budget
Cuba can be quite affordable if you plan correctly.
Before you arrive in the country, you should get a feel for major expenses like accommodations, transportation, and food & drink costs. Here are the most common expenses to incur on a trip to Cuba:
Accommodation costs: "casas particulares" cost between 20-50 USD/night. Hotels and resorts cost anywhere between 100-500 USD/night.
Transportation costs: private taxis cost around 1.50-3 USD/kilometer. The Viazul bus ticket costs anywhere from 6 USD to 51 USD, depending on your interprovincial route. Renting a car will cost around 85 USD/day.
Food and drink costs: Vary quite a bit! Breakfast at your casa can cost anywhere between 5-12 USD, while a sit-down restaurant meal can range from 10-30 USD.
Entertainment costs: A tour of Havana in a classic car costs around 50 USD. Tickets to a baseball game cost 3 USD/each. Some museums are free, and others can cost up to 10 USD.
For a full breakdown of a realistic daily budget, check out our guide on the trip to Cuba cost.
14. Tipping in Cuba: who and how
Like many destinations throughout the Caribbean, tipping is common and even encouraged in Cuba.
Popular tippling locations include hotels, resorts, restaurants, guided tours, taxis, and spas. Anytime someone provides a service for you, like cleaning your room, waiting for your table, or transporting you in a taxi, you should strongly consider offering a tip to that person–especially if they do an outstanding job!
We recommend at least 1-3 USD for maids, porters, receptionists, street musicians, and taxi drivers. Local guides generally expect 5-10 USD, while 10% of the bill is the gratuity standard at restaurants in Cuba.
Money-saving tips for Cuba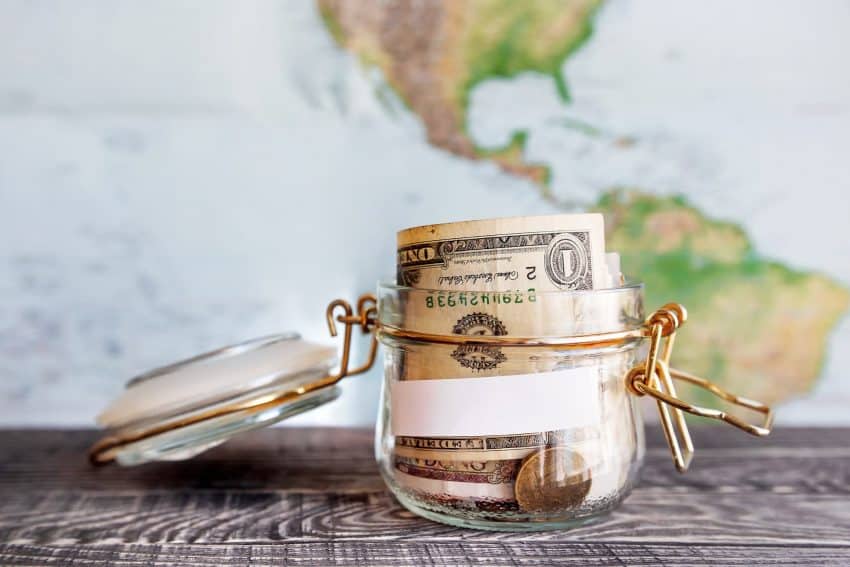 15. Stay in casas particulares (private accommodations)
This is a piece of Cuba travel advice you shouldn't ignore!
Casas particulares are popular and highly authentic places to stay during your Cuba trip. A casa particular is similar to a bed-and-breakfast. Usually, it costs between 20-50 USD per night, making them much more affordable than resorts on the island. Check out availabilities!
For more on this, read our 13 tips to booking an Airbnb in Cuba.
Bonus tip: Be aware! You may be tempted to save money by staying at someone's place for free. It's illegal! Avoid trouble with the law and overpriced hotels by staying at a homey casa particular instead.
16. Book flights to Cuba with a flights search engine
Direct flights to Cuba–especially from the United States–are limited, and many airlines don't fly to Cuba.
To book a flight to Cuba, it's easiest to see ticket options from multiple airlines. You can check out a flight search engine like Skyscanner that covers flights to Cuba.
17. Eat at paladares (private restaurants)
Cuba has a growing restaurant scene where you can find everything from gourmet meals to comfort food.
Paladares are private restaurants typically owned by families. Paladares are an excellent way to get authentic Cuban food at an affordable price.
Cuba travel guides like this one from Lonely Planet often have lists of paladares you can choose from. It also includes culinary facts about Cuba and advice for its best restaurants.
18. Share urban taxis in Cuba
Cuba's taxis are a convenient and authentic way to get around the cities, especially if you are on a backpacking adventure. Plus, Cuba's almendrones (classic American cars) are world-famous and unique to the island.
Although it may be a little uncomfortable, sharing an urban taxi for short rides is a cheap and authentic way to experience Cuban.
19. Book the tours to Cuba before you leave
Guided tours offer an unparalleled, authentic experience of Cuba.
From walking tours of history-rich cities like Havana to hiking or horseback riding in the stunning countryside, an experienced guide can show you parts of Cuba that you'd miss out on if you traveled solo.
Tours can book up fast, so plan the itinerary and book your tour in advance. Plus, tour guides are experts in Cuban traditions and culture, so they'll have tons of more helpful Cuba travel tips!
Cuba Travel Restrictions During COVID-19
20. No need to bring proof of COVID-19 vaccination or a negative PCR test
As of April 4th, 2022, you are not required to present proof of vaccination against COVID-19 or a negative PCR test at arrival. For a full rundown of COVID-related restrictions, check our guide to the current set of Cuba travel restrictions.
21. Fill out the Sanitary Statement for Travelers
If you didn't complete the online documentation with D'Viajeros, as explained earlier, you would need to fill out the Sanitary Statement for Travelers (Declaración de Sanidad del Viajero), a sort of health declaration form. You will be asked to complete the form before checking in for your flight to Cuba or during the flight.
22. There are restrictions on facilities, attractions, and mobility
Like any other country struck by the COVID-19 pandemic, Cuba has imposed tight internal restrictions that may affect your stay on the island, specifically:
Social distancing (5 ft) and face masks may be required at some establishments.
You may be subject to contact tracing or random temperature checks.
There is limited capacity and operating hours at most tourist facilities.
Large gatherings are not allowed.
Travel within and between cities and provinces may be restricted.
23. Avoid the fines for non-compliance
You read that right. You may be fined and even prosecuted if you violate the above measures. However, honestly, that would be very rare for international travelers.
Tips to avoid getting sick in Cuba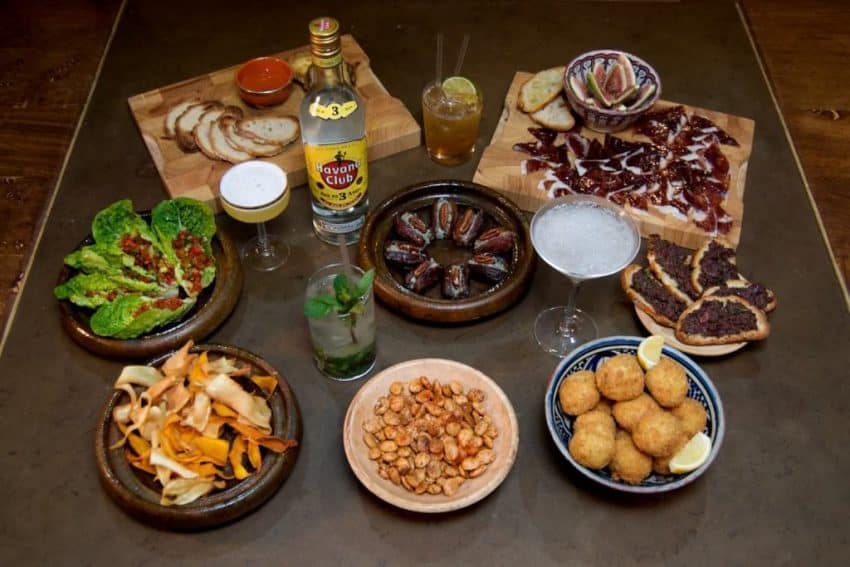 24. Bring your medications
Cuba's physicians have a good worldwide reputation. However, you should still be prepared for minor illnesses or injuries that don't necessarily warrant a hospital visit.
Pack an all-purpose First Aid kit with all the necessities like bandages, aspirin, and bismuth.
25. Don't drink tap water in Cuba
We don't recommend drinking tap water in Cuba!
Cuba's water supply is home to its unique bacteria and microorganisms. The bacteria itself isn't dangerous per se, but your body isn't used to it, and it can make you very ill. Nausea, cramps, upset stomach, and other gastrointestinal issues that could wreck your trip are common.
Using water bottles with built-in filters is an easy way to keep your water clean and safe to drink during your stay.
26. Don't buy street food
Cuba is home to delicious local food, but buying food from a street stall or vendor can make you sick. Street stalls are simple set-ups and don't have the luxury of refrigeration and sanitation that restaurants have.
If you fancy yourself a dare-devil and indulge in street food anyway, you should be extremely careful about what kind of fish you eat. Certain local fish from Cuba's southern shore can be poisonous (siguato) because they eat toxic sea vegetation.
27. Eat at the recommended restaurants in Cuba
Since food from street vendors can be iffy, you should instead eat at one of Cuba's many private restaurants, referred to on the island as paladares.
Cuba travel guides like this one from Lonely Planet often have lists of paladares you can choose from. It also offers tons of Cuba travel tips for getting the best of Cuba's culinary scene.
28. Take basic food safety precautions
You can avoid many potential illnesses in Cuba by exercising basic safety precautions regarding food, sanitation, and hygiene.
For example, washing your hands before meals will help eliminate harmful bacteria. When it comes to food, you should avoid eating anything raw or undercooked and forgo consuming unpasteurized dairy products. Washing and peeling your fruits and veggies also helps eliminate harmful germs.
29. Protect against mosquitoes in Cuba
You've probably heard of Zika or Dengue outbreaks in the media.
Cuba is a humid, tropical island home to lots and lots of mosquitoes–bugs are just one of those unfortunate facts about Cuba. And since Cuba is warm all year round, mosquitoes will be around no matter what time of year you visit.
The International Association of Medical Assistance to Travellers (IAMAT) recommends "taking meticulous anti-mosquito bite measures during the daytime. Pregnant travelers should seek counseling from a travel medicine practitioner and consider postponing travel to this country."
Bring a potent insect repellant to keep away mosquitoes during your trip!
30. Write down the hospitals and physicians available
If you find yourself sick or injured in Cuba, you don't want to be left scared and helpless because you don't know who to turn to for help.
Did you know that the U.S. State Department put together a list of hospitals and physicians for all of Cuba's major cities? Bookmark the list so you can use it as a quick reference if you or one of your travel companions needs medical attention.
Travel safety tips for Cuba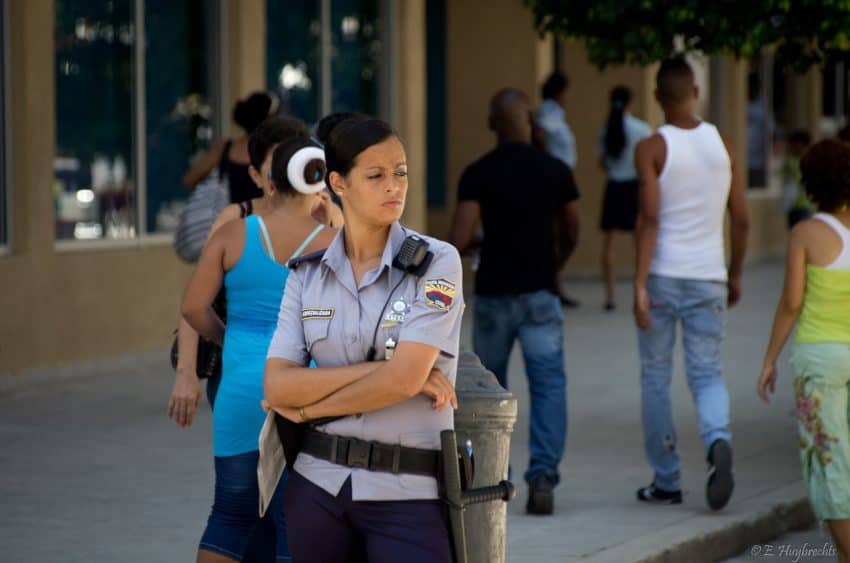 31. Get the emergency numbers
We don't like to think about getting into emergencies while traveling, but the truth is, they can happen anytime. Write down these important phone numbers just in case of an emergency.
Police: 106
Fire Department: 105
U.S. Embassy in Cuba: +53 7839-4100
For Canadians traveling to Cuba, Canadian Embassy in Cuba: +53 7204-2516
32. Don't exchange money with street vendors
Visitors to Cuba sometimes fall prey to currency scams. You should always exchange currencies at a legitimate location. CADECAs are located at hotels, airports, and banks.
Avoid exchanging money through informal means like street vendors. You might get the wrong amount of cashback or counterfeit money.
33. Don't carry too much cash on you
It's smart to carry cash on you while in Cuba, but it's not smart to carry too much all at once. The more cash you have in your pocket, the more you could lose if you are pickpocketed.
Instead, carry what you need for the day and leave the rest in a safe place back in your room.
34. Avoid pickpockets
Cuba is one of the safest countries in the Caribbean to visit, but petty theft is commonplace. This is especially true in major tourist areas where thieves seek "easy" targets.
The best way to deter pickpockets and protect your valuables is with a money belt like this one from Peak Gear. A money belt is subtle, secure, and lightweight, so you can always keep your valuables hidden and close to you.
35. Don't go to impoverished neighborhoods
Like any other country you visit, some parts of Cuba are safer than others.
Poor neighborhoods, especially in large cities like Havana, could be dangerous to tourists due to muggers and robbers. In Havana, certain neighborhoods in Centro Habana, Marianao, and Guanabacoa are especially dangerous. You should only consider going if you have a knowledgeable, trustworthy local friend.
If it helps, you should consider carrying a travel whistle like this NOOPEL Emergency Whistle.
36. Don't show off
There's something about vacation that sometimes makes people want to show off, but Cuba is not the place to do that.
Showing off symbols of wealth or status like luxury clothes, bags, watches, or expensive electronic devices, can attract the wrong kind of attention and mark you as a target for thieves or muggers.
Instead, keep your valuables home and bring only what's practical and comfortable for your trip.
37. Hire only professional Cuban guides
Cuba is full of guides willing to take you on tours of the cities and beyond, but only some of them are legitimate.
Instead of hiring someone on the street, stick to reputable guides. Hiring the wrong guide can be a waste of money and potentially dangerous.
38. Lock your luggage
Locking your luggage can make the difference between keeping your stuff safe while traveling and having it stolen.
Although Cuba is a safe country to visit, it's not unheard of for things to go missing from unattended bags. Keep your things safe with a TSA lock like this one.
39. Use your common sense
Cuba is a safe country with relatively low crime rates. That said, you should exercise common sense when traveling throughout the country to protect yourself from trouble.
Avoid walking alone at night, and don't invite strangers back to your room. These are just a few Cuba safety tips you can learn from the Ultimate Guide to Stay Safe in Cuba.
Transportation tips for Cuba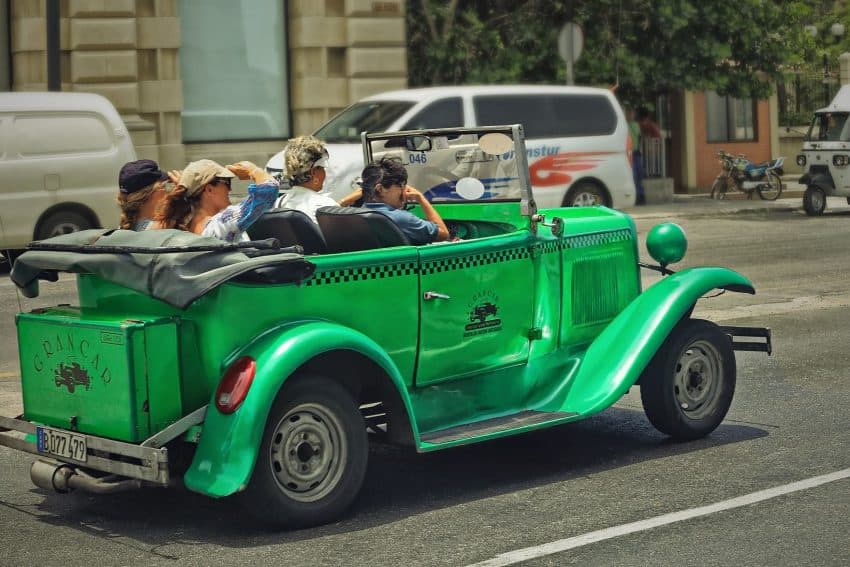 40. Plan your local transportation in advance
Cuba has a variety of transportation options for getting around the island. Your choice will depend on your budget and the distance you want to travel.
Taxis (state taxis or almendrones) are the most affordable option for getting around within a city or between two nearby cities. You can rent a car, but be aware that daily fees are pricey and road conditions in Cuba mean they're not always safe to drive on.
For longer trips between cities or other parts of the island, you can take the Viazul bus. If your trip is longer than you're comfortable traveling by bus, you can skip the Viazul and book a domestic flight across the island.
41. Get a street map of Cuba
You'll probably spend a lot of time traveling on foot. With Cuba's year-round warm weather and the beautiful old architecture of its cities, you'd be missing out if you didn't hit the pavement.
For getting around Cuba on foot, a paper street map will be your best friend. Internet access in Cuba is spotty, so don't assume you'll have access to Google Maps or Apple Maps on your phone.
How to get Internet access in Cuba?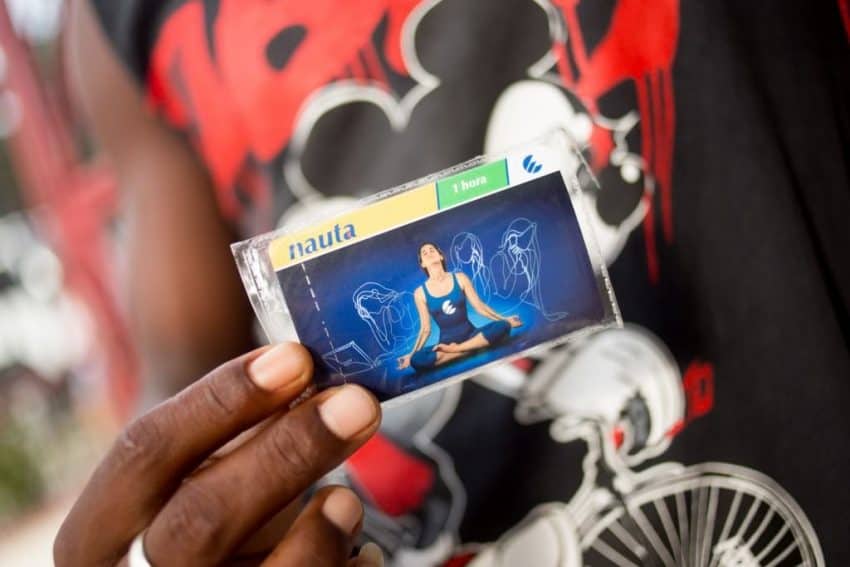 42. Don't expect easy Internet access in Cuba
Cuba does have internet, but access is limited, and service isn't available everywhere. The only Internet provider in Cuba is Empresa de Telecomunicaciones de Cuba (ETECSA). The best spots to find reliable internet access are hotels, airports, and public hotspots in the biggest cities.
Once you get connected, don't expect lightning-fast speeds. Bandwidth is limited, so you should be fine making basic web searches and sending emails, but don't expect to stream music and videos.
To know more about getting access to the Internet in Cuba, check out our detailed guide to get Internet in Cuba for tourists.
43. Know your options
You've got some options for connecting to the Web in Cuba.
A. Buy a NAUTA card
You can purchase a NAUTA card at ETECSA offices, but be prepared to wait in a long line. Travelers have reported that the lines in Havana can take up to two hours!
Some hotels also sell NAUTA cards, so you may be able to skip the trip to the local ETECSA center. A 5-hour card costs 125 CUP, and a one-hour card costs 25 CUP. Note: bring your passport! You'll need it to buy the card. Also, if you buy the card at ETECSA, you must pay in CUP.
While we don't recommend this option, you can also purchase an internet access card on the black market. If you go this route, expect to pay an extremely inflated price!
Once you have your NAUTA card in hand, you can connect to the web at any of these places:
B. Hotel and resorts that offer free Internet
Some upscale hotels and resorts offer free WiFi and desktop computers with internet access. In this case, you don't need a NAUTA card.
However, this isn't a universal commodity for all hotels in Cuba. You'll want to research the hotel beforehand if this is your choice. A site like Skyscanner lists many of the services and features each hotel has to offer.
C. Ask your host to share Nauta Hogar
Nauta Hogar offers Cuban homeowners WiFi access in their homes and public hotspots. They need to pay a monthly subscription, which is not free and very limited.
For a price, your host may be willing to share their username and password with you. With access to a Nauta Hogar account, you can connect in your room, public hotspots, and airports!
D. Get the Cubacel Tur SIM Card
The Cubacel Tur SIM Card is a temporary phone line for tourists that ETECSA offers. It lasts for 30 days. The minimum package starts at 25 USD, including 2.5 GB of data, 20 minutes of international and national calls, and 20 SMS.
You can get the Cubacel Tur SIM Card in advance from ETECSA's authorized providers, or buy it once you land in Cuba at any of ETECSA's offices.
E. Rent a SIM card from your host
Some casa owners may be able to rent you a SIM card with Internet access for a price.
F. Buy or rent a SIM card online
A few online companies also offer Cuba SIM cards you can purchase ahead of your trip. Cellomobile and OneSimCard are popular companies that allow you to purchase or rent a SIM card for Cuba.
Cellomobile prices: Incoming calls $2.19/minute; outgoing calls $2.19/minute; free incoming SMS text messages; outgoing SMS messages $0.49/each.
OneSimCard prices: Incoming calls $0.65/minute; outgoing calls $1.25/minute; free incoming SMS text messages.
G. International roaming
Some major cell carriers like AT&T offer roaming coverage in Cuba. You can get an idea of what calls, texts, and data in Cuba cost by checking out the plan here.
T-Mobile's Global Plus 15GB Plan also covers cell service in Cuba. Verizon and Sprint also have coverage but no roaming packages for Cuba.
AT&T prices: $3.00/minute for calls; $0.50/text; $2.05/MB for data
T-Mobile prices: $2.00/minute for calls; $0.50/text; $2.00/MB for data
Cuba travel tips for dealing with the ugly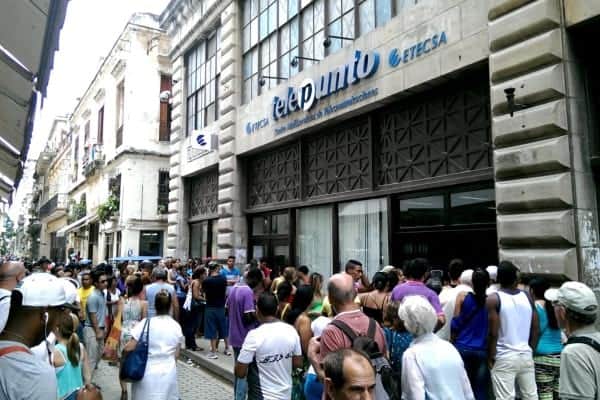 44. Be prepared for the long lines
Many goods and services on the island are still rationed and distributed via the state bureaucracy. Be prepared to wait in line at the bus stop, bodegas, banks, and cultural attractions like museums.
45. Many bathrooms are paperless
If you've spent a lot of time in North America or Europe, you probably take toilet paper for granted.
Many bathrooms in Cuba don't have toilet paper or have toilet paper outside the stall near the washing basin. If you find toilet paper, there's a chance it will be low-quality.
Instead of finding yourself S.O.L., you may prefer to bring a small supply of your own or a packet of travel kleenex when you're out in town.
46. Don't expect the entire menu to be available
Cuban restaurants are often working with limited ingredients depending on what's available. This is mostly because the Cuban government still controls the availability of meat, vegetables, and other ingredients. This can impact the availability of certain meals and dishes on the menu.
47. Don't expect high-quality service everywhere
Cuba is undergoing many changes, many of which you'll notice during your stay on the island.
One of the most noticeable signs is the difference in the quality of service you'll experience. While there are many outstanding businesses, restaurants, and hotels in Cuba, others may not meet what you're used to experiencing in your home country.
48. Catcalling is common
Lady travelers to Cuba should know that catcalling (called piropo in Spanish) is common. Expect to hear lots of compliments like guapa, linda, and chula.
This is more likely to happen if you're traveling as a solo female than in a group with males. Keep in mind that as annoying as the practice is, catcalling is typically harmless behavior and doesn't lead to harassment or violence.
Respect and support the locals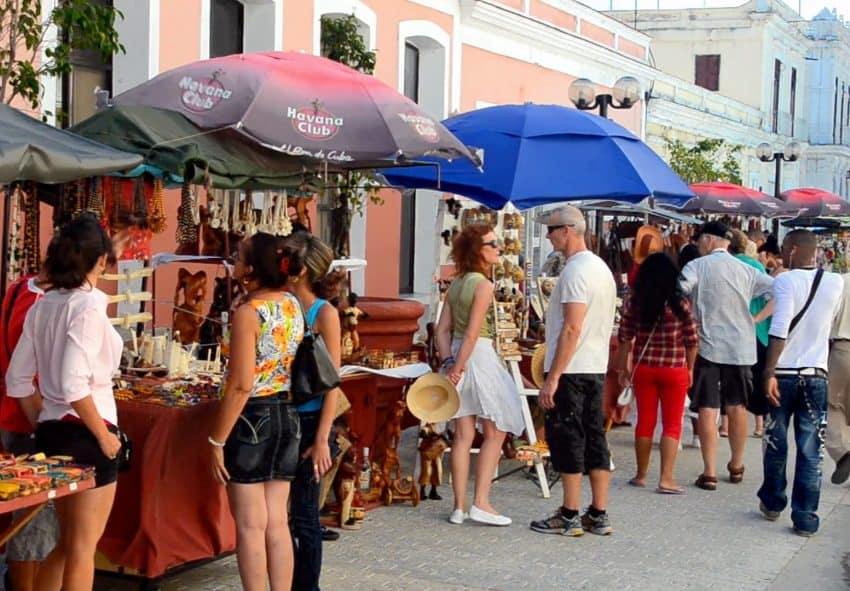 49. Learn some Spanish
Although some Cubans have conversational skills in foreign languages like English, it's best to learn some Spanish to communicate in the local language.
Pack a Spanish-English phrasebook like this one that specializes in the Cuban dialect.
50. Avoid talking about politics
Politics is a passionate and complicated subject in Cuba. We recommend steering clear from politics while chatting with your new Cuban friends to keep the conversation light-hearted and pleasant.
51. Support Cuban local businesses
If you're an American visitor traveling to Cuba under the Support for the Cuban People travel category, you'll need to show that you're supporting the Cuban people during your visit. Regardless of your travel designation, supporting local businesses is just a good thing to do!
A few popular ways visitors can support Cuban businesses include: staying in a casa particular; eat at paladares; taking a dance class; and supporting local artists and musicians by attending their shows or purchasing their hand-crafted goods.
Airport tips
52. Don't bring huge amounts of CUPs to the airport
CADECA offices in Cuban airports are no longer selling foreign currencies. Carefully plan your trip to Cuba budget, and don't count on exchanging your leftover Cuban pesos back for your home currency.
If you end up with huge cash in CUP, exchange them in your hotel or at any CADECA office in the city. Don't bring your leftover cash to the airport!
53. You can use mixed currencies in Cuban airports
Get this:
Before the security check, you can spend only Cuban pesos. Past the security checkpoint, everything is in foreign currency only, but the change is in Cuban pesos!
Crazy, right? Well, don't ask me!
Additional Cuba travel tips for Americans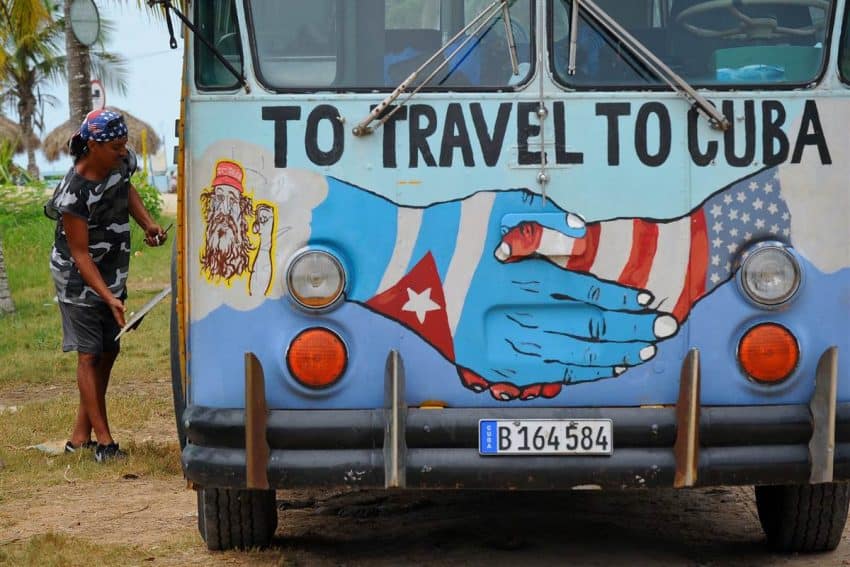 54. Make sure that your travel category covers your itinerary
Relations between the U.S. and Cuba have thawed significantly over the past decade. However, technically Americans traveling to Cuba for tourism is still illegal.
That said, you can still travel to Cuba from the US, and in fact, many Americans still visit Cuba each year. Among other things, you must declare your travels under one of twelve categories authorized by the U.S. Department of Treasury.
55. Don't stay at the prohibited accommodations
Remember that you must not stay at any accommodation listed in the Cuba Prohibited Accommodations List. The list even includes some casas particulares!
56. Don't spend money at restricted businesses
This is a heads-up for all American visitors to Cuba.
Due to lingering restrictions between the two countries, American visitors can't spend money at Cuban businesses forbidden by the U.S. Department of Treasury. Any business affiliated with the Cuban military or security services is off-limits. You can view the full list here.
57. Keep your records
When possible, keep records of your travels, including accommodations, transportation, food, and miscellaneous purchases.
American travelers may be asked to provide documentation of their Cuban travels upon returning to the U.S. While anecdotally, this seems pretty rare, you should be prepared just in case it happens to you!
58. Don't plan to bring back rum and cigars
You read that right! You can't import Cuban-origin alcohol and tobacco products into the US, not even from third-party countries.
Buen viaje!
If this list had a #59, that's what it would be! Armed with all the things you need to know before traveling to Cuba, you'll be more prepared than ever for your trip. Now comes the fun part–packing and getting ready for your flight. Cuba awaits!
Have you been to Cuba before? Share your most helpful Cuba travel tips and advice in the comments below!