As a first-time traveler to Cuba, you probably have a lot of questions about the Cuban currency: What's the deal with Cuba's two currencies? Which Cuban money should you use? Can you pay with a credit card or debit card? Does Cuba still impose a 10% tax on US dollars? Do they even have ATMs in Cuba? In this article, we answer these questions and more.
Right off the bat, we can tell you that the Cuban currency system is super complicated to deal with as a traveler. But don't panic, we will cover absolutely everything you need to know about using money in Cuba.
1. What is the Currency in Cuba?
The first thing you should know about the Cuban monetary system is that Cuba uses two official currencies: The CUP (Cuban Peso) and the CUC (Cuban Convertible Peso). As a traveler, you'll use the CUC a lot more frequently.
The Cuban Convertible Peso (CUC)
The Cuban Convertible Peso (CUC) is one of Cuba's two official currencies and the one most frequently used by visitors. It's also the more valuable of the two.
The value of the CUC is pinned to the U.S. dollar so that 1 CUC will always equal 1 U.S. dollar. However, there are some exchange and bank fees that you will have to cover. We will talk about Cuban currency exchange rates later on in this article.
The CUC is available in bills of 1, 2, 3, 5, 10, 20, 50 and 100. You should always have the lower denomination bills to hand.
The Cuban Peso (CUP)
The CUP (also locally known as "moneda nacional") is primarily used by residents of Cuba. As a traveler, you probably won't use this one very often, but it may benefit you to carry a small amount of CUP for small expenses like street food, bus fare, flea market finds. For comparison, 1 CUP is only worth about 4 U.S. cents.
The CUP has the same bill denominations that the CUC has, but you can find larger bills of 200, 500 and 1000 pesos.
The tangible difference between the CUC and CUP
You've never been there. Never used Cuban money. So, how are you supposed to know the difference between the CUC and the CUP and avoid getting scammed?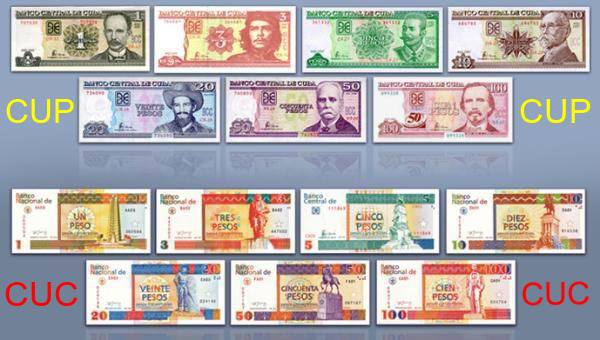 Here is the secret: the CUC bills don't have faces. If you expect to receive CUC in a transaction and see a face on the bill, you will be getting CUP instead! Also, look for the words "pesos convertibles" right at the center of the CUC bill.
2. Can You Use the US Dollar in Cuba?
You can use US dollars, Canadian dollars, and Euros ONLY at airports in Cuba. Actually, shops and restaurants at Cuban airports only accept foreign currencies. The use of CUC at Cuban airports is forbidden.
You read that right: you cannot use CUC in shops and restaurants at Cuban airports. Make sure you exchange all your CUCs to your home currency before you check in at the airport.
The US dollar is also accepted at some recently opened "dollar stores" to buy home appliances and spare parts for cars. However, only Cubans can buy from these stores by getting a dollar-denominated card from a Cuban bank.
3. Where to Exchange Cuban Currency?
Travelers can exchange Cuban currency at banks, hotels, and government currency exchange houses (CADECA). CADECA offices are located in airports, hotels, resorts, and shopping centers. CADECA offices are the safest and most reliable places to exchange currency.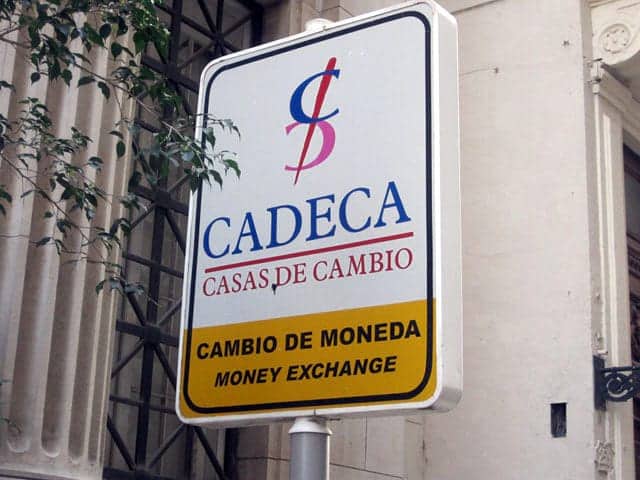 Please, be aware that you can't get Cuban currency (CUC) in advance. Not only Cuban money is unavailable for exchange outside of Cuba, but importing and exporting CUC is strictly forbidden. In regard to CUP, according to a recent resolution from the Aduana General de la República de Cuba (customs), you are allowed to import and export sums of up to 2,000 CUP.
4. The Cuban Currency Exchange Rate
The exchange rate depends on whether you want to buy or sell CUC and on the foreign currency you are using for the operation. The value of international currencies against the Cuban Convertible Peso is determined by the international exchange rate. The only exception (major) is the US dollar, which is subject to a "pinned" rate and an "especial" fee, as discussed below.
At each CADECA office, you will notice a TV screen displaying the daily exchange rates, like this: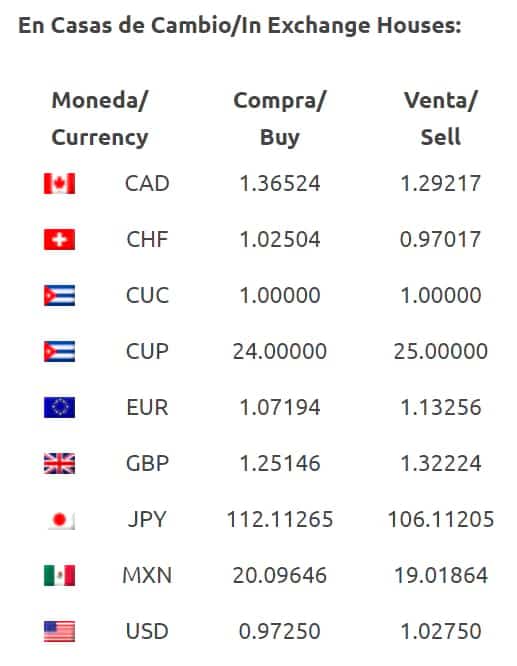 Now, pay good attention because here is where things may get a little crazy.
The table above shows the current CUC exchange rate, according to the official CADECA's website. The column Compra/Buy indicates the exchange rate when you buy CUC with foreign currency while the Venta/Sell column shows the exchange rate when you sell CUC (you buy back foreign currency).
If you want to buy CUC with Canadian Dollar (CAD), Swiss Franc (CHF), Japanese Yen (JPY), or Mexican Peso (MXN), you will have to divide the amount of money you have in those currencies by the exchange rate listed on the Compra/Buy column.
For example, if you want to convert 100 CAD to CUC, here is the math: 100/1.36524  ≈ 73.25. Yeah, that's right, you will get around 0.73 CUC for 1 CAD.
Now, if you are buying CUC with Euro (EUR), Pound Sterling (GBP), or US Dollar (USD) you will have to multiply the amount you have in foreign currency by the exchange rate listed in the Compra/Buy column.
For example, the formula to exchange 100 EUR to CUC would be 100*1.07194 = 107.194. Basically, you are getting about 1.07 CUC for 1 EUR.
Remember: with Canadian Dollar (CAD), Swiss Franc (CHF), Japanese Yen (JPY), or Mexican Peso (MXN) you have to divide. With Euro (EUR), Pound Sterling (GBP), or US Dollar (USD), you have to multiply. Hope this is clear?
You should also know that the Cuban currency exchange rate may be slightly more expensive at CADECA offices located in hotels, ports, and airports. Make sure to always check the current exchange rate at the official CADECA's website.
The US dollar exchange rate to CUC: the (no-longer) special case
From 2004 to July 16th, 2020, Cuba imposed a 10% tax on US dollars. It meant that for international exchange purposes 1 CUC = 1 USD, but converting American money into Cuba money would have incurred a 10% fee on top of the current exchange rate. In the end, you would have ended up paying 1.13 USD for 1 CUC.
However, despite what you might have read out there, this is no longer true. As of July 16th, 2020, if you want to exchange US dollars into CUC, you will NOT have to cover the additional 10% tax since the Cuban Government eliminated it.
A word of caution: be aware of the currency scams
Aside from official currency exchanges, there are a few unofficial ways as well.
Most often, you can stumble upon these "opportunities" just outside of currency exchange offices and local shops. Often, people willing to make unofficial exchanges will pitch you on attractive offers: instead of the official rate of about 87 CUC for 100 USD, they're willing to give you 100 CUC or even more.
However, keep in mind that currency scams are common in Cuba, and tourists are typically the victims. The currency scam can go one of two ways: 1) you receive forged currency in exchange for your (legitimate) money; or 2) you get change in CUP instead of CUC.
You could lose a lot of money this way!
You should also be aware that pickpocketing is common in large cities like Havana. Thus, a travel money belt may be handy to protect your money and small valuables while walking the streets of Cuba.
5. What is the Best Currency to Bring to Cuba?
It all boils down to bringing the foreign currency that has the highest possible conversion rate in Cuba. In terms of conversion value, the British Pound Sterling, and the Euro are the best currencies to bring to Cuba.
You can also exchange the following foreign currencies in Cuba:
Canadian Dollar (CAD)
US Dollar (USD)
Swiss Franc (CHF)
Euro (EUR)
Pound Sterling (GBP)
Japanese Yen (JPY)
Mexican Peso (MXN)
A potential unpleasant surprise: as of November 2019, you can ONLY use foreign currencies at Cuban airports, but… wait for it… you will receive change in USD!
6. Can You Use Credit Cards in Cuba?
In most cases, yes. Unless they were issued by a U.S. bank or a subsidiary of a U.S. bank.
So far, the first (and only) American bank to make official financial ties with Cuba is Stonegate Bank. In November 2015, they announced that their customers would be able to use their MasterCards in Cuba. While other major American financial companies like American Express and MasterCard have announced that they're in the process of having their cards approved for use in Cuba, you can't use them just yet.
Even with these relaxed restrictions, keep in mind that Cuba is primarily a cash country, so plan on paying for most of your expenses with hard currency.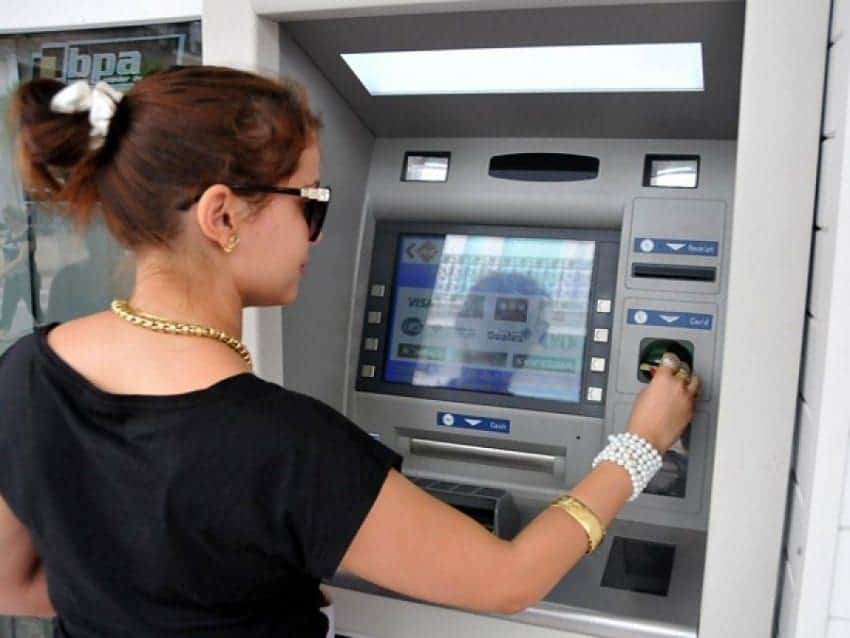 A note on ATMs in Cuba
If you want to get cash, you can withdraw money from Cuban ATMs using either a debit card or a credit card.
You may be charged a bank commission fee that can cost anywhere between 3 to 12% per transaction.
ATMs in Cuba are not as common as they are in other parts of the world. Currently, Cuba has 780 cash machines with plans to install another 200 ATMs in the coming year. Most of Cuba's ATMs are located in large cities and popular tourist destinations like Havana, Santiago de Cuba, Holguin, and Matanzas (Varadero).
7. What Cuban Currency to Use as a Tourist?
For most of your expenditures on the island, you can use CUC (the "tourist" currency). You should convert most of your foreign currency into CUC, but you should also have a small amount of CUP for situations we'll discuss in the next section. Most resorts, hotels, restaurants, and tourist attractions will accept CUC. Also, always use the CUC for tipping in Cuba!
Beware: you are not allowed to use CUC at Cuban airports.
The CUP is the currency typically used by locals, but there are a few cases where you may wish to pay using it instead of CUC:
Street food
Bus fare
Flea market purchases
Purchases made at small local shops and convenience marts
The good news is that in most local stores in Cuba the items are priced in both CUC and CUP… and you can pay in either currency. That will make it all easier, right?
8. CUCs at Airports in Cuba: Just Don't.
Brace yourself: the use of CUC at shops and restaurants inside Cuba airports, including Havana Airport, was recently banned. This means that you should avoid taking CUC to Cuban airports at all costs because:
The long lines at the airport's CADECA office will make you cringe. This is especially worse after the ban on CUC at airports.
Some travelers have reported that CADECA offices at airports won't exchange more than 300 CUC.
You are not allowed to export CUC anyway. Airport authorities will likely confiscate your CUCs.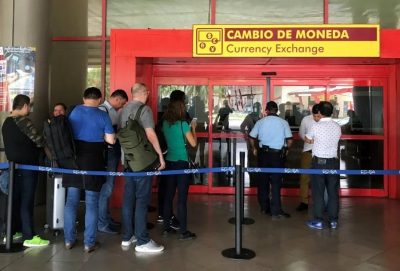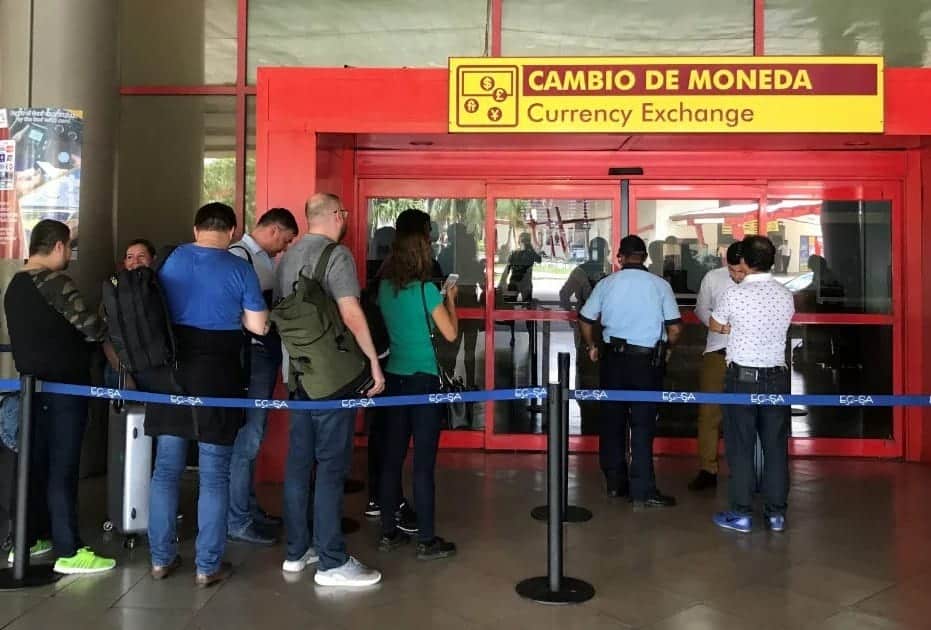 So, before you check in at the airport, remember to exchange any of your leftover Cuban pesos back into your home currency. Perhaps, you will want to keep 1 or 2 CUC to buy the NAUTA card to get Cuban WiFi at the airport. You will thank us later 🙂 (Confusing, right? Well, the thing is that cannot buy any product inside the airport facilities with CUC… except for the NAUTA card, which you can buy ONLY with CUC. Hopefully, this will change soon.)
Here some other crazy facts that you should know about using foreign currencies at Cuban airports:
As of November 2019, change at Cuban airports is given in USD regardless of the international currency you use!
Many attendants won't take coins (!) of currencies other than USD. (They said that Cuban banks may have an issue with it when depositing the coins later).
Some travelers have reported that the airport facilities won't take bills that have tears or writing on it.
Mission Accomplished?
As you can see, Cuba's currency system is as unique as the island itself.
While this can catch a visitor off guard if they don't know what to expect, the currency system is much easier to navigate if you know a few key pieces of information like what kind of currency to use, how to exchange it, and how to use debit and credit cards during your stay.
Keep this guide handy during your stay in Cuba–together, we'll make sure you have a great trip! At least, that's what we hope.
So, what do you think? Let us know in the comments!