As a first-time traveler to Cuba, you probably have many questions about the Cuban currency: What's the official Cuban currency? Can you use US dollars in Cuba? Can you pay with a credit card or debit card? Do they even have ATMs in Cuba? In this article, we answer these questions and more.
We can tell you that the Cuban currency system is difficult to deal with as a traveler, which is one of the most interesting facts about Cuba. But don't panic. We will cover absolutely everything you need to know about using money in Cuba.
NOTE: The monetary policy in Cuba changes almost every year (don't blame us!). We will always keep this article up to date, but some updates may be posted up to a week after a sweeping change in monetary policy. Likewise, some comments, including our responses, may no longer be accurate at the time you read them.
1. What is the Currency of Cuba?
The official currency in Cuba is the Cuban Peso (CUP). However, Cuban residents can also use a digital currency called "Moneda Libremente Convertible" (MLC) at the so-called "dollar stores" ("tiendas MLC").
As a visitor, you will primarily use the CUP.
The Cuban Peso (CUP)
The Cuban Peso ("Peso Cubano", "moneda nacional" or simply "MN") is used by both residents and visitors alike.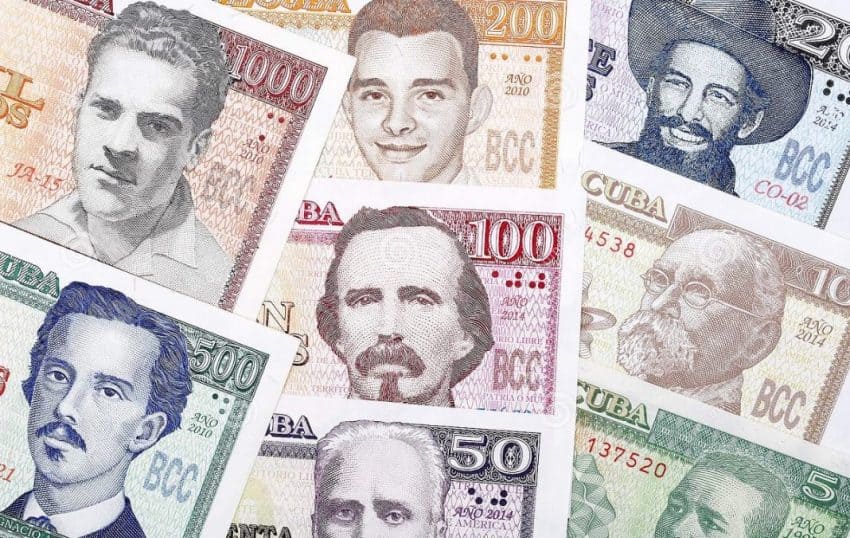 The CUP is available in bills of 1, 3, 5, 10, 20, 50, 100, 200, 500, and 1000. It would help if you always had the lower denomination CUP bills at hand to cover small expenses such as street food, bus fare (except for the Viazul bus), and flea market finds.
Because of the current inflation crisis in Cuba, expect to carry a ton of cash with you. But be aware that pickpocketing is common in large cities like Havana. Thus, a travel money belt may be handy to protect your money and small valuables while walking the streets of Cuba.
Moneda Libremente Convertible (MLC)
The "Moneda Libremente Convertible" (MLC) (freely convertible currency, in English) is a digital currency that Cuban residents can use at "dollar stores" ("tiendas MLC").
MLCs can be expressed in any foreign currency accepted in Cuba, including even the Cuban Peso.
We know, it's complicated.
But all you need to know is that MLCs are mostly reserved for Cuban residents. As a traveler, you won't likely need it. You can still get a pre-paid MLC card (we discuss it below), but we see little use for you as a traveler.
The (Eliminated) Cuban Convertible Peso (CUC)
Beware that you can no longer use the CUC in Cuba, contrary to what many outdated articles say on the Internet. The Cuban Convertible Peso (CUC) was one of Cuba's two official currencies, most frequently used by visitors.
This is because Cuba eliminated the dual currency system on January 1st, 2021, when the Cuban Peso (CUP) became the only official currency in Cuba.
2. What Cuban Currency to Use as a Visitor?
You must use CUPs to cover most of your trip to Cuba costs. Most states and private facilities, and tourist attractions will accept CUP.
There are a few exceptions, though. Please, read carefully below and avoid unwelcome surprises:
All-inclusive hotels and some resorts won't accept cash in Cuban Pesos. For example, non-covered services or products in all-inclusive resorts are charged in Cuban Pesos, but you can only pay with a credit card! When paying with a credit card, they will exchange your home currency for Cuban Pesos at the official exchange rate.
When renting a car, you must pay in foreign currency at car rental offices in Cuba, and you can't pay in cash!
When leaving the country, you must use your home currency past the security check at airports.
You can also use foreign currency in these scenarios:
When tipping in Cuba, but keep in mind that the people you tip will later need to exchange the foreign currency for Cuban Pesos.
Because the informal exchange rate has nearly quadrupled the official exchange rate, some private facilities, such as "hostales" (private rooms or Cuban Airbnbs) and "paladares" (private restaurants) will welcome your Euros, Pounds, or even US dollars.
3. The Cuban Currency Exchange Rate
There are three types of exchange rates in Cuba:
The official exchange rate, applicable between Cuban companies and for international purposes.
The exchange rate for locals and visitors, about five times higher than the official exchange rate.
The unofficial exchange rate of the informal market, about six to seven times higher than the official exchange rate.
The Official Exchange Rate
You can check the Cuban currency's official exchange rate at Banco Central de Cuba. The exchange rates rarely change much, and you should probably ignore them as a traveler.
The Exchange Rate for Locals and Visitors
Due to the skyrocketing prices of foreign currencies in the informal market, the Cuban government began buying them at about the same prices in 2022. They now buy foreign currencies from Cuban residents and visitors at four times the official exchange rate.
The best place to check the current exchange rates that will apply to you as a traveler is CADECA's website.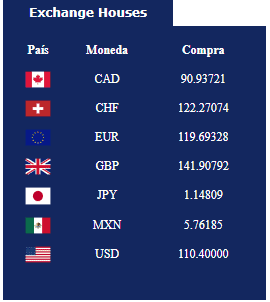 At each CADECA office, you will also see a TV screen or printed sign displaying the daily exchange rates.
The Informal Exchange Rate
Due to the recent spike of Cuban migrants, the price of foreign currencies in the black market reached nearly four times the official exchange rate.
El Toque has been tracking the evolution of the unofficial exchange rates for some time now, and it does not seem that the upward trend is going to end anytime soon:
Before the Cuban Government started buying foreign currencies in 2022, you could get way more Cuban Pesos in the informal market. But now, the exchange rate difference is marginal, and it seems that the Cuban Government wants to catch up with the informal market.
4. Can You Use the US Dollar in Cuba?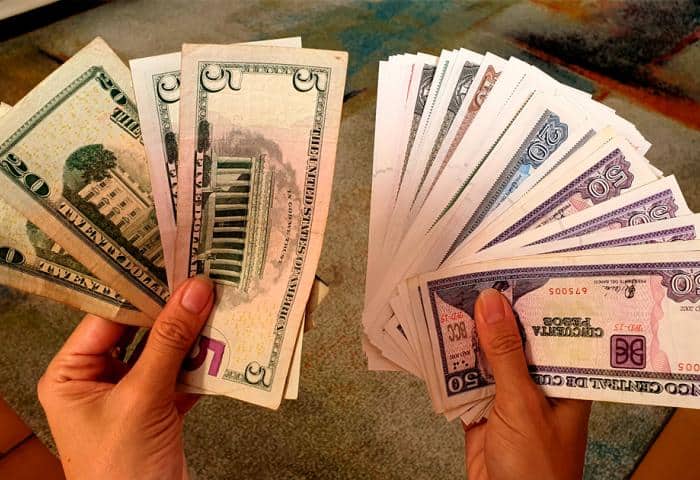 You can bring US dollars to Cuba and exchange them for Cuban Pesos at certain banks, CADECA offices, airports, hotels, or in the informal market. However, you cannot use US dollars in Cuba at any government-owned facility. You can't use credit or debit cards issued by US banks either.
In August 2022, The Cuban Government announced that it would begin purchasing foreign currencies, including the US dollar.
Remember that you must sell your USDs because they are not accepted for buying products or services at any state-owned facility (airports, car rental offices, etc.).
How Much Is 1 USD in Cuba?
The value of the Cuban Peso against the USD depends on to whom you sell your US dollars. In January 2023:
1 USD is worth about 120 CUPs if you sell it to CADECA.
1 USD is worth more than 160 CUP if you sell it in the informal market.
Before you board the plane to Cuba, make sure to check the updated Cuban currency exchange rate on CADECA and El Toque.
5. What is the Best Currency to Bring to Cuba?
The Euro is still the best currency to bring to Cuba. It's convenient, widely accepted on the island, and it's subject to the lowest bank fee (2%) when exchanging them in cash. Currently, 1 EUR sells for about 122 CUPs at the government's banks and currency exchange offices.
This is not to say that should not bring US dollars to Cuba. You can, and you should if bringing Euros is a hassle. Just consider two things:
You cannot use US dollars to buy products or services from state-owned facilities on the island.
You will incur an 8% bank fee when selling your USDs in cash to the Cuban Government, higher than the standard 2% for other foreign currencies.
You can also exchange the following foreign currencies in Cuba:
Canadian Dollar (CAD), which is convenient for the many Canadians traveling to Cuba every year.
Swiss Franc (CHF)
Euro (EUR)
Pound Sterling (GBP)
Japanese Yen (JPY)
Mexican Peso (MXN)
6. Where Can You Get Cuban Currency?
You can get Cuban Pesos from CADECA, hotels, banks, hosts and friends, online marketplaces like Revolico, and street vendors. You can't get Cuban currency in your home country, though!
Banks, Hotels, and CADECA
CADECA is the government's currency exchange house. CADECA offices are located in airports, cruise ports, and shopping centers.
CADECA is the safest place to sell your home currency, although you will probably get more Cuban Pesos for your money in the informal market.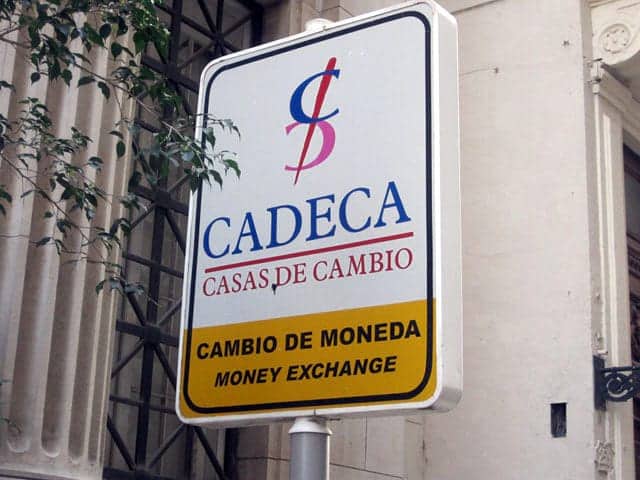 Keep in mind that, as part of the travel restrictions enforced by the Cuban Government to curtail the spread of the COVID-19 epidemic, CADECA offices may experience limited capacity and reduced hours.
Travelers can also exchange Cuban currency at some banks and hotels.
Hosts and Friends
If you truly trust your friends or host, ask them to sell your home currency for you in the informal market.
This will help you if you are traveling to Cuba from the US, since you will be directly strengthening civil society in Cuba, a requirement of the Support for the Cuban People license.
Don't forget to give them a good tip for the favor!
Revolico
You can post an ad on popular Cuban online marketplaces such as Revolico. Thousands of users are selling and buying foreign currencies, and you can get a good price for your home currency.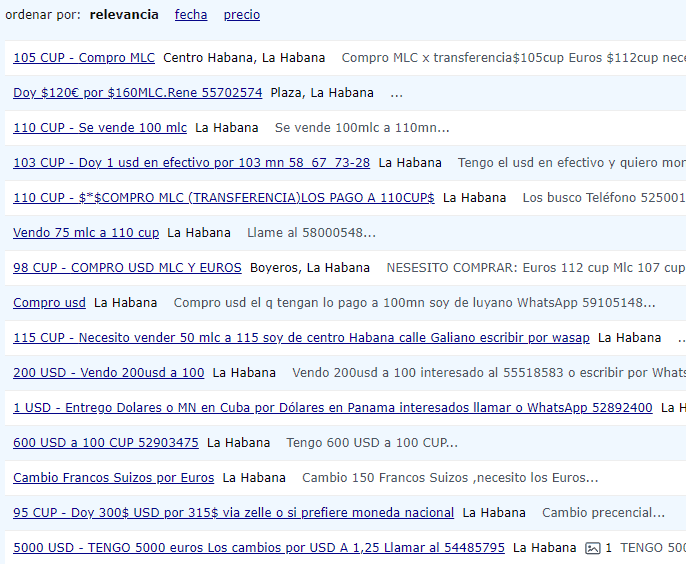 Still, this process is risky and requires a good knowledge of how online Cuban marketplaces work. Besides, it's not like you can just sell the currency online. Someone still needs to go where you are and exchange the money.
Street Vendors
You can often stumble upon "opportunities" to sell your currency outside CADECA offices and local shops. Often, people roaming around will pitch you attractive offers.
The risk of being scammed is higher this way, though. We always advise against exchanging your money on the street.
Can You Get Cuban Currency in Your Home Country?
You can't buy Cuban Pesos in your home country. Even if you manage to do it, you can only import up to 5,000 CUP, according to a recent resolution from the Aduana General de la República de Cuba (customs).
7. Avoid Currency Scams
Although Cuba is a relatively safe country, currency scams can happen, and tourists are typically the victims. The currency scam can go one of two ways: 1) you receive forged currency in exchange for your (legitimate) money; or 2) you get change in CUC, instead of CUP.
You could lose a lot of money this way!
You've never been there. Never used Cuban money. So, how can you know the difference between the CUC and the CUP and avoid getting scammed?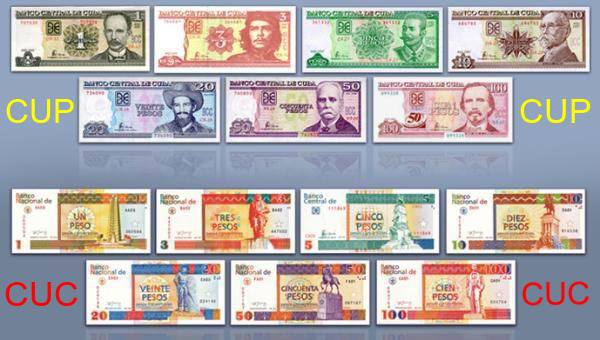 Here is the secret: the CUP bills have faces. If you expect to receive CUP in a transaction and don't see a face on the bill, you will get CUC instead! The CUC bill also says "pesos convertibles" right at the center.
8. Can You Use Credit Cards in Cuba?
In most cases, yes. Unless they were issued by a US bank or a subsidiary of a US bank.
However, one of the most important travel tips for Cuba that must know is that Cuba is primarily a cash country. So, plan on paying for most of your expenses with hard currency!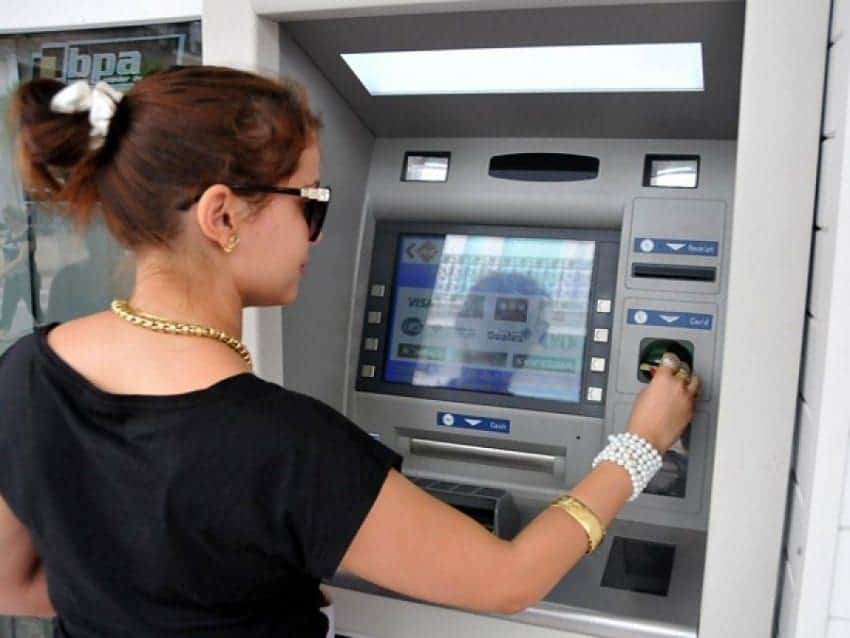 9. Prepaid MLC Cards for Travelers
On June 15, 2021, the Cuban Government launched prepaid MLC cards exclusively available to foreign visitors. BANDEC (a Cuban bank) issues these cards, and you can use them to pay for goods and services at facilities that accept MLC, such as retail stores, car rental offices, some hotels, and state-operated restaurants.
Here are the main facts you must know about using prepaid MLC cards in Cuba:
You can only pay in MLC, and they are valid for two years.
You can buy prepaid cards in CADECA and BANDEC offices. You will need your passport to acquire a prepaid card.
There is a 5 USD processing fee, and you cannot pay it in USD (lol).
To make things even more complicated, the prepaid cards are printed with denominations in US dollars (!) in the amount of 200 USD, 500 USD, and 1,000 USD.
You can reload the prepaid cards any time you need.
You can't load the card from any other country.

The card won't display your name on it.

You will need to set up a PIN.
You cannot transfer money to prepaid cards from other cards or bank accounts.
You can withdraw money, but only in CUP.
The bank wouldn't replace your card if you lost it.
If you have leftover money at the end of your trip, CADECA will refund the money in Cuban Pesos.
Learn more about prepaid MLC cards in Cuba in the list of FAQs from the Government's tourist portal.
10. ATMs in Cuba
If you want to get cash, you can withdraw money from Cuban ATMs using either a debit card or a credit card.
You may be charged a bank commission fee that can cost anywhere between 3 to 12% per transaction.
ATMs in Cuba are not as common as in other parts of the world. Currently, Cuba has 780 cash machines with plans to install another 200 ATMs in the coming year. Most of Cuba's ATMs are located in large cities and popular tourist destinations like Havana, Santiago de Cuba, Holguin, and Matanzas (Varadero).
11. Using CUPs at Airports in Cuba
Although you can use CUPs in facilities at Cuba airports, we recommend you exchange your leftover Cuban pesos before checking in at the airport because:
As of August 2022, CADECA offices only buy foreign currencies. It means you won't be able to sell your Cuban Pesos to CADECA.
Even if you could, t

he long lines at the airport's CADECA office would make you cringe.

You cannot use CUPs past the security checkpoint.

You c

an't

export more than 5,000 CUP anyway. Airport authorities will likely confiscate any amount over that limit.
Perhaps, you will want to keep 25-50 CUP to buy the NAUTA card to get Cuban WiFi at the airport.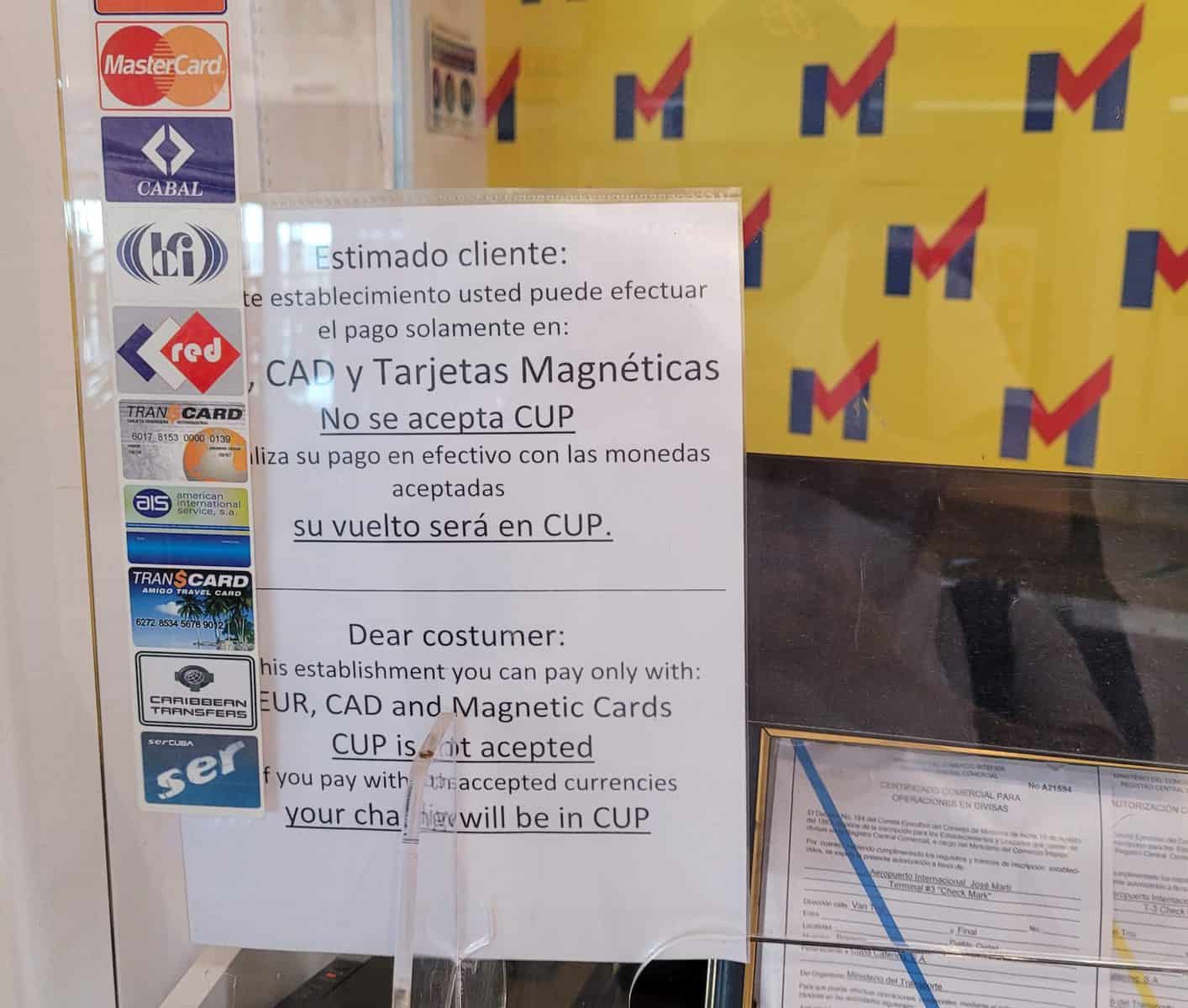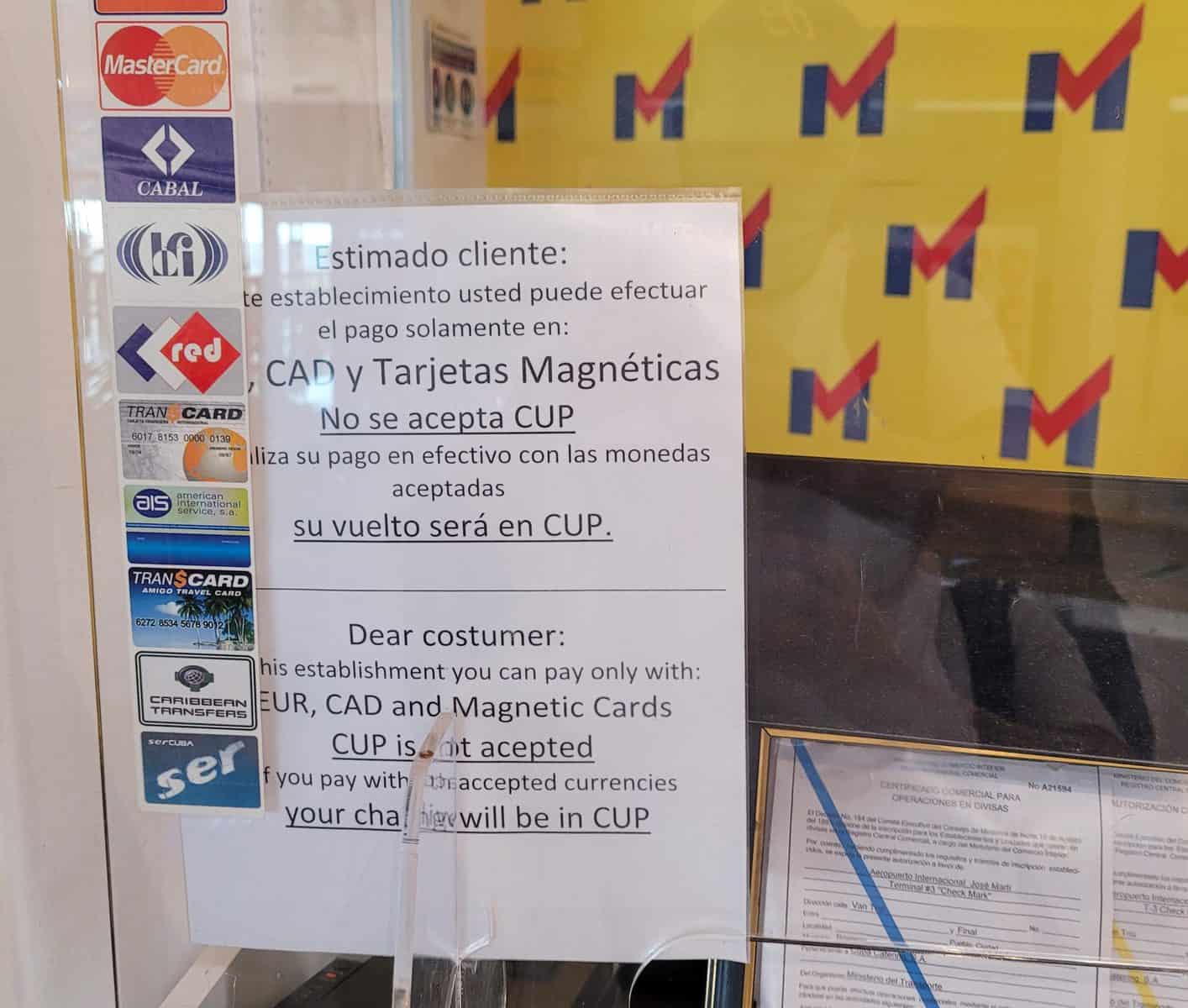 You can use foreign currency only after passing through the security checkpoint, but here are some other crazy facts that you should know:
You will get change in Cuban Pesos.

Many attendants won't take coins (!). (They said Cuban banks might have an issue with it when depositing the coins later).

Some travelers have reported that the airport facilities won't take bills with tears or writing.
Key Takeaways
As you can see, Cuba's currency system is as unique as the island itself.
While this can catch a visitor off guard if they don't know what to expect, the currency system is much easier to navigate if you know a few key pieces of information:
You must use Cuban Pesos for most of your expenses in Cuba.
Although you can get a prepaid MLC card, it's unlikely that you will really need it. MLCs are mostly reserved for Cuban residents.
You cannot use CUC either because it was eliminated in 2021.
You can use your home currency only when paying for a rental car, tipping, and past the security checkpoint at airports.
You can bring US dollars to Cuba and sell them to the Cuban Government or exchange them in the informal market. Keep in mind that US dollars are not accepted at any state-owned facility.
The best currency to bring to Cuba is still the Euro because it is accepted everywhere and has a high conversion value. It's also subject to the lowest exchange fee of 2% (the US dollar is subject to an 8% exchange fee).
Selling your home currency in the informal market can get you a ton of Cuban Pesos too, but it's a little risky because you may be scammed.
You cannot buy Cuban Pesos in your home country.
You can use non-US credit cards and ATMs in Cuba, but the infrastructure is scattered and old.
Exchange your leftover Cuban Pesos before going to the airport. It will be hard to sell them once you are there, and you can't use them past the security checkpoint.
So, what do you think? Let us know in the comments!
Essential Travel Logistics For Cuba
Cuban Tourist Card – If your Cuban Tourist Card (a.k.a Cuban Tourist Visa) isn't bundled into your airline ticket or travel package, buy it only through EasyTouristCard. 
Travel Health Insurance – Travel medical insurance is an entry requirement for Cuba, so you can't skip it. Travelers can get travel health insurance for Cuba via Insubuy. Travel protection benefits such as trip interruption and cancellation, baggage delay insurance, etc., are not required.
Essential Items to Pack – Bring the essential travel necessities that you may not be able to get in Cuba:
Read our complete packing list for Cuba.
Find Accommodations – Find hotels or casas particulares (private accommodations) on Skyscanner, which lists thousands of accommodations available in Cuba.
Book Your Flight – Book cheap flights to Cuba on Skyscanner, our favorite flight search engine to find deals on flights to Cuba.