Arriving at Havana Airport, Cuba, may certainly feel overwhelming, even if you are a seasoned traveler.
There are long lines. The AC is turned off. You don't know exactly where to exchange currency. Is there even Wifi in Havana Airport? How do you get to Havana city or Varadero?
This article will cover everything you need to know about flying into Havana Airport. From getting through customs to converting your cash into Cuban pesos. We'll walk you through the airport step-by-step.
Quick Checks: Before Arriving at Havana Airport, Cuba
You must check a few things before arriving at the Jose Martí International Airport in Havana, Cuba. Read carefully; this is important!
Can you get the Cuba Visa at Havana Airport?
You can get a Cuba Tourist Card (a.k.a. Cuba Visa) on arrival at the airport in Havana for the equivalent of around 25 USD (you can't buy it in USD or Cuban currency). Still, most airlines won't let you board your flight without it. It means you should already have it at your home airport.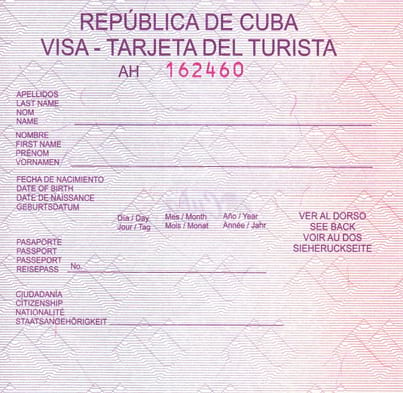 This rule doesn't only apply to Americans traveling to Cuba. The Tourist Card is part of a current set of Cuba travel restrictions, so tourists from almost every country need one to touch down on Cuban soil.
Luckily, getting the Cuban Tourist Card or Cuba Visa ahead of time is easy. Most people get theirs in one of two ways:
From the airline. The visa is typically bundled in with the ticket price, and you can pick up your Cuba visa at the airport. But some airlines sell the Cuba visa separately at around 50 USD plus a 25-35 USD processing fee.
Online. You can order the visa on Easy Tourist Card and have it mailed to your home ahead of your trip.
Do you have travel health insurance for Cuba already?
Another fact about Cuba is that the Cuba Visa isn't the only thing you need to enter the island – you also need travel medical insurance for Cuba.
Since insurance is an entry requirement, you'll want to set your policy up well ahead of your trip. Insubuy offers insurance packages for travelers to Cuba, so you can feel confident that they cover all of your needs.
Are you bringing your Customs and Sanitary Statement?
Amid the COVID-19 pandemic, Cuba requires travelers to complete a Sanitary Statement. You must also fill out a customs declaration form.
You can complete the required documentation in advance on D'Viajeros, a government website. We suggest you do so. You will save time and a few headaches during your flight.
Please, notice that as of April 4th, 2022, you no longer need to bring proof of vaccination against COVID-19 or a negative PCR test.
How to check the status of Havana Airport arrivals?
Delayed flights – both arriving and departing – are a reality of traveling to Cuba. Cuba's infrastructure is still up-and-coming, and that's apparent at the Havana Cuba airport.
To make the best of the situation, you can use the site Flightradar24 to keep tabs on your flight. If your flight is delayed, Flightradar24 will alert you and provide a new ETA. Plus, it tracks international and domestic flights, so you can plan your travels wherever you're headed, whether from Havana to Holguín or Houston.
What Havana Airport terminal will you arrive in?
Havana Airport can be a little confusing, so this section can help you get to know the airport's layout before you arrive.
You should first know that the airport has four terminals: Terminal 1, Terminal 2, Terminal 3, and Terminal 5.
Visitors to Cuba from the U.S. or Europe will most likely touch down at Terminal 2 or Terminal 3 – the main international terminal. Arrivals come through the ground floor, and departures leave from the first level.
You'll only use Terminals 1 or 5 if your Cuba trip includes domestic flights. Airlines Cubana de Aviación, AeroCaribbean, Aerogaviota, Aerocaribbean, and Aerotaxi fly out of these terminals.
Arriving in Havana Airport: Brace Yourself
You'll notice pretty quickly that Havana Airport hasn't benefited from modernization in recent times.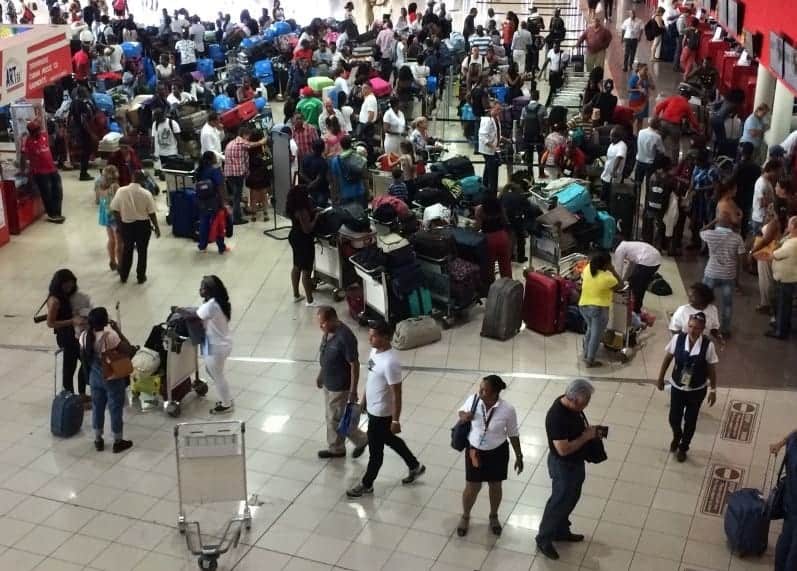 The first thing you'll realize is that it's pretty disorganized. Be prepared to wait in long lines. This isn't as big a deal when you first arrive, but departing from Cuba without missing your flight means arriving well ahead of time.
The facilities themselves aren't much better. The bathrooms are poorly maintained, so you may want to wait until you arrive at your casa if you can hold it that long. If you need to use the airport bathroom, be sure to bring hand sanitizer with you since soap and paper towels are rare.
You'll also notice that the airport is hot – like, swelteringly hot. AC is turned off most of the time, so dress in light clothing, so you don't overheat while standing in those long lines. Baggage carousels are located in a hot, crowded room, and some terminals are standing-room-only.
The worst thing you might encounter at Havana Airport is theft. While it's not extremely common, you should protect your luggage in Cuba with a TSA lock.
You can check out what other travelers say about this Cuban airport here.
Getting Through Immigration and Customs in Havana Airport
Once you touch down in Cuba, you'll need to go through Immigration and Customs before you're free to roam the island.
Getting through Immigration and Customs involves displaying your passport, Cuban Tourist Card, and proof of insurance to the Immigration official. They'll stamp your passport and take a photo of you. The agent may also ask you basic questions such as "What's the purpose of your trip to Cuba" or "First time in Cuba?".
After you exit the Immigration booth, you will proceed to a security check, and your bags will be scanned. Shortly after, a Customs officer will collect your Custom Declaration Form that you should have received before in your home airport or during the flight.
Customs prevent you from bringing certain items into Cuba and leaving with restricted items. Familiarize yourself with what you can take through Cuban customs before you pack.
Exchanging Currency at Arrival
You can exchange your foreign currency for CUP at a CADECA office at Havana Airport. Keep in mind that outside the airport, you'll pay for everything from lodging and food to taxi fares in Cuban currency.
You will see a small TV screen with the live exchange rate, but you can also check the CADECA website to know the current exchange rates.
A word of caution: be prepared for long lines!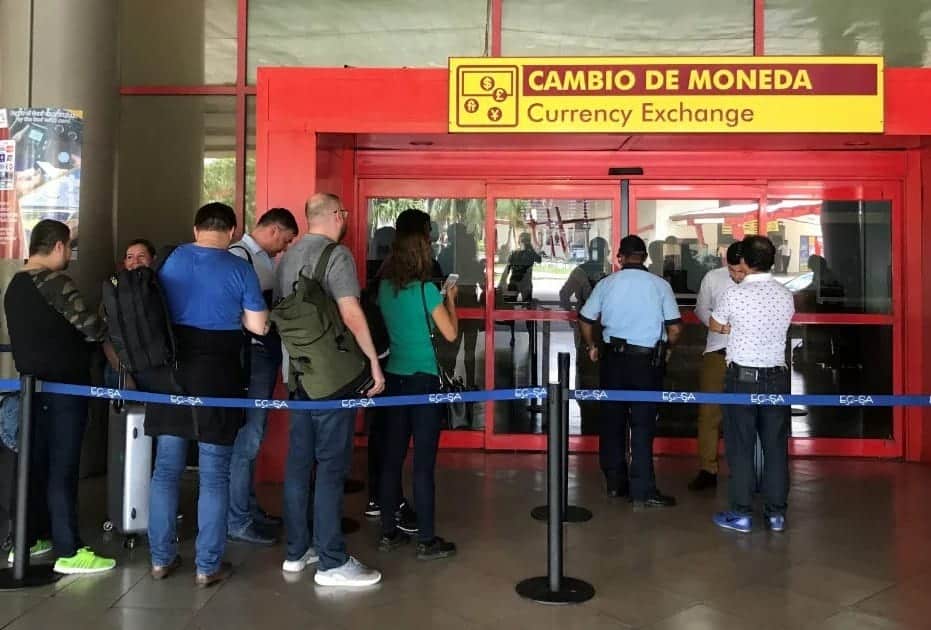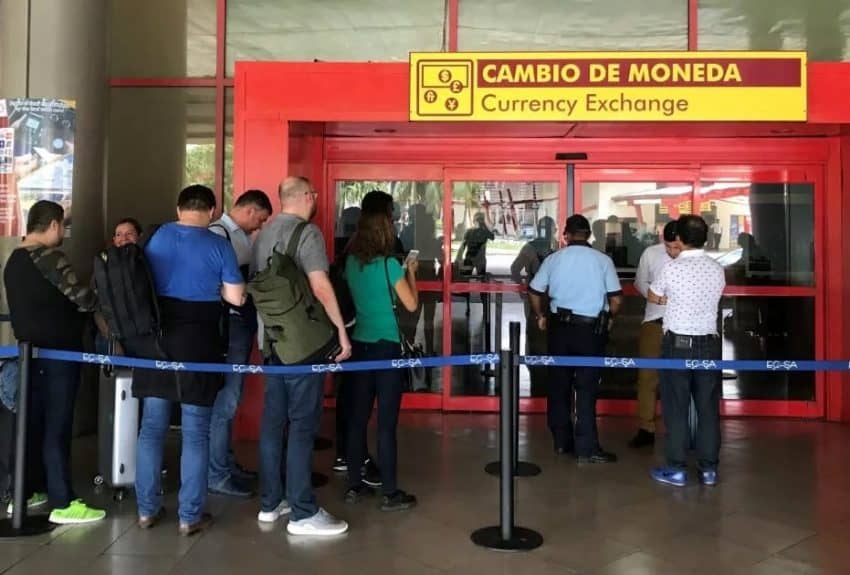 However, inside the airport, you can use either CUP (Cuban Peso) or your home currency, although we recommend using the latter.
Havana Airport ATMs
ATMs in Havana Airport are called "Cajero Automático" and they are only available in Terminal 3.
You should know a few things about ATMs in Havana Airport – and in Cuba in general. Credit/debit cards issued by American banks don't work in Cuba. This is a holdover from the U.S. embargo; unfortunately, there's no way to get around it. Most Americans bring hard cash and exchange it for CUP at the airport.
Wifi in Havana Airport
Many international airports have free public WiFi, but Havana Airport is an exception.
You'll need a special card called a NAUTA card to access the internet in Cuba. You can get yours at the airport's Information booth ("Sala de Información"). Using WiFi costs 25 CUP/hour, so remember to log off when you're all done.
Transfers from Havana Airport
There are a couple of options to move between terminals or transfer from Havana Airport to Havana city, Viñales, or Varadero.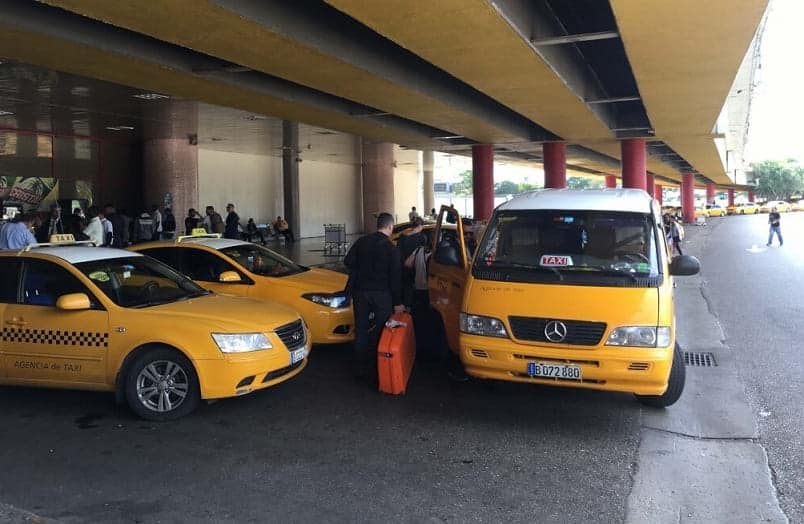 Havana airport shuttles
Havana Airport offers a shuttle service, but it's limited to use at the airport itself. In other words, you can't hop on the shuttle at the airport and be whisked off to your "casa particular" or Airbnb in Havana.
Despite the lack of long-distance shuttle service, there are many other transportation options to choose from.
Havana airport transfer to Havana
Taxis are a popular way to get around Cuba. More affordable than renting a car at Havana Airport and more reliable than public transportation, you'll find several types of taxis at the airport and beyond.
State taxis (yellow taxis)
Private taxis (old classic car)
The Cuban government manages state taxis as opposed to private owners. They're always yellow, and they're usually mini-vans or imported sedans. The official price for a trip from the airport to Havana depends on the distance and type of vehicle:
Standard modern car: 600 CUP for up to 30 Km. Then, 20 CUP/Km from 30 to 50 Km.
Minivan ("Microbus"): 750 CUP for up to 30 Km. Then, 25 CUP/Km from 30 to 50 Km.
Jeep: 750 CUP for up to 30 Km. Then, 25 CUP/Km from 30 to 50 Km.
Luxury car: 750 CUP for up to 30 Km. Then, 25 CUP/Km from 30 to 50 Km.
Classic car: 925 CUP for up to 30 Km.
For reference, the most important attractions in Havana are within 30 Km of the airport.
You can also take a private taxi to the city. Private taxis are the colorful classic cars you often see in postcards and travel guides about Cuba. Unlike state taxis, private taxis are owned by private citizens, and they might accept foreign currency. Since there's no official price for private taxis, the cost of a trip can vary. Pre-booked private taxis can run 30+ USD. The amounts below are shown in USD only for illustrative purposes.
Havana airport transfer to Viñales
Vinales is quite a bit farther from Jose Martí International Airport than the city of Havana – about 182 Km further, to be exact.
You can take a taxi all that way, but it will be costly.
Expect to pay 80+ USD for a private cab and more than 3,000 CUP (125 USD) for a state taxi. (Keep in mind that state taxis only accept CUP).
The cheapest option is the Viazul bus. Viazul is a charter bus service that connects most of Cuba's major cities via a convenient transportation network. You'll only pay 12 USD/person for the 2-3 hour trip. You could take a taxi to the Viazul bus station in Havana and catch the bus to Viñales. However, you should book the Viazul bus early!
Havana airport transfer to Varadero
Varadero is one of the best beaches in Cuba and is located a little over 160 Km northeast of Havana – that's roughly a two-and-a-half-hour drive from the capital city.
Viazul is certainly the most affordable option at 10 USD per person. Taxis are also available, but they're pricier. A private taxi will cost as much as 100 USD, while a state taxi starts at 2,750 CUP.
Rent a Car at Havana Airport
You can rent a car at Havana Airport in the Arrivals hall of Terminals 2, 3, and 5. The available car rental companies are Cubacar, Rex, Havanautos, and Via Transgaviota.
Renting a car in Cuba can really add up to your trip to Cuba cost. The price ranges from 50 USD to 125 USD a day, plus 15 USD/day for insurance, plus 15 USD/day for each additional driver. We strongly recommend you hire the car well in advance. Here are the contact details of each car rental company at Havana Airport:
Cubacar: +53 7 2041707
Rex: +53 7 6426074 / +53 7 2664874
Havanautos: +53 7 6495764
Via Transgaviota: +53 7 2069935
Driving a rental car can also be challenging. Cuba's roads – especially outside of major cities – are crumbling and filled with potholes. Flat tires are common, and some roads may be virtually impassable.
Hotels and Casas Particulares near the Havana Airport
You don't have to travel far from Havana Airport to find great accommodations. Simply check Skyscanner to find high-rated "casas particulares" and hotels in the area.
Exchanging Currency at Departure
There are a few things you must know about using money in Cuban airports:
You will likely be unable to exchange your leftover Cuban Pesos at the airport's CADECA office. Currently, they are not selling foreign currency. Customs authorities will confiscate whatever amount you bring in Cuban Pesos. So, plan your trip to Cuba budget wisely.
Before the security check, all your expenses must be in Cuban Pesos. If you bring some leftover Cuban Pesos, you could spend them before getting through security buying souvenirs, gifts, or food.
Past the security checkpoint, you must use foreign currency! And guess what? The change will be in Cuban Pesos! Crazy, right?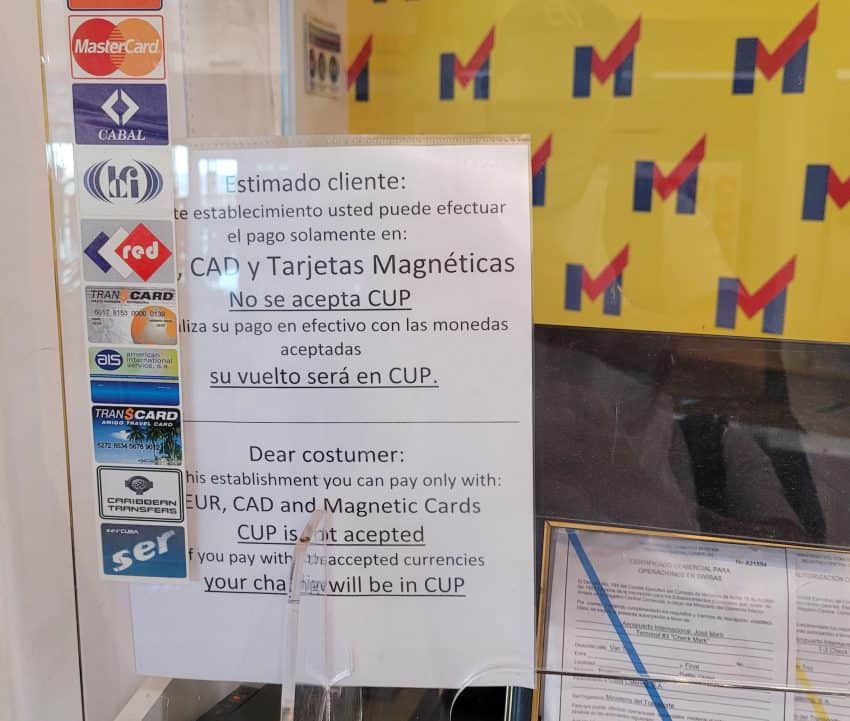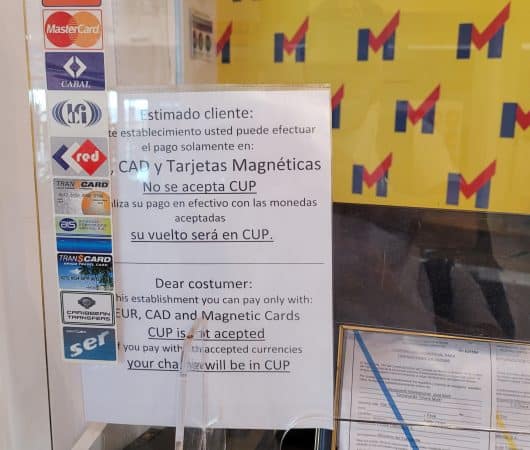 Havana Airport Departure Lounge
Terminal 3 is home to the Salon VIP Lounge. You can access the lounge by buying a business class ticket or paying about 27 USD at the airport.
Set apart from the chaos of the public waiting areas, the VIP Lounge is quiet and private. The lounge includes amenities like a private bathroom, a fridge with beverages, and select finger foods like sandwiches and nuts. There's also an attendant who can help if you need assistance.
Our honest assessment? The lounge isn't exactly luxurious, but it is private and quiet, so it may be worth the price for some travelers.
Other Services and Facilities in Havana Airport, Cuba
Besides the services and facilities we covered (ATMs, CADECA, car rental companies), you will find:
Children's Play Area: Terminal 3 has a children's play area where kids can burn off some energy before they board the long flight home.
Information ("Información") Booth: Questions about the airport or your travel itinerary? You can find help at one of the information booths located in Terminal 3.
Disabled Facilities: Havana Cuba Airport has wheelchairs, lifts, and handicap bathrooms in Arrivals and Departures.
What's not available at the Havana Cuba airport?:
Luggage lockers
Free Wi-Fi
On-site hotels
Ready to Touch Down?
Getting through the Havana Cuba airport doesn't have to be confusing or stressful. Although it's not like many modern airports worldwide, knowing what to expect will help you get onto your flight, through customs, and onto public transportation with ease.
We put together this list so you can have an easy time arriving in Cuba, from the first step of getting your visa to hopping into the taxi that will take you to your casa or room.
Do you feel ready to touch down at Havana Airport? Let us know what you think in the comments! If you liked the article, share it with your fellow travelers!
Essential Travel Logistics For Cuba
Cuban Tourist Card – If your Cuban Tourist Card (a.k.a Cuban Tourist Visa) isn't bundled into your airline ticket or travel package, buy it only through EasyTouristCard.
Travel Health Insurance – Travel medical insurance is an entry requirement for Cuba, so you can't skip it. Travelers can get travel health insurance for Cuba via Insubuy. Travel protection benefits such as trip interruption and cancellation, baggage delay insurance, etc., are not required.
Essential Items to Pack – Bring the essential travel necessities that you may not be able to get in Cuba:
Read our complete packing list for Cuba.
Find Accommodations – Find hotels or casas particulares (private accommodations) on Skyscanner, which lists thousands of accommodations available in Cuba.
Book Your Flight – Book cheap flights to Cuba on Skyscanner, our favorite flight search engine to find deals on flights to Cuba.