Exploring Cuba by bus is a popular way for visitors and locals to explore the country without renting a car or taking expensive taxis. For this, the Cuban government offers two options: Viazul and Astro, the main inter-provincial bus lines in the country.
The difference is who the clients are.
Only Cuban residents can ride Astro buses, so you can ignore their completely different struggles.
Viazul buses, on the other hand, are mainly meant for tourism. The company operates a fleet of modern air-conditioned buses that connect major cities and tourist destinations in Cuba.
However, like many things in Cuba, getting a bus ticket on Viazul can be more complicated than it should be.
This guide details the steps to book a Viazul bus in Cuba. We also cover Viazul's ticket prices, schedules, baggage and cancellation policies, the check-in process, finding good seats, and other essential tips for hopping on a Viazul bus. Finally, we answer your burning questions about booking a Viazul bus in Cuba.
Step 1. Should You Book a Viazul Bus?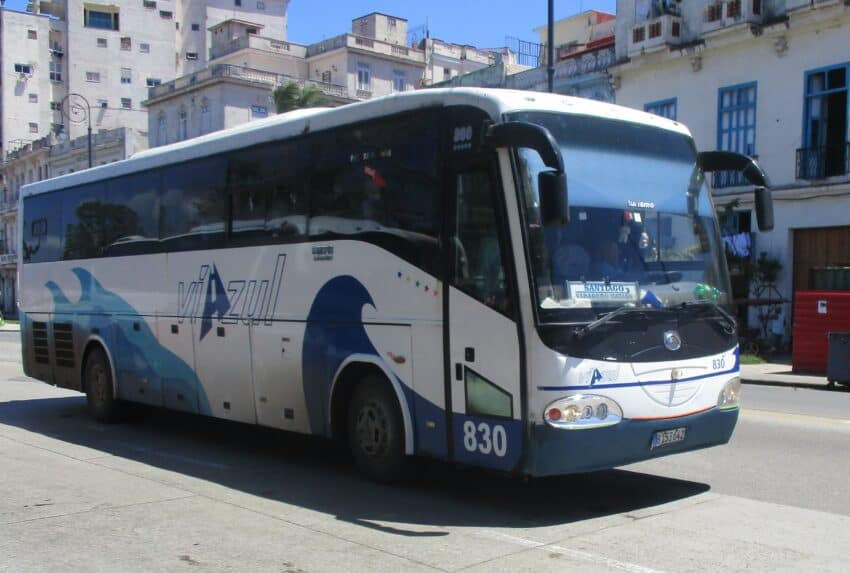 Viazul is a popular and affordable option for travelers seeking to explore Cuba's vibrant culture, fantastic beaches, and breathtaking scenery. However, before jumping on a Viazul bus, consider a few pros and cons.
Affordable ticket prices
Viazul's ticket prices are generally affordable, especially for budget-conscious travelers wanting to reduce their Cuba travel costs.
The price of a one-way ticket varies based on the distance traveled and typically ranges from 5 to 60 USD. For instance, here are the prices per person for popular Viazul trips as of March 2023:
| Route | Price |
| --- | --- |
| Havana - Varadero | 9 USD |
| Havana - Viñales | 12 USD |
| Havana - Cienfuegos | 16 USD |
| Havana - Santa Clara | 18 USD |
| Havana - Trinidad | 21 USD |
| Havana - Santiago De Cuba | 56 USD |
Children under 4 can travel on an adult's lap at no extra cost, while tickets for children aged 5 to 11 have a 50% discount and include a seat for the child.
Viazul's ticket prices may vary slightly according to the travel season. The best time to go to Cuba is the dry season (November to April), and the most expensive.
If you are looking for a good bang for your buck when it comes to transportation in Cuba, Viazul buses are one of the best options.
Booking a Viazul bus can be a hassle
First and foremost, you should always book your Viazul bus trip online and as early as possible.
Booking your bus journey on Viazul's website is relatively straightforward when the site is functioning correctly. However, more often than not, the site suffers delays and technical issues. The site's technical glitches can be frustrating, but be patient because booking the bus in person is more inconvenient.
Don't wait to be on the island to make the reservation. Internet access in Cuba is unreliable and slow.
You can also make a reservation in person at any of Viazul's bus stations and offices. However, you will have to deal with lines, the stressful environment of the terminal, and the poor English proficiency of the Viazul staff. What is worse, you may not even find availability!
Delays are not uncommon
Occasional delays may cause your day's plans to be completely disrupted. Although significant bus delays don't occur every day, Viazul buses often run behind schedule.
Our advice: don't make tight travel plans that depend on Viazul buses arriving on time at your destination.
The ride may not be so smooth
Do not expect a quiet and comfortable journey. While Viazul buses are modern, passengers often complain about uncomfortable and malfunctioning seats, unpleasant toilet odors, bumpy rides, and unprofessional staff.
Whether to use Viazul or not ultimately depends on your priorities and preferences. Weigh the pros and cons and make the best decision for your travel needs.
Step 2. Check the Available Schedule and Destinations
Viazul goes pretty much everywhere, including the main travel spots on the island:
Havana
Varadero
Vinales
Trinidad
Cienfuegos
Santa Clara
Holguin
Santiago de Cuba
With its extensive network, you can reach almost every corner of Cuba, except for rural areas that may require alternative means of transportation.
Viazul bus also departs from Havana Airport, which is convenient for travelers who want to skip the capital city. (To be clear, you shouldn't miss the chance to experience the amazing things to do in Havana.)
To help you plan your travel, below is a sample of the 2023 Viazul daily timetable, which shows the departure and arrival times of buses from Havana to the top destinations. The departure and arrival times are the same regardless of the day of the week.
Route
Departure Time
Arrival Time
Duration
Stops
Havana Airport - Varadero
15:30
20:35
5h 5min
5
Havana - Varadero
8:30
11:40
3h 10min
3
16:40
20:35
3h 55min
4
Havana - Matanzas
8:30
10:35
2h 5min
1
16:40
18:45
2h 5min
1
Havana - Viñales
7:20
10:55
3h 35min
2
Havana - Pinar del Rio
7:20
10:00
2h 40min
1
Havana - Santa Clara
15:10
19:45
4h 35min
1
16:40
0:00
7h 20min
5
23:55
3:45
3h 50min
0
Havana - Trinidad
15:25
22:30
7h 5min
4
Havana - Cienfuegos
15:25
20:45
5h 20min
3
Havana - Santiago De Cuba
15:10
8:30
17h 20min
10
16:40
12:55
20h 15min
14
23:55
15:40
15h 45min
7
However, Viazul's schedule is subject to change, especially during fuel crises, which can cause reduced services or even suspension of some routes. The Cuba travel restrictions in place can also affect the Viazul's schedule.
The most reliable way to get an updated timetable is to search your route and trip date on Viazul's website.
Step 3. Review Viazul's Baggage Policy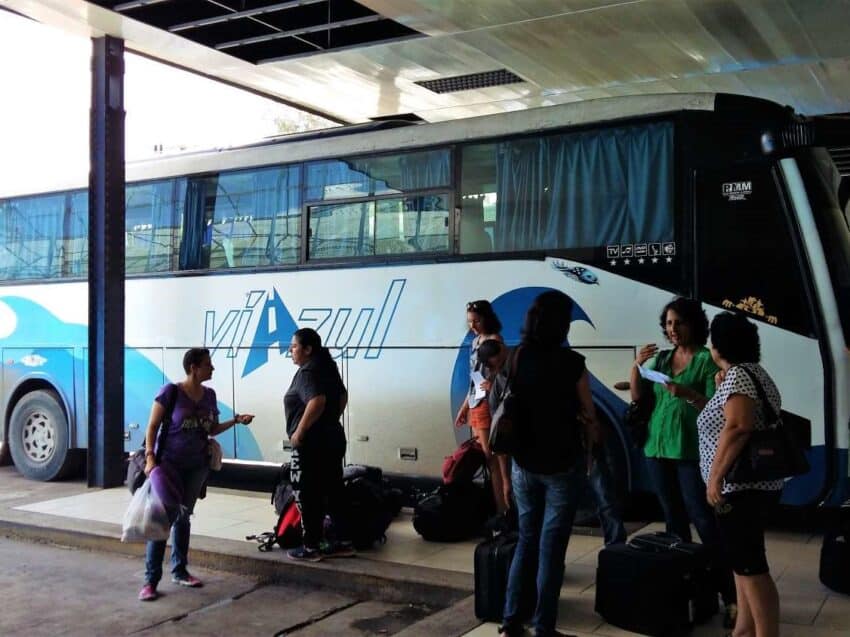 Knowing Viazul's baggage policy is important to avoid any issues. Just like any other bus company, Viazul has rules and restrictions when it comes to luggage.
You can bring two 2.5 kg (5.5 lbs) carry-on bags per person.
You can store up to three bags in the bus baggage compartment. The first is free, but there is a 4 USD fee for the second and third bags. The maximum weight is 23 kg (50.7 lbs). Consider bringing packing cubes for better luggage organization.
Viazul does not assume responsibility for the value of the bag contents, but guarantees some compensation in the event of a loss. So, keep your valuable items like passports, Cuban visas, and money in your carry-on bag. Also, consider purchasing travel insurance for Cuba that covers baggage loss.
Additionally, several items are prohibited for transport, including animals, firearms, sharp objects, and toxic or flammable substances. Any luggage containing items that may decompose or could potentially spill and endanger the integrity of other luggage will also not be permitted for transport.
Step 4. Make a Reservation
Here is where things become more complicated. There are two ways to book a Viazul bus: online at Viazul's website, and in person at Viazul's offices.
In any case, you should book your Viazul bus at least five days before the departure date, or chances are that you won't find availability.
Let's go through each option.
Option 1 – Book your Viazul bus online (Recommended)
One of the things you should know before traveling to Cuba is that booking any travel service is always complicated. The Viazul bus service is no exception.
Here are a few issues that can happen during the online booking process:
You may see content in Spanish, even if you toggle the language selector.
The website can crash. Yeah, it happens all the time, so be patient.
Some trip details (number of stops, distance, available seats, etc.) may be inaccurate. However, the departure and arrival times are pretty accurate.
Despite being featured on Viazul's website, as of March 2023, there is no Viazul app.
Here's a pro tip: although making a reservation over the phone is not possible, you can receive some "live support" during the booking process. To do so, create a contact for Viazul on your phone using the following company numbers:
+53 59 890616
+53 59 890618
+53 59 890620
+53 52 127127
Also, create a group on WhatsApp, including all four phone numbers.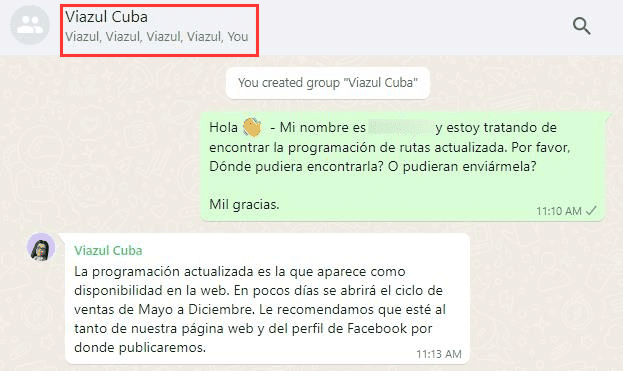 The English proficiency of Viazul's support team may be limited, so we suggest you use Google Translate to message them in Spanish.
With this information in mind, you'll be well-prepared to embark on the booking process. Simply follow the detailed steps below.
Please, note that you must complete your online reservation at least one hour before departure.
#1 – Sign up on Viazul's website
First, go to Viazul's website and sign up.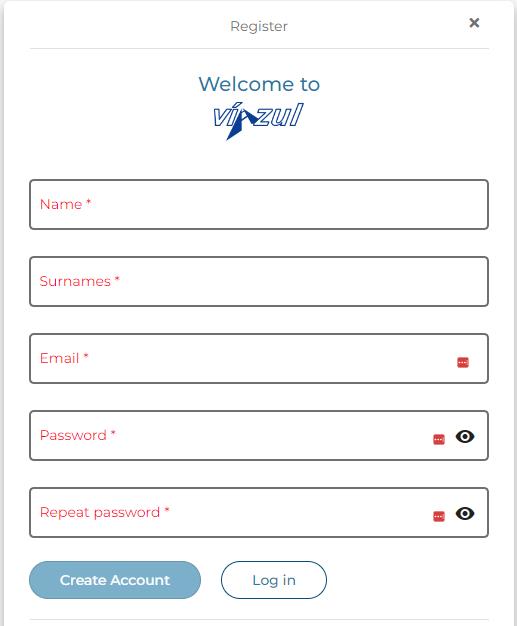 You will receive an email with a verification code within a few minutes.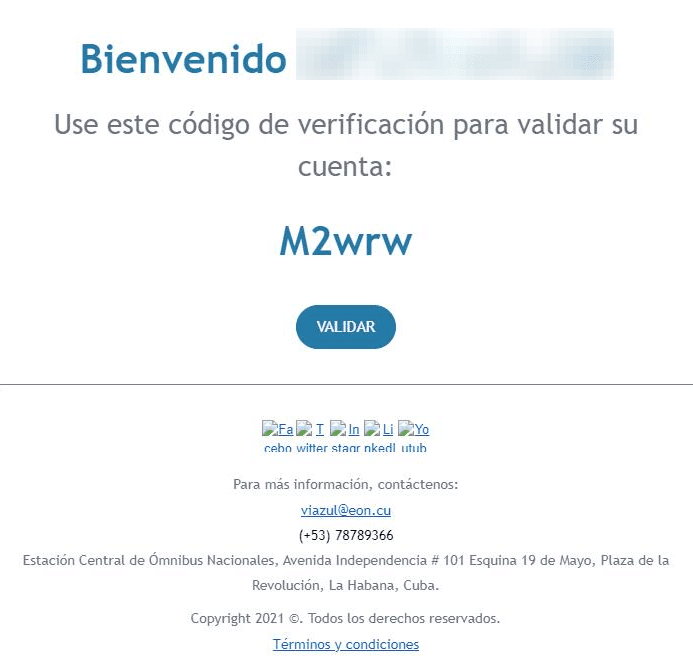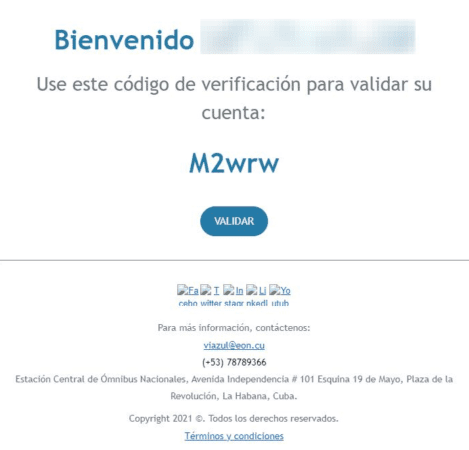 Enter the verification code in the following form.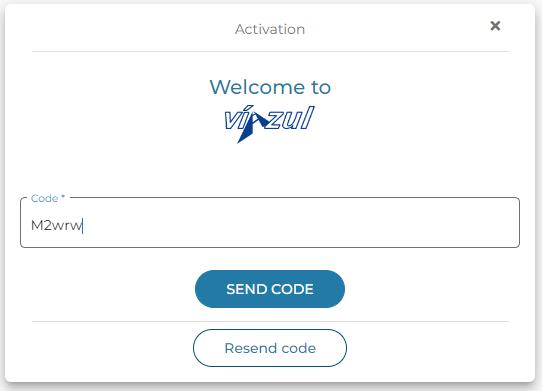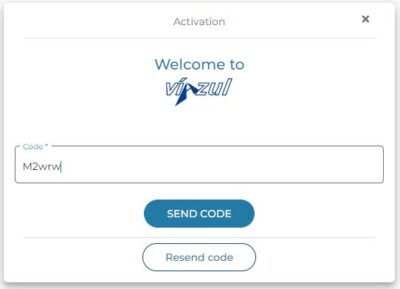 You should receive another email confirming your successful registration if everything goes smoothly.
#2 – Search for your route
Use the booking form on the website to search for your bus trip.


The search results will show you the departure and arrival times, the trip duration, the number of stops, the distance, the number of available seats, and the price.

Make sure to expand the details of the search results to learn more about the expected bus stops.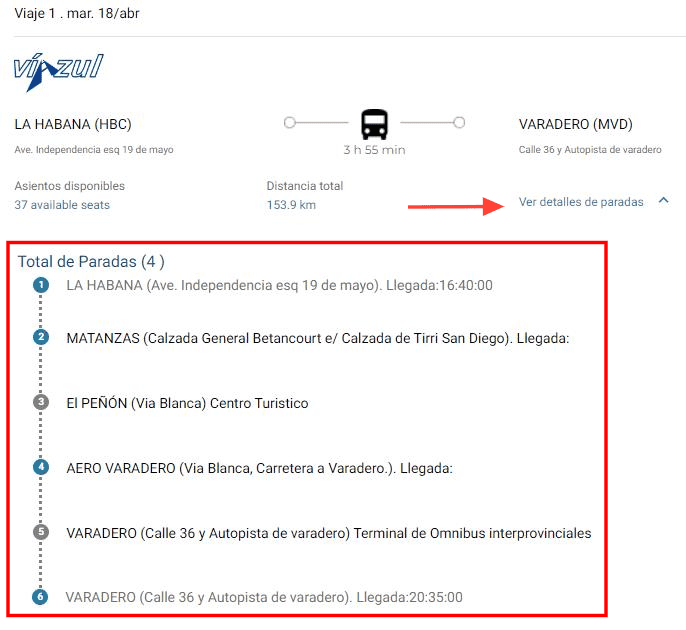 If you come across the below message, we have bad news: Viazul does not operate the route you want. Change the origin or destination to see if you can find a suitable bus trip alternative.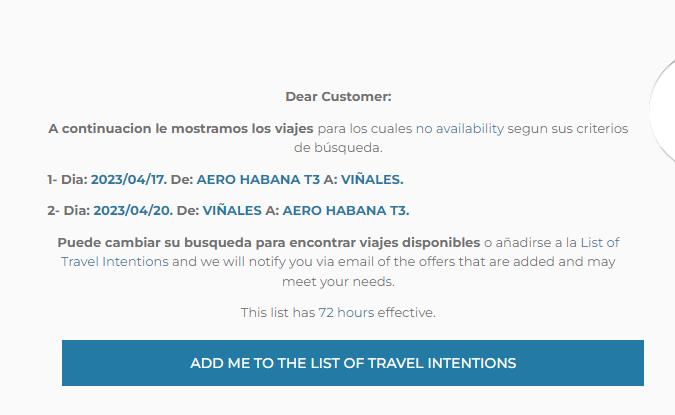 #3 – Add passengers
Once you find your ideal bus trip, you will be asked to provide the passenger(s) details. You will need your ID document or passport.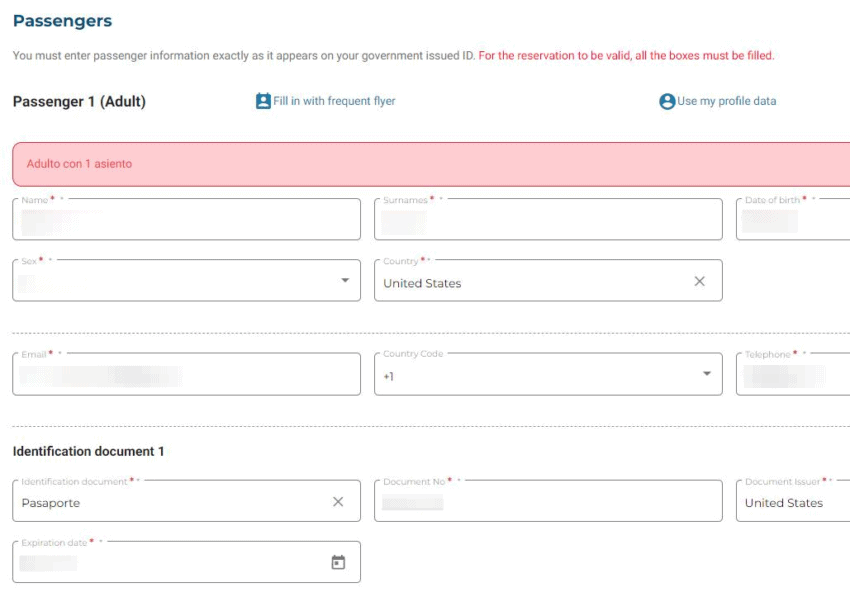 #4 – Payment
You can pay for your booking using a credit or debit card, including MasterCard, Visa, American Express, and Discover. According to Viazul's reps, even credit cards issued by US banks are accepted, circumventing a common limitation for Americans traveling to Cuba.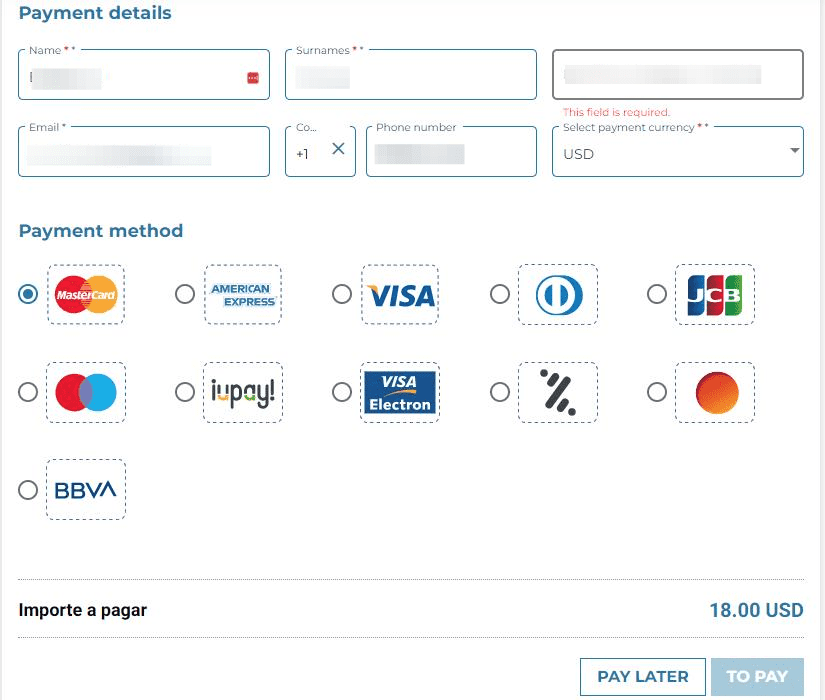 You also have the option to "Pay Later". However, unpaid reservations are NOT guaranteed. Therefore, if you are sure you will make this trip, just pay for it online.
Option 2 – Book your trip in person at the bus station
If a Cuban travel provider allows you to make online reservations, you should take it. Going to a tourist office in Cuba to make any type of reservation may come with a few frustrations:
Uncontrolled chaos and noisy long lines at the terminal.
Poor communication due to the lack of English proficiency of the Viazul staff. Pro tip: bring a Cuban Spanish phrasebook.
The bus may be full already, and you may not get there at all.
The bottom line is this: book online and book early.
If you decide to take the risk and show up at the local Viazul bus station, follow on. Let's see how we can help you untangle the situation.
#1 – Find the nearest Viazul bus station
A Viazul office or bus station will likely be nearby if you are in a major Cuban city. Check out Viazul's list of bus stations and offices, and find the one available in your city.
Alternatively, download the Google map of your ride so you can use Google Maps offline.
#2 – Show up early
Your best bet to book a Viazul bus in person is to arrive early at the bus station—at least one hour in advance.
They are generally open from 8:00 AM to 5:00 PM, but their operating hours vary per location. So, make sure to check the opening hours before showing up.
#3 – Buy your tickets (if you can)
In the best-case scenario, you stand in line for a long time, manage to chill out, and just pay for the tickets. If you are that lucky, here are a couple of tips to go through the process seamlessly:
Write the trip and passenger details in a note and hand it to Viazul's rep. Include the origin, destination, date and time, and full name of the passengers as they are in their passports.
The ticket prices are in USD. You can't pay in CUP, the Cuban currency. You can't pay in cash either, so you must use a credit card.
If you didn't have a good day at the bus station and it turns out that the bus tickets ran out, you may get on a reservation list ("lista de reserva"), a sort of waiting list. You won't be charged for being on the reservation list
However, the reservation list does not mean you will get on the bus eventually. You will have to wait until one hour before the departure to find out if you are part of the lucky ones. If not, you won't get on the bus.
What do you do now?
Well, you will have three options: book for another date or time; book a different but suitable bus trip; or take a "colectivo" to your destination.
Colectivos are shared taxis usually roaming around bus stations. They can take you further down the island but not as far away as the country's easternmost part (Holguin, Santiago de Cuba, Granma, etc.). These classic cars are uncomfortable when shared with other passengers. Therefore, we recommend you pay for the whole car.
Step 5. Modifications and Cancellations
You can change and even cancel an existing reservation. However, you will most likely incur a fee.
For example, if changing your bus trip results in a lower amount than the original reservation, Viazul won't refund you the difference. You will have to pay the difference if it results in a higher amount. On top of that, Viazul charges a 10% service fee.
You can cancel a Viazul reservation 72 hours before the scheduled departure. Viazul will refund you 90% of the ticket cost. You can request your trip cancellation via email (viazul@eon.cu) or phone (see the phone numbers above). You won't get a refund in cash.
Please note that you won't be entitled to a reimbursement if you cancel within 72 hours of departure.
Step 6. Check-in
You must arrive at the bus terminal for check-in at least one hour before departure. Otherwise, you will lose your reservation to someone on the waiting list.
Next, get in the check-in line to receive a boarding pass. Your bags will be tagged and loaded onto the bus.
Even though your boarding pass will show your assigned seat, in reality, seats are based on a first-come, first-serve basis.
Step 7. Find Your Seat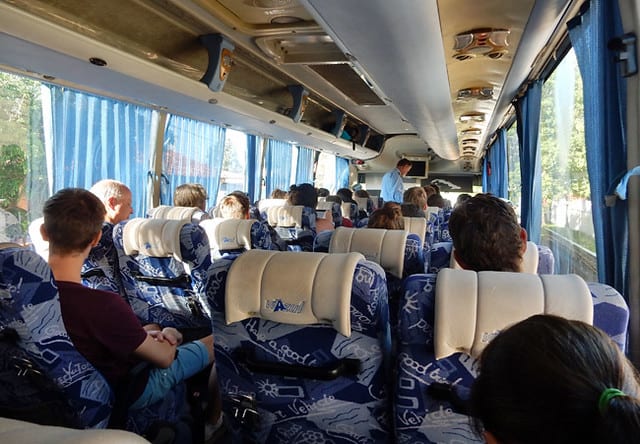 Yes, there is a whole step for this. You will spend at least three hours on this bus, and not all seats are created equal!
Standing at the front of the onboarding line will give you the best chance to choose a good seat. This also stresses the importance of checking in early!
Once on the bus, avoid three areas: seats near the toilet (it stinks!), seats near the TV (they have less headroom), and seats in the back (the ride feels bumpier).
Once you have found a potential seat candidate, check that the reclining mechanism of your seat and the seat in front of you is not broken.
Step 8. Enjoy(?) the Ride
Although you will save money with Viazul, we can't really say that the ride will be comfortable and pleasant.
To start, don't expect the bus to be on par with modern long-haul buses. Although most Viazul buses are new Chinese-made Yutong buses, customers usually complain about broken toilets, bad smells, malfunctioning and uncomfortable seats, and AC on full blast all the time.
They can even break down mid-way!
The ride can feel bumpier than what you are used to due to the poor conditions of the roads in Cuba, rogue drivers, and masses of people, bikers, and animals on the streets.
Depending on the route, the many stops can be annoying. For example, driving from Havana to Varadero takes roughly two hours. However, the Viazul bus from Havana to Varadero can take up to four hours and make four stops mid-way!
Here is another pro tip: Viazul drivers stop at specific roadside cafes and restaurants where toilet attendants will ask you for a tip to use the bathroom. So, spare a few Cuban Pesos for tipping in Cuba during the journey.
To make the trip more pleasant, we recommend bringing essential items to Cuba, such as:
The good news is that you will get to your destination safely (Cuba is generally a very safe country). You will also meet new people and get a glimpse of the rural towns where the bus pass by.
Step 9. Complaints and Inquiries
You can contact Viazul with concerns and inquiries about your past bus trip. You must submit your reservation code, a brief description of what you are inquiring about, and the compensation you are requesting.
You can send your complaint or inquiry via email to viazul@eon.cu or call the phone numbers above. You can also go in person to any of Viazul's offices.
Frequently Asked Questions About Viazul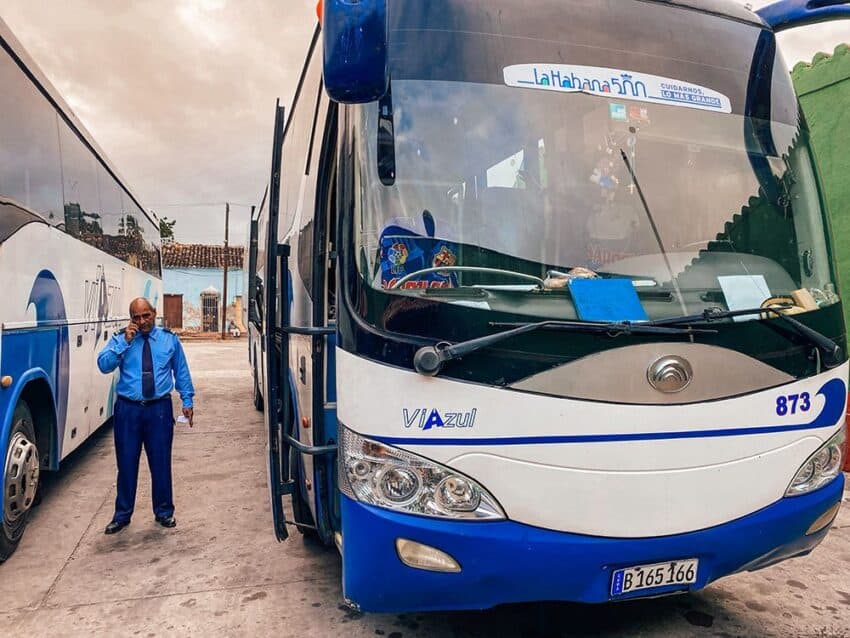 This section will answer your most burning questions about booking the Viazul bus in Cuba.
How can you book the Viazul bus?
You can book the Viazul bus in Cuba online on Viazul's website and in person at any Viazul terminal or office.
We suggest booking online and early for a better chance of getting a ticket.
How can you make payment?
You must use a credit or debit card. Cash is not accepted. The ticket prices are in USD.
Can you change or cancel your reservation? Can you get a refund?
Yes, you can change or cancel your reservation.
If changing the reservation results in a lower amount, Viazul won't reimburse you the difference. If it results in a higher amount, you must pay the difference. There is a 10% service fee for modifying a reservation.
You can cancel your booking and get refunded 90% of the ticket cost if you cancel 72 hours before the departure date.
Where is the nearest Viazul bus station?
To know the closest Viazul bus station or office, go to the locations page on Viazul's website.
Alternatively, download the map of Cuba from Google Maps to use it offline and find the nearest Viazul office.
Are Viazul buses comfortable?
They are generally comfortable when they are new. The problem is that many Viazul buses have been neglected over the years. The reclining mechanisms of many seats won't work, the toilet may be broken, and the drivers like to turn on the AC on full blast. You can feel somewhat uncomfortable on long drives.
How many bags can you take?
You can bring two carry-ons, and three 50-pound checked bags to the Viazul bus.
Do Viazul buses get delayed?
Yes, sometimes Viazul buses get delayed. Don't make plans depending on the Viazul bus's punctuality.
What if you miss the bus or the bus is full?
If you miss the bus, talk to the Viazul's rep to book another trip for another time or date. If you really need to get to your destination the same day, rent a "colectivo" taxi outside the terminal.
Do Viazul buses make stops?
Yes, sometimes too many in short rides. Usually, Viazul drivers stop every two hours for 20-30 minutes.
Do they offer compensation for lost or damaged baggage?
Yes, although they won't pay for the valuable content in your bags. The compensation amount varies, according to resolution 261/2008 of MITRANS.
Key Takeaways for Booking a Viazul Bus
An interesting fact about Cuba is that Viazul is the most popular transportation option for travelers on a budget. If you want to save some bucks during your trip to Cuba, go for it. 
However, set the right expectations and remember what we discussed:
Book online and book early.
The ride won't be smooth, especially during long distances.
Be prepared. Take a jacket, hand sanitizer, a water filter bottle, and some spare Cuban Pesos for tipping during the stops.
Don't make plans that depend on your bus getting on time. Viazul buses often get delayed!
Did we miss something? Let us know in the comments section!
Essential Travel Logistics For Cuba
Cuban Tourist Card – If your Cuban Tourist Card (a.k.a Cuban Tourist Visa) isn't bundled into your airline ticket or travel package, buy it only through EasyTouristCard. 
Travel Health Insurance – Travel medical insurance is an entry requirement for Cuba, so you can't skip it. Travelers can get travel health insurance for Cuba via Insubuy. Travel protection benefits such as trip interruption and cancellation, baggage delay insurance, etc., are not required.
Essential Items to Pack – Bring the essential travel necessities that you may not be able to get in Cuba:
Read our complete packing list for Cuba.
Find Accommodations – Find hotels or casas particulares (private accommodations) on Skyscanner, which lists thousands of accommodations available in Cuba.
Book Your Flight – Book cheap flights to Cuba on Skyscanner, our favorite flight search engine to find deals on flights to Cuba.