Is there WiFi in Cuba in 2020? Do they have Internet at all? If you are visiting Cuba soon, you could be a little bewildered about what you have heard over the Internet in Cuba for tourists.
Some reports come about low speed, others on the high connection costs. At the same time, there are people who assure the wireless service is pretty good, while some others feature the hazards at the recently-opened hotspots.
You may soon enjoy free WiFi from private networks that the Cuban government just legalized. Don't count on it for your next trip to Cuba, though. It may take several months before the private businesses in Cuba start building their own digital networks. We will update this post as we get more information.
The truth is, Internet access in Cuba is a tricky topic. That's why we've put together this helpful guide to teach you the in's and out's of what the Internet is like in Cuba. Most importantly, we will reveal the tricks to access the Internet in Cuba for tourists.
Is there WiFi in Cuba? Does Cuba have Internet at all?
There is Internet and WiFi in Cuba, but its access is limited, restricted to minimal bandwidth, and the service can be quite expensive to use.
Cuba doesn't have free Internet or WiFi; that applies to both tourists and the general public. However, international visitors have an easier time connecting to the web than anyone else on the island because the best connections are at resorts and hotels.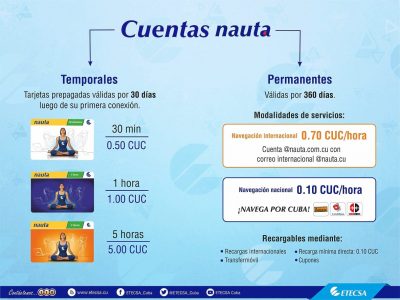 The International Telecommunications Union ranks Cuba as #135 on the Global ICT Development Index. That's the worst in not only Latin American, but the entire Western hemisphere. Yikes!
Cuba is a communist island, meaning the government controls the island's resources, including the Internet. Cuban Internet is run by a state-owned company called Empresa de Telecomunicaciones de Cuba (ETECSA). ETECSA is the sole provider of Internet, WiFi, and telephone service in Cuba.
How to access the Internet and WiFi in Cuba (and how much it costs)?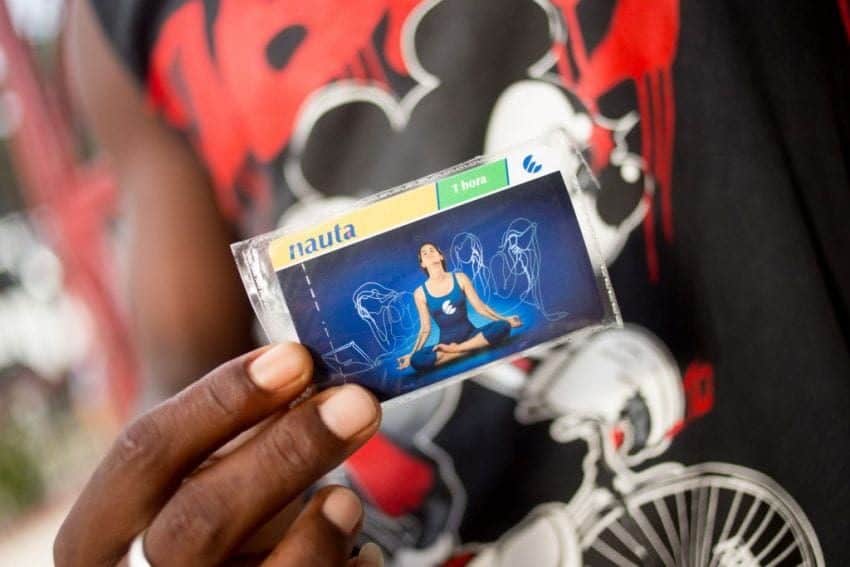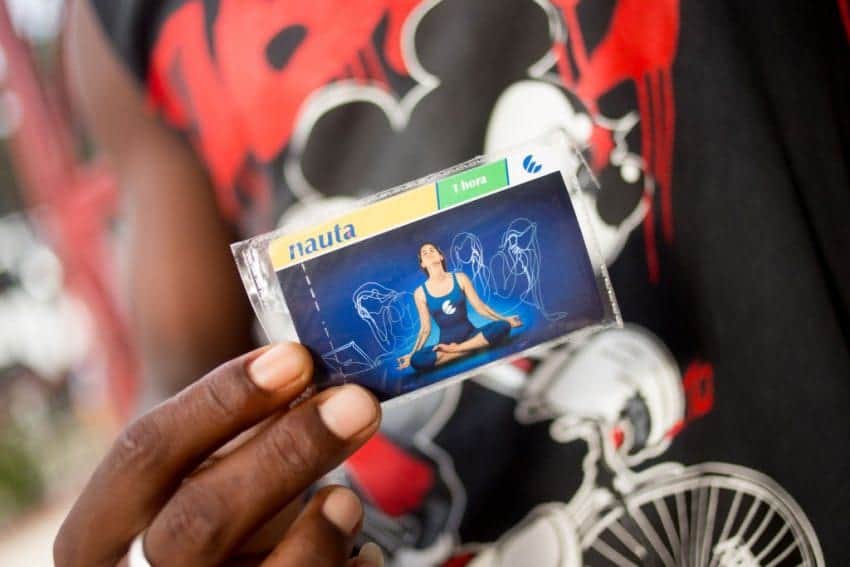 Brace yourself. You've got a couple of options for connecting to the Internet in Cuba:
(Soon, you are likely to get a fifth option: free WiFi from private networks. For now, you'll have to stick to any of the alternatives below)
Option 1. Get a NAUTA card
A NAUTA card lets you have Internet access in Cuba at public Wi-Fi hotspots. You can buy your NAUTA card at any of Cuba's ETECSA offices, although some hotels and resorts sell them too. Be prepared to wait in a long line; recent visitors have reported waiting up to 2 hours at the office in Havana.
So, how much does a NAUTA card cost? A 5-hour card costs 5 CUC and a 1-hour card costs 1 CUC. Don't forget: you'll need your passport to buy the card!
Besides the ETECSA office and your hotel, there is a third option: the black market. If you choose to buy a NAUTA card from a "private" seller, expect to pay an inflated rate. We don't recommend this option!
Option 2. Your hotel's desktop computer with Internet access
Many of Cuba's upscale hotels and resorts have desktop computers with Internet access available for guests. Prices range from 2 CUC to up to 10 CUC per hour.
Besides being conveniently located, you also don't need a NAUTA card to use them, which is an extra bonus. This is a popular option to get Internet in Cuba for tourists.
Here is a list of popular hotels and resorts in Cuba with Internet access:
La Habana: Presidente, Parque Central, Nacional.
Cayo Largo: Playa Blanca.
Varadero: Blau Marina, Blau Varadero, Iberostar Varadero, Iberostar Laguna Azul, Meliá Las Americas, Meliá Sol Palmeras, Memories, Ocean, Paradisus, Royalton Hicacos, Villa Cuba, Roc Barlovento.
Trinidad: Iberostar Grand Hotel.
Cayo Coco: Iberostar Mojito, Meliá Cayo Coco, Meliá, Jardines del Rey, Memories Flamenco, Memories Caribe, Playa Coco, Sol Cayo Coco, Tryp Cayo Coco, Colonial Hotel.
Cayo Santa María: Husa, Meliá Buenavista, Royalton.
Cayo Ensenachos: Iberostar Cayo Ensenachos.
Cayo Guillermo: Iberostar Daiquiri.
Guardalavaca: Blau Costa Verde, Memories Holguín, Paradisus Rio de Oro, Playa Costa Verde, Playa Pesquero.
You can check out the hotels in Cuba with Internet access at Booking.com.
Option 3. International roaming
If you'd rather connect to the Internet using your cell phone instead of a desktop computer, certain major carriers offer roaming coverage in Cuba.
AT&T and T-Mobile are two popular carriers with roaming coverage in Cuba.
AT&T Cuba prices: $3.00/minute for calls; $0.50/text; $2.05/MB for data
T-Mobile Cuba prices: $2.00/minute for calls; $0.50/text; $2.00/MB for data
Option 4. Rent a SIM card with Internet from a home rental owner
Mobile phone users wanting to access the web have the option of renting a SIM card for use in Cuba. Some owners of casas particulares (family-run bed and breakfasts) may have extra SIM cards on hand that you can rent during your trip.
This is a very good option to get connected since it does not require you to go to public hubspots.
Option 5. Buy or rent a SIM card online
If you like to plan ahead (or just don't like the idea of standing in a long line at the ETECSA), there are a few websites out there that will sell you Cuba SIM cards ahead of your trip.
OneSimCard and Cellomobile are two popular sites to buy or rent SIM cards for Internet in Cuba for tourists.
OneSimCard prices: Incoming calls $0.65/minute; outgoing calls $1.25/minute; free incoming SMS text messages.
Cellomobile prices: Incoming calls $2.19/minute; outgoing calls $2.19/minute; free incoming SMS text messages; outgoing SMS messages $0.49/each.
Best places with WiFi in Cuba (with the NAUTA card)
To access the WiFi in Cuba, you need to go to a designated spot to connect via WiFi or cable. Web access is limited to those places, instead of being widely available like in cities in North America or Europe. Most of these locations are in urban areas.
Using your NAUTA card, you can connect to the Internet in Cuba at any of the following places:
Public WiFi hotspots (see the full list of hotspots). A word of caution: robberies are not unheard at some of these locations. If you want to know more about travel safety in Cuba, check out our ultimate safety guide for Cuba.
Hotels and resorts (see list above)
Desktop computers at ETECSA offices (these are called "Salas de Navegación". See the full list here)
How to sign into the WiFi in Cuba using NAUTA?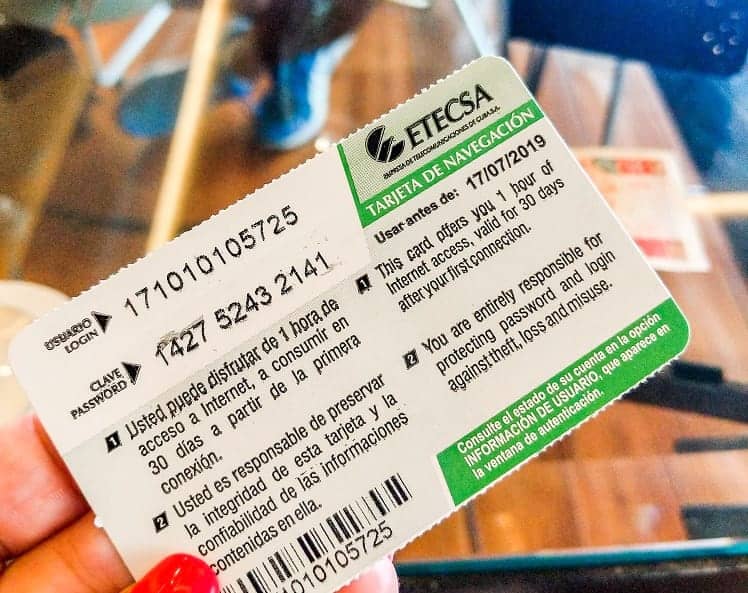 To get started, first select the network you want to connect to. This is where your NAUTA card comes in.
When you get your ETECSA WiFi card, you'll have to scratch it on the back to get a login code and password. Type in your login information when prompted and then click accept. Voila! You should be connected in no time.
How to log out of the WiFi in Cuba using NAUTA?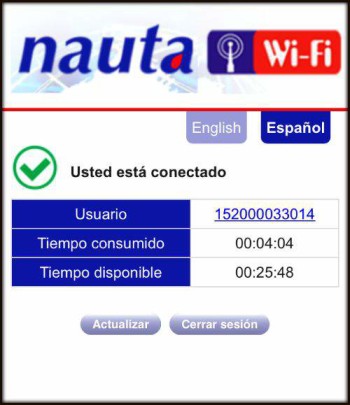 When you're done browsing the web, remember to log off. By logging off, you won't accidentally waste any of your pre-paid WiFi minutes on idle time.
To log out, first type 1.1.1.1 into your browser's search bar. When prompted, click "cerrar sesión" to log out. Wait for the confirmation notice to make sure the logout was successful.
Alternatively, you could also just disconnect from the WiFi signal and you'll be automatically logged out. If the connection is bad and you're struggling to log out, disconnecting from the network may be your only option.
Save your minutes: always remember to log out!
How fast is the WiFi Cuba? 
WiFi in Cuba is not fast. Speed levels vary and can range anywhere from 56 KB/second (dial-up) to 3-4 MB/second at upscale resorts. They are even trying 4G mobile Internet as we write (December 2019).
However, keep in mind that even today, you may struggle to connect at all.
What can you do on the Internet in Cuba?
You will be able to open websites and access your email accounts. You can also search on the Web using any browser available online.
Downloading middle-size files and even small multimedia archives is also possible if speed allows. You could even book the best tours in Cuba through Tour Republic :).
Webcam chatting, posting to your social profiles, and consulting the weather are common uses too.
On the other hand, video streaming, online gaming, even uploading middle-size files are very difficult things to do.
Are there restricted apps and online services in Cuba?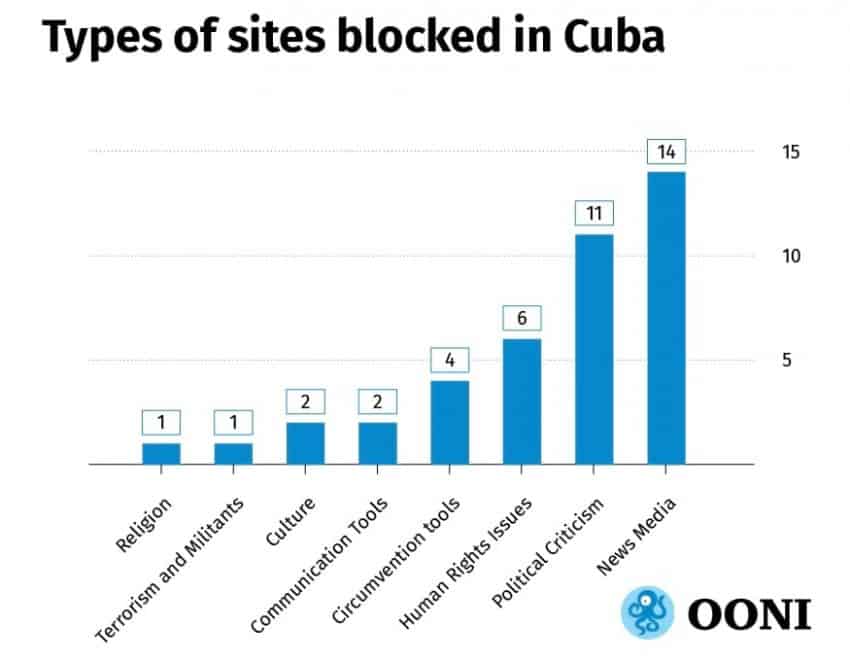 You'll be able to access almost any app or online service in Cuba that you normally use in your home country.
There are a few exceptions; 41 to be exact. That's the number of websites currently blocked in Cuba according to a recent report by the Open Observatory of Network Interference (OONI). Most the websites are ones you wouldn't normally visit as a tourist anyway, like political publications critical of the Cuban government.
The only major communications app blocked in Cuba is, interestingly, Skype. Instead, you can use other popular messaging tools like WhatsApp and Facebook messenger while in Cuba.
Some visitors like to use a VPN so they can access blocked websites and keep their data private while in Cuba. We recommend using NordVPN.
How safe is the Internet in Cuba?
Anytime you log into an unsecured network, you may be putting yourself at risk of being hacked or having your data stolen.
The Cuban Internet network is no exception. Luckily, you can plan ahead to protect your personal data by subscribing to a VPN like NordVPN. A VPN is a type of software that encrypts your data so you can use an unsecured network without any risk to yourself.
Must-know tips for Internet usage in Cuba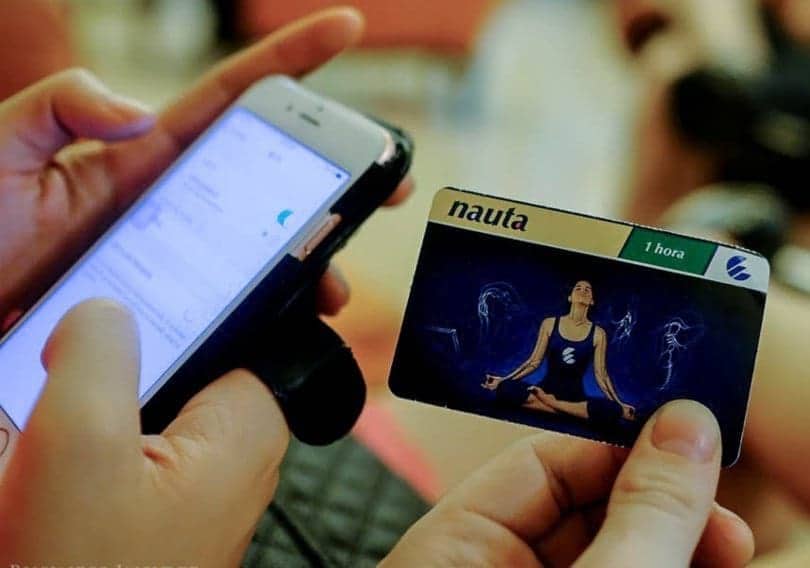 Don't rely on it
Internet in Cuba is not available everywhere. Where it is available, it can be expensive to access and connections are often slow and unreliable. One traveler recently recounted that the Internet was down for four days in parts of Cienfuegos!
For these reasons, we recommend planning ahead so your trip isn't dependant on Internet access (i.e. pack paper maps, write down emergency numbers, etc).
Do your research in advance
Assume your Internet connectivity will be spotty and sporadic while in Cuba. To avoid issues, you should front-load as much of your trip research as possible while you're still at home.
Tour companies like Tour Republic can help you get your full itinerary planned out before you even set foot on the plane!
Download or print the list of WiFi hotspots in Cuba
Cuba only has a certain number of designated WiFi hotspots. You can check out where the hotspots are near you using this list from ETECSA.
Read offline and draft replies in a notes app
Since you won't have a constant WiFi connection in Cuba, you'll have to adapt by taking advantage of offline features.
When reading and writing emails, for example, Cubans will often read their emails offline and draft replies in a notes app. Once you connect to a hotspot and login via ETECSA, you can copy/paste your replies from the notes app into your email client.
Edit photos and videos using offline apps
Cuba is filled with beautiful scenery and landmarks you'll undoubtedly want to take pictures and video of.
Instead of relying on photo editing apps that require Internet, use offline apps instead. Offline apps will give you the opportunity to edit, filter, and tweak to your heart's desire, wherever you are.
Once you get connected to a WiFi hotspot, all you have to do is upload your brag-worthy memories on your favorite social media site!
Don't run out of battery
Being on vacation isn't quite like being at home where you always have a power outlet or USB port within reach.
While in Cuba, we recommend carrying a portable charger with you. This one by INIU can charge two devices at once and is compatible with both the iPhone and Samsung phones. It can charge an iPhone to full power up to three times and a Samsung phone twice.
Avoid damage to your devices
If you plan to bring any plug-in electronics with you, we recommend using a power adapter.
An adapter like this one from SublimeWare is universal, meaning it's compatible with all US, UK, EU, and Chinese outlets.
Ask the locals for help
Most of us are trained to immediately turn to Google as soon as we have a question or need help. Not so in Cuba!
You'll have to ask for help the old fashioned way: by approaching a friendly local. It helps to know Spanish, so be sure to pack a helpful Spanish-English phrasebook.
Don't forget to disconnect!
When you use a NAUTA card, your card is loaded up with a certain number of prepaid minutes for online usage. Once you're done with your web session, remember to log-out from ETECSA or disconnect from the WiFi signal.
Helpful offline apps for traveling to Cuba
Here is a list of offline apps that may be very helpful to get around the Internet issues in Cuba!
Get in the mood: what to read and watch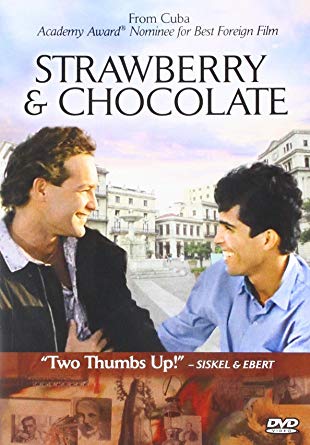 Keep in mind, lots of visitors choose to skip the Internet altogether and disconnect during their Cuba travels.
There are plenty of ways to get to know the island without the aid of the web. You can pack a few paperback books, or even load up on movies and podcasts beforehand. Take a look at our suggestions below for books and movies to get you in the mood for your Cuba trip.
Download and read some good books about Cuba
Cuba has been a muse for some of the world's best writers and artists for decades.
Download and watch some good films about Cuba
Oh man, do not miss any of these movies!
Or… just chill out and disconnect
If all this sounds complicated, no worries, there's absolutely another option: just relax and disconnect.
You can easily spend your time in Cuba without relying on a single electronic device or Internet connection. By doing your research ahead of time and packing a few extra things, you can get by in Cuba with no trouble.
I hope we answered your most burning question: is there WiFi in Cuba for you when you arrive? If you still have questions about the Internet in Cuba for tourists, take a look ETECSA's FAQs page (in Spanish :()
Do you plan to use WiFi in Cuba, or will you disconnect and live in the moment? Let us know your plan in the comments!