A vintage convertible car is the first thing that should come to mind when you think about Cuba. This country is like a big car show where you can find colorful and well-preserved motor vehicles from the 1950s and 1940s.
Classic cars in Cuba are a national icon and a significant component of Cuban culture. Here, we reveal the real reasons why many old cars exist in Cuba, the type of vintage cars you can find here, and how Cubans keep them running.
Why Does Cuba Have Old Cars?
Cuba has many old cars because of three extraordinary events that took place after 1959: the US trade embargo, the economic policies of Fidel Castro, and the mechanical ingenuity of the Cuban people.
In the early 20th century, the United States was the leading supplier of vehicles for the island. In fact, some American car companies used Cuban roads to test-track some of their vintage models.
As a result, Cuba became the top importer of American cars in 1919. The island was full of vehicles from American brands such as Ford, Dodge, Chrysler, and Chevrolet.
But everything unraveled when Fidel Castro took power in 1959. In response to Castro's economic policies, the US government imposed a trade embargo that made it impossible for Cubans to access American cars and mechanical parts.
It wasn't until 2016 that the first new car entered the island from the US in sixty-four years.
On the other hand, the Cuban government further restricted the sale and importation of cars. An interesting fact about Cuba is that, until 2014, Cubans were prohibited from buying and selling cars, except for a few specific cases.
While Castro and the US government were fighting, Cubans found a way to keep the old American cars running. With no new cars and car parts entering the country, car owners needed to be innovative to keep these cars running. For example, they used mismatched parts from Russian vehicles to repair old American cars.
This is another reason the island became a living museum for vintage cars. Cubans call these classic cars "almendrones".
In other words, old cars in Cuba are the result of the cold war between the US and Cuba since 1959 and the resourcefulness of the Cuban people. You can read more about the history and business between the two countries in Cuba: An American History.
What Kind of Classic Cars Are in Cuba?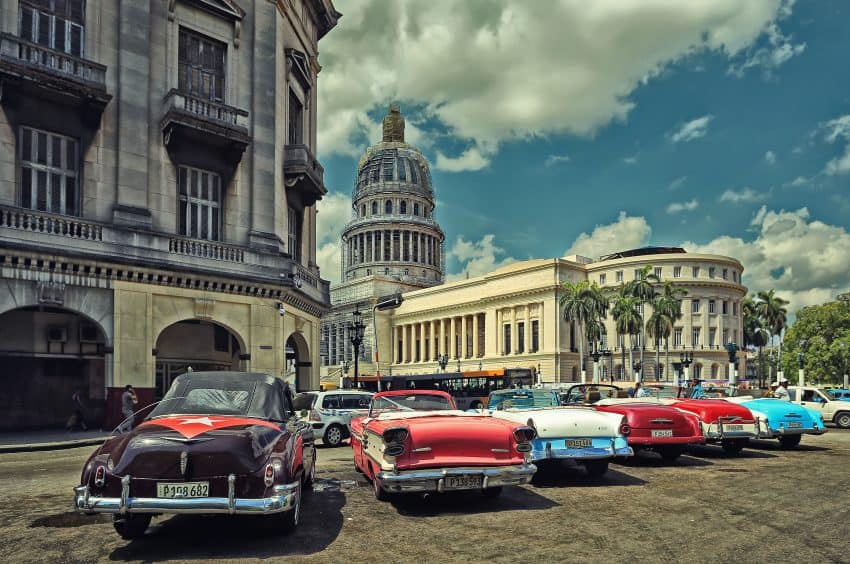 Common vintage car brands in Cuba are Ford, Chevrolet, Chrysler, Oldsmobile, and Buick. It's estimated that 60,000 classic American cars ride on Cuban streets. Many of them are 60 or even 70 years old.
Soviet-era Ladas, Volgas, and Moskvichs are also popular old cars in Cuba. Lada cars are the most common. In fact, several owners formed the Lada Cuba Club at the end of 2020.
Cuba's Car Culture documentary describes the island as a fantasyland of cars. In their book, Rainer Floer and Harri Morick indicate that manufacturers introduced most of these Cuba vintage cars in the 1950s. However, you might not know how old they are because of their beautiful colors.
How Do Cubans Keep Vintage Cars Running?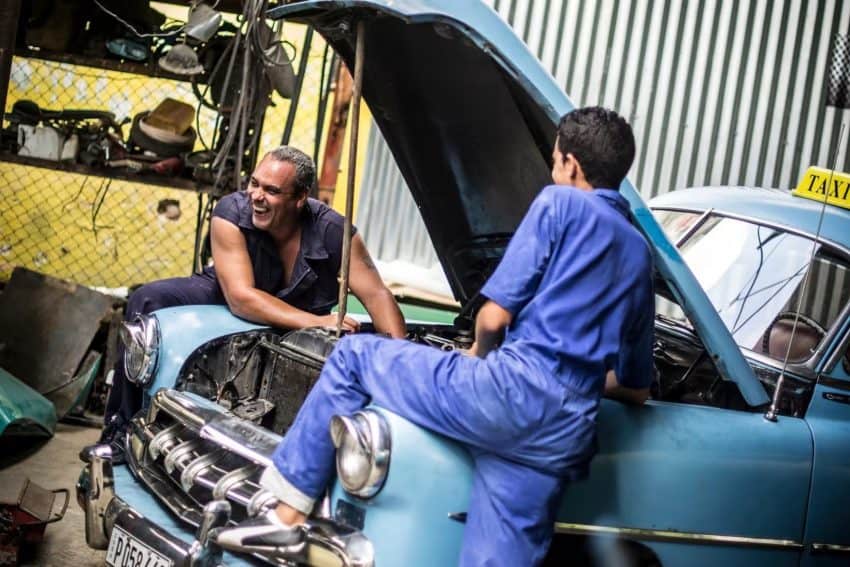 Cubans keep classic cars running by purchasing spare parts from "mules." These individuals hand-carry goods into the country, and sometimes they carry spare parts. Alternatively, mechanics use parts not intended for old cars.
In the early 2000s, Cubans considered old American cars a burden because they would not find mechanical parts for repairs. This situation caused mechanics and car owners that wanted to revive their classic cars in Cuba to be creative and inventive.
They started replacing their classic car parts with parts retrieved from Chinese or Russian vehicles. Today, you can find a well-maintained 1950s Chevy using an engine retrieved from a Russian car. The mechanics usually paint the vehicles with vivid colors to hide the patches and make them look brand new.
Why Can't Cuba Get New Cars?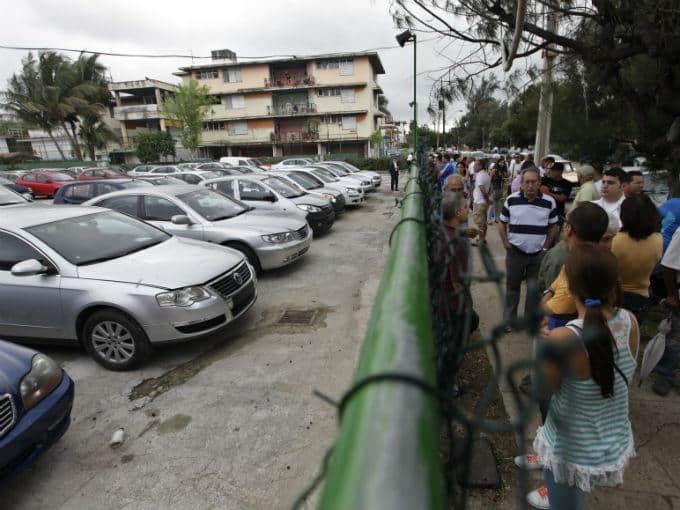 Cuba cannot get new cars because they are expensive, and the Cuban government still regulates the car market. Additionally, the trade embargo still exists, meaning that Cubans cannot legally import new vehicles into the country.
In 2016, Raul Castro, Fidel Castro's brother, lifted the import embargo and allowed people to import cars and car parts from the US and other countries. Cuba's automobile companies used this opportunity to import South Korean Kias and Geely CK from China. These purchases added diversity to the vehicle collection in Cuba and increased the number of modern and brand-new vehicles on Cuba's roads.
Presumably, this would have been the end of the vintage car industry in the country. Contrary to expectations, you will still see many old cars in Cuba today. This is because of various factors, such as the cost of the new cars in Cuba. For instance, a new Peugeot might cost $250,000, making it unaffordable for most average Cubans, especially those earning approximately $20 monthly.
Moreover, the Trump administration reversed all the policy changes that Obama introduced. Today, the Cuban government maintains a monopoly on car sales. In 2020, it opened about 80 stores dealing with car parts and domestic appliances.
The Russia-Ukraine war and sanctions on transactions with Russia also pose a bigger problem for Cubans. That's because most of the spare parts for cars come from Russia. They will now be more expensive and take longer to import.
Modern cars in Cuba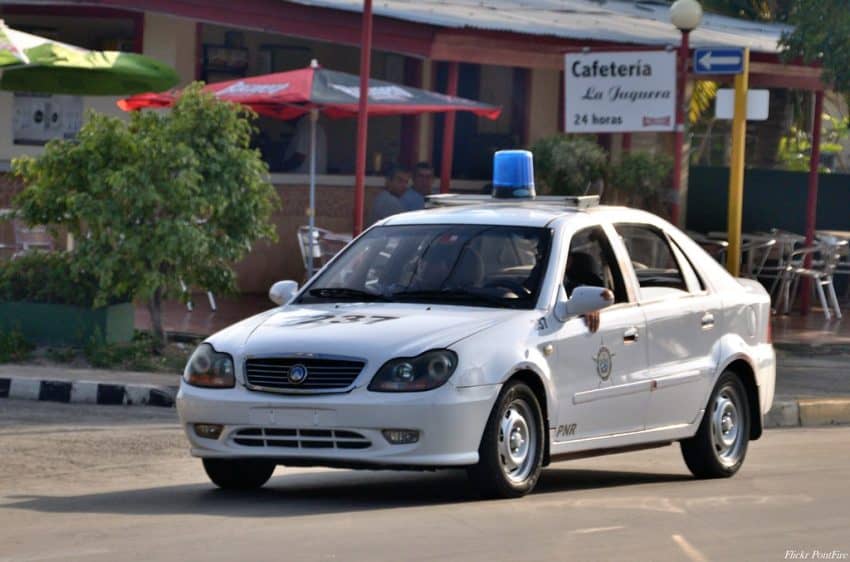 Chinese, South Korean, and some European car models are the typical modern vehicles in Cuba. Since 2009, the modern vehicles that this country has imported include Geely CK, Kia, Peugeot, Hyundai, and Renault.
The Chinese Geelys are used as police cars. Besides the public vehicles, most modern Cuban cars belong to diplomats, government officials, and prominent Cuban artists.
Tourists can rent cars in Cuba from brands such as Kia, Renault, Peugeot, Emgrand, Hyundai, and Geely. If you are lucky enough, you can find vehicles in the luxury category. These include Volkswagen, Audi, Mercedes Benz, Gac, Maxus, Hyundai, and Morris Garage.
Buying Classic Cars from Cuba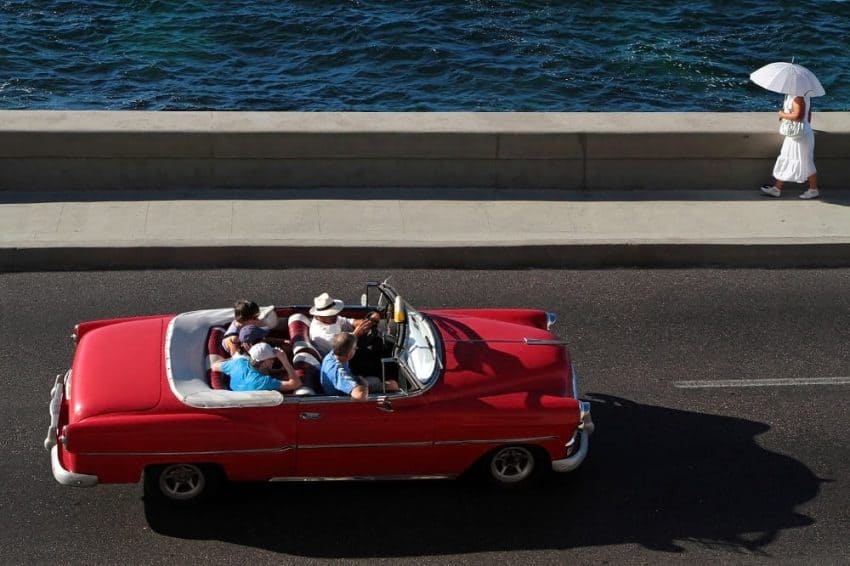 After the ease of US travel restrictions to Cuba in 2014, Americans going to Cuba marveled at the colorful vintage American cars. Naturally, US car collectors got their hopes up.
In 2016, the US government allowed the repatriation of American-made exports to Cuba. Technically, this means that US citizens could import old American cars from Cuba.
However, the harsh reality is that these cars are not in pristine condition. Most of the great-looking cars you admire in Havana's pictures do not run well.
This is because they are old and do not have their original replacement parts. To function properly, these old cars of Cuba need regular maintenance or complete restoration. Can you imagine how much that will cost you in addition to the importation fees?
The other factor you should know before buying classic cars in Cuba is that many rare and highly-demanded ones are already gone. Some disappeared while others left the island. As mentioned before, the remaining ones are in poor condition.
Vintage Car Tours in Cuba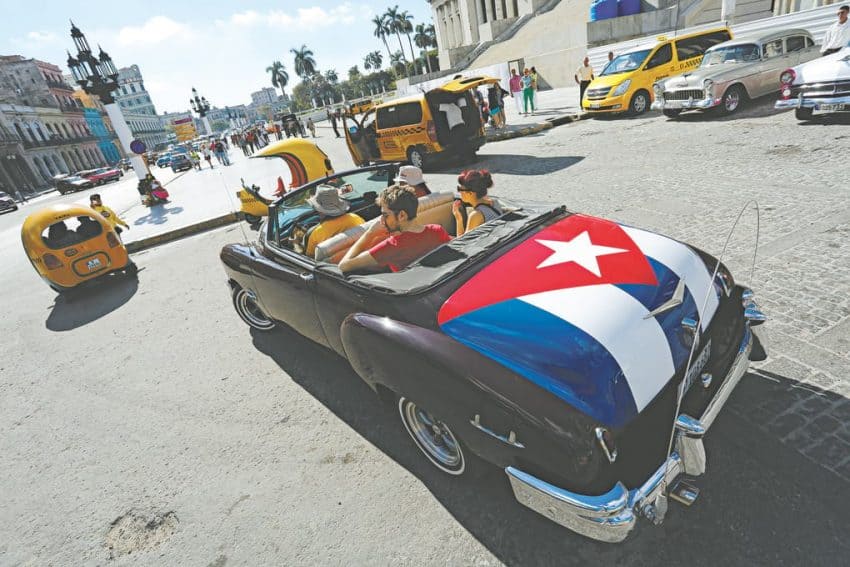 Cuba is home to great natural parks, pristine beaches, fascinating traditions, and legendary cigars. There are countless exciting things to do and places to visit on this island, especially in Havana.
If you plan to travel to this island alone or as a group, a ride in one of the spectacular classic cars should be on your to-do list. It will allow you to experience the thrill of the classic ride and explore these beautiful places as you learn about Cuba's history and culture. The classic convertibles will also offer the level of comfort you desire and make your trip perfect.
However, you can't rent a classic car from state companies. Classic cars are privately owned, so you must hire a classic car tour from the owners or private travel agencies. For more on this, check out our guide to renting a classic car in Cuba.
Also, riding in a classic convertible car in Cuba's hot weather can be intense. Before you start your tour, remember to apply sunscreen and carry several essentials, such as sun hats, water bottle, and sunglasses. Cuba is a sunny and hot island. Being hydrated all day and protecting yourself from the sun will enable you to enjoy outdoor activities.
You won't also be able to drive the car yourself. Even if you could, you shouldn't. Although Cuba is generally safe, driving old cars in this country is not safe. Most roads are in terrible condition and poorly lit, and old vehicles lack basic safety features such as seatbelts.
Finally, keep in mind that Cuba has a strong tipping culture. Therefore, tipping your driver is expected. You can tip in Cuban Pesos (CUP) or your home currency.
A Part of Cubans' Daily Lives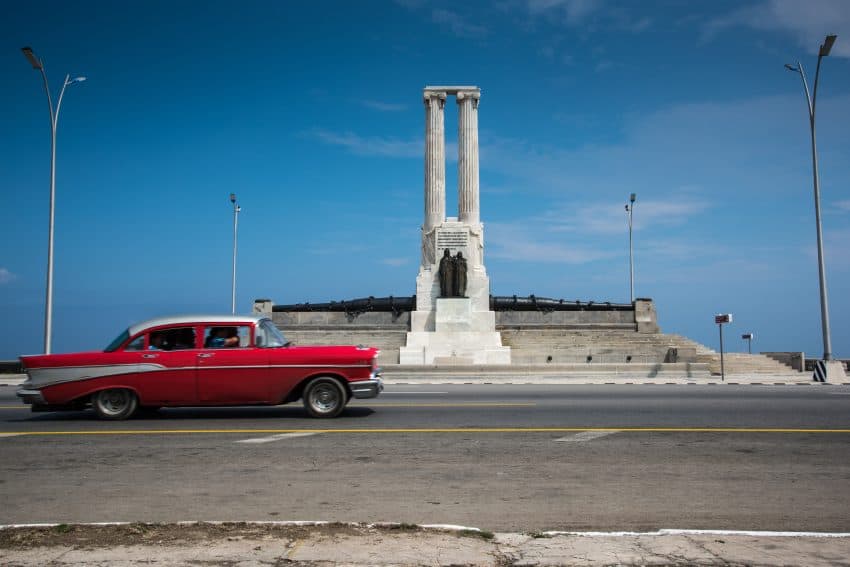 Classic cars are a vital component of Cuba's culture, lifestyle, and tourism industry. Aside from fulfilling the basic function of transportation, some Cubans use these cars to earn an income and support their families.
Brightly colored "almendrones" have sparkled on the streets of Havana for more than a century. This resulted from the US trade restrictions, Castro's prohibitory economic policy, and the mechanical ingenuity of the Cuban people.
If you travel to Cuba, one of the very first travel tips you will receive is to ride on one of those convertible vintage cars. And with good reason. Classic cars are nowadays a fundamental part of Cubans' daily life.
Essential Travel Logistics For Cuba
Cuban Tourist Card – If your Cuban Tourist Card (a.k.a Cuban Tourist Visa) isn't bundled into your airline ticket or travel package, buy it only through EasyTouristCard. 
Travel Health Insurance – Travel medical insurance is an entry requirement for Cuba, so you can't skip it. Travelers can get travel health insurance for Cuba via Insubuy. Travel protection benefits such as trip interruption and cancellation, baggage delay insurance, etc., are not required.
Essential Items to Pack – Bring the essential travel necessities that you may not be able to get in Cuba:
Read our complete packing list for Cuba.
Find Accommodations – Find hotels or casas particulares (private accommodations) on Skyscanner, which lists thousands of accommodations available in Cuba.
Book Your Flight – Book cheap flights to Cuba on Skyscanner, our favorite flight search engine to find deals on flights to Cuba.