Are you planning to travel to Cuba? Armed with your phrasebook and a little understanding of Cuban traditions, you'll find your travels so much more rewarding.
But if you just love reading about different cultures, Cuban traditions can also be a fascinating subject for study.
Cuba is a mix of people with Taíno, Spanish and African backgrounds, and its traditions reflect this diversity of cultures. Traditions from Catholicism and "Santería" often sit side by side with more secular practices, creating a rich and unique tapestry of beliefs that add to the beauty and vitality of this island nation.
While a true study of Cuban culture requires far more depth, we hope you'll enjoy a little insight into these popular customs that make Cuba wonderfully colorful and vibrant.
Cuban Christmas Traditions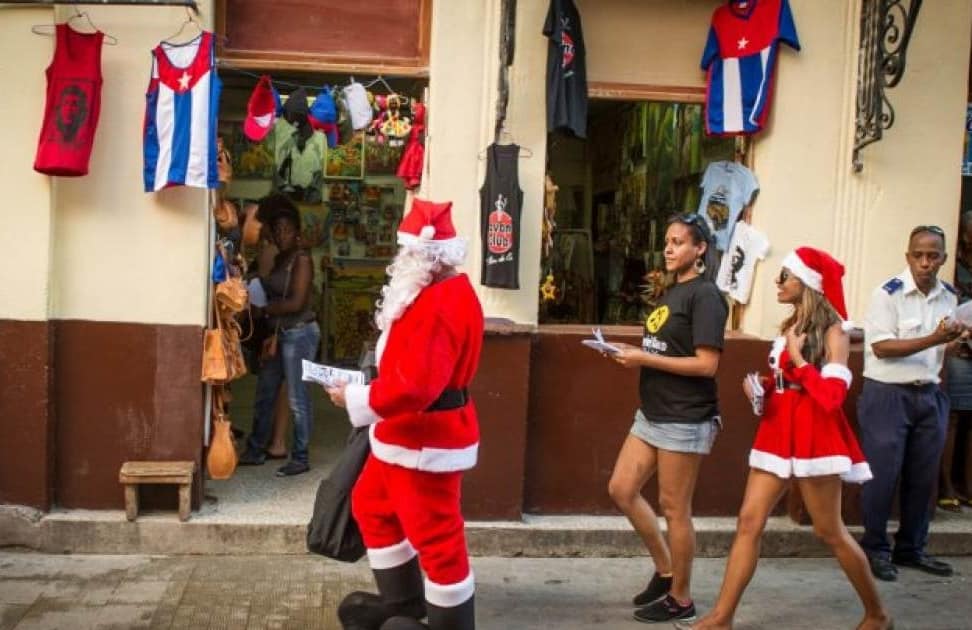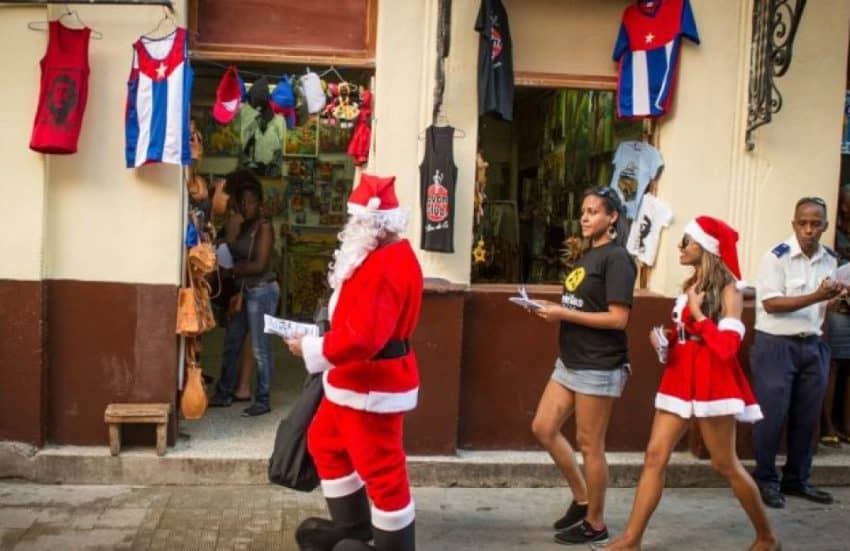 Christmas is one of the best times to visit Cuba. The weather is still warm (yes, even in December!), mosquitoes won't bug you, and you can experience popular Cuban traditions during Christmas and New Year's Eve.
How is Christmas celebrated in Cuba?
Christmas celebrations in Cuba begin late in the evening, meaning most adults and even children are awake to welcome Christmas day as the clock chimes midnight.
Celebrants wish each other a "Feliz Navidad". While Santa Claus isn't quite as popular in Cuban traditions as elsewhere, he is popular with children. They call him Santi Clo or Papa Noel. Some children may hang stockings for him to fill, although it's not a widespread tradition.
Families may decorate with a favorite heirloom like a Nativity set. Most will toast friends and loved ones with a glass of rum.
The Christmas season ends on the sixth of January, known as Epiphany or Day of the Three Kings. While it's seen as more of a religious holiday, street celebrations in parts of Havana still resemble Carnival celebrations throughout Latin America. Dancing, music, and good food make a lovely end to Christmas in Cuba.
Traditional Christmas foods in Cuba
To a Cuban, any celebration is an excuse to roast a whole pig and serve it with tasty trimmings. Christmas in Cuba is no different.
Less about presents and more about family togetherness, love, and companionship, Noche Buena -or Christmas Eve- sees a table loaded with traditional favorites. They include black beans and rice, roasted pork, and fried plantains. For dessert, a rich rice pudding or the deep-fried doughnuts known as buñuelos make a delightfully sweet end to the meal.
Watch out for those low-quality street foods and unsafe tap water, though. You won't want to get sick just before the new year!
Cuban New Year's Traditions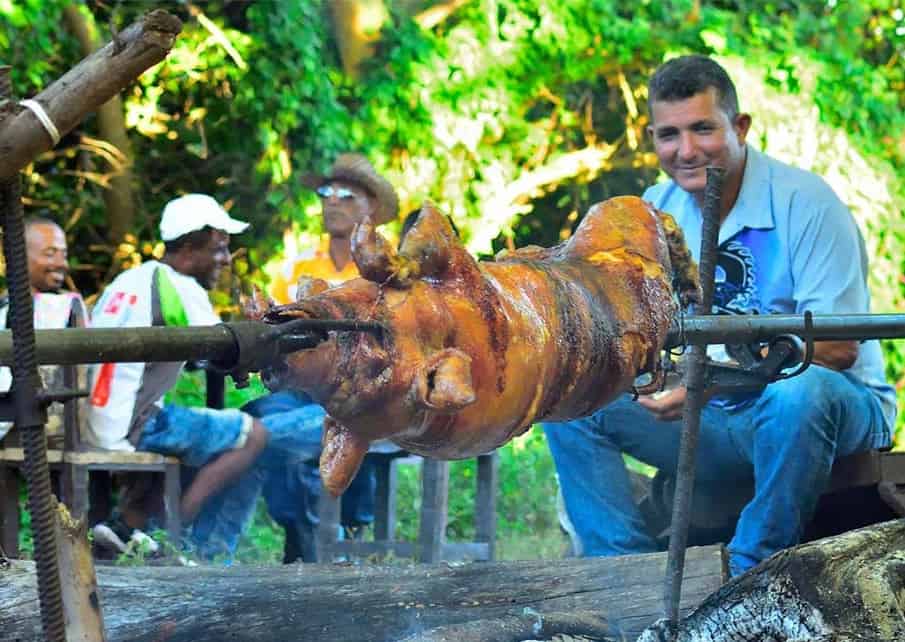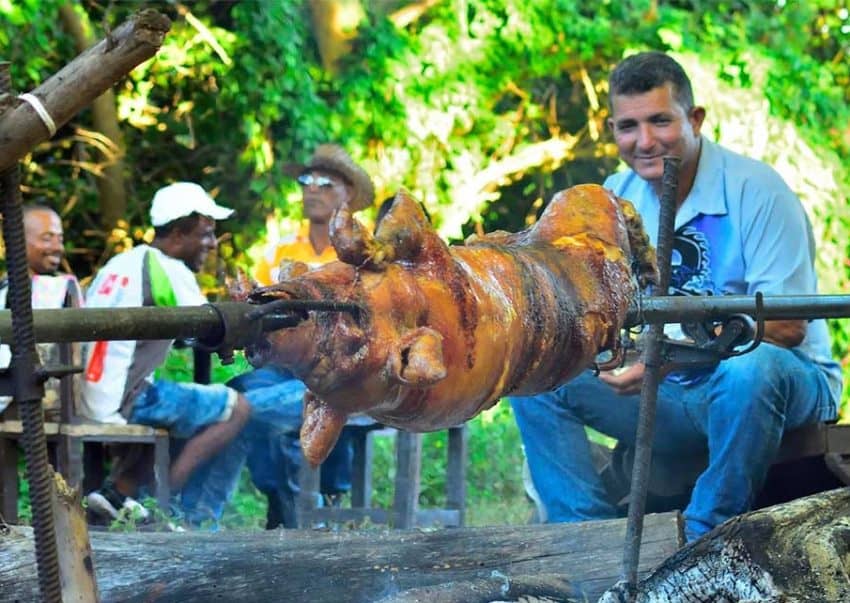 Cuban New Year's traditions entail plenty of food and superstitions to leave the bad luck behind and welcome the good fortune of the new year.
Cuban New Year's food traditions
Food and holidays are always inextricably linked. Cubans are no exception when it comes to special dishes for celebrating the New Year.
Turrón or torrone
A favorite food at Christmas in Cuba and New Year's is turrón. Turron is a dense sweet made from sugar, honey, and egg whites, embedded with almonds or other flavorful nuts. It's a traditional way to end the feast and begin the New Year on a sweet note.
Sidra and grapes
No New Year's celebration is complete without sidra and grapes, however.
Cuban traditions often have very murky origins, so it's difficult to say where this practice originated. Still, many New Year's parties include each guest eating 12 grapes while making a wish for each grape as it's eaten before washing them all down with a gulp from a glass of apple cider.
This should ideally happen in the first minute of the New Year after the clock strikes midnight. Otherwise, the wishes might not come true. Some believe you may not even make it through the year if you haven't finished all 12 grapes by the first minute.
Crema de vie
In addition to sidra, no New Year's celebration is complete without crema de vie. The rum-laced egg nog accompanies many New Year's toasts, like wishing everyone a "Próspero Año Nuevo."
Roasted pig
Roasting a whole pig on New Year's Eve is a widespread tradition in Cuba. Many Cuban families breed a pig throughout the year to slaughter and grill it on the last day of the year.
See, a pig roast is a significant event in Cuba. Close friends and families gather to celebrate a special occasion or just good fortune. Roasting a whole pig is an iconic tradition in Cuba built into Cuban culture.
Cuban rum
Cuban rum is one of the best in the world, which is one of the most interesting facts about Cuba. For Cubans, rum is just part of the national identity. There is no major celebration in Cuba without Havana Club, Ron Santiago, or Mulata.
For Cubans, rum is personal and, sometimes, the best friend.
It's a shame that Americans are forbidden from tasting the fantastic Cuban rum in the US. This is a prohibition part of a larger set of US travel restrictions to Cuba.
Throwing a bucket of water out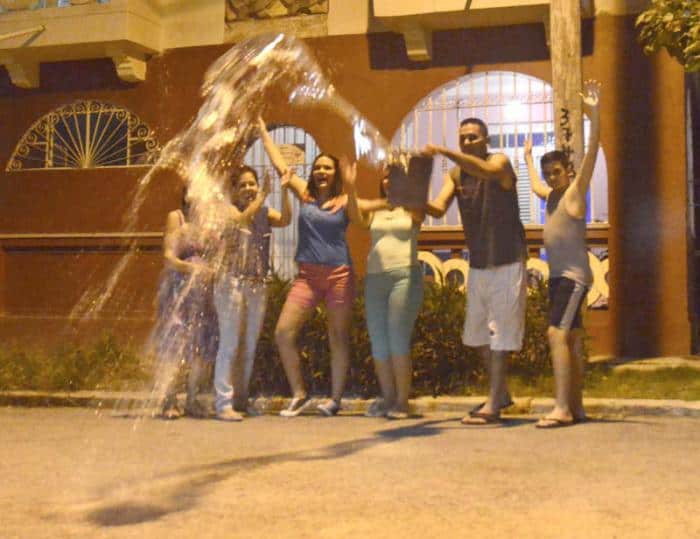 To dispel any negativity accumulated throughout the previous year, households will save the bucket of dirty water left over from mopping and cleaning before the celebration.
At midnight, someone tosses this bucket of water out of the door and into the street, symbolically riding everyone in the household of any bad luck.
Burning effigies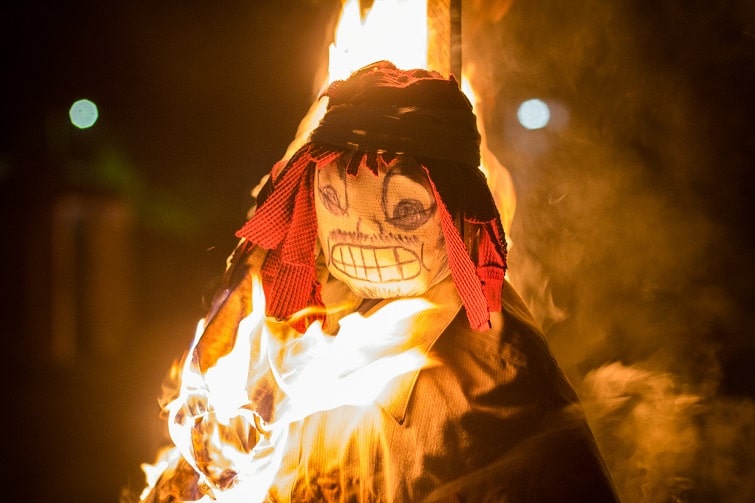 Another way to dispel misfortune is by burning a rag doll ("muñeco"). It is often the size of a human and dressed in whatever fanciful attire its maker deems appropriate. Celebrants can bid the old year good riddance while welcoming in the new by burning the doll at midnight.
Midnight walk with a suitcase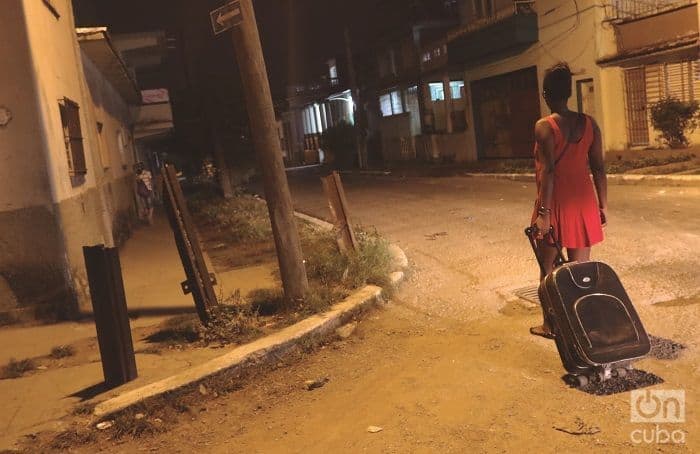 For Cubans who aspire to travel the following year, walking at midnight on New Year's Eve with a packed suitcase is believed to assist their travel plans. In Havana, celebrants may walk along the Malecón, tossing a letter inscribed with their hopes for the next year into the sea.
Cuban Wedding Traditions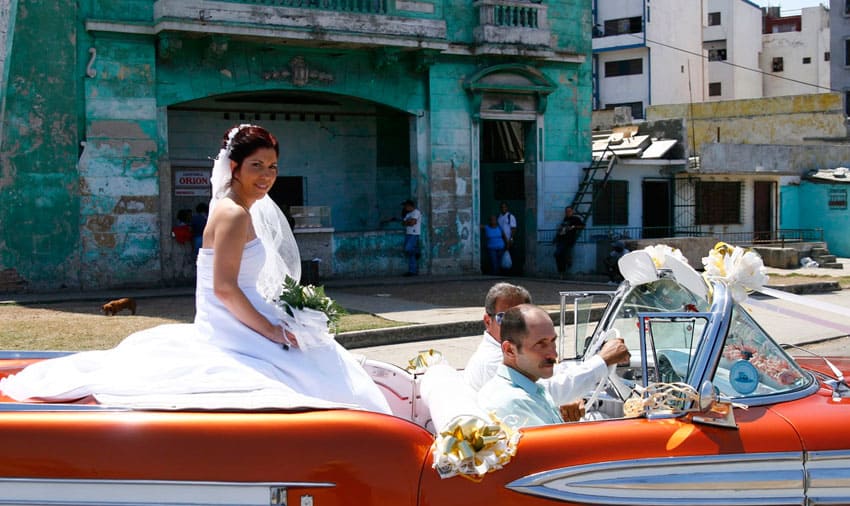 Several political factors inevitably made their mark on Cuban wedding traditions over the last 60 years.
Modern couples in Cuba enjoy dating and relationships but see little need for a lavish wedding that will cost many months of their combined wages.
They also don't feel a religious ceremony is required and see little need to make things official with a government document. This leaves most modern couples enjoying exclusivity by moving in together without worrying about official marital status.
For other couples, there's been a resurgence of traditional weddings in Cuba in the last few years. Especially when marrying a foreigner who prefers a celebratory wedding event.
Traditional Weddings
Cuban wedding ceremonies are often a bureaucratic affair held in a government office. The real celebration for the couple and their guests occurs at the reception.
Couples may walk or ride in a convertible classic car to the site, with well-wishers cheering and waving as they pass by. While the reception location can vary between a garden, a home, or a rented hall, no reception is complete without a band supplying music for the inevitable joyous dancing.
Gifts are mostly modest, including makeup kits, underwear and other clothes, home decor gifts, and Cuban liquors.
Traditional Cuban Wedding Clothing
Brides traditionally wear white to denote purity, and sumptuous fabrics like silk or satin with handmade lace are favored by those brides celebrating with a classic wedding aesthetic.
The groom should avoid seeing the bride before the ceremony. It's a sign of bad luck!
The groom most often dons a black wedding suit, although wearing a more casual attire is not uncommon.
Wedding Reception Traditions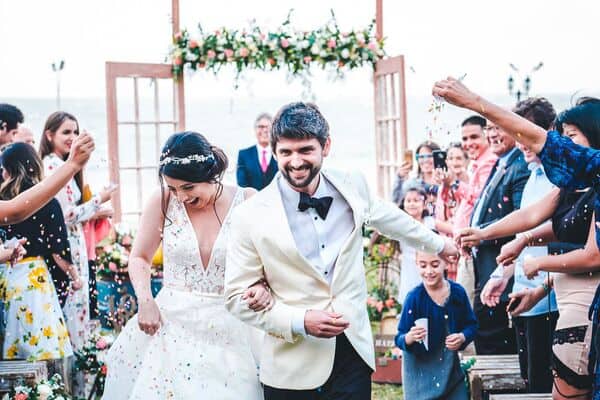 The most common wedding reception traditions in Cuba include cutting the cake, tossing the bouquet, removing the garter, and throwing rice at the end of the ceremony. None of these traditions were born on the island, but Cubans adopted them.
Cutting the cake
The bride and groom slice a cake while holding a knife together. Then, they feed each other.
Bouquet toss
The bride tosses her bouquet over her shoulder to the unmarried women present. Whoever catches it will marry next!
Garter removal
The groom removes the garter from the bride's leg with his teeth while everyone watches. Then, the groom tosses the band to a line of single men present at the wedding. The one who catches it will be the next to marry.
Throwing rice
Tossing rice at the just-married couple is a wish of prosperity and good fortune. Cubans know this, and almost everyone throws rice at the exit of the ceremony.
Cuban Dating Traditions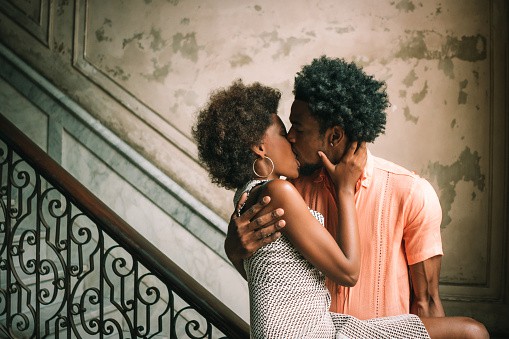 Most Cubans love music and dancing, so dates will often occur in a club that offers plenty of opportunities to enjoy both. The art of "piropeo", or flirting, comes naturally to most Cubans and is vital to courtship.
Matters of Love
Cubans are stereotyped as passionate and affectionate in all aspects of their lives. This is undoubtedly true when it comes to dating.
Cubans can be naturally flirtatious and charming but prefer getting to know another person very well before considering a committed relationship.
Cuban men are gentlemen and like to treat their date to the best they can afford. Even if what they can afford is to watch a movie together. They're also much less reserved than men in other cultures and are happy to approach a woman they admire and ask her out on a date.
Foreigners visiting Cuba might be overwhelmed by a charming and gregarious "jinetero" who's looking for love.
A walk on one of the fantastic Cuban beaches, rum, perhaps a dance under the stars, and it won't be long before the shyest visitor succumbs to Cuban charm.
The Importance of Family
Dating in Cuba often means spending time with that person's whole family, enjoying a big meal, and the companionship of parents, cousins, aunts, and uncles.
Introducing the boyfriend to the parents is still a live tradition in Cuba. This act is called "pedir la entrada", which means asking the parents for permission to date their daughter.
Cuban Superstitions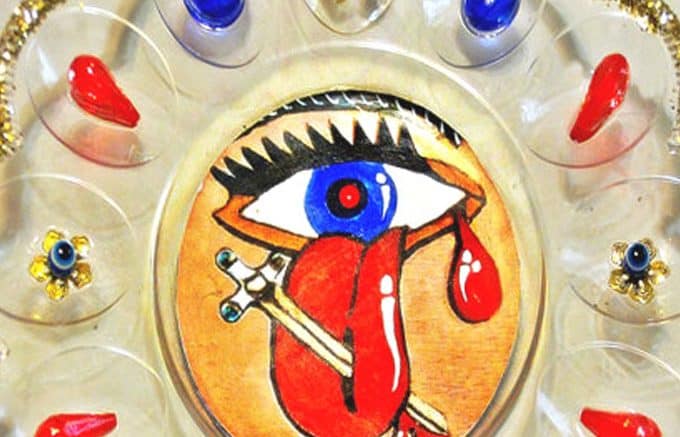 People often take little superstitions they grew up with for granted, subconsciously avoiding things that might bring bad luck. Cubans are no different. The blending of Catholicism and Santería on the island brought a range of beliefs meant to avert disaster.
Avoid bad luck
Cubans believe in bad luck. Here are some popular Cuban superstitions that Cuban say bring bad luck:
Spilling salt on the floor.
Leaving hats on the bed.
Keeping cracked mirrors in the house.
Getting out of bed with the left foot.
Getting married in a black dress can bring bad fortune to the married couple.
Leaving a purse on the floor will make your Cuban Pesos run away.
Leaving uncovered mirrors during a lighting storm will attract lightning strikes.
If you happen to visit a Cuban household, make sure you don't bring bad luck by doing any of the above!
Protect the little ones against Mal de Ojo
Cuba also joins many other Latin American cultures in believing that the evil eye, or Mal de Ojo, comes from envious stares, bringing bad luck to the unfortunate target.
As infants are particularly vulnerable to this calamity, they need protection in the form of an "azabache", or onyx gemstone often carved in the shape of a fist and incorporated into jewelry pieces such as a red bracelet or pin.
Most Popular Cuban Traditions
With such a wealth of beliefs adding color to every celebration, from marriage to Christmas in Cuba, it's easy to see why Cubans love their traditions. Here are the most popular traditions that make up the Cuban way of life:
The Christmas season ends on the sixth of January, known as Epiphany or Day of the Three Kings.
Santa Claus is known as Santi Clo or Papa Noel.
Traditional Christmas and New Year's Eve foods in Cuba include black beans and rice, roasted pork, fried plantains, turrón or torrone, sidra and grapes, crema de vie, and rum.
Cubans eat 12 grapes at the stroke of midnight on New Year's Eve, making a wish with each one. Not finishing all 12 grapes by the first minute may bring bad luck for the year.
Cuban New Year's traditions include various superstitions to bring good luck and ward off bad luck. This includes throwing a bucket of water out, burning effigies, and walking at midnight with a suitcase with the hope of traveling next year.
Flirting is known on the island as "piropeto" and it's the traditional start to courtship.
Many boyfriends still need to ask the girl's parents for permission to date her. This is known as "pedir la entrada".
Most Cubans don't hold lavish weddings or engage in religious ceremonies. Many just go to a government office and sign the wedding paperwork, and that's about it.
Some couples walk off the venue in a classic convertible car, with well-wishers cheering and waving as they pass by.
The most common wedding reception traditions in Cuba include cutting the cake, tossing the bouquet, removing the garter, and throwing rice at the end of the ceremony.
Cubans avoid certain actions they believe may bring bad luck. They include spilling salt, leaving hats on beds, breaking or exposing mirrors during storms, leaving a purse on the floor, and getting married in a black dress.
Understanding Cuban culture can be just as essential to take along on your visit as your sunhat and beach blanket. If you aren't Cuban, you might enjoy adding some of these fun New Year's practices or delicious Christmas dishes to your own celebrations.
Do you have any favorite Cuban traditions or travel tips you'd like to share? Be sure to comment below, as we'd love to hear from you.            
Essential Travel Logistics For Cuba
Cuban Tourist Card – If your Cuban Tourist Card (a.k.a Cuban Tourist Visa) isn't bundled into your airline ticket or travel package, buy it only through EasyTouristCard.
Travel Health Insurance – Travel medical insurance is an entry requirement for Cuba, so you can't skip it. Travelers can get travel health insurance for Cuba via Insubuy. Travel protection benefits such as trip interruption and cancellation, baggage delay insurance, etc., are not required.
Essential Items to Pack – Bring the essential travel necessities that you may not be able to get in Cuba:
Read our complete packing list for Cuba.
Find Accommodations – Find hotels or casas particulares (private accommodations) on Skyscanner, which lists thousands of accommodations available in Cuba.
Book Your Flight – Book cheap flights to Cuba on Skyscanner, our favorite flight search engine to find deals on flights to Cuba.