As Cuba's capital city, there is a nearly infinite number of places to visit in Havana and things to do in Havana at night and during the daytime. In fact, there are so many things to do it can be hard to choose.
That's why we put together a list of the best things to do in Havana. From guided tours of Cuban cigar factories to enjoying the sunset (and a mojito) on the rooftop of a legendary Havana hotel, there's something for everyone. We'll ensure your trip is busy and exciting from the moment you touch down at the Havana airport.
So, what are some of the best places to visit in Havana? Let's take a look–vámonos!
UPDATE: Keep in mind that, as part of recent travel restrictions enforced by the Cuban Government to curtail the spread of COVID-19, some of the best places to visit in Havana may have limited capacity and operating hours.
Things to Do in Havana During the Day
There are plenty of exciting things to do in Havana during the day, from art museums to historical walking tours. The good news is that there is no need to rent a car in Havana since most activities can be done on foot or by taxi.
Many of these activities will also qualify for the Support for the Cuban People license if you travel to Cuba from the US.
Before you head out for the day, be sure to pack a few essentials:
It's no secret that Cuba is sunny and hot all year round, so getting the most out of your outdoor time means being well-hydrated and protected from the sun.
#1. Wander Around Old Havana (Habana Vieja)
Did you know that Old Havana is a UNESCO Heritage site? You can step back in time by strolling through urban plazas dating back to Old Havana's founding in 1519. The combination of colorful, historical architecture, narrow cobblestone paths, and brightly colored 1950s automobiles creates a quintessentially Cuban experience.
If you're wondering how to fit all of these places to visit in Havana into your Cuba trip, we have the perfect solution: the7 Hour Tour Through The Cobblestones Of Old Havana by Tour Republic. This unique experience allows you to check off many things to do in Havana alongside an expert tour guide. You'll also receive car service, water, and a traditional Cuban lunch.
Walk down the most famous avenue in Cuba: Paseo del Prado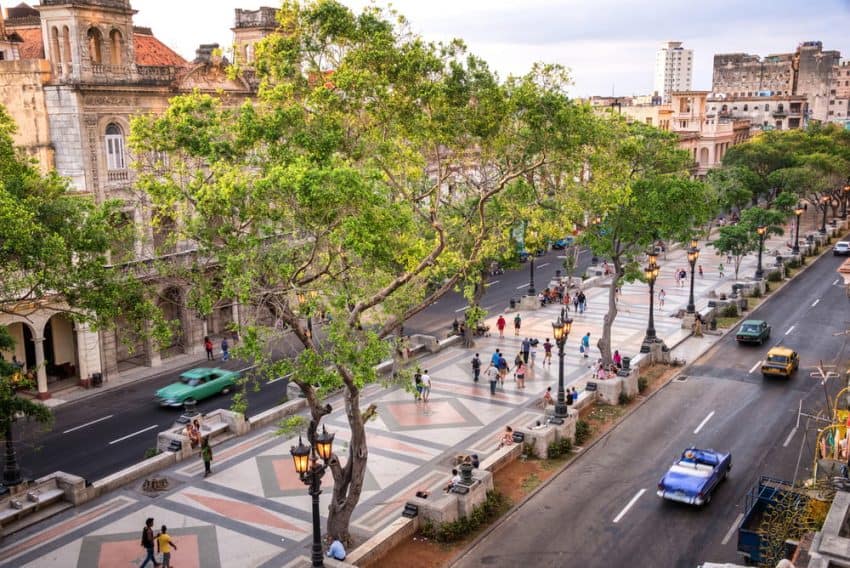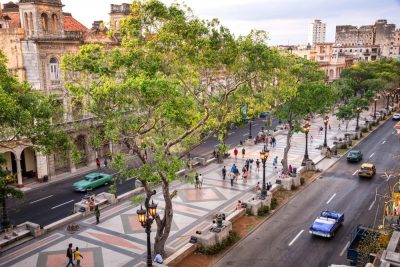 Stretching from the steps of the iconic Capitolio building to the sea, Paseo del Prado (Prado Avenue) is Cuba's most famous (and probably most scenic) boulevard.
Surrounded by trees on both sides, the avenue is a great way to enjoy some much-needed shade, do some shopping, and enjoy a drink at one of the bars or cafes off the main drag.
Walk up the steps of the impressive Capitolio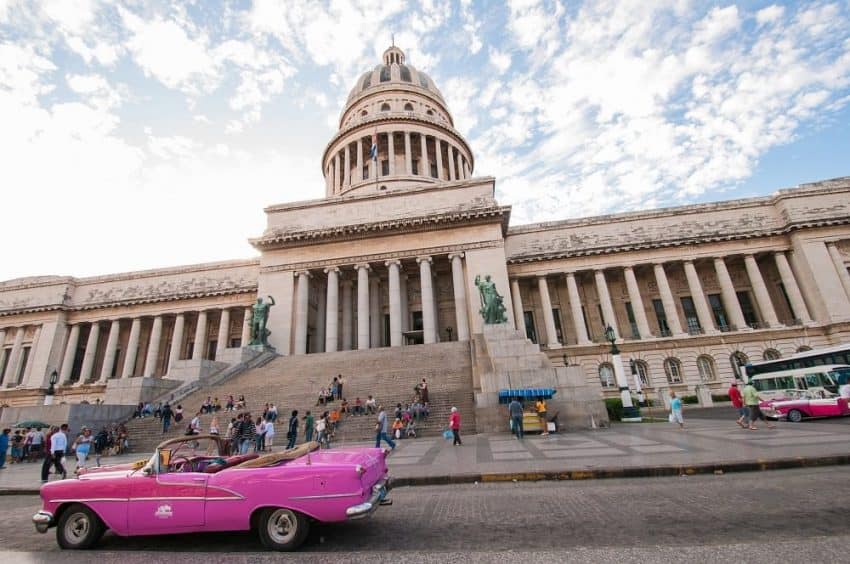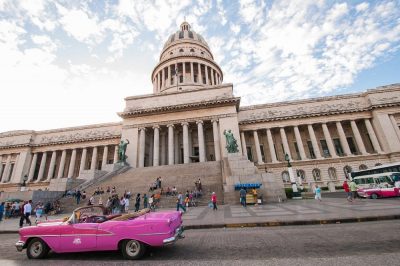 El Capitolio is the Cuban Capitol building. This stately old building was designed to look like the American Capitol in Washington DC, complete with Roman pillars and an impressive dome.
Walking up the many steps is quite the workout but will afford you a beautiful view of the square below. If you're not up for a long walk, you can enjoy Parque Central, a large manicured park next to El Capitolio.
Drink a daiquiri where it became famous: El Floridita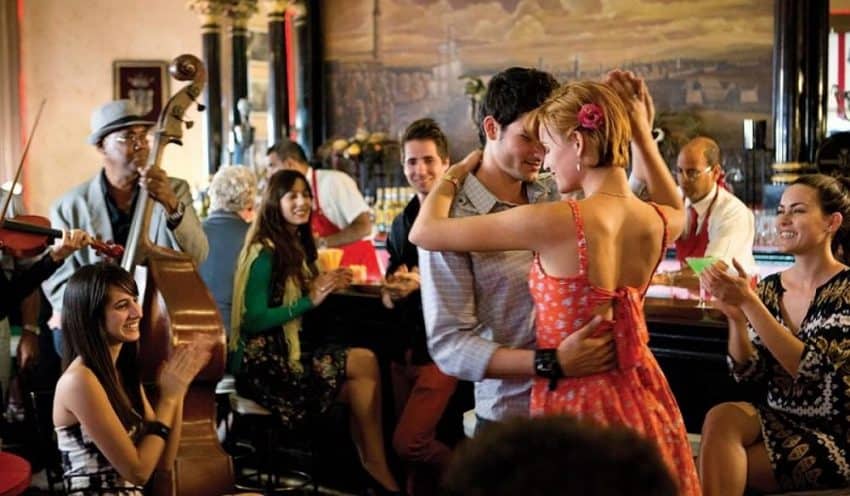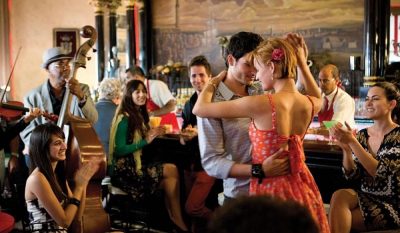 El Floridita may not be the birthplace of the daiquiri (that would be Cuba's Oriente province). Still, it's certainly where the sugary-sweet beverage gained international fame. Cuban daiquiris are a refreshing combination of simple ingredients: sugar, lemon, and, of course, rum!
This historic cocktail bar is located in Old Havana just down the street from the Gran Teatro de La Habana and the Museo Nacional de Bellas Artes, so it's one of the best things to do in Havana after a day of fine arts and ballet. Be sure to raise a toast to the life-sized bronze statue of Ernest Hemingway while you're there!
Immerse in Cuban art at the Museo Nacional de Bellas Artes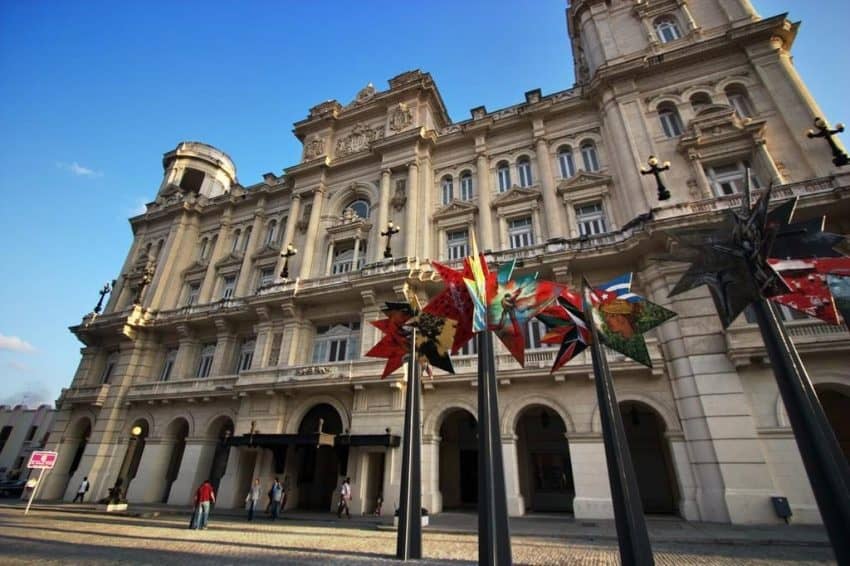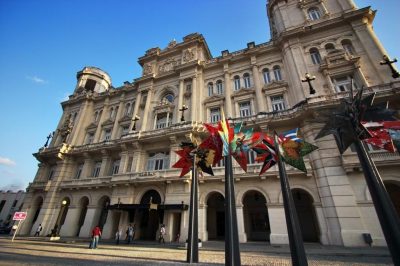 Fancy yourself an art connoisseur? Then you can't miss the Museo Museo Nacional de Bellas Artes in Old Havana (National Museum of Fine Arts).
With a large collection to cover two campuses, the Bellas Artes features some of the world's best Cuban and Caribbean art. Since the collection spans from pre-Colonial pieces to contemporary masterpieces, you can truly feel Cuban art throughout the ages.
You can view paintings and sculptures by some of Cuba's most famous artists, including Rita Lonja, René Portocarrero, and Wifredo Lam. The Bellas Artes is one of the must-see Havana attractions for art lovers and history buffs alike!
Get an incredible view of Havana from the rooftop of Hotel Kempinski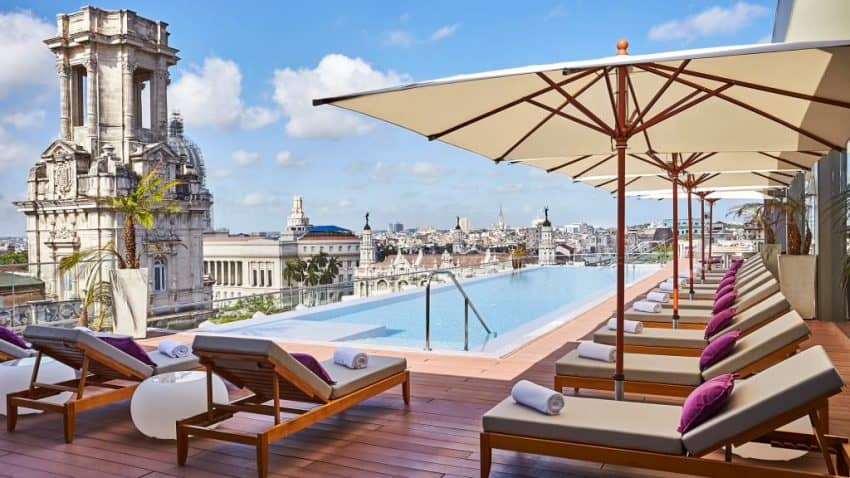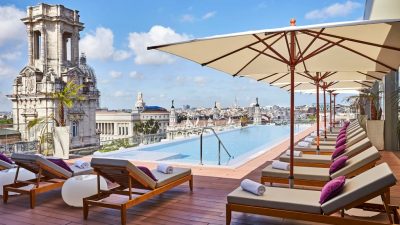 After a long day of walking Old Havana's winding cobblestone streets, you can sit back and enjoy a bird's eye view of the city from the rooftop of the Gran Hotel Manzana Kempinski. As Cuba's first luxury hotel, the Kempinski is situated in the heart of historic Havana and surrounded by beautiful UNESCO World Heritage buildings.
No rooftop relaxation session is complete without a refreshing hand-crafted cocktail from Kempinski's world-renowned bar!
Stroll down Calle Obispo, the heart of Old Havana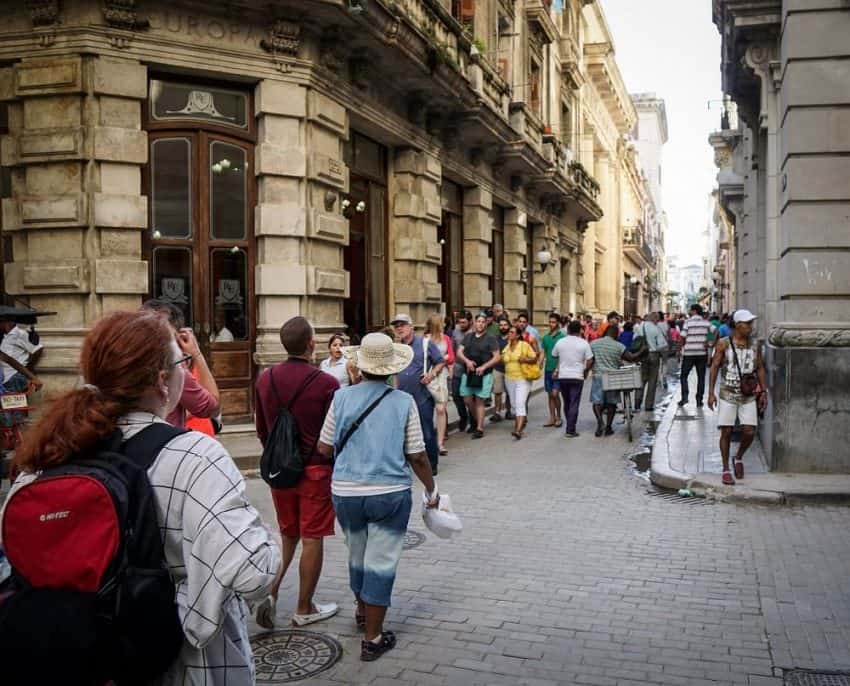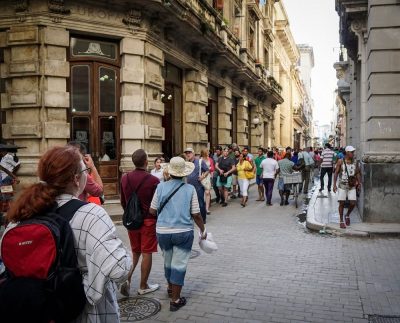 Calle Obispo is a bustling street in Old Havana that offers a little bit of everything: beautiful old architecture, cafes, bars, and shops selling local handicrafts. The street runs from Plaza de Armas to El Floridita (the bar that launched daiquiris to international fame).
After sampling the local drinks, you can pop into a shop for souvenirs like handcrafted rum and cigars or kick back and listen to live Cuban jazz. Regardless of how you enjoy your time on Calle Obispo, it's one of the perfect things to do in Havana to immerse yourself in Cuba's local culture.
Visit the old boutique stores and museums on Calle Mercaderes
If you enjoyed Calle Obispo, you'd probably like strolling along Calle Mercaderes. Known as the "Merchant's Street," Calle Mercaderes is named after the many shops and boutiques that line its cobbled streets.
As a car-free street, you can casually stroll from the Plaza de la Catedral to the Plaza Vieja, stopping in boutiques and cafes along the way. In fact, Calle Mercaderes is home to Havana's oldest cafe, Taberna, where you can take a pit stop for lunch, refreshments, and live music.
Since the City Historian's Office recently updated the entire street, you can look forward to a unique blend of contemporary infrastructure and old-world charm.
Greet El Caballero de París at Plaza de San Francisco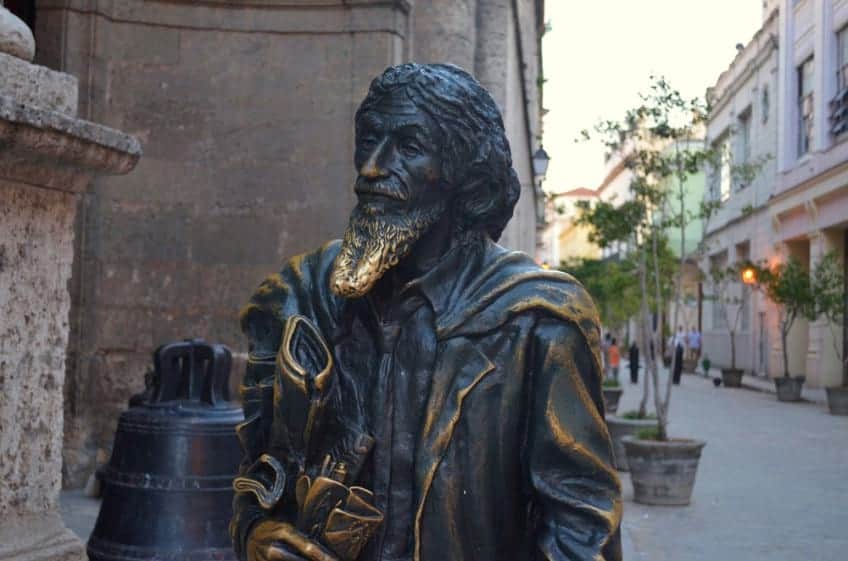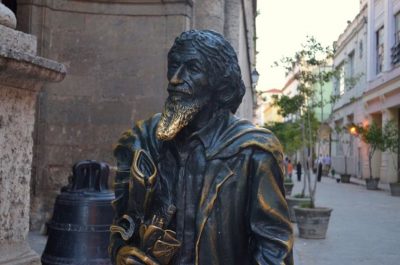 "El Caballero de París," known as the Gentleman from Paris in English, is a legendary street person who used to roam the streets of old Havana.
Although his origins are shrouded in mystery, he appeared on the streets of Havana in the 1940s. He was known to cut an elegant, solitary figure. Always dressed in black formalwear, he would greet passersby with impeccable manners.
Although El Caballero passed away decades ago, his personality is memorialized by a life-sized bronze statue in Plaza de San Francisco. Legend has it that touching his hand and beard will bring you good luck!
Spy on the rooftops of Havana from the Camera Obscura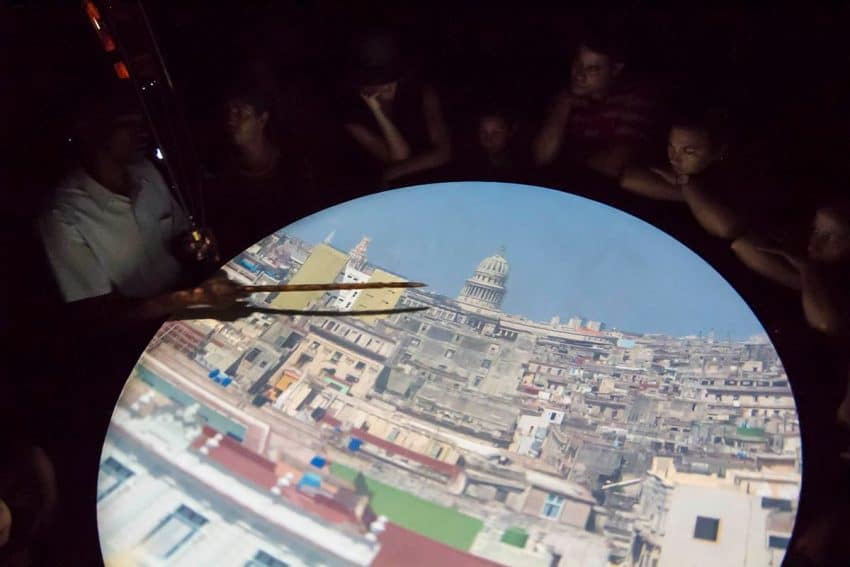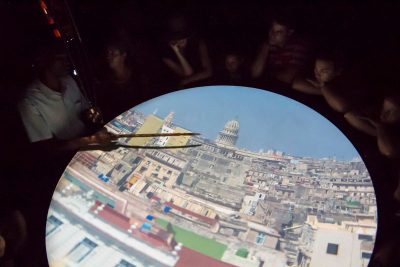 A well-kept secret is hidden at the top of the Edificio Gomez Vila: a mysterious device called the Camera Obscura.
Originally invented by Leonardo da Vinci, Havana's Camera Obscura was a gift from Spain. As the only one of its kind in the Caribbean, it's a unique take on what to do in Havana. The device's purpose? The camera provides a fascinating 360-degree panorama of Old Havana. It's truly a one-of-a-kind way to experience the city's beautiful vistas!
For the best view, visit the Camera Obscura on a clear, cloudless day.
Drink all you can at Museo del Ron Havana Club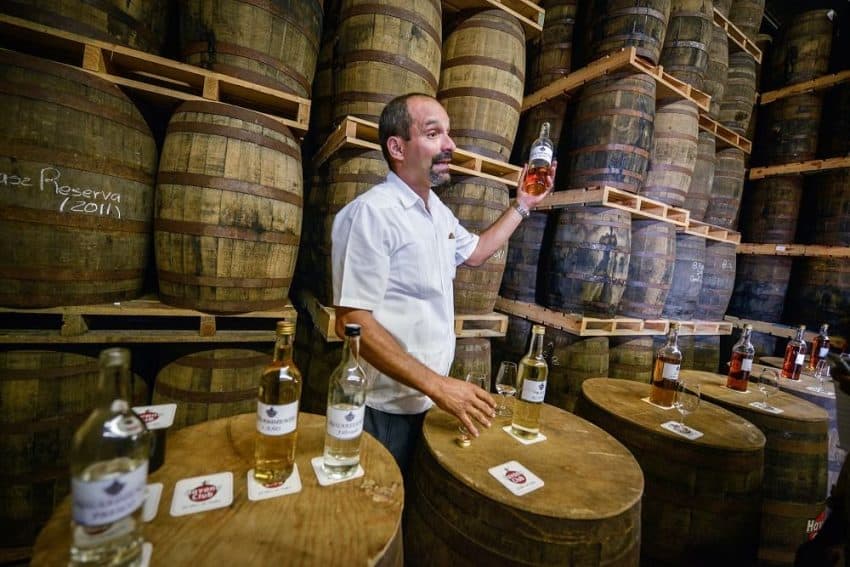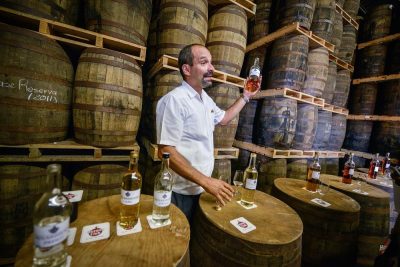 Cuba and rum have a long history together, and there's no better way to get a taste of that history than at the Museo del Ron Havana Club (Havana Club Rum Museum). The museum is run by Club Havana, Cuba's most well-known rum brand. It takes you step-by-step through the rum-making process, from harvesting the sugarcane to distilling, fermenting, and blending.
At the end of the tour, you'll have the opportunity to sample a seven-year vintage of Havana Club rum and even take home a bottle of fine Cuban rum from the gift shop. Your activities in Havana aren't complete without a sip of fine Cuban rum!
Chill at Plaza de Armas, the oldest colonial square in Cuba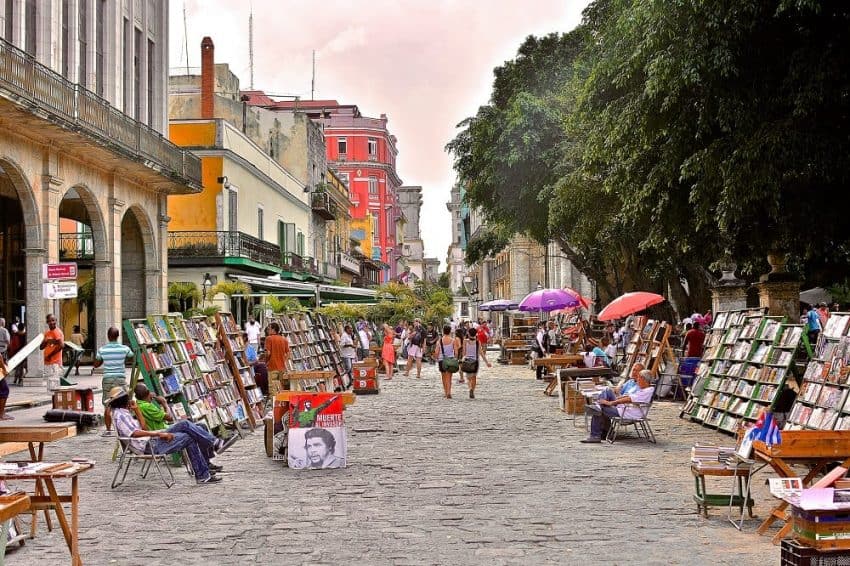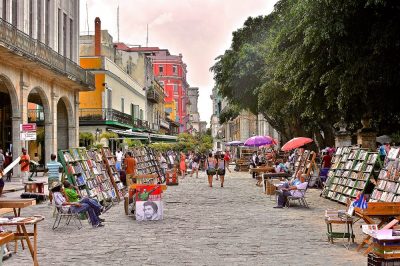 Plaza de Armas (Square of Arms) was built in the 1520s and has witnessed almost 500 years of Cuban history. From military exercises conducted by Cuba's colonial governor to Cuba's journey to independence, memorialized by a marble statue of Carlos Manuel de Cespedes. In modern Cuba, the Colonial soldiers have been replaced with street stalls and vendors selling local goods.
Cross the drawbridge of the 500 years old fortress Castillo de la Real Fuerza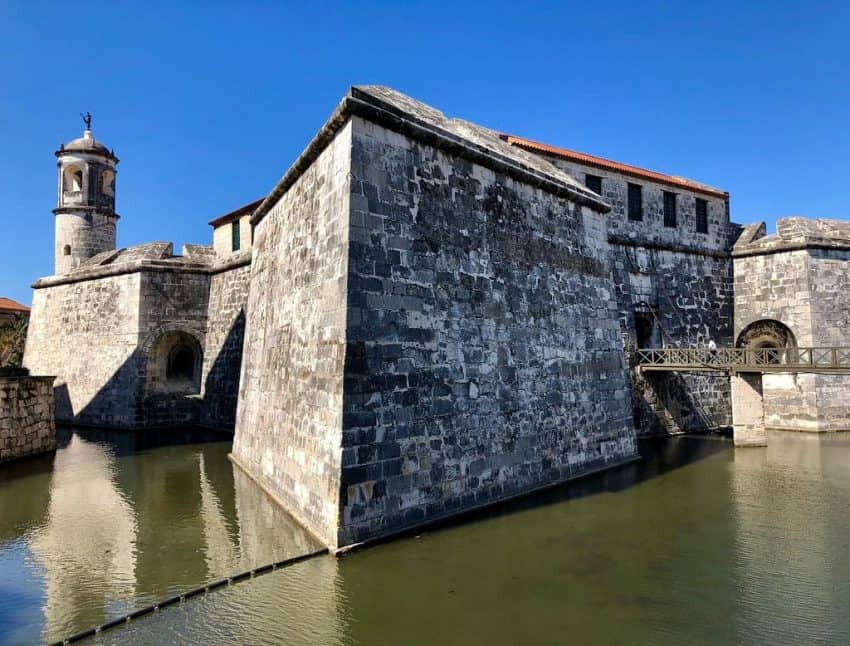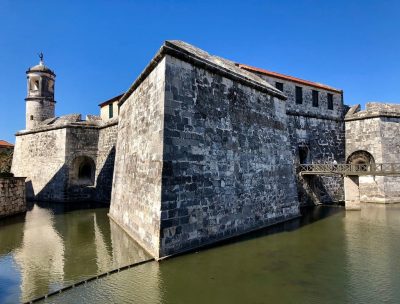 Step out on the Castillo de la Real Fuerza drawbridge to experience a chapter of Cuban Colonial history. The 500-year-old structure is one of the oldest European fortresses in the Americas and one of the must-see Havana attractions.
The drawbridge takes you across the moat and into the castle, where you can check out treasures collected from sunken pirate ships. History buffs will also enjoy architectural features from the fortresses' exciting past, including cannons, mortars, and the famous La Giraldilla weathervane.
Step into the biggest Catholic cathedral in Cuba, Catedral de La Habana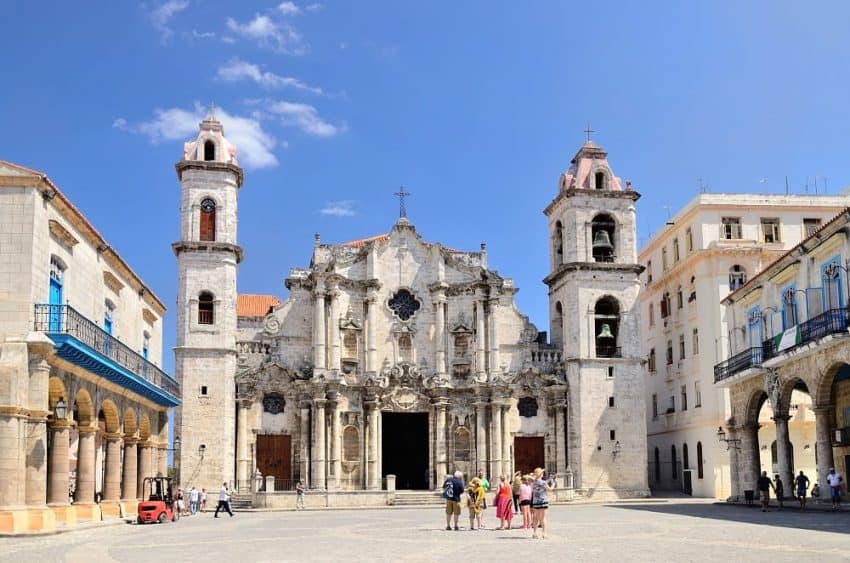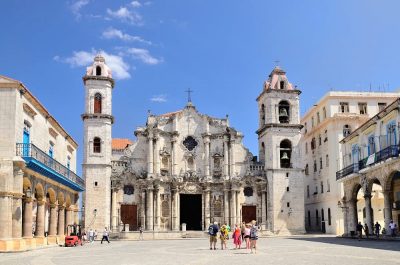 The Catedral de La Habana is a beautiful baroque church that rivals the medieval cathedrals of Europe in terms of architecture and design. Designed by Italian architect Francesco Borromini, the cathedral's exterior features two towering bell towers, Roman columns, and intricately carved friezes.
Construction was completed in 1787, and the building still retains that mythical aura of something from another time. La Catedral de La Habana has played an indispensable role in Cuba's history. From 1795 to 1898, the remains of famous explorer Christopher Columbus rested here until they were moved to Spain's Seville Cathedral.
Seeing the cathedral's frescoes and altar are things to do in Havana for free, or you can pay 25 CUP (the Cuban currency) to climb the bell tower.
Drink Hemingway's mojito in La Bodeguita del Medio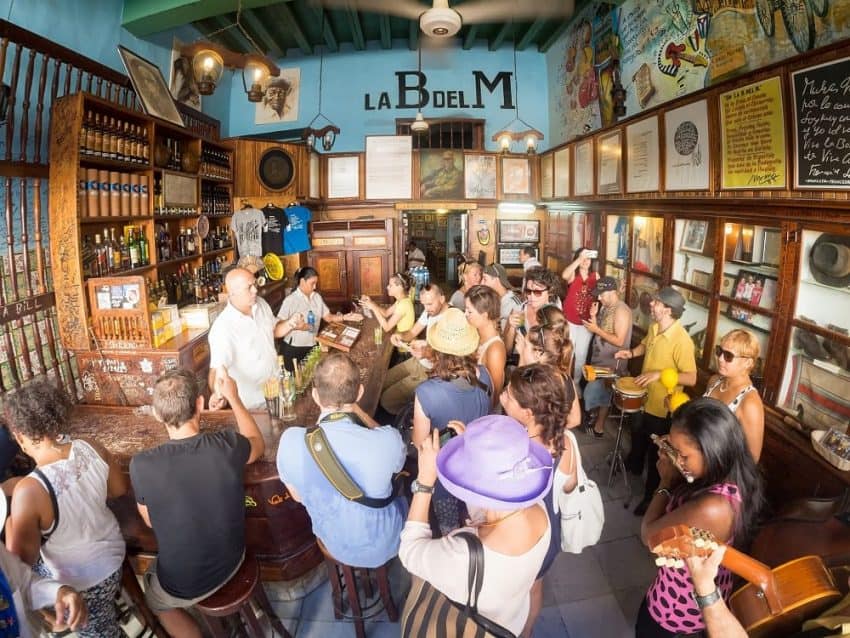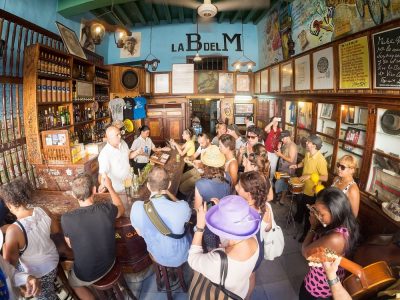 Famous American author Ernest Hemingway was known to enjoy a good Cuban mojito. Now, you can sip Hemingway's favorite drink at La Bodeguita del Medio. Other famous guests throughout the ages include Pablo Neruda, Gabriel Garcia Marquez, Nat King Cole, and Salvador Allende, some of whom have left signatures on the walls!
#2. Ride in a Classic 1950s Convertible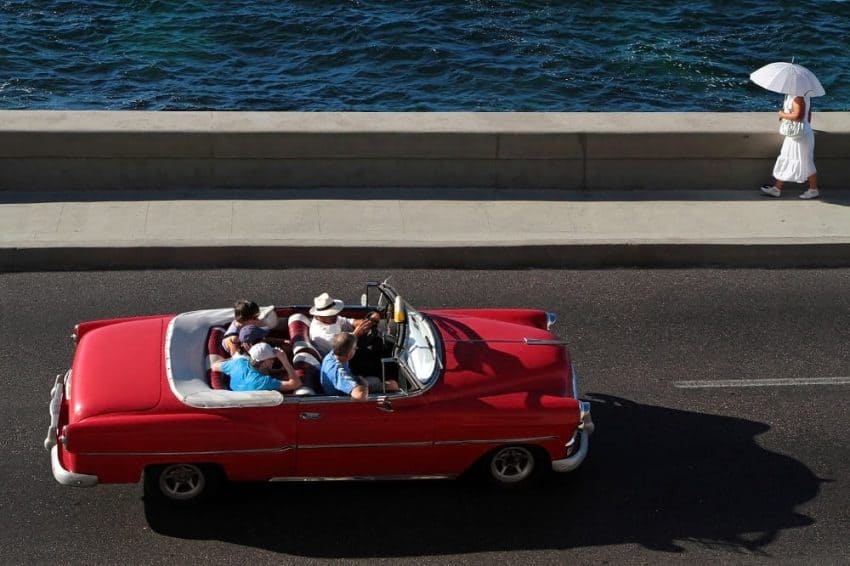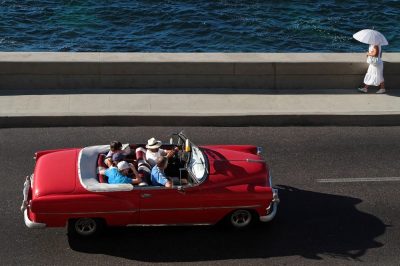 No Cuba trip is complete without cruising around Havana in a vintage American automobile. The sightseeing tour by Tour Republic puts you right in the heart of Havana as you ride in style alongside our skilled chauffeur. From the back of a vintage convertible, you'll see colonial fortresses, Spanish-style buildings, famous hotels, and breathtaking ocean views. The tour ends at the famous 1830 Restaurant at the mouth of the Almendares River.
Going on a guided tour of the city in the back of a vintage convertible is an iconic take on what to do in Havana!
#3. Get Lost Into the Stunning Mosaics of Fusterlandia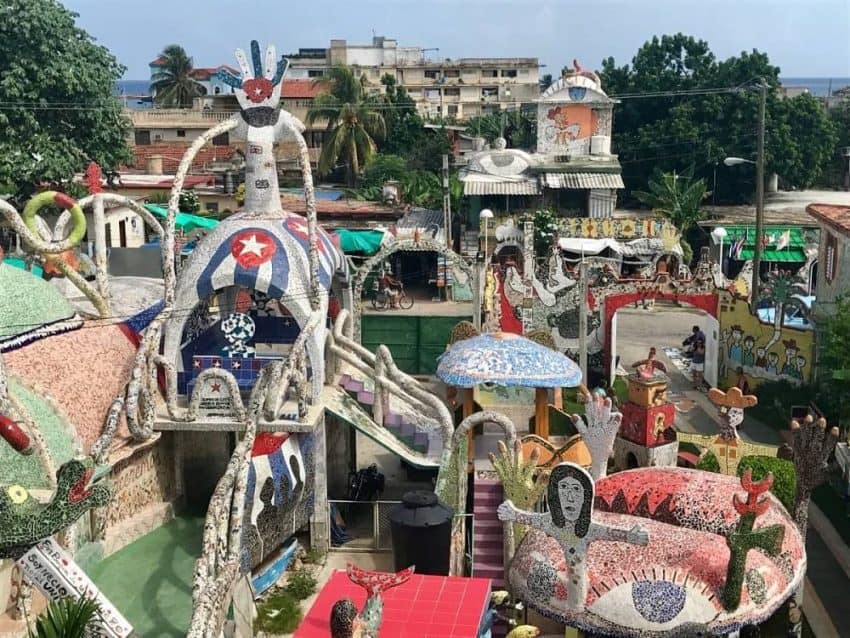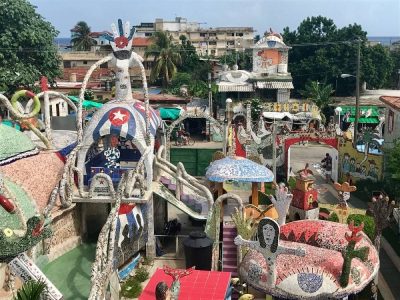 You've probably heard of Park Güell in Spain. Fusterlandia is like Cuba's version of the flashy, colorful park-meets-art installation. Designed by Jose Fuster, nicknamed "Picasso of the Caribbean," Fusterlandia is a kaleidoscopic landscape of mosaic roads, alleyways, and bungalows in Havana's Jamainatas neighborhood.
The actual designs are snapshots of Cuban culture and history; they feature everything from scenes of everyday life, like dancing and dominoes, to historical depictions of key events of the Cuban Revolution.
#4. Take a Sneak Peek Into Hemingway's Life at Finca La Vigía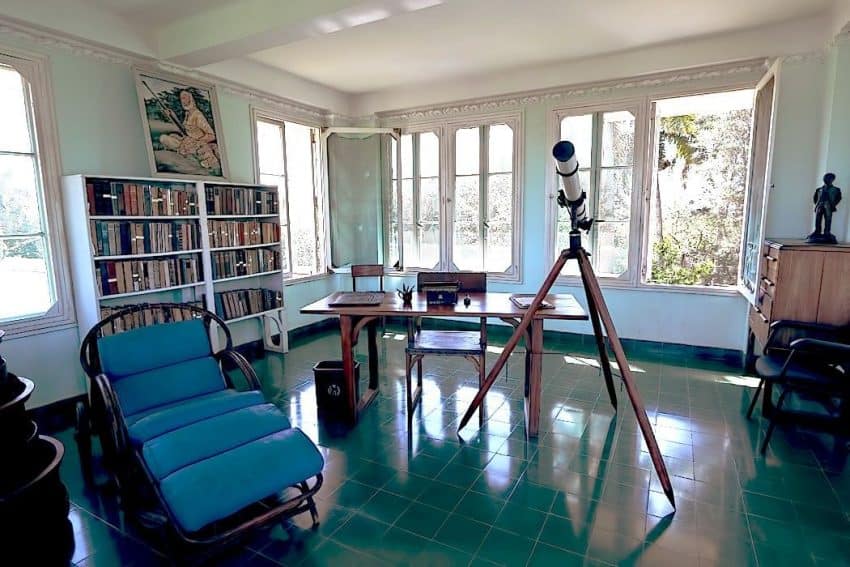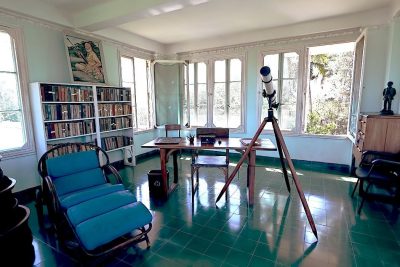 Finca La Vigia was the home of legendary American writer Ernest Hemingway. After his death, the house in San Francisco de Paula was converted into the Ernest Hemingway Museum.
You can catch a glimpse of the life of this Nobel Prize Winner in Literature with a Tour Republic tour called A Day in Ernest Hemingway's Life. In the company of your own personal driver, you'll see Hemingway's places to visit in Havana, including his home, the fishing village of Cojimar, the Mirador del Cristo, and, last but not least, Hemingway's favorite bar, the Floridita.
#5. Catch the Sunset in El Malecon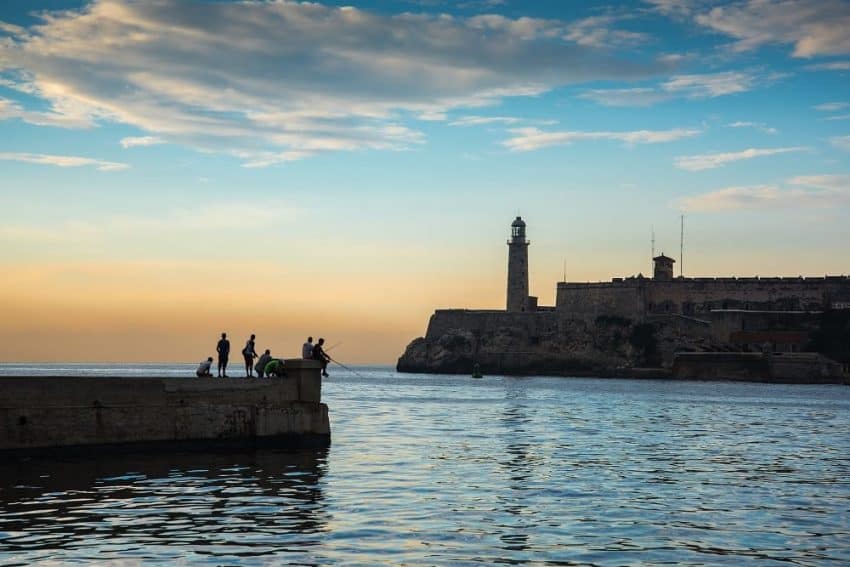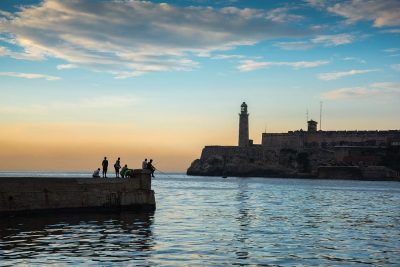 El Malecon is an ocean-side drive with a legacy in Cuba as famous as Fifth Avenue in New York or Lake Shore Drive in Chicago. You can drive or walk the street's 7 kilometers with the ocean on one side and an interesting assortment of neoclassical architecture on the other.
The best time to visit El Malecon? At sunset, the sun's fading light turns the buildings in Central Havana into a shade of relaxing, romantic gold.
#6. Learn the Fascinating Stories Behind 2MM Statues and Graves in Cementerio de Colón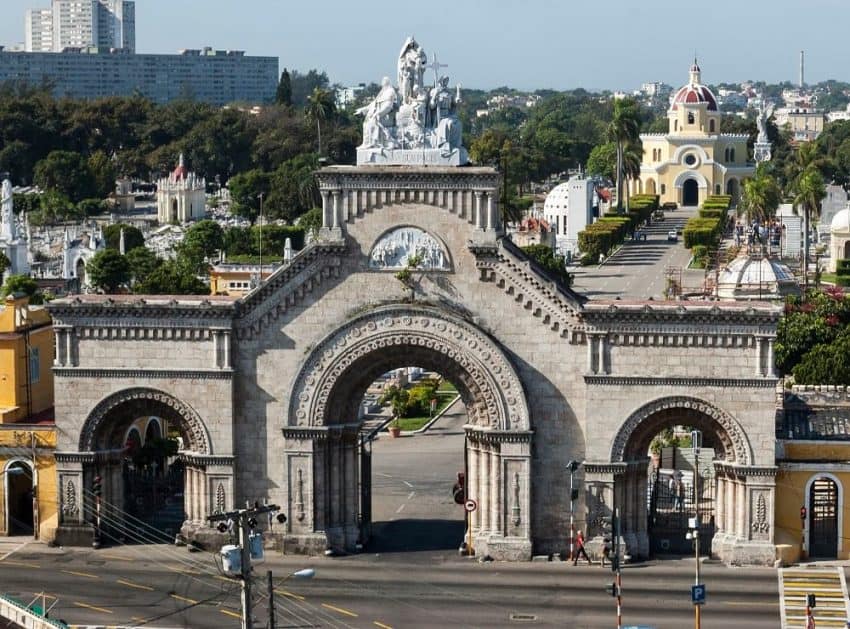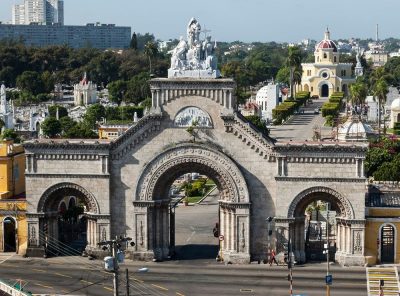 Do you like your travels to take you beyond the veil of life and death? Then you'd probably enjoy strolling around Cementerio de Colón, the oldest and largest cemetery in Havana.
The 140-acre cemetery contains over 130 years of gothic crypts, tombs, and statues, some of which are occupied by famous residents of Havana. In fact, the cemetery's first resident was its designer and architect, Calixto Arellano de Loira y Cardoso. Today, it's home to over two million graves and mausoleums and a cathedral designed to look like the famous Florence Duomo.
#7. Enjoy the White Sand and Turquoise Waters of Playas Del Este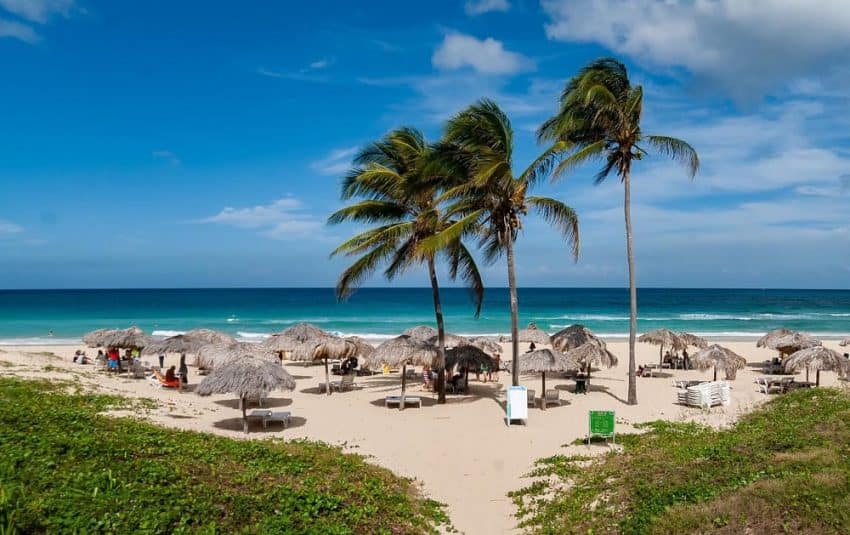 A known fact about Cuba is that, as the largest island in the Caribbean, Cuba has a lot of beautiful beaches to offer. White sand beaches, turquoise waters, and infinite sunshine are all within reach.
While in Havana, the best beaches to visit are the Playas Del Este. Located 11 miles east of the city, they're a short trip from the heart of Havana and a good way to catch a break from the city's busy hustle and bustle. Be sure to bring swimwear to dip into the beautiful, clear waters!
#8. Dance Rumba at Callejón de Hamel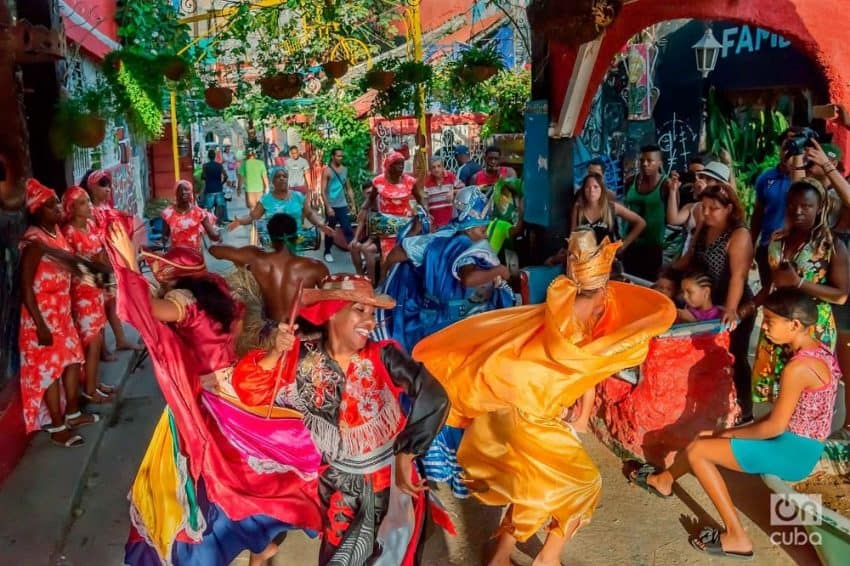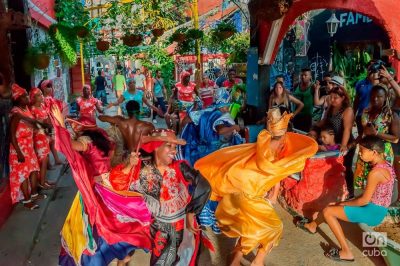 Callejón de Hamel is an alleyway in Havana well-known for Afro-Cuban-inspired murals, art shops, and music. Every Sunday afternoon, you can catch some of Cuba's best live rumba music, which is raw and unfiltered. Don't worry; you don't need musical talents to participate; just get ready to dance the rumba!
#9. View Havana From the Other Side at El Cristo de La Habana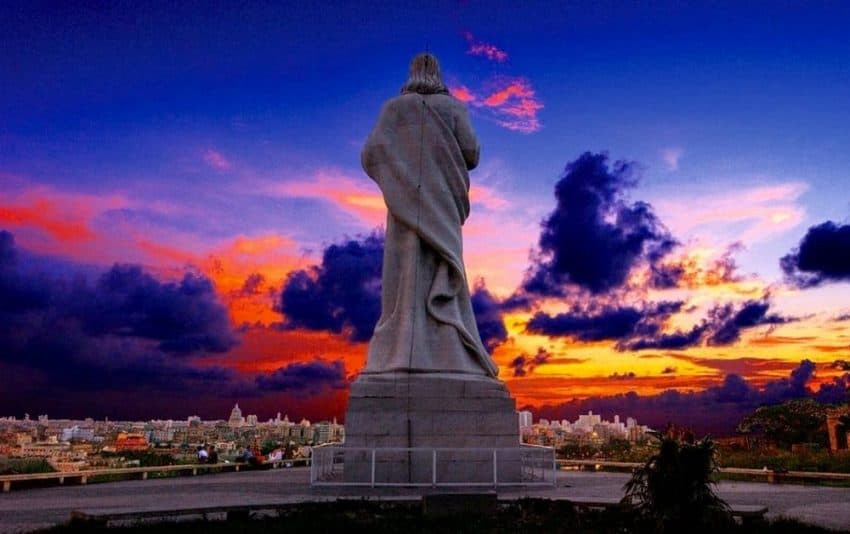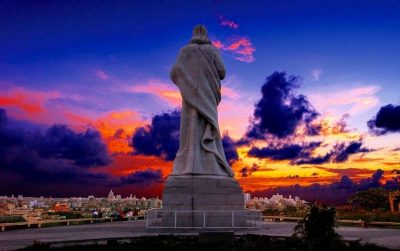 The eastern flank of Havana's harbor is dominated by a large statue of Jesus named El Cristo de La Habana. It was erected in 1958 as a gift to President Fulgencio Bautista from his wife after he survived an assassination attempt.
To reach the statue, you'll need to take the Casablanca ferry and take a short walk up the hill. The view from up there is unbeatable!
#10. Roll up a Cigar at Fábrica de Tabaco Partagás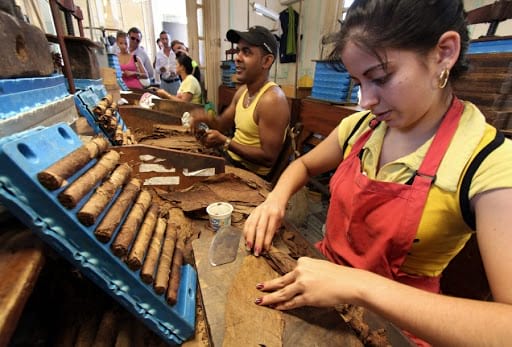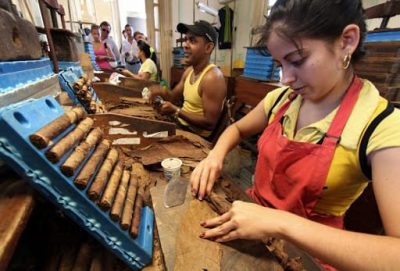 You've probably imagined smoking a cigar in Cuba, but did you know you can roll your own, too? Join Tour Republic for a Cuban Tobacco And Rum Tour takes you to the Partagas Factory in Central Havana.
The factory is a major player in the Cuban cigar industry and produces over 20,000 cigars daily. You'll experience a unique Cuban tradition: a lector at a podium reading everything from the news, novels, and poetry to the cigar workers. After visiting the Partagas Factory, we'll stop by a rum factory to sample hand-crafted Cuban rum.
#11. Get Some Souvenirs From Almacenes de San José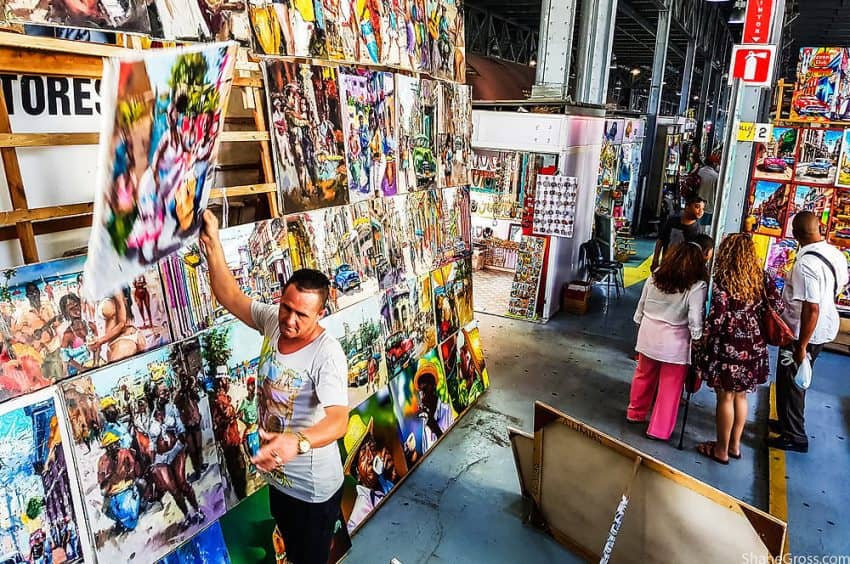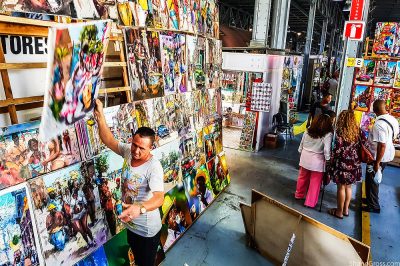 Almacenes de San Jose is a famous open-air craft market at the Port of Havana. Formerly an old warehouse, the City Historian's Office renovated and upgraded the space to house a thriving market where local artisans sell their goods.
You can buy all handicrafts, from handmade leather purses to paintings and pottery. It's the best place in Havana for a handmade, one-of-a-kind souvenir.
#12. Learn the History of the Cuban Revolution at Museo de La Revolución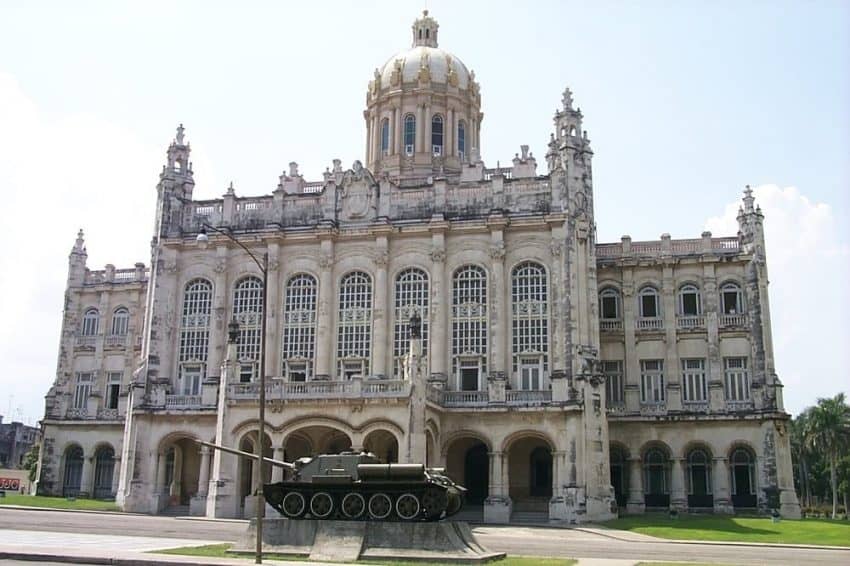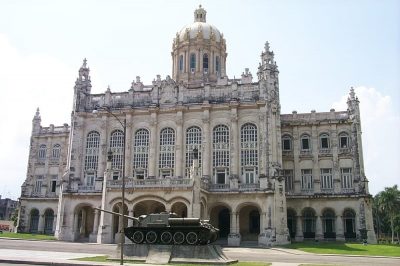 Cuba has a rich, complex history, from pre-colonial times to the Revolution and the present day, as Cuba regains international footing.
If you'd like a deep dive into Cuban history, we recommend participating in a Classroom & Fieldtrip session offered by Tour Republic. The tour begins in a classroom where you'll learn about a topic of your choice, like Colonial Times, the Republic, and the pre-Revolutionary period of the 1950s.
After you learn everything there is to know about Cuban history, you'll venture out of the classroom to a historical location and test your newfound knowledge!
#13. Visit the Iconic Plaza de la Revolución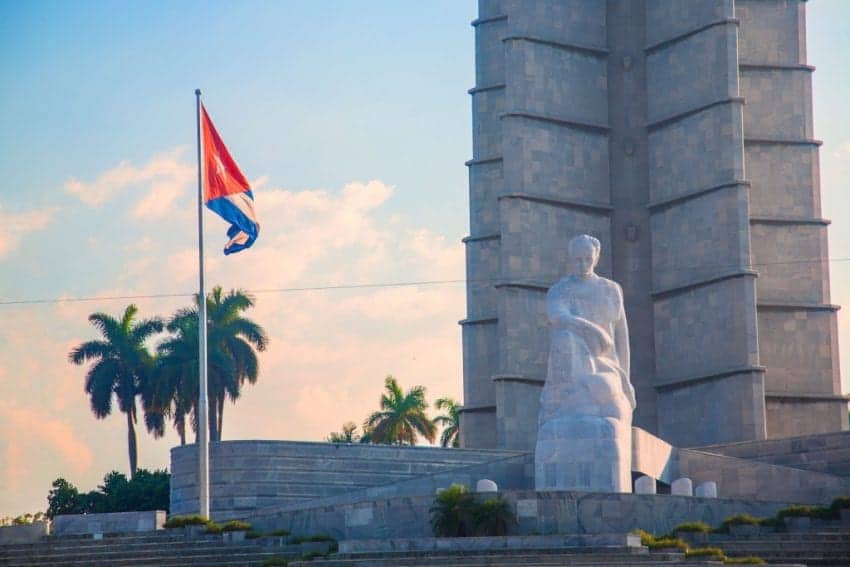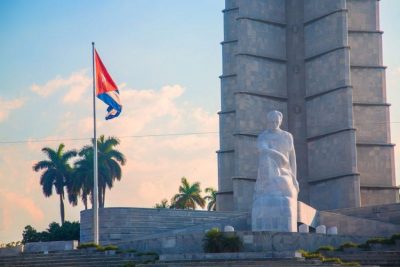 Although the topic has a controversial history, there's no doubt that the Cuban Revolution played a huge role in shaping the Cuba we know and love today.
There's no more iconic location highlighting the Revolution's significance than the Plaza de la Revolución. This large municipal square covers 11 square acres of land, making it one of the world's largest city squares. Bookending both sides of the square are two large, abstract portraits of the Cuban Revolution's architects: Che Guevara and Fidel Castro.
#14. Smoke a Cuban Cigar at the Hotel Nacional's Garden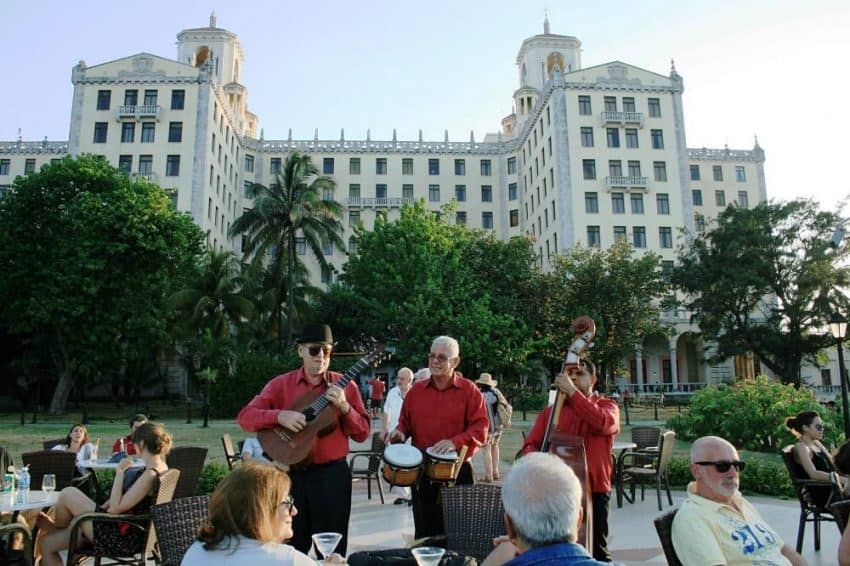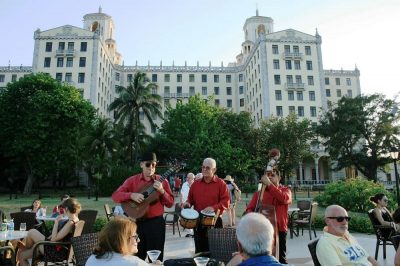 Cuban cigars are legendary worldwide for their high-quality tobacco and hand-made rolling technique. There's no better place to smoke a Cuban cigar than the Hotel Nacional. The 87-year-old hotel is a registered Cuban National Monument and a bastion of Cuban history and culture.
Light up your cigar in the beautiful seaside garden, and enjoy a scenic view of the ocean and Havana Harbor.
#15. Know the Ugly. The Crumbling Buildings in Centro Havana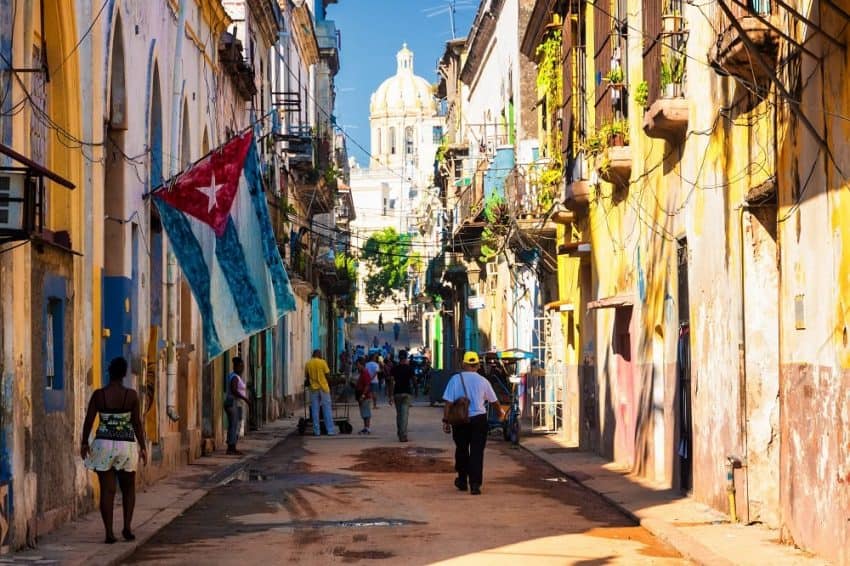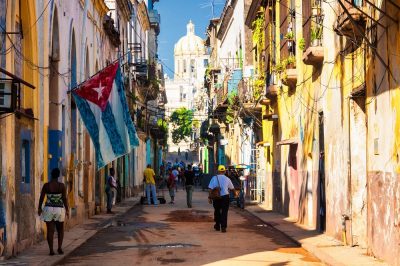 When visiting Havana, it's important to understand the ugly side of the city's old, antiquated charm. Some older buildings are no longer structurally stable or safe to inhabit. According to USA Today, over 3,800 buildings collapsed between 2000 and 2013, and an additional 28,000 people live in buildings in danger of collapsing.
Although buildings in tourist areas tend to be well-maintained, it's important to be aware of your surroundings. It would be best if you skipped buildings that look crumbling.
Havana Nightlife: What to Do in Havana at Night
When the sun sets, Havana transforms into an entirely different city. As the intense heat and humidity of daytime give way to the cooler night air, Cubans venture out to dance, drink, and listen to music. Many of Cuba's most popular music clubs and cabarets are located near hotels and Airbnb rooms in the city center. We recommend Skyscanner if you want to book a hotel or "casa particular" in Havana.
#1. Boom! Watch the Cannon Shot Ceremony El Cañonazo at La Cabaña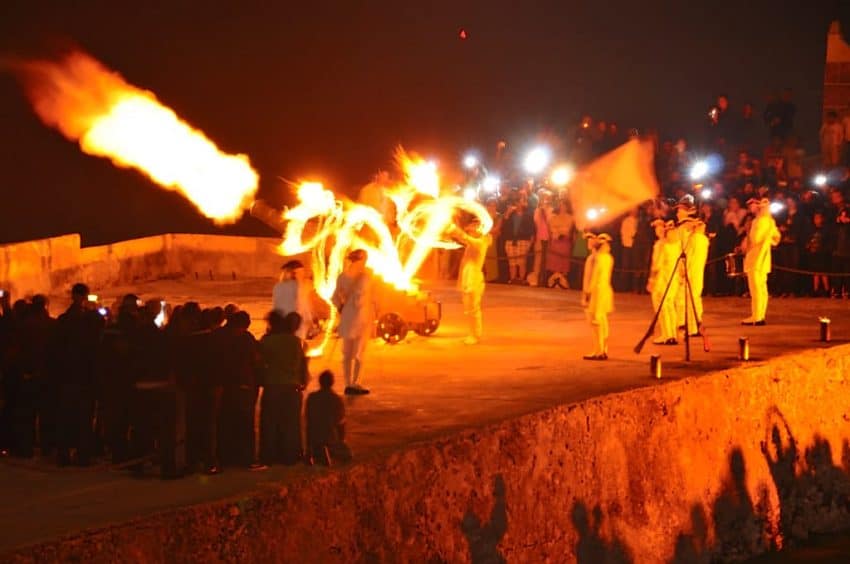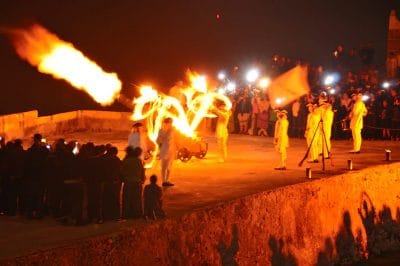 Every night at 9 pm, the Fortaleza de San Carlos de la Cabaña (Fortress San Carlos de la Cabaña) holds an official event called the Ceremony of the Cannon Shot (El Cañonazo). It's just what it sounds like: cannons fired from the fortress!
With the Tour Republic tour, Colonial Night at El Canonazo, you'll also visit the beautiful Cristo de La Habana and see a stunning view of the city from El Mirador.
Don't forget to pack your bug spray! Mosquitos are most active at twilight, which is around the time the cannon is usually fired.
#2. Go for Drinks and Live Music at La Fábrica de Arte Cubano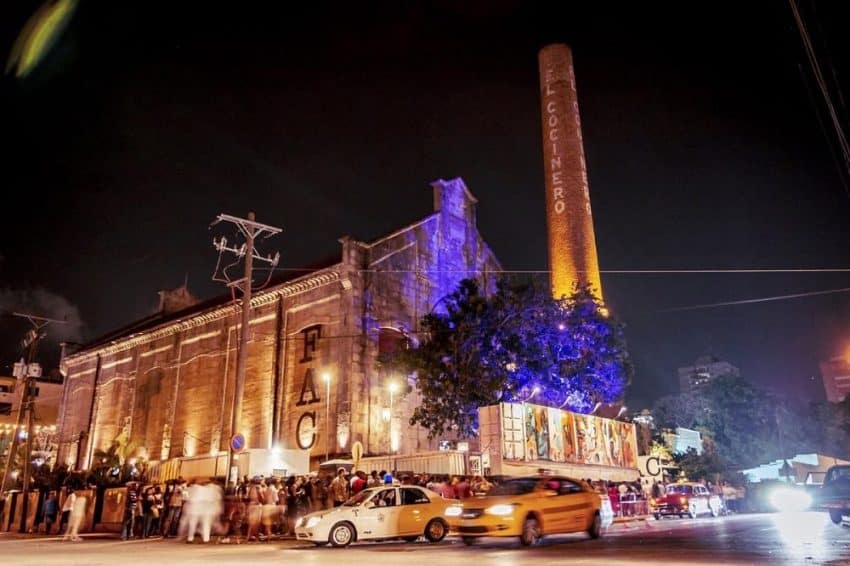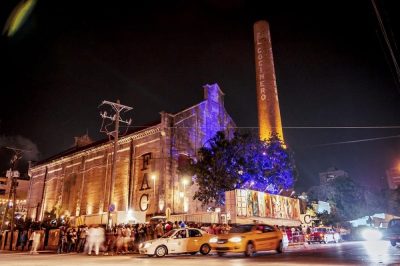 Does your idea of things to do in Havana at night include dancing to Cuban jazz in some of Havana's most well-known clubs? Then you can't miss the Fábrica de Arte Cubano, a creative laboratory built inside a former cooking oil factory.
La Fabrica is a modern art gallery and a nightclub where you can enjoy artists' work from all branches of art: cinema, music, dance, theater, visual arts, photography, fashion, graphic design, and architecture.
If you are interested in an immersive journey through the Havana nightlife, in our Havana Nightlife Tour, an expert will guide you to clubs where Cubans go to have a good time. We'll take you to clubs "off the beaten path" where there are more Cubans than tourists, and we'll customize our destinations based on your tastes in music and dance. Some of our most popular destinations are the Fabrica de Arte Cubano, Cafe TV, and Delirio Habanero.
#3. See a Ballet Performance at Gran Teatro de La Habana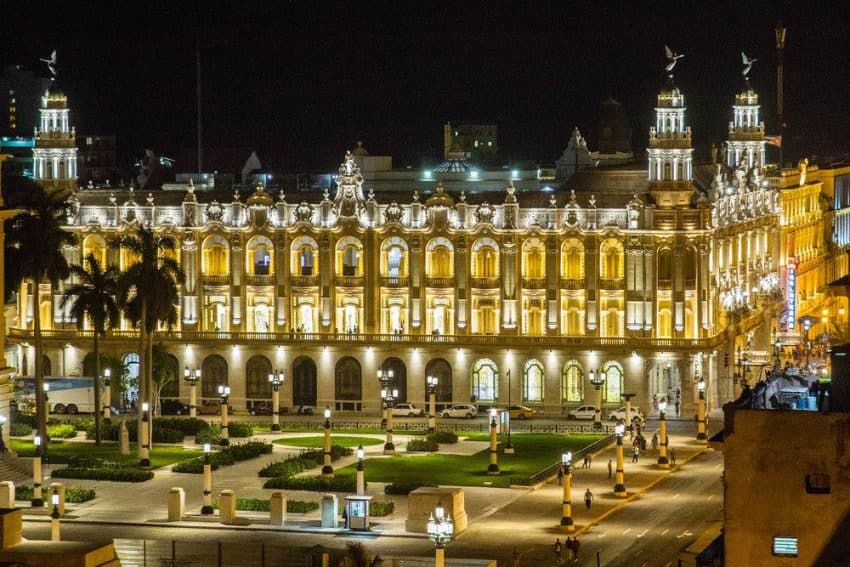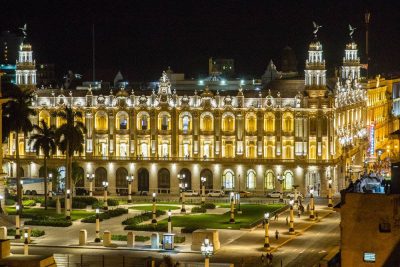 You've probably already heard of popular Cuban dance styles like rumba and salsa, but did you know that Havana is also home to a ballet theatre? At the Gran Teatro de La Habana (Grand Theatre of Havana), you can catch an impressive ballet performance by the Cuban National Ballet Company. The theatre also hosts performances of contemporary dance and Spanish-influenced dance.
El Gran Teatro was renovated in 2015, so be sure to stop by on the weekend to catch a performance!
#4. Have a Glamorous Evening at Tropicana Cabaret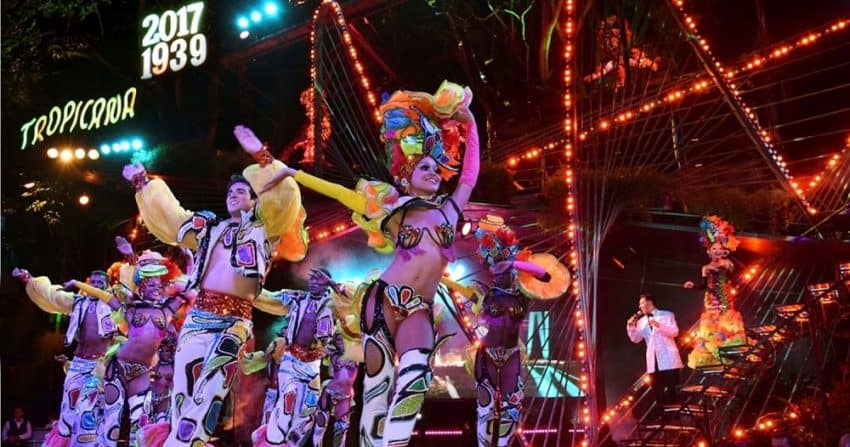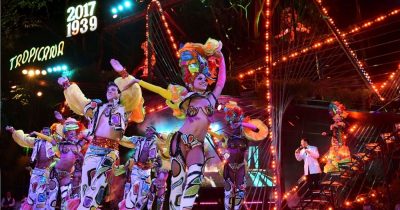 Visiting Havana's Tropicana Cabaret is one of the most iconic things to do in Havana at night. It combines the best of food, drinks, and entertainment. The American Academy of Restaurants also awarded Tropicana the "Best of the Best Five Star Diamond" award. This "paradise under the stars" has hosted Jazz legends like Nat King Cole and Josephine Baker. It continues to feature some of Cuba's top musical talent.
#5. Hear the Best Cuban Jazz Music at La Zorra y El Cuevo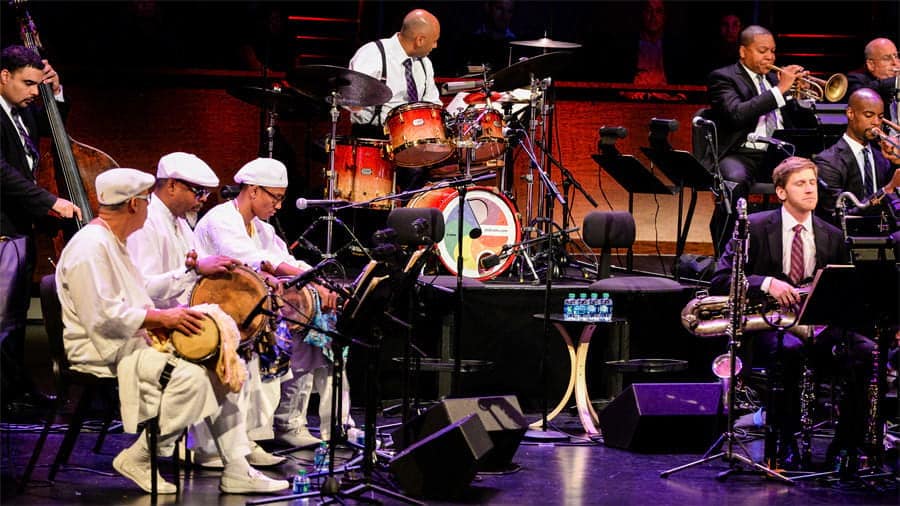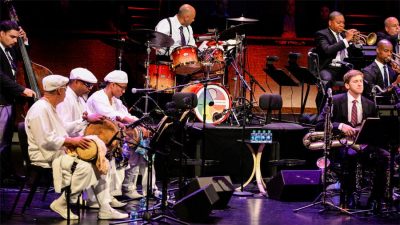 La Zorra y el Cuervo is one of Cuba's oldest and most well-known jazz clubs. The club has a secret entrance through an old London payphone located just down the street from the Habana Libre Hotel. Once inside, you'll be treated to talented performers playing Latin and Afro-Cuban Jazz, a sub-genre unique to the island.
Don't forget your dancing shoes!
#6. Dance Salsa and Jazz at the Buena Vista Social Club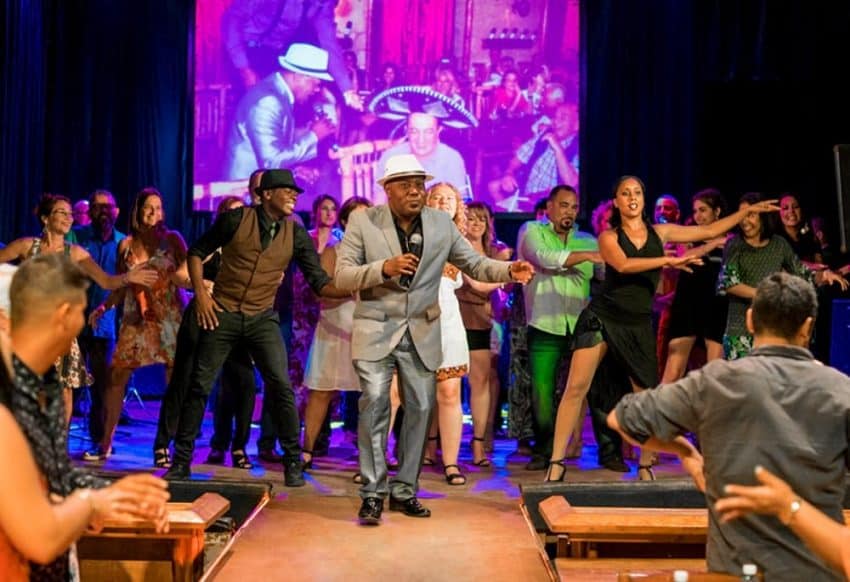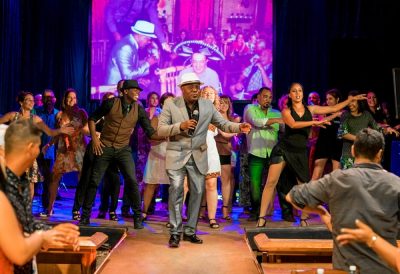 Cuba is infused with a natural rhyme and rhythm, and there's no better way to experience Havana's dance scene than the Buena Vista Social Club.
Whether you want to stop by on your own for a drink and a dance or take a tour of the Club with Tour Republic, we recommend adding this venue to your Cuba activities list. Vamos a bailar!
#7. Have Dinner at La Guarida, the Most Celebrated Restaurant in Cuba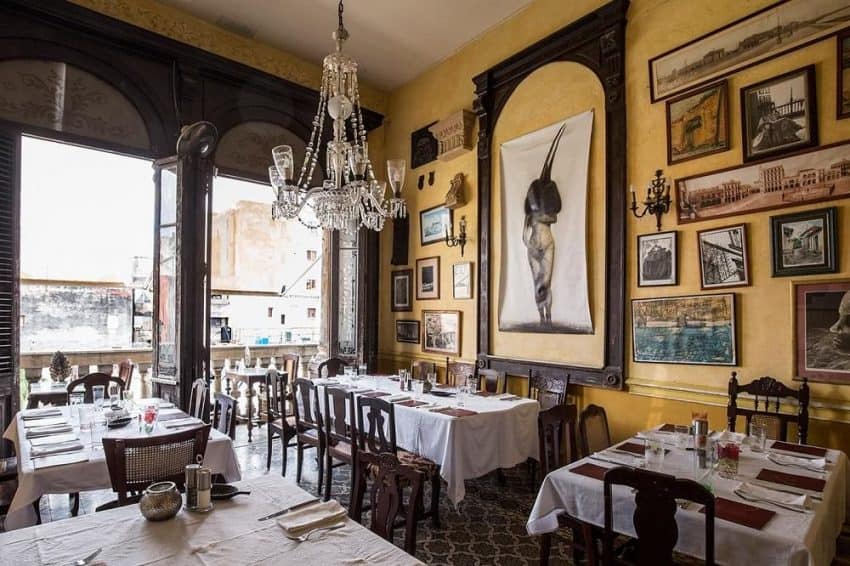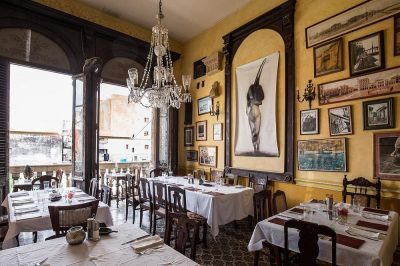 La Guarida is a legend on the Cuban culinary stage. The restaurant is a pioneer of Nueva Cocina Cubana. You can expect everything from classics like ropa vieja to exotic dishes like tikka masala on the menu.
Aside from the food, the decor is straight out of a film noir, complete with crystal chandeliers and old-school photographs from the city. La Guarida is an absolute must for travelers to Cuba between the high-quality cuisine and the unique ambiance.
La Guarida is also where Fresa y Chocolate (Strawberry and Chocolate, 1993) was filmed. Fresa y Chocolate is the only Cuban movie that has ever received an Academy Award nomination. It is considered an all-time classic.
Interested in learning more about the culinary delights Cuba has to offer? Please take a look at our handy
guide to eating in Cuba
.
Do You Agree With Our Ranking of the Best Things to Do in Havana?
Havana has something for everyone to enjoy, from dancing salsa in legendary clubs to soaking up the city's history while riding in a vintage convertible. In fact, there are so many things to choose from you may find yourself overwhelmed by the sheer number of opportunities at your fingertips.
That's why we put together this helpful guide to help you plan out the perfect stay in Havana, whether you're visiting for a few days or a whole week. If budget is a concern, check out our guide to the trip to Cuba costs.
So, which fun activities do you plan to do in Havana? Let us know in the comments!
Essential Travel Logistics For Cuba
Cuban Tourist Card – If your Cuban Tourist Card (a.k.a Cuban Tourist Visa) isn't bundled into your airline ticket or travel package, buy it only through EasyTouristCard. 
Travel Health Insurance – Travel medical insurance is an entry requirement for Cuba, so you can't skip it. Travelers can get travel health insurance for Cuba via Insubuy. Travel protection benefits such as trip interruption and cancellation, baggage delay insurance, etc., are not required.
Essential Items to Pack – Bring the essential travel necessities that you may not be able to get in Cuba:
Read our complete packing list for Cuba.
Find Accommodations – Find hotels or casas particulares (private accommodations) on Skyscanner, which lists thousands of accommodations available in Cuba.
Book Your Flight – Book cheap flights to Cuba on Skyscanner, our favorite flight search engine to find deals on flights to Cuba.