It is common knowledge that islands have more than a few beaches, and Cuba is no exception. Cuba, the largest island in the Caribbean, has 430 beaches and approximately 3,500 miles of coastline. Before visiting a place with that many beaches, you may want to know the best beaches in Cuba.
If you have barely heard about Varadero, but have no idea of what else Cuba has to offer, don't fret. We are here to help you pick the best of the best. Follow along; we will cover the best beaches in Cuba to suit all tastes.
Are There Nice Beaches in Cuba?
Cuba is famous for its breathtaking beaches, guaranteed to stun you silly with turquoise water and sugary white sand. If you need to visit an island with perfect shores for postcards, snorkeling, and generally having a good time, Cuban beaches will not disappoint.
How We Chose the Best Beaches in Cuba?
When picking the best beaches in Cuba, we considered a few factors:
Awards
There are quite a few awards that travelers or industry experts grant to the best beaches in the world. Some beaches in Cuba have garnered a worldwide reputation as the best of the best; thus, they have won an impressive list of awards. Generally, before a beach receives an award, environmental management, general safety, and water quality issues are often assessed.
Some of the awards we considered while hunting for the best Cuba beaches include:
Our expertise
Not to brag, but our team has more than 10 years of academic background and experience in all topics related to traveling to Cuba. Combined, we have two Bachelor's degrees in Tourism Management, one Master's degree in Hospitality, and a Bachelor's degree in Journalism. We also wrote a couple of books and academic articles about the travel industry in Cuba.
You can count on us to give you honest advice!
User reviews
We used reviews to get a general picture of what tourists have to say about varied beaches and how they found the experience. Then, we sifted through numerous beaches and only selected those with the best reviews on Google and Tripadvisor.
Distance from other noteworthy beaches
Some of the beaches we have included below are close to others you may like to visit. That is an advantage since you can cover a bunch of them quickly. However, we will also introduce you to others that are secluded and, therefore, the best if you want to avoid overcrowded spots.
The 10 Best Beaches in Cuba Ranked
Now that you know how we picked the best beaches in Cuba, let's dive in!
If you are in a hurry, here is a map that lists what we consider the best beaches in Cuba.
#1. Playa Paraiso – Cayo Largo del Sur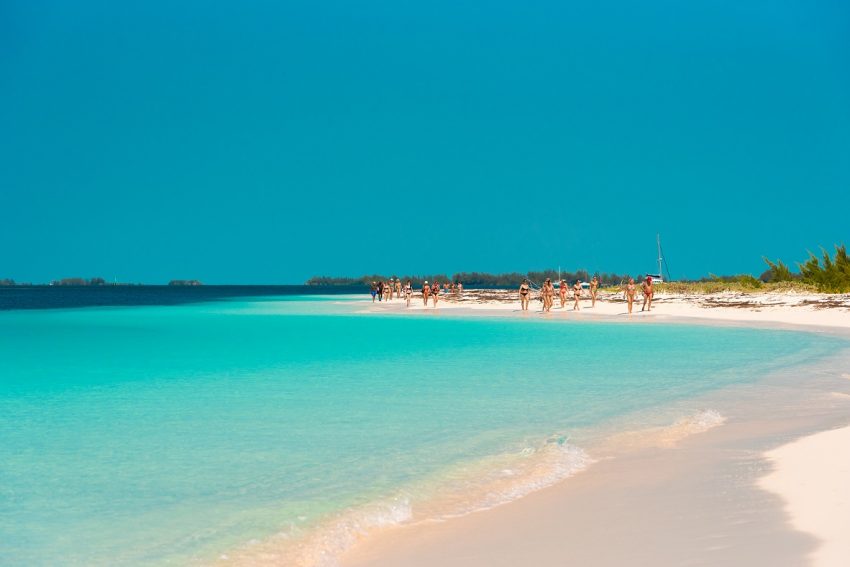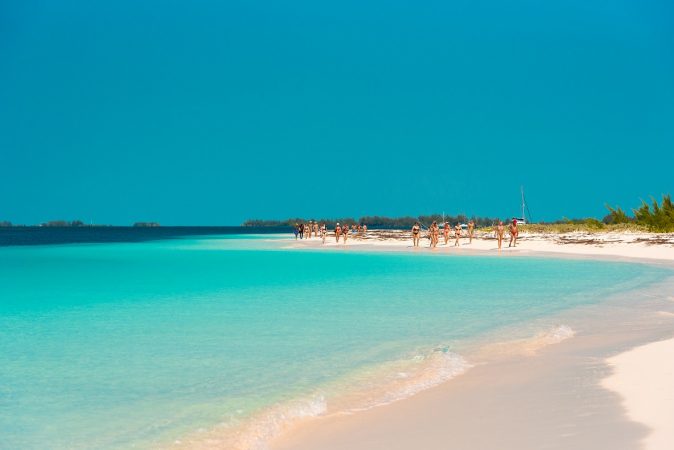 In 2016, Playa Paraiso, or Paradise beach, was voted the 3rd most beautiful beach worldwide by Traveller's Choice, and rightly so. It is infamous for its clear turquoise water and bedazzling white-sand coastline and, as a result, has managed to top our list of the best Cuban beaches.
Most tourists love this beach because it is peaceful and tranquil. It is the ideal choice for anyone who wants to enjoy a quiet time without the pressures of most beach towns in Cuba. The place is also perfect for disconnecting from everyone and everything. Although if you want to brag a bit, follow our guide to getting internet in Cuba and post your photos in the spectacular Playa Paraiso.
Some things to do in Playa Paraiso include snorkeling, swimming, and enjoying local cuisines and refreshing drinks. Don't expect many bars or restaurants near the beach, though. There is a snack bar, and that's about it. Hotels and restaurants are far from the beach, but you can take a taxi, scooter, or shuttle to travel back and forth.
If you are traveling with kids, you will be glad to know that Playa Paraiso is one of the safest beaches in Cuba for children. There are no sharp rocks or strong currents; the water is calm and relatively shallow.
This beach is located in Cayo Largo, a stunning secluded island with relatively modern tourist infrastructure, including an airstrip (nothing compared to the Havana Airport, though). As a bonus, Playa Sirena, one of the various goldmines of adventures on the island, is within walking distance from Playa Paraiso (about 20 minutes).
#2. Playa Varadero – Varadero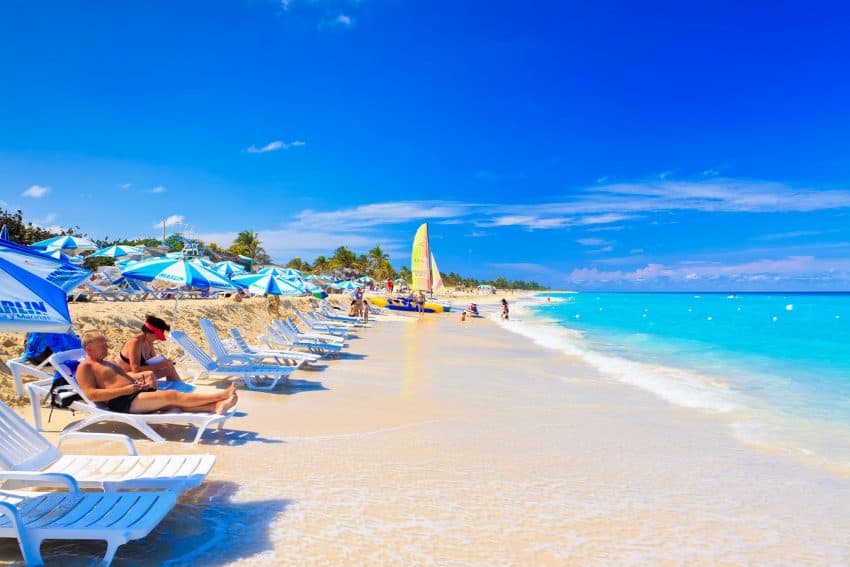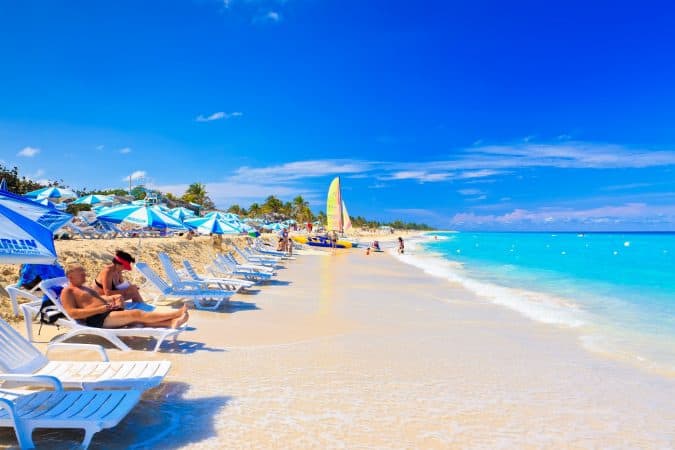 Playa Varadero is the most famous beach in Cuba and comes second on our list. Most visitors know this beach to be a complete package resort for rejuvenating and enjoying the pleasures of a white sandy beach.
Varadero beach runs across an entire peninsula (15 miles!), which is so narrow that the beach will always be a few steps away from you. This beach combines green and blue clear waters, forming an exemplary boundary between the Florida Straits and the mainland. These are reasons why Playa Varadero was picked as the 2nd best beach in the world in 2019 and the 4th best beach in The Caribbean in 2021 by Tripadvisor's Traveler's Choice Awards. The beach also ranked 10th place in the World's Best Beaches for 2018 by FlightNetwork. This beach ranking system includes the opinions of more than 600 travel journalists, editors, bloggers, and agencies.
Varadero can be the very opposite of Playa Paradise, though. The peninsula is usually flooded with tourists and locals, especially during Summer. So if your idea of a beach vacation is to get far away from the hustle and bustle of a beach town, then Varadero might not be what you are looking for.
However, if you want to combine your stay with other exciting activities, Varadero is probably the best choice. Some of the best things to do in Varadero beach include:
Fun water activities like diving, fishing, snorkeling, boat riding, and sailing.
Tasting the local cuisine at private restaurants ("paladares"). Check out some popular "paladares" in Varadero.
Touring art galleries or museums in the area.
Visiting the archeological treasures in the peninsula, such as Cueva de Ambrosio, Cueva Saturno, and the Varahicacos Ecological Reserve.
Enjoying the nightlife in Varadero at popular nightclubs such as Calle 62, La Comparsita, Casa de La Musica, Cueva del Pirata, and many more!
Driving to Matanzas and stopping by for photos at the Bacunayagua bridge.
Varadero is also situated close to Cayo Blanco, another stunning beach discussed in detail below. It also helps that Varadero is just two hours away from the capital, so a day tour from Havana is feasible.. and recommended.
#3. Playa Cayo Santa Maria – Cayo Santa Maria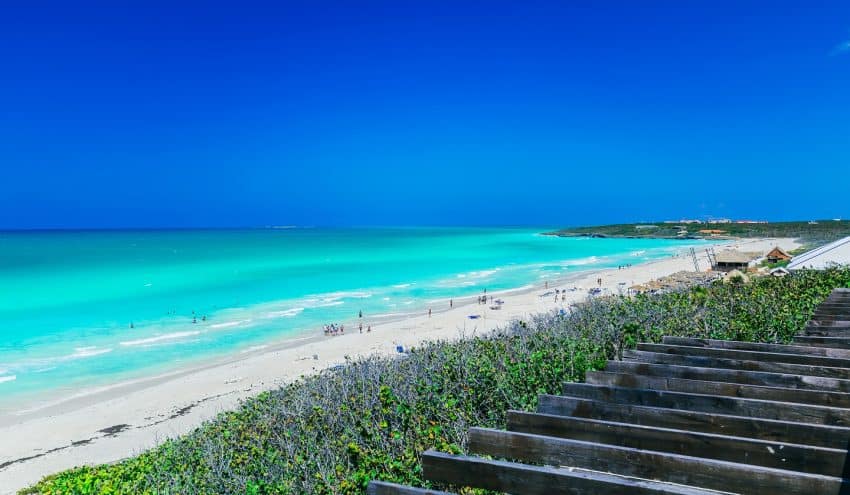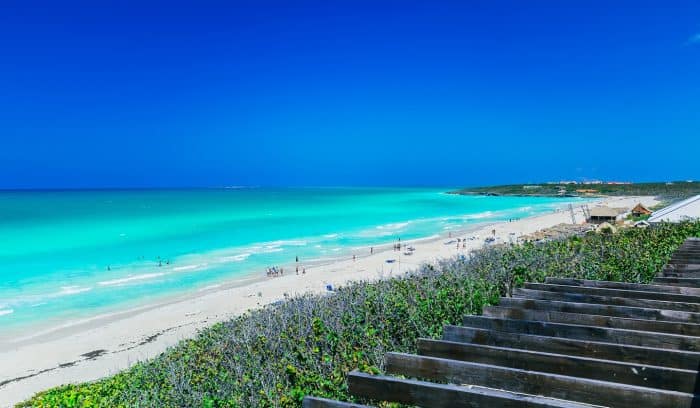 Playa Cayo Santa Maria has no shortage of natural scenery like tropical mangrove trees and powdery sand. The waters at this beach are warm and turquoise and lap lazily amidst numerous schools of darting fish.
Playa Cayo Santa Maria has recently won increasing praise from travelers and experts alike. For example, in 2021, Playa Cayo Santa Maria ranked 2nd as the best beach globally and won the top spot for the best beach in the Caribbean by Tripadvisor's Traveler's Choice Awards.
Cayo Santa Maria beaches cover a big chunk of the island's northern coastline. If you are interested in naturist walks or snorkeling, this is the perfect place. You can get to Cayo Santa Maria beach using the connecting causeway between the beach and the mainland.
The islet is home to anhinga, mollusks, iguanas, seagulls, and flamingos. It is also surrounded by numerous other secluded beaches that may be ideal if you are looking for a place to enjoy a romantic getaway or private picnic. One of these is Playa Ensenachos, a popular tourist destination with almost untouched natural beauty.
The nearest town is Caibarien, about a 1-hour drive, but there isn't much to see there. However, if you happen to visit Cayo Santa Maria between December 16 and Christmas, you can't miss Las Parrandas de Remedios. Las Parrandas is a carnival-like festival that happens every year in Remedios, a small town about 1hr and 20 minutes from Cayo Santa Maria.
The city of Santa Clara is slightly more than 2 hours from Cayo Santa Maria, but it's worth visiting.
#4. Playa Pilar – Cayo Coco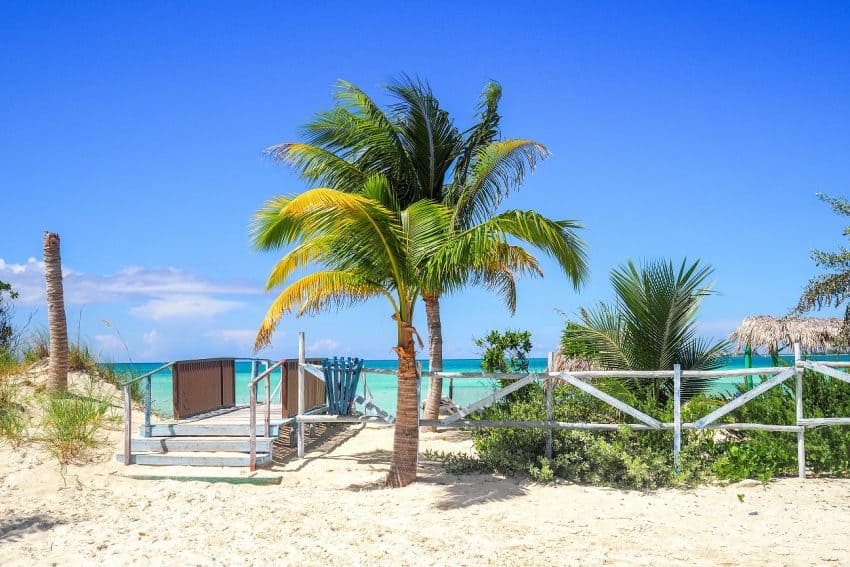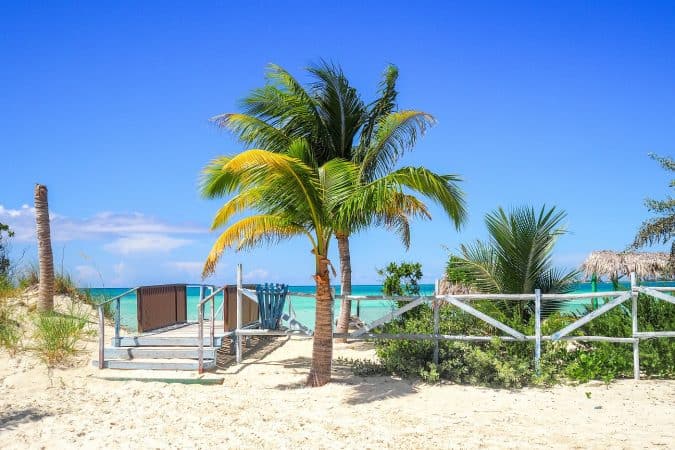 Playa Pilar is also commonly known as Cayo Guillermo. It is a laid-back island west of Cayo Coco that has primarily stayed unaffected by the hustle and bustle in most other busy Cuban holiday resorts. Try this one if you want to visit a sleepy and quieter beach.
Playa Pilar is also famously known as the setting for Ernest Hemingway's last novel, Islands in the Stream.
Nearby is Cayo Media Luna, which is also noteworthy because former dictator Fulgencio Batista had a secret hideaway on this tiny key. You can book excursions to the key from the beach restaurant Ranchon Playa Pilar where kayaks and aquatic bikes are also available for rental.
Some activities you can partake in at the Playa Pilar beach include diving and fishing. If you are an avid bird enthusiast, you will enjoy watching the colony of more than 12,000 flamingos that always gather on this island to feed.
Playa Pilar's waters contain abundant marine life, so fishing should be enjoyable. Some of the fishes you may find here include marlin. Moreover, this beach is close to Playa Flamencos, a beautiful place with amazing Latin music.
#5. Cayo Blanco – Varadero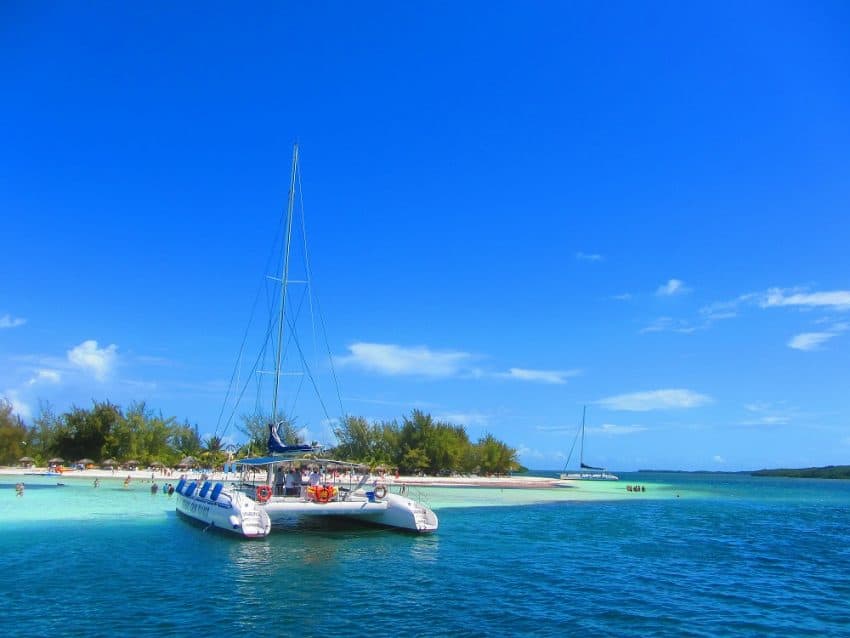 Most tourists love Cayo Blanco because it is a pretty remote area in Varadero and, therefore, an ideal resort for relaxation. The waters on this gorgeous beach also have sandbars that make sitting and dipping your toes in the warm water enjoyable.
Some things to do at Cayo Blanco include boarding a catamaran for an excursion, diving, snorkeling at the available coral reefs, and enjoying non-motorized water sports with an accompaniment of Cuban music sunbathing.
One of the most popular beaches in Cuba, Playa Varadero, is near Cayo Blanco. That means you can visit both beaches and enjoy the scenery without planning or waiting for another trip.
#6. Guardalavaca – Holguin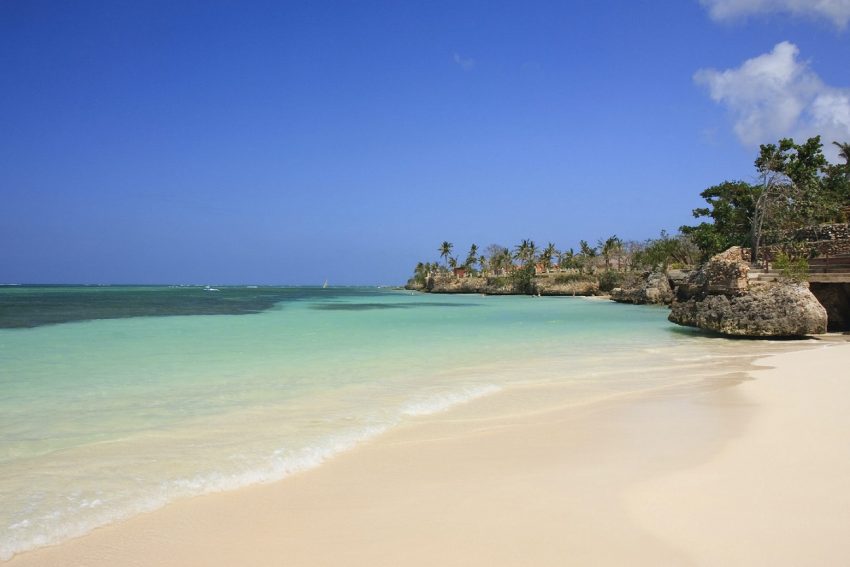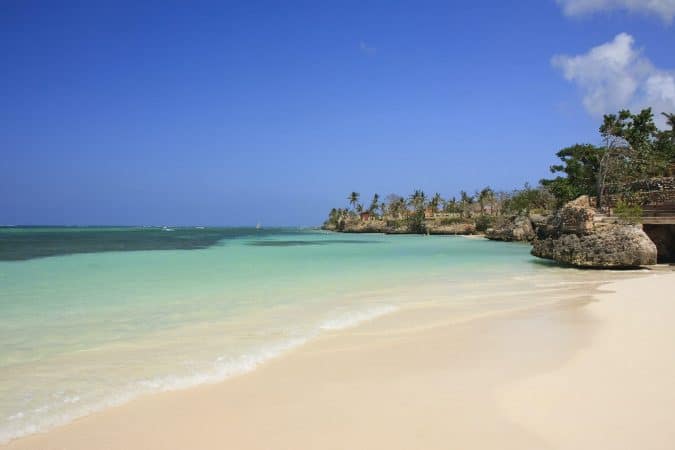 Apparently, Christopher Columbus was enthralled by Guardalavaca and thought it was the most beautiful place he had ever seen in his lifetime. Picture a place that the great Columbus had that much to say about. You will begin to understand just how captivating Guardalavaca is. Perhaps that's why Fidel Castro himself led the inauguration of the first hotel in Guardalavaca.
The scenery at this beach is a beautiful blend of green fields of tamarind, sea grapes, and palms. It also has rolling hills and sparkling white sand stretching over 1500 meters.
There are few restaurants and bars around the beach, so you won't struggle to find a refreshing drink or a quick snack.
If you have time to explore around, there are three places we recommend visiting:
Bahia de Naranjo – a dolphin sanctuary where you can swim with the dolphins.
El Chorro de Maita – an aboriginal burial site made a museum.
Cayo Saetia – a natural protected area with scenic beaches.
On the other hand, if you want to relax on a beach with a charming backdrop and gouge yourself with snorkeling, sunbathing, and swimming, Guardalavaca is also a good choice. Water sports gear is also available for rent.
Nearby (about 3 miles) is a jewel you can't miss: Playa Esmeralda.
#7. Playa Cayo Jutias – Cayo Jutias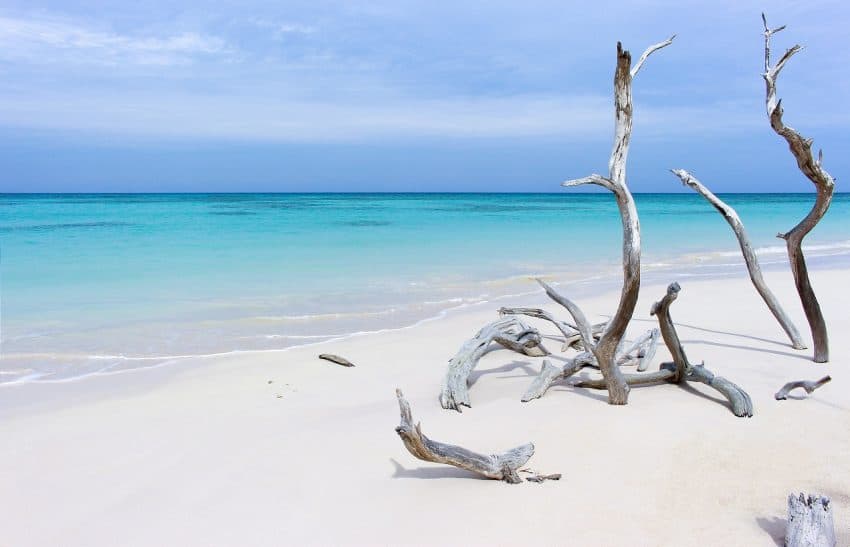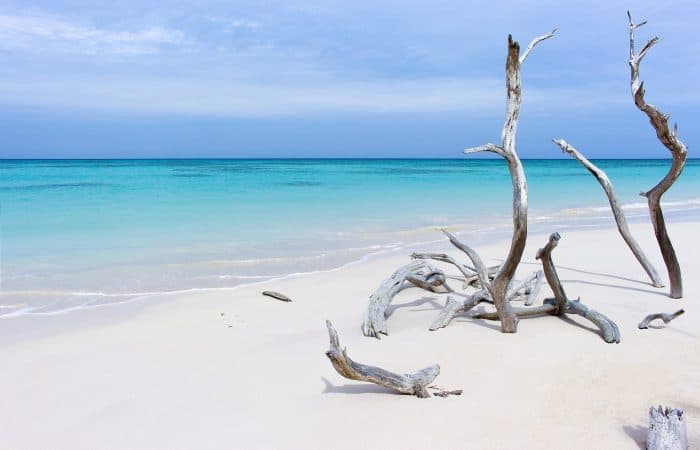 Two hours from Vinales lies the full sight of one of the most beautiful white-sand beaches in Cuba- Playa Cayo Jutias, sometimes known as Playas de las Estrellas de Mar (Starfish Beach). The waters here are blue and warm, the road is a real adventure, and the general ambiance is lovely and laid-back.
As you probably guessed at this point, there are plenty of starfishes in the water. But please, don't play with the starfishes out of the water since they can die intoxicated.
Also, beware of the dead mangroves! Although they serve as a spectacular setting for your Instagram photos, you can get hurt too.
This beach may be in an interior location. Still, you will not lack somewhere to enjoy the local delicacies and grab a refreshing drink. Some things to do in Playa Cayo Jutias include camping, swimming, and fishing. However, this location is plagued by mosquitoes, so ensure you bring repellent with you.
#8. Playa Los Cocos (Santa Lucia) – Camaguey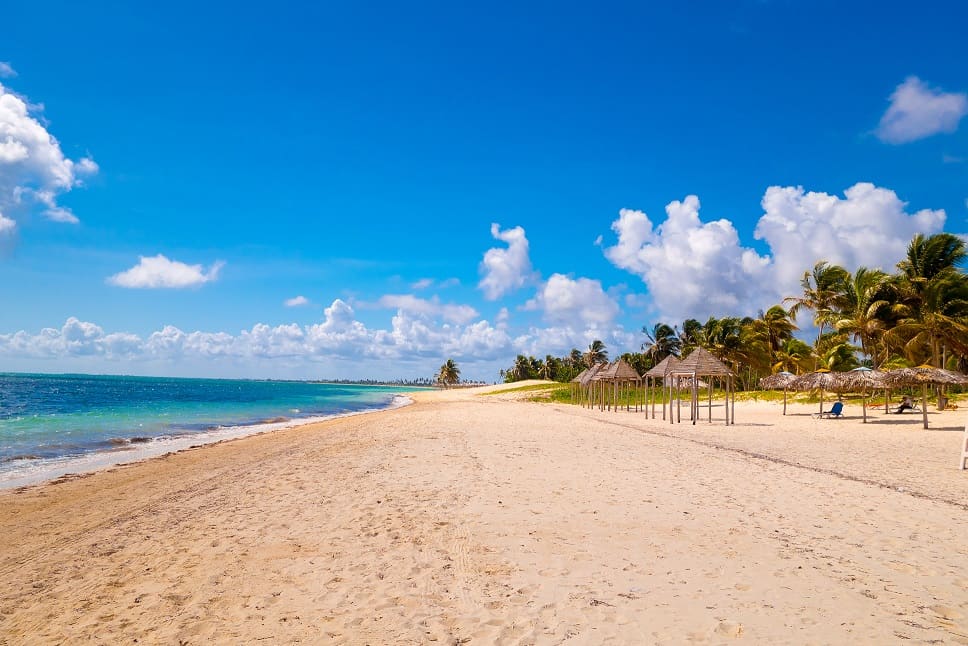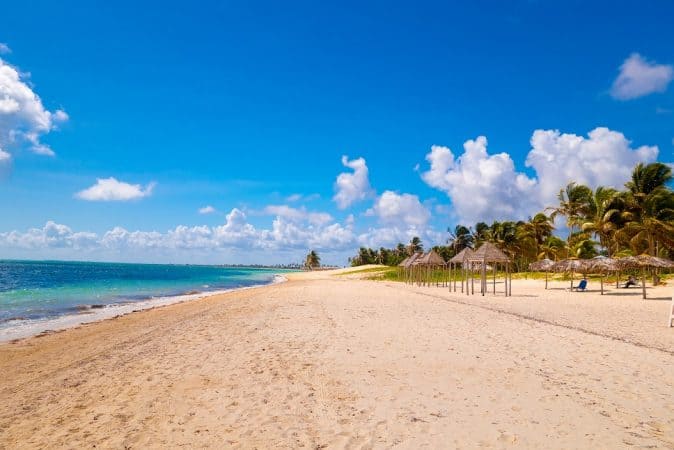 Playa Los Cocos, in Santa Lucia, may not be a beaver of tourist activities and modern paraphernalia but it is worth consideration. More so if your idea of a good time includes diving adventures and hand-feeding sharks.
The waters of Los Cocos are enticingly warm. The shallow drop allows you to walk even more than 100 meters into the water before it gets to shoulder level and you have to swim. Plus, despite the shortage of adequate infrastructure, many all-inclusive resorts at Los Cocos offer authentic Cuban cuisine and a lovely ambiance.
Furthermore, birdwatchers can lay back and enjoy the sights of flamingoes strutting back and forth in this area.
Santa Lucia is also famous for its coral reef, bull sharks, and tropical fishes. There are also several sank ships, like the Mortera, which sank in 1898.
Head to the only beachside restaurant in Playa Los Cocos to pick some food and cold beers.
Another popular activity in Santa Lucia is to take a catamaran trip to Cayo Sabinal, a secluded island that hosts Playa Bonita and an old lighthouse. Playa Bonita is yet another beautiful beach, perfect for tanning your body.
Finally, if you are on a tight budget, Playa Los Cocos is your best choice since the food and accommodation are less expensive on this side of the country.
#9. Playa Pesquero – Holguin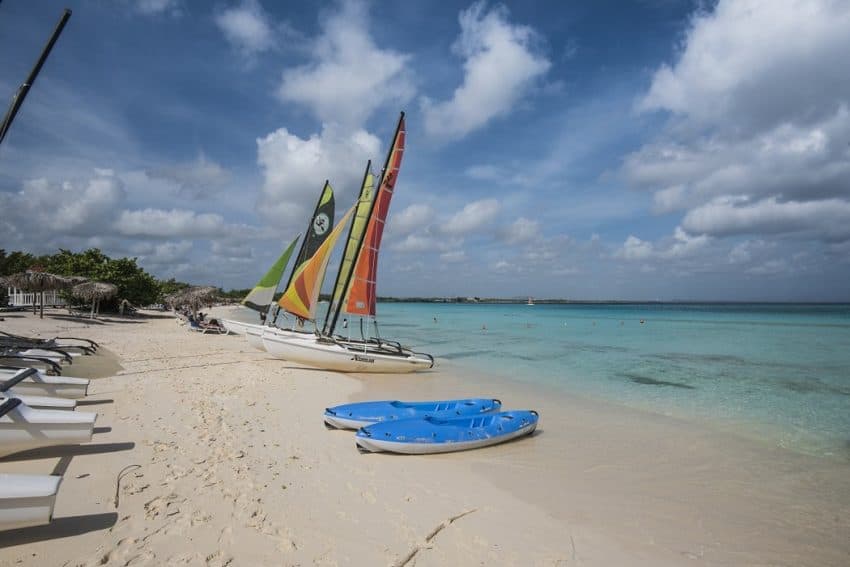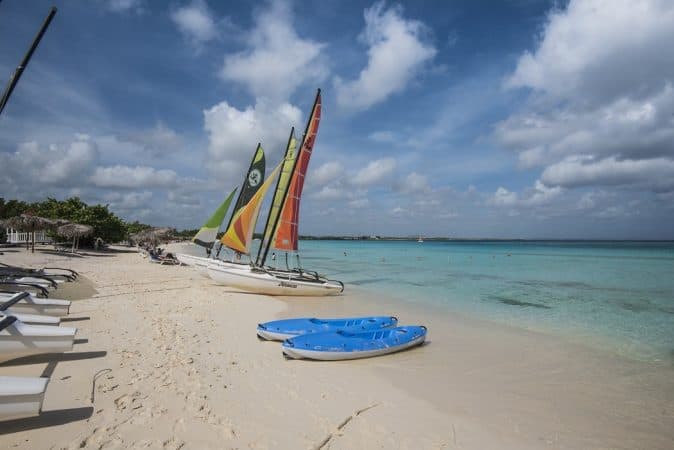 Playa Pesquero is located in Northern Holguin, an area with excellent tourist infrastructure with beautiful hotels, and exemplary staff. The sandy beach in this area is beautiful with turquoise water and stooping palm trees.
Some forms of entertainment that you can enjoy at Playa Pesquero include swimming, sunbathing, and trying different tasty local dishes. La Finquita Alegre and Don Pepe Grill Restaurant are recommended.
You can also visit BioParque Rocazul, a small natural park where you can enjoy horseback riding and fishing. There is also a mini zoo where you can interact with the animals.
#10. Playa Ancon – Trinidad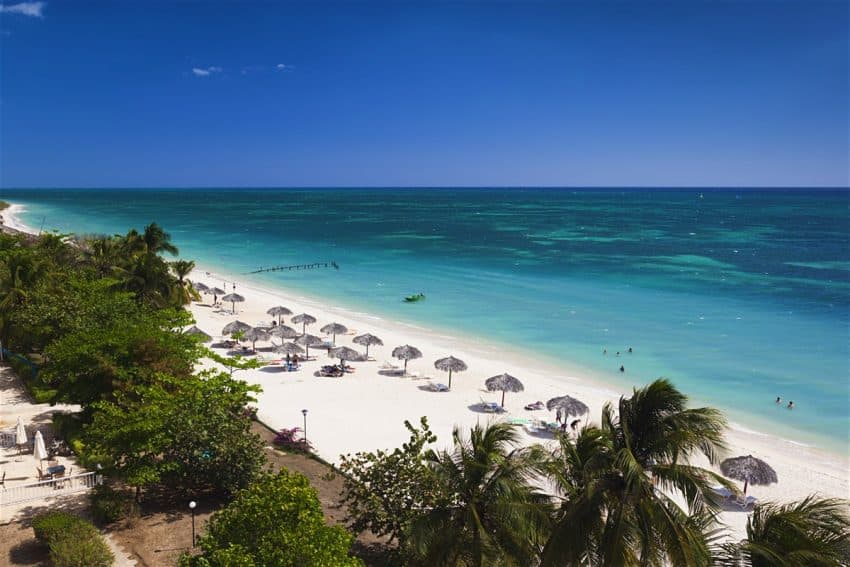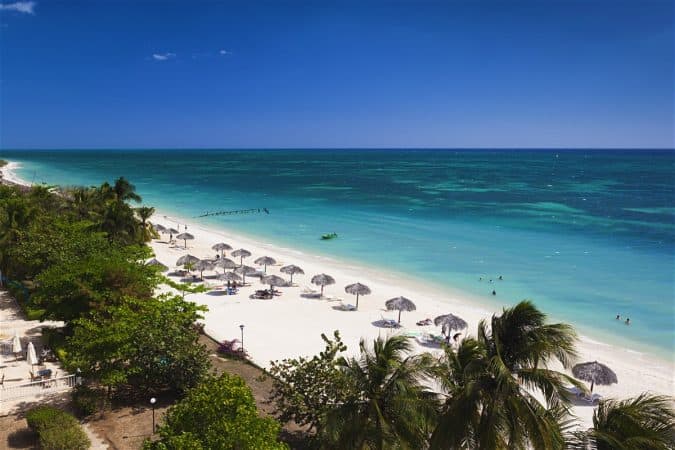 Playa Ancon is the best beach in Southern mainland Cuba. The beach boasts sparkling golden sandy scenery and crystal clear turquoise waters. Over the years, it has retained its exquisite appeal with gorgeous reefs, shrubs, and trees.
One of the best activities you can engage in Playa Ancon is diving in the reefs. You may also choose to go for a fishing excursion, revel in the adventures of deep-sea fishing, or partake in bottom fishing. Or, just go snorkeling and to Cayo Blanco, one of the most attractive excursions here.
Perhaps Playa Ancon is so visited because it's near one of the leading tourist destinations in Cuba: Trinidad. Trinidad, located about 7.5 miles from Playa Ancon, is a colonial town frozen in time. There are plenty of things to do in Trinidad, but that would deserve its article.
The Best Beaches Near Havana, Cuba
Visiting the nearby beaches is definitely among the top things to do in Havana. Havana has some gorgeous beaches that you can easily access via a short drive from the city center. It is easy for anyone to visit these beaches and have a splendid time at leisure. They can also head back to the lively city for a night out.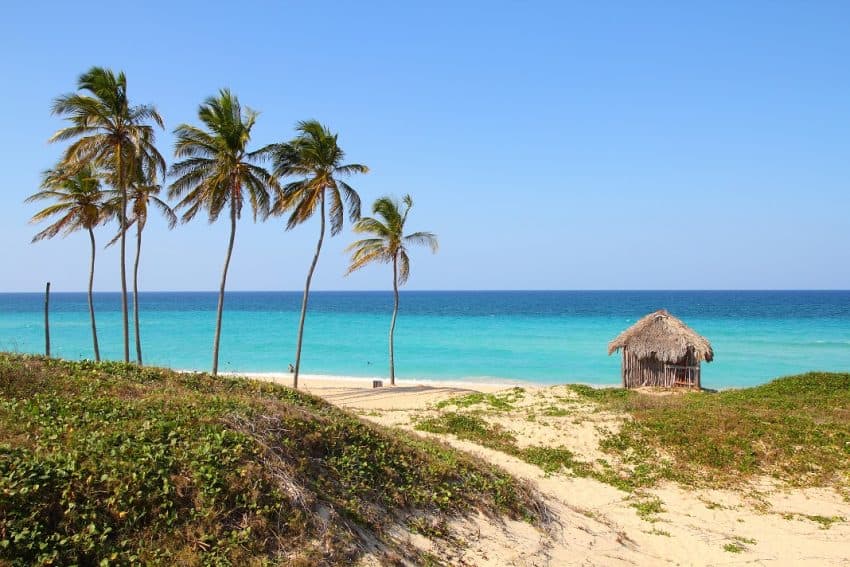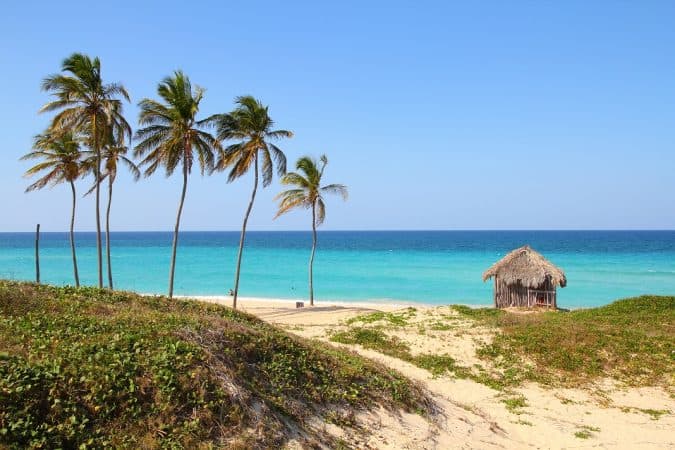 Playa del Chivo: Best Beach near Old Havana
Although Havana is close to some exemplary beaches, we cannot say the same for some parts, especially Old Havana. The nearest beach to this area is Playa del Chivo, and there isn't much to say about it. Playa del Chivo isn't a big deal compared to other beaches in Havana.
East Havana Beaches (Playas del Este)
Playas del Este has a few beaches near Havana that are worth a shot. They include:
Playa Santa Maria del Mar
Santa Maria del Mar is the most popular beach in Playas del Este. It's also the most beautiful. The tropical vegetation is vast, the sand is immaculately white, and the water is quiet. There are plenty of restaurants and snack bars nearby, so grabbing a drink (or two) won't be a problem. However, there is no public bathroom, and those in the restaurants can be gross.
Tarara
Tarara is one of the most popular beaches on the Playas del Este strip. It is an ideal resort for tourists with its bars, pools, restaurants, and shopping center if you are up for a spree.
Mi Cayito
Mi Cayito is popular mainly with gays. If you are a member of the LGBT and would like to relax on a beach with a touch of fashion and panache associated with this group of people, Mi Cayito will not disappoint.
El Megano
If you want a peaceful beach to relax without all the hype of beach parties and reggae tunes, go to El Megano, rent a chair and umbrella, kick back, and enjoy.
Bacurano
Bacurano is the closest and most accessible beach in Playas del Este, though not necessarily the best.
You can go to any beach in Playas del Este by taxi or bus (not recommended, except if it is a Viazul-type bus). You can rent a taxi for a roundtrip from Old Havana to Playas del Este for about 15-20 USD. If you are renting a car in Cuba or hiring one of those famous classic cars of Cuba, the drive will be pretty easy.
The Best Nude Beaches in Cuba
Cuba may be knee-deep in astounding beaches and droves of tourists. Still, the locals have not come to terms with walking around in the nude.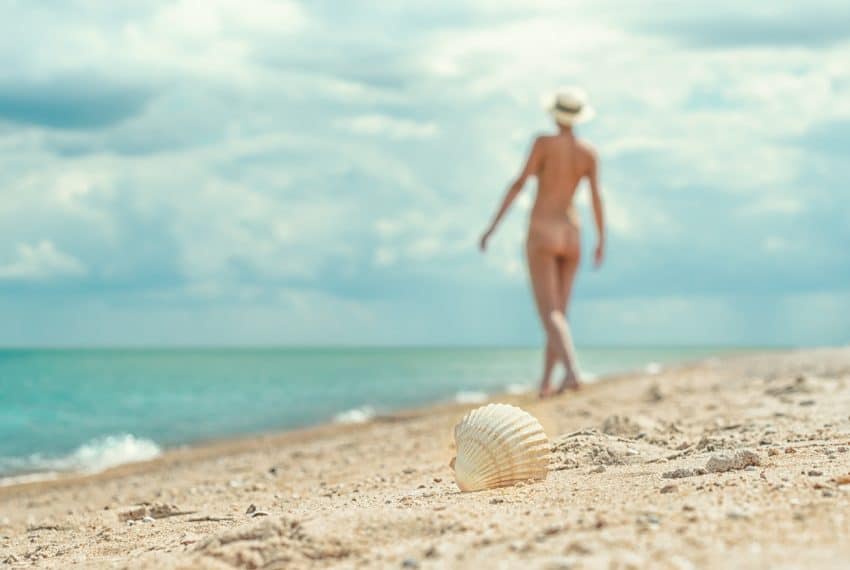 The government, however, has tried to accommodate foreigners that like keeping things natural and well-aired by making considerable efforts to separate foreigners from locals. And although this initiative may not be the best, it has allowed for a few nude beaches on the island.
The clothing-optional beaches in Cuba are:
Cayo Largo del Sur
Cayo Largo is Cuba's most popular place for naturist beach lovers. The beaches in Cayo Largo accommodate nudists, and there are numerous things you can do there, including basking and swimming.
Playa Cayo Santa Maria
Nowadays, Playa Cayo Maria's entire west side is dedicated to people who like to enjoy a session on the beach, rocking nothing but their birthday suits. If you are such a frolicker, you will find the community at Cayo Santa Maria quite open-minded.
Playa Ensenachos
Playa Ensenachos is pretty close to Playa Cayo Santa Maria. Its offshore reefs, lazy waves, good fishing sites, and superb diving spots are beautiful. The beaches here are entirely private and secluded, therefore ideal for nudists.
Mi Cayito: The Best Gay Beach in Cuba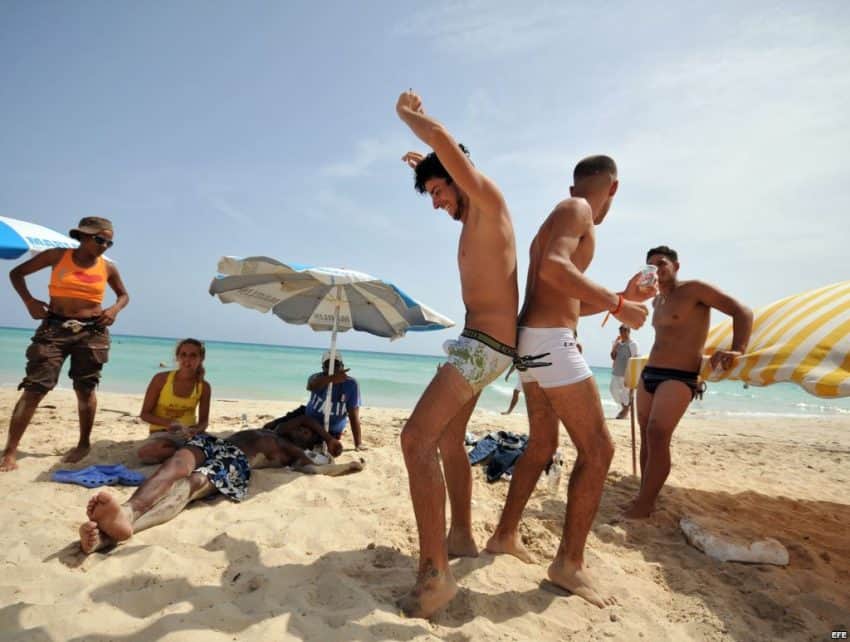 Mi Cayito, as we mentioned before, is the most popular gay beach in Cuba. That is one of the signs Cuba is gradually coming to terms with the reality of LGBTs.
Plus, if you are a member of the LGBT society, you will be glad to know that more and more gay and gay-friendly places of entertainment are sprouting randomly all over Cuba. If you want to experience the best gay holiday on a Cuban beach, visit Mi Cayito.
All in All, Which Parts of Cuba Have the Best Beaches?
As you probably know, Cuba has no shortage of stunning natural beaches. However, some regions in Cuba are more blessed than others. The best beach destinations in Cuba are:
Cayo Largo del Sur. Cayo Largo's beaches have the finest and whitest sand in Cuba. If you are ever in Cayo Largo del Sur, make sure you have visited Playa Paraiso and Playa Sirena. Playa Paraiso is on Cayo Largo's southwest coast, while Playa Sirena is on its western tip.
Varadero. Suppose you are looking for a location with astounding beaches and a fuller package with inclusive restaurants, bars, hotels, and a bushy backdrop. In that case, you may fall in love with Varadero, which has two of the best Cuba beaches: Varadero Beach and Cayo Blanco.
Cayo Santa Maria. Cayo Santa Maria has beautiful beaches on the island's northern coastline. These beaches have perfect entrances that do not require you to trek hundreds of feet before reaching shoulder-level waters. Playa Cayo Santa Maria and Playa Ensenachos are two of the best beaches you can enjoy on this charming tiny island.
Cayo Coco. Cayo Coco is famous for its coral reefs and perfect, white, sandy beaches. This key is located in central Cuba, in Jardines del Rey. Cayo Coco has many all-inclusive resorts and natural features like marshes and lagoons. If you decide to visit Cayo Coco, include visiting Playa Pilar and Playa Flamencos on your itinerary. The experience may be life-changing.
Northeastern Holguin. Northeastern Holguin allows you to enjoy swimming and water sports in a relatively calm sea. If you are not shy of rugged, sometimes rocky beaches dotted with coral patches, consider Northeastern Holguin. This tourist hub has three popular beaches: Guardalavaca, Playa Esmeralda, and Playa Pesquero. Note that not all beaches in Northeastern Holguin are rocky. In fact, most are sandy enough to allow barefoot perambulation.
Northern Camaguey. Camaguey is the largest province in Cuba. Northern Camaguey has two outstanding jewels: Santa Lucia and Playa Los Cocos. You can visit either of these beaches to enjoy numerous activities like windsurfing, swimming, sunning, and indulging in a beach volleyball game.
Trinidad. Trinidad is home to gorgeous, tranquil, well-maintained beaches with tall palm trees. With popular destinations like Jamaica and Barbados next door, pick Trinidad if you want to sun on relatively peaceful, rarely overcrowded beaches. The prize beaches of Trinidad include Playa Ancon and Playa Maria Aguilar.
Tips to Enjoy the Best Beaches in Cuba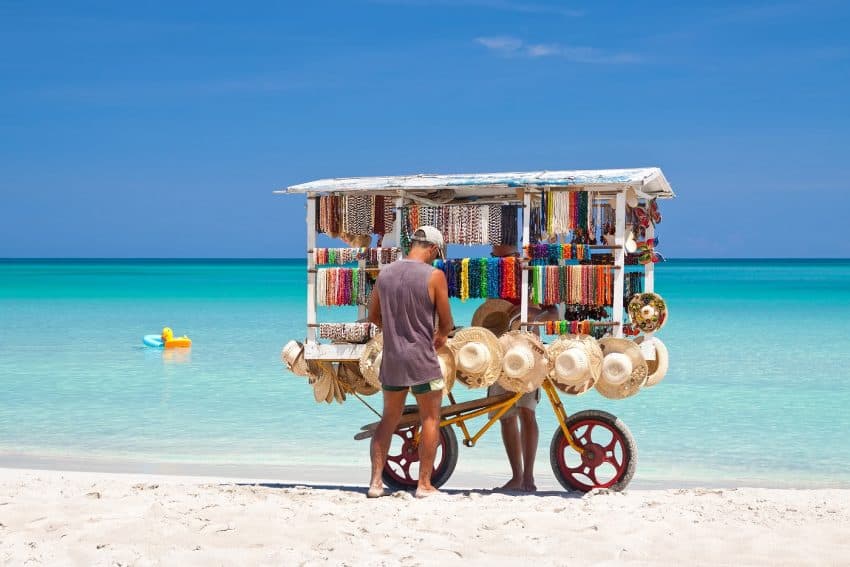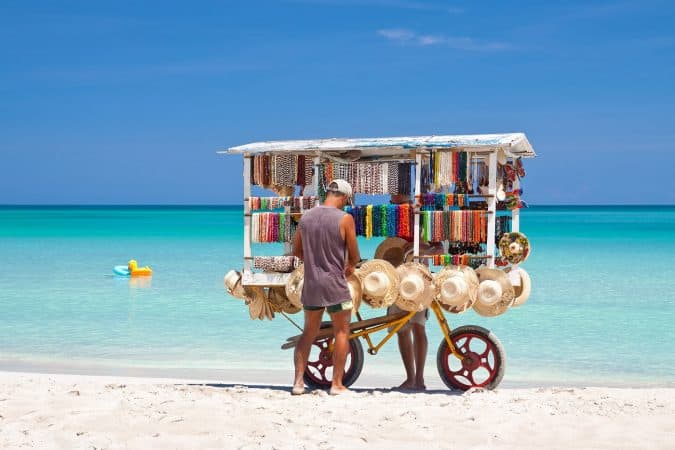 This is it. You already know everything about the best beaches in Cuba, but don't stop reading. There are a few tips you should follow to make the best out of your beach vacation in Cuba.
Travel in the dry season
The best time to visit Cuba is the dry season because the rainy season is usually more humid, mucky, hotter, and generally wetter. If you want to bask in perfect weather, plan a trip avoid visiting this island in June, September, and October.
Protect against mosquitoes
Some locations in Cuba are rife with mosquitoes, especially in the wet season. Typically, mosquitoes thrive in damp and hot climates, so Cuba's rainy season is a favorite for them.
To be safer, especially in the countryside or cities, ensure you are protected against mosquitoes. Arm yourself with enough Deep Woods mosquito repellent, and you will enjoy Cuba without getting annihilated by mosquitoes.
Protect yourself from sun damage
The dry season in Cuba is pretty lively and exciting. You may even be tempted to spend too much time outside trekking, visiting tourist attractions, or simply bathing in the sun. To protect yourself from sun damage, bring sunglasses, sunscreen, sunhats, and a couple of microfiber towels.
Carry some cash with you, but not too much
Cuba is primarily a cash country, and you will pay most of your trip to Cuba costs in Cuban Pesos (CUPs). Therefore, you should always have some cash on you if you need to pay for something or are in dire need. However, to avoid unpleasant situations, carry a small amount. Don't go strolling on Cuban beaches flashing wands of cash.
Don't exchange money with street vendors
Cuba is generally safe. However, like most tourist destinations, it also has its share of small-time thieves, pickpockets, and scammers. You should avoid exchanging money with street vendors to avoid becoming a currency scam victim.
Keep your valuables safe at the beach
That goes without saying. Most beaches in Cuba are open to the general public. That means they entertain all kinds of people with different intentions. To avoid losing anything, ensure your valuables are always safe whenever you are at the beach.
Also, as a general rule, you will want to bring just the essentials to Cuba.
Avoid street food
Cuba has various delicious cuisines and traditional foods you may want to try. You can enjoy all these at established and reputable restaurants that provide hygienically prepared food. If you don't feel like spending your trip to the best beaches in Cuba suffering from food-related illnesses, avoid street food as much as you can.
Tip your beach server
Tipping in Cuba is typically a friendly way of showing appreciation for good service. Tip your beach servers as often as possible, and they will ensure your stay on the best beaches in Cuba is worthwhile.
Happiness Comes in Waves
Cuban beaches are among the best in the world, a known fact about Cuba. If your idea of having a good time includes clear water, beautiful sandy beaches, and diverse culture and traditions, Cuban beaches should be on your bucket list. We prepared the list of the best beaches in Cuba after extensive research and many user reviews to ensure we only offer you the best.
If you enjoyed reading this article, share it with your friends. And if you have any feedback, please submit it in the comment section below.
Essential Travel Logistics For Cuba
Cuban Tourist Card – If your Cuban Tourist Card (a.k.a Cuban Tourist Visa) isn't bundled into your airline ticket or travel package, buy it only through EasyTouristCard. 
Travel Health Insurance – Travel medical insurance is an entry requirement for Cuba, so you can't skip it. Travelers can get travel health insurance for Cuba via Insubuy. Travel protection benefits such as trip interruption and cancellation, baggage delay insurance, etc., are not required.
Essential Items to Pack – Bring the essential travel necessities that you may not be able to get in Cuba:
Read our complete packing list for Cuba.
Find Accommodations – Find hotels or casas particulares (private accommodations) on Skyscanner, which lists thousands of accommodations available in Cuba.
Book Your Flight – Book cheap flights to Cuba on Skyscanner, our favorite flight search engine to find deals on flights to Cuba.