Home to exotic beaches, legendary cigars, and fascinating culture and traditions, Cuba makes for quite a vacation destination. To visit all the fantastic places on the island, you probably thought about renting a car in Cuba… and you probably found that it's not easy.
Most car rental companies in Cuba don't have official websites. Information about renting a car is scattered. Fees are complicated and sometimes hidden. And there is no one you can call.
If you feel frustrated, you are not alone. Cuba is one of the most complicated countries in the world, and renting a car can be inexplicably arduous for new travelers.
Don't be discouraged, though. This guide will explain absolutely everything you need to know about car rental in Cuba. What are the official car rental companies in Cuba? How can you rent a car in Cuba? How much does it cost? Are there fees and penalties? What about renting classic cars in Cuba?
We will answer all your burning questions.
Note: Prices are shown in USD for illustrative purposes. Remember that travelers are banned from using US dollars on the island.
Should Even You Rent a Car in Cuba?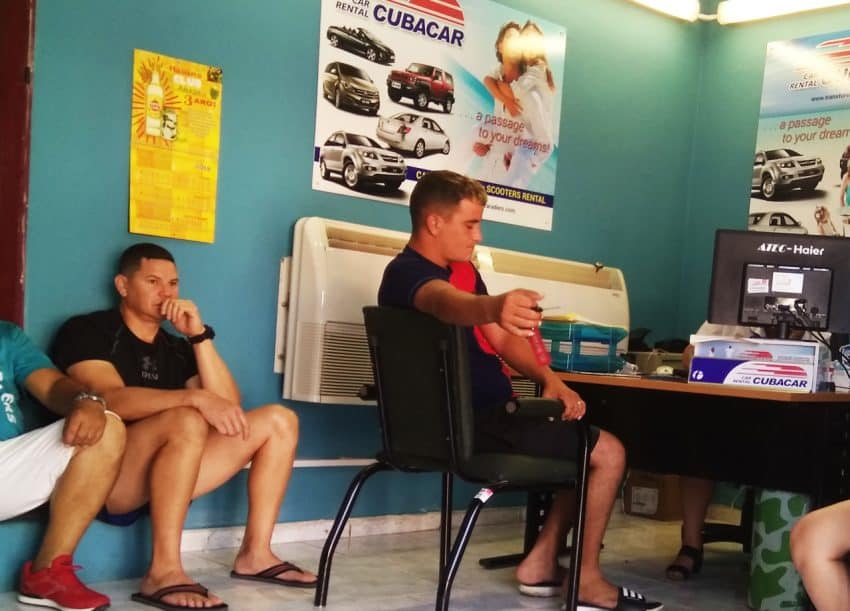 Most likely no, unless you plan a trip around the island.
Renting a car in Cuba will set you free. No doubt about it. You will be able to go where you want, when you want, including towns and beaches in Cuba that most travelers will never visit. This is a strong case for renting a car in Cuba, especially considering the flawed public transportation system anywhere on the island.
With that said, renting a Car in Cuba may not be a good idea if you just plan to visit a city or two. For example, if you plan to stay in Havana, enjoy the exciting things to do in Havana, and even go on a day trip to Varadero, you may want to avoid the hassle of renting a car in Cuba.
Renting a car in Cuba is not cheap
The base rate per day of a basic model (economic type) is 49 USD, and the insurance is 20 USD per day. You will also incur extra charges for additional drivers, drop-off fees, and gas. On top of that, tipping in Cuba is also expected. If you rent a car during the high season, your trip to Cuba costs can go up quickly.
Therefore, renting a car is definitely not for budget-savvy visitors who want to go around Cuba on their own.
You will need to rent the car well in advance
Honest advice? Do not wait to be in Cuba to rent a car. The car inventory is always limited, and fleet management is inefficient. This worsens during peak season in Cuba (November through February).
Therefore, at least three months in advance, head to online travel agencies like Holiplus to rent your car in Cuba.
Choices are limited (and don't expect a classic car)
The car fleet of all car rental companies in Cuba is limited to a few Asian and European brands. The most common rental cars in Cuba are Kia, Hyundai, Renault, Peugeot, Geely, and Emgrand. In the luxury category, if you are lucky, you can rent Mercedes Benz, Audi, Hyundai, Volkswagen, Gac, Morris Garage, and Maxus.
You also need to consider that, in the end, you might not even get the car you wanted. It's not uncommon in Cuba to drive off the car rental office in a vehicle that it's not the one you booked. There are many reasons for this, and we won't get into that, but just keep in mind it could happen.
One interesting fact about Cuba is that you can't rent classic cars through any state car rental company. To rent some of those fancy classic cars you see in travel magazines, you must go with foreign travel agencies. We dedicated an entire section to renting a classic car in Cuba further below.
The whole thing can be exhausting
The process of renting a car can be bureaucratic and exhausting. You can find hundreds of travelers' testimonials about excruciating waiting times, long lines, poor service, and vehicles delivered in terrible conditions.
On top of that, it's rare to find an agent proficient enough in English, let alone in other languages. Perhaps, this is a good "opportunity" to practice your Spanish language skills, so check out this Cuban Spanish Phrasebook.
Driving in Cuba is not exactly safe
Although Cuba is a safe country to visit, driving alone can be dangerous. Most roads and highways in Cuba are in terrible condition, traffic signs are a luxury, hitchhikers are everywhere, people sell food on the street, and you can even encounter animals on the road.
That's why you must be extra careful while driving in Cuba. Drive under speed limits (60 mph on highways, 37 mph on rural roads, and 24-31 mph within the city). Also, avoid driving at night since fatigue, low-light conditions, and lack of road signs can increase the risks of an accident.
If unfortunately, you get involved in an accident, there is a chance you may be banned from leaving the country until the authorities complete the investigation.
Gas stations are old and scattered
There are just a few old gas stations on highways and in towns. Therefore, filling the gas tank before leaving town is a good idea.
Gas shortages are not uncommon either. If you happen to go during one of these unfortunate events, be ready to stand in line for hours.
GPS is not an option
Rental cars don´t have GPS systems incorporated, so you´ll have to travel old-fashioned with a street map of Cuba. Alternatively, apps like Google Maps or Maps.me allow you to use street maps without internet access in Cuba.
You can't pay in cash
At rental offices in Cuba, all payments must be made with a credit or debit card. Remember that transactions in USD are not accepted, and credit/debit cards issued by American banks are useless.
For more about how to use money on the island, read our guide to the Cuban currency.
Parking can be a problem
You shouldn't leave the rental car unsupervised in Cuba. Insurance does not cover tires, and they are easy to steal. Someone will watch your rental car for a buck or two. Look for guys wearing red vests as uniforms near parking sites; they will watch your car day or night.
Car Rental Companies in Cuba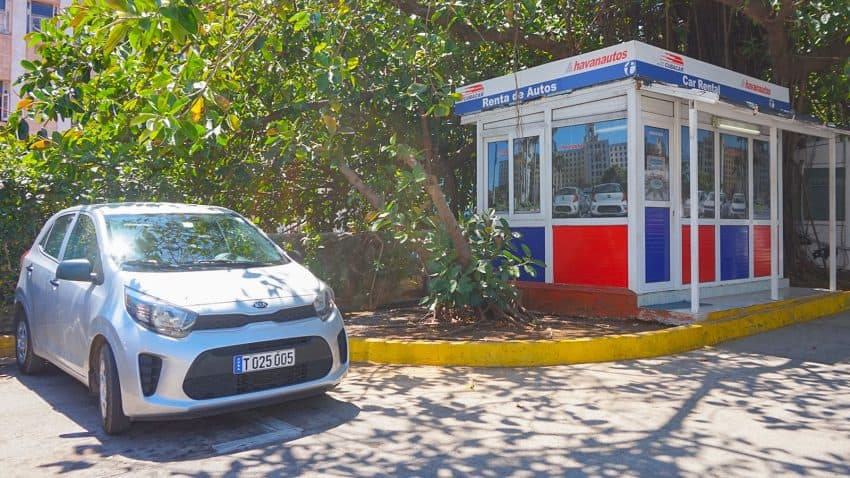 The four major car rental companies in Cuba are state-owned. They are Havanautos, Cubacar, Rex, and Via Rent A Car.
Havanautos, Cubacar, and Rex are branch offices of Grupo Transtur S.A., the largest tourist transportation company in Cuba. On the other hand, Via Rent a Car belongs to TransGaviota, a car rental company associated with the Cuban military.
You must first know that these companies don't offer online booking services. In fact, many don't even have a website. Given this situation, several travel agencies took over domains similar to the names of the major car rental companies in Cuba. Some of these travel agencies are legit, and some have a questionable reputation.
In this article, we try to provide the official websites of the rental companies in Cuba, if available.
Havanautos Car Rental
Founded in 1982, Havanautos is the oldest and has the largest car fleet in Cuba. Due to the high number of offices across the country (more than 70), you can find 24/7 assistance almost everywhere on the island. It offers different categories, including Economy, Economy Plus, Medium, Medium Plus, Premium, SUV, Van, and Minivan. The most popular rental cars are the MG3, Renault Sandero, Hyundai Grand I10, and Geely GC6.
Cubacar
Cubacar is also one of the oldest car rental companies in Cuba. It offers mainly the same categories as Havanautos: Economy, Economy Plus, Medium, Medium Plus, Premium, SUV, Van, and Minivan. But there is a catch, most of their models have a manual transmission, so if you don´t feel confident driving a vehicle with a manual transmission, you should check other options. Peugeot 207, MG3, Geely GC6, and Geely CK are the most popular models.
Rex Car Rental
Rex offers exclusive car rental services in Cuba. Their guidelines promise to provide high-standard transportation whether you are traveling for business or leisure. Rex has offices in nine of the main tourist cities in the country, but its largest fleet is available in Havana. They offer iconic models such as Mercedes Benz B180, Mercedes Benz C200, Mercedes Benz E200, Hyundai Sonata, and Renault Talisman.
Via Rent A Car
Via Rent A Car is a subdivision of TransGaviota, a major tourist company in Cuba associated with the Cuban military. Their offices are spread throughout the country, especially near other TransGaviota facilities. Their top service is Flexi, Fly, and Drive, offering tourists the possibility to design their vacation without a fixed itinerary.
If you are traveling to Cuba from the US, you should avoid renting a car from Via Rent A Car since Gaviota is one of the companies banned by the US Government.
How to Rent a Car in Cuba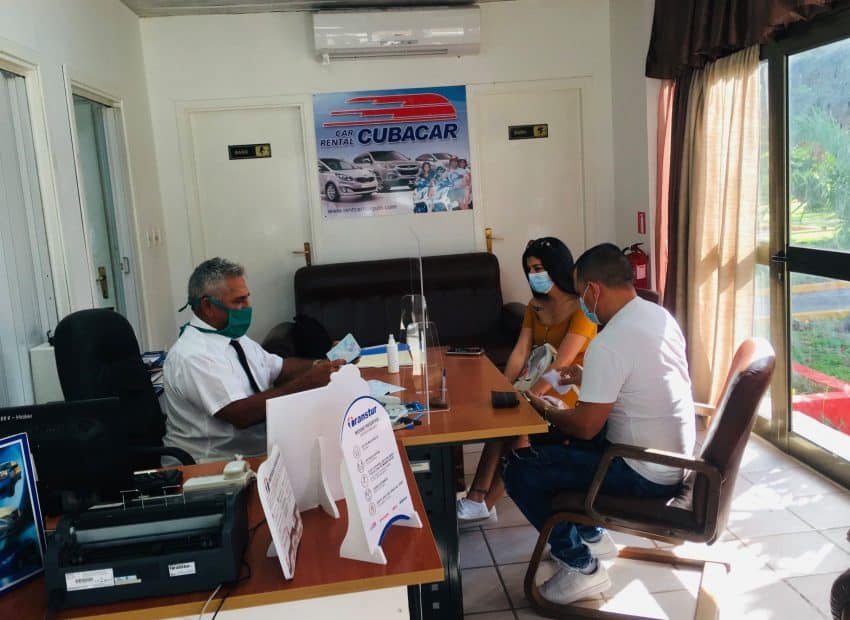 There are two options when it comes to car rental in Cuba: online, and in-person.
Go online (recommended)
We previously mentioned possible online scams, but established travel agencies also offer booking services. They have contracts with Cuban companies and safe payment gateways. Remember that, during the peak season, the car displayed online might not be available. However, they will often work it out with you to find a similar car.
We recommend sticking to recognized travel agencies such as Holiplus.
Some of these reputable online travel agencies also have offices in Cuba, which can be very helpful along the way.
Book it in person (it's a long shot)
Technically, you can just head to the office of Cubacar, Havautos, or Via in the airport, once you land in Cuba. However, availability is not guaranteed, and the long lines can be excruciating.
To improve your odds of renting a car in Cuba, first settle in your "casa particular", Airbnb, or hotel. Next, find the nearest office of any Cuban car rental company.
Keep in mind that renting a car in Cuba in person is a long shot.
How to Rent a Classic Car in Cuba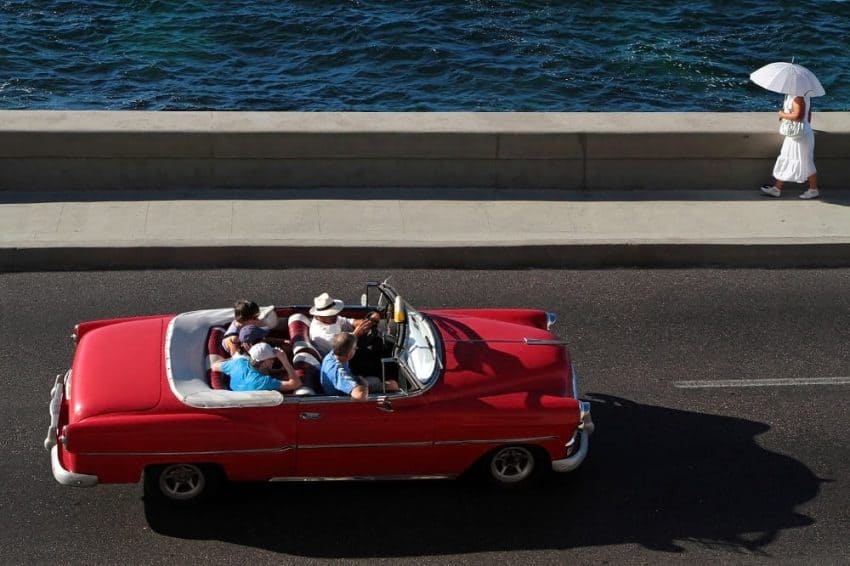 Looking for a nice classic convertible instead?
Well, the very first thing you must know is that state-owned car rental companies won't rent you classic cars. Classic cars are privately owned, and owners don't have contracts with state companies.
Dreaming of driving a classic car around Havana all by yourself? That's unlikely to happen. Classic cars are available to rent for transfers, city tours, or day trips. However, you might get lucky and find a private provider who is willing to let you drive one of those "almendrones", how they also classic cars in Cuba.
Don't worry, though. You can still see the wonderful Havana from the backseat of a classic car. Check out our available classic car tours and pick the one you like. It's that simple.
Alternatively, you can find classic car drivers parked outside hotels and near major tourist attractions. For example, if you are in Havana, head to El Capitolio where you will find a line of classic cars willing to drive anywhere you want. Feel free to bargain with the drivers since their first quote is likely unrealistically high.
You can expect to pay 20-50 USD/hour, depending on the city you are in, the car condition, how many people are taking the tour, and the season. Day trips to other cities usually have fixed prices. For example, a day trip to Varadero can cost you around 300 USD.
Finally, don't forget that classic cars in Cuba are not in optimal condition and do not comply with most car safety regulations you find elsewhere. For example, don't expect seatbelts, airbags, or an anti-lock braking system.
How to Rent a Scooter in Cuba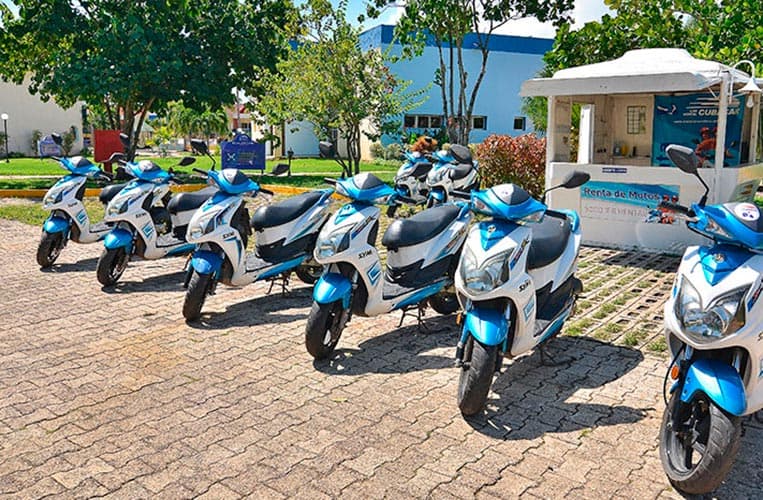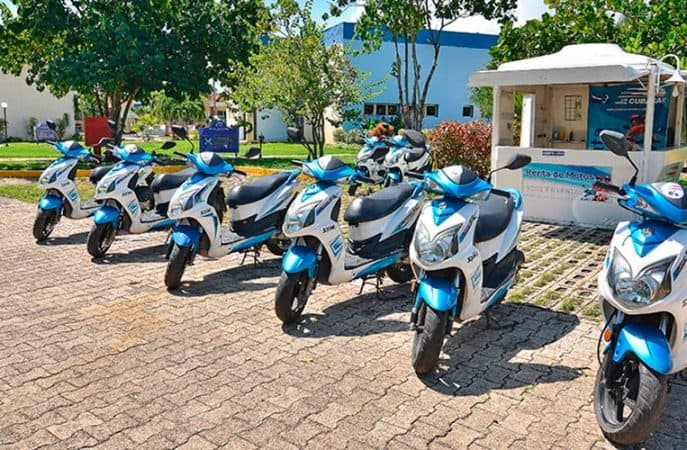 Renting a scooter in Cuba is a bit complicated. You will have to do it in person, and there is only one place in Havana where you can do it. The address is Avenida Paseo y Calle 3ra, Vedado.
There are more places in Varadero, specifically Cubacar offices, where you can rent scooters. You can find these offices or booths near your hotel or downtown Varadero.
Renting a scooter in Cuba is also way cheaper than renting a car. However, choices are also limited. There is only one model available, the scooter type, which is unsuitable for long distances. The price for renting a scooter is 25-35 USD per day if you rent it for more than 24 hours and less than a month. Prices are 10-15 USD per hour if you rent the scooter for less than 24 hours. There is also a security deposit of 50 USD.
As with modern car rentals, you won't be able to pay in cash, and US-issued credit cards won't work. Also, you are required to bring in your driver's license and passport. Oh, and you have to be 21 years old or older.
FAQs About Car Rental in Cuba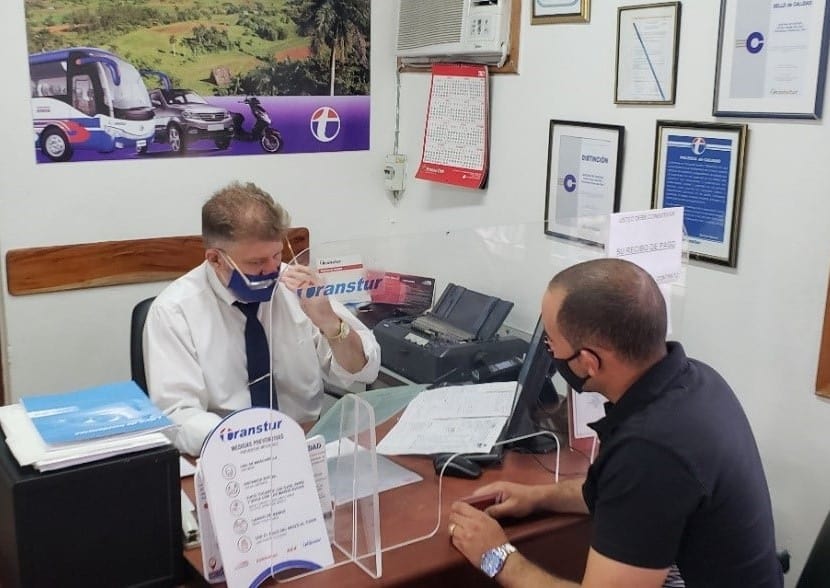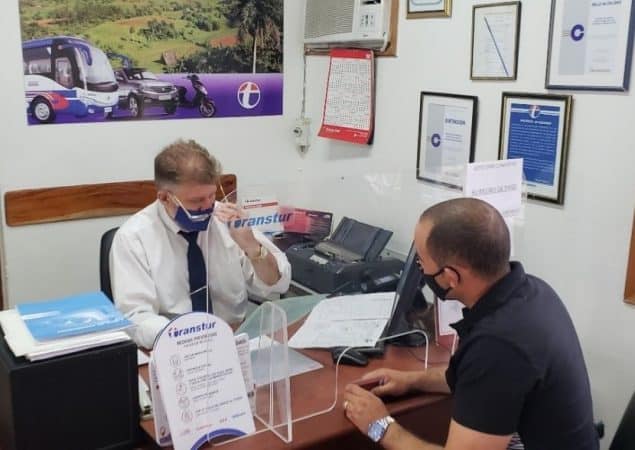 Still confused? Let's answer some of the most common questions about renting a car in Cuba.
Can Tourists Drive in Cuba?
Yes, tourists can drive in Cuba, provided they are physically fit to drive and present the required documentation.
What do I need to rent a car in Cuba?
You´ll need a valid driver´s license – it doesn't have to be an international driving license -, your passport, and a credit card that works in Cuba. You will also need to be 21 years old or older to sign a contract with the car rental company.
How much does it cost to rent a car in Cuba?
Prices start at 49 USD per day without insurance. Including insurance, you can expect to pay at least 69 USD per day. During peak season, prices will be higher. There are also other fees such as additional driver, drop-off fee, and security deposit.
Is there any other cost when picking up the car?
Yes, you will need to pay a full tank of gas, can insurance, a security deposit, and a fee for any additional driver. Gas prices vary according to the car model and market prices. Depending on your car rental company, the security deposit is anywhere from 150 to 250 USD. Car insurance is typically from 20-40 USD a day. Signing up an additional driver costs 3 USD per day.
Can I pay in cash?
No, you can only pay with a credit or debit card. Credit/debit cards issued by American banks are not currently accepted in Cuba.
Can I pick up the car earlier?
Technically, yes. However, it might not be ready when you arrive at the car rental office, especially during peak season. In that case, you can wait or pick up another car, depending on availability.
What if I'm late?
Contact the assistance number in your booking receipt and tell them you´re running late.
Can I add a driver?
You can add up to two additional drivers at the cost of 3 USD per driver per day.
Is there a drop-off fee?
Only if you are leaving the car at another office or another province. The drop-off fee is calculated based on the distance between the pick-up and drop-off locations. Ask your agent about the estimated drop-off fees.
Do I have to return the car with a full tank of gas?
Officially, yes. There could be some extra charges depending on whether you received the car with a full tank or not.
What if I can't return the car in time?
Typically, you would incur a fee. Most rental car companies won't charge anything if the car is returned within the hour after the return time. However, in the end, it is up to the rental agent to charge a fee.
What side of the road do they drive in Cuba?
Driving in Cuba is pretty much like in the United States. You have to drive on the right-hand side of the road, so the driver sits on the left-hand side of the car.
What is the speed limit?
In Cuba, the speed limits are 60 mph on highways, 37 mph on rural roads, and 24-31 mph within the city.
How are highways in Cuba?
Cuba has eight toll-free expressways named "autopistas". Seven are centralized in Havana and connected by what it's called "El Anillo de La Habana". It also has a complex system of undivided highways called "carreteras" or "circuitos". The most popular is called "Carretera Central".
What if I have an accident?
In case of an accident, you must immediately inform the authorities and the car rental company. You must not leave the accident site until the car rental representative and the police arrive at the scene. Consider that you would not be allowed to leave the country if someone is injured and the investigation is completed.
What not to do with a rented car in Cuba?
You cannot use the vehicle for profit, lend it to unauthorized drivers, use it in illegal activities, or leave it open when out of the car. Always check the signed contract and ask the rental agent if there are other unauthorized activities to consider.
What penalty fees do I need to avoid?
There are a few fees you will want to avoid when renting a car in Cuba:
Lost keys – 200 USD
Keys locked in the car – 100 USD
Filthy car – 50 USD
Transporting animals – 50 USD
Can I hire a professional chauffeur?
Rex offers professional chauffeur services, but they are currently suspended as part of Cuba's travel restrictions to curb the spread of Covid-19.
Hop On
Renting a car in Cuba is not the best choice for everyone traveling to the island. In fact, it can be a bad idea considering all the limitations and complications we covered.
Other travelers prefer the affordably and reliability of the Viazul bus, although booking a Viazul bus in Cuba comes with its own challenges.
If you decide to rent a car in Cuba anyway, one of the best Cuba travel tips we can offer is to be proactive and check your options before boarding the plane. Don't make last-minute decisions, and you will be fine.
Do you know of any other fact we missed? Let us know and share your comment.
Essential Travel Logistics For Cuba
Cuban Tourist Card – If your Cuban Tourist Card (a.k.a Cuban Tourist Visa) isn't bundled into your airline ticket or travel package, buy it only through EasyTouristCard. 
Travel Health Insurance – Travel medical insurance is an entry requirement for Cuba, so you can't skip it. Travelers can get travel health insurance for Cuba via Insubuy. Travel protection benefits such as trip interruption and cancellation, baggage delay insurance, etc., are not required.
Essential Items to Pack – Bring the essential travel necessities that you may not be able to get in Cuba:
Read our complete packing list for Cuba.
Find Accommodations – Find hotels or casas particulares (private accommodations) on Skyscanner, which lists thousands of accommodations available in Cuba.
Book Your Flight – Book cheap flights to Cuba on Skyscanner, our favorite flight search engine to find deals on flights to Cuba.