Cuba has historically been one of the top travel destinations for Canadians. For example, in 2019, travelling to Cuba from Canada accounted for more than 9% of all oversea trips by Canadians. Canada also remains the leading source country for international tourists to Cuba, despite the COVID-19 pandemic.
Cuba is popular among Canadians because of its breathtaking beaches and natural spots, rich history, and delightful culture and traditions. It also helps that Cuba is relatively cheap compared to other all-inclusive destinations in the Caribbean.
Unlike their American neighbours who want to travel to Cuba, Canadians are not subject to tight restrictions and legal complications. However, the island may still be a puzzle for Canadian travellers.
For example, the Cuban currency system is complex and ever-changing. There are health risks and precautions that you should consider. Getting connected to the internet is challenging. Local transportation is a hassle. Shortages and blackouts can complicate your trip.
This article will cover the specifics of travelling to Cuba from Canada, what to expect, and the insider tips you should follow.
Is Cuba Open For Travel From Canada?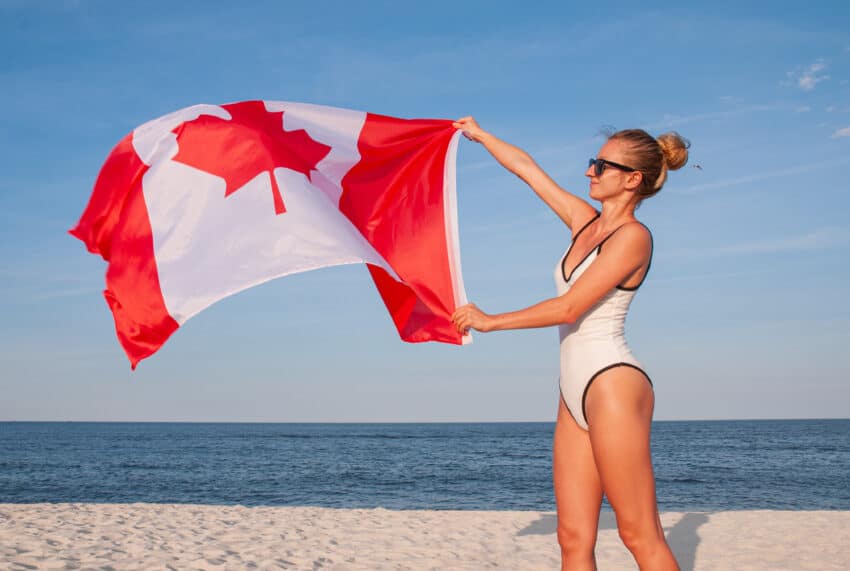 Cuba's borders are open to all travellers from all countries, including Canada. As long as Canadians comply with the island's entry requirements, they can enter the country.
Entry Requirements to Cuba
When you travel to Cuba from Canada, you must fulfill the following entry requirements.
Current valid Canadian passport
Your passport has to have a minimum of 6 months of validity before you arrive on the island.
Travel health insurance
Travel health insurance for Cuba has been a requirement since 2010. You will need to purchase it in advance. 
Canadians can pick their best travel insurance options for Cuba on Insubuy, a travel insurance marketplace. Consider that trip protection benefits such as trip cancellation or interruption coverage, delayed or lost baggage insurance, etc., are not required and sometimes not offered at all for Canadians travelling to Cuba.
Cuba Tourist Card
The Cuba Tourist Card is the equivalent of a tourist visa. All travellers to the country are required to get one before arrival.
Cuban Tourist Cards come in two colours: pink and green. If you are travelling to Cuba from Canada, you will need the pink one. Cuba requires the green Cuba Tourist Card for visitors who make a pit stop in the US before arriving.
If your Cuba Tourist Card is not included in the flight ticket, the most convenient way to get it is through EasyTouristCard, an established provider of Cuban visas.
Canadians can stay for up to six months as a tourist in Cuba. However, you must ask for an extension of your stay from immigration authorities if you intend to stay longer than 90 days.
Entry Forms
Canadians travelling to Cuba must complete and present the entry forms required by Cuban Customs and the Ministry of Public Health.
Please, fill out the entry forms on D'Viajeros before checking in at the airport!
COVID-19 Restrictions in Cuba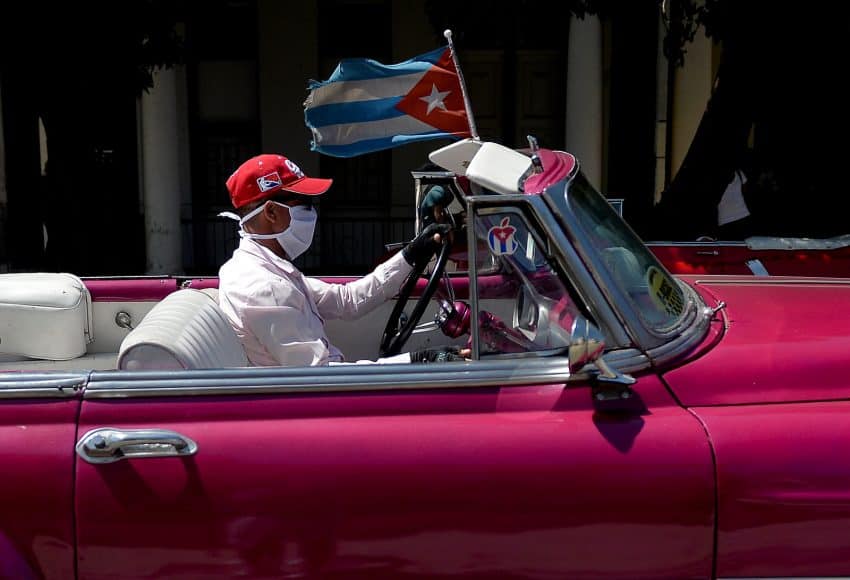 As of April 2022, Cuba has lifted most of its COVID-19 travel restrictions. To enter the country, no PCR test or proof of COVID-19 vaccination is required. Also, face masks are no longer mandatory.
However, protecting yourself from COVID-19 and other diseases requires you to continue using preventative measures. Specifically, wash your hands often, maintain social distancing, and use face masks in crowded places. Because personal hygiene products are hard to find in Cuba, we recommend you bring your hand sanitiser and face masks to the island.
The Best Time to Go to Cuba for Canadians
The best time for Canadians to visit Cuba is during the dry season, between November and April. Most Canadians visit Cuba from December to March when the weather is best, mosquitoes are less annoying, and hurricanes are rare.
On the other hand, the rainy season (May to October) is the cheapest time to travel to Cuba, except for July and August. If you are a budget-savvy traveller, you may want to travel to Cuba during the rainy season. However, consider that the weather during this time is much hotter and more humid, mosquitoes can be a problem, and hurricanes are a constant threat.
Is Cuba Safe for Canadians?
Cuba is one of the safest travel destinations for Canadians. Violent crimes against tourists are rare, although petty crimes include pickpocketing, currency scams, and theft. Solo female travellers may also be subject to harassment, verbal abuse, and catcalling.
While in Cuba, take basic safety measures:
Write down the emergency lines – Police: 106; Fire Department: 105; Canadian Embassy in Cuba: +53 7204-2516.
Exchange your money at official exchange offices (CADECA) or with people you trust.
Don't carry too much cash with you. Get an anti-theft bag

or a

money belt for travel

.

Avoid the slums.
Hire reputable tour guides – check out our tours.
Don't give money to people on the streets.
Protect your luggage with a TSA lock.
Use your common sense!
Health Risks and Precautions
The most threatening health risks for Canadians travelling to Cuba are contaminated tap water, mosquito-borne diseases, and food poisoning.
Pollution, poor sanitation, and crumbling pipes are the leading causes of water contamination in Cuba. Tap water in Cuba is unsafe, and you should always drink bottled water. However, bottled water may be hard to come by, so take a water filter bottle with you!
Outbreaks of mosquito-borne diseases in Cuba are also quite common, especially Dengue fever. Take as many precautions as possible to prevent infection, including wearing long-sleeved shirts and long pants, and using insect repellent.
Finally, be aware that visitors to Cuba may be at risk of food poisoning. Please, refrain from buying food from street vendors and eating undercooked meat and seafood. Also, to avoid ciguatera poisoning, consider limiting the consumption of reel fish and high-risk fish such as barracuda or moray eel.
To be prepared for any potential health emergency, get health insurance and bring an all-purpose first aid emergency kit.
Learn more about drinking water and food in Cuba in our food safety guide!
Cuban Currency Basics for Canadians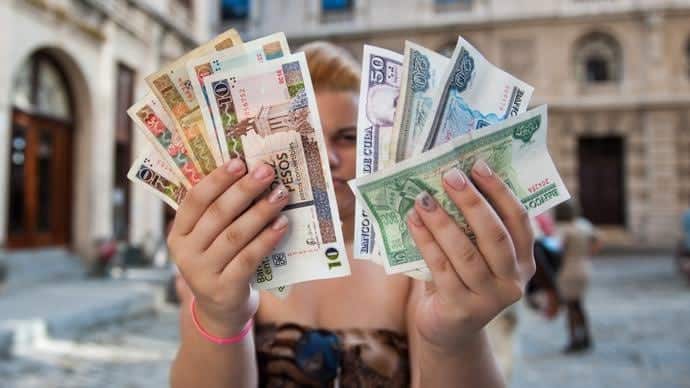 The official Cuban currency is known as the Cuban Peso (CUP). Cubans also use Moneda Libremente Convertible (MLC), a digital currency for the so-called "dollar stores".
However, as a Canadian tourist, you will pay for almost everything in Cuban Pesos. Let's go over it a little bit more.
The CUP comes in bills ranging from 1 peso to 1000 pesos. It is a good idea to carry small denominations so that you will have no problem getting change for cheap street food, market items, and fare for the bus.
Because of the migration crisis on the island, the Cuban Peso is significantly devalued relative to foreign currencies, including the Canadian Dollar. The crisis gave birth to an informal currency exchange market where you can sell one CAD for as much as 120 CUP. For reference, the official CAD to CUP exchange rate is 1 CAD = 85.6 CUP.
This means you can get a ton more Cuban Pesos if you exchange your Canadian Dollars in the informal market. However, be aware that currency scams are not uncommon! Exchange the money with locals you trust.
To exchange your CADs at the official exchange rate, you must go to CADECA's office, available at most resorts and airports.
Canadian travellers can also use credit cards in Cuba at some facilities, as long as American banks did not issue them. Yet, keep in mind that Cuba is primarily a cash country.
Finally, when it comes to ATMs, you must know that they are scarce and unreliable. So, please don't count on them everywhere you go on the island. They also charge between a 3 and 12% fee per transaction!
Budget for Travelling to Cuba from Canada
A typical seven-day trip from Canada to Cuba may cost roughly between 1,000 and 3,000 CAD, including flights and accommodation. Obviously, your final trip to Cuba cost can go lower or higher depending on the season, your activities, and the accommodation type.
Use a flight search engine such as Skyscanner to find affordable flights that will take you to Cuba from Canada. The price of plane tickets fluctuates depending on the time you plan to visit. Generally, you should figure the price at least 400 CAD and as high as 1000 CAD.
Booking your lodging in Cuba can be very affordable, especially if staying in "casas particulares" (private rooms). "Casas particulares" can be as cheap as 20 CAD/night and offer the experience of interacting with welcoming Cuban hosts, who can even cook for you.
However, if you are in beach mode, you will probably be better at an all-inclusive resort. Beach resorts are way more expensive than "casas particulares", but they offer beach access, luxury accommodations, and upscale service.
To find good resorts or even "casas particulares", head to Skyscanner, which aggregates offers from multiple lodging providers on the island.
Internet Access in Cuba for Tourists
Getting connected to the internet in Cuba is becoming less troublesome for the Cuban people, but it's still a hassle for visitors.
Internet access in Cuba is slow, limited, and unreliable. You also have just a few options to get connected:
Getting the NAUTA card, which you can use at hotels, airports, ETECSA internet salons, and public WiFi hotspots.
Using your internet provider's roaming service in Cuba (if available).
Buying a SIM Card from international providers, such as OneSimCard and CelloMobile.
Getting the CubacelTur SIM card.
All these options have pros and cons that you should consider. For more on this, read our guide to getting internet access in Cuba.
Transportation in Cuba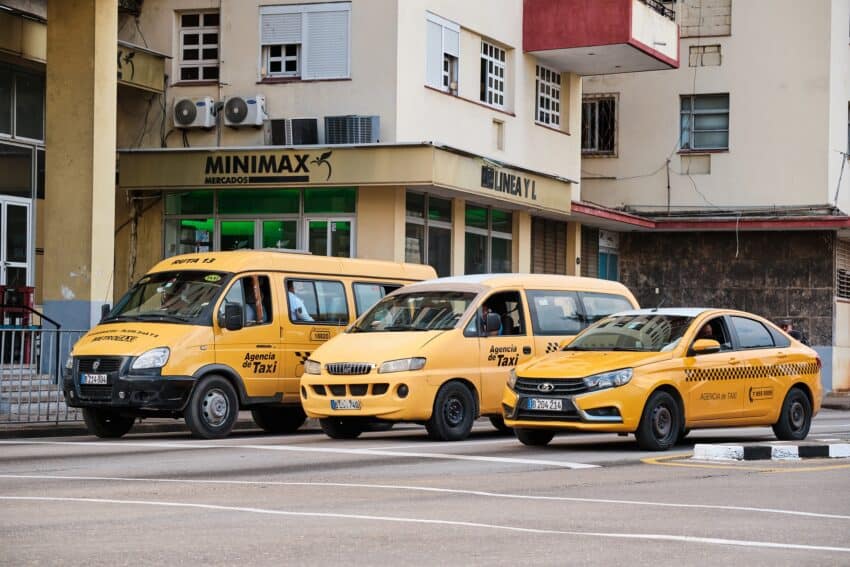 Now that your flight from Canada has landed in Cuba, you need to figure out how to get from one place to another. You have several options, such as renting a car, taking the bus, or hiring a private taxi.
Below are a few of the most popular methods to get around Cuba.
Pre-booked transfers
Although pricier than other options, pre-booked transfers are the most reliable, safest, and comfortable way to move between cities.
You can book transfers or rides in modern or classic cars, which are air-conditioned and generally in great condition. For some ideas, check out our transfer offers.
Private taxis
Many of the taxis you will find in Cuba will be private. Major cities such as Havana and Santiago de Cuba have many of them. Here are the most popular private taxis in the country.
Shared taxis (Collectivos/Almendrones)
Shared taxis, commonly known as "almendrones", operate on fixed routes. They are particularly popular in Havana and Santiago de Cuba. You will recognise them by their bright colours and 1950s design with a window holding the taxi sign.
Almendrones are the cheapest option to travel within a city or between nearby towns on the island. However, you will share the ride with other passengers, which may be very uncomfortable.
Cuba Taxi
These taxis are run by the government. They are modern cars painted yellow and have a distinguishable taxi sign.
You can either negotiate a price or have the metre used. If you want to pay less, then negotiating the price will be best.
Grancar
These are colourful classic Chevys that charge 40-60 CAD per hour. They are in excellent condition and are more comfortable than the "almendrones". However, they are expensive. Only tourists can pay for the luxury of being driven around Havana in a convertible Grancar.
For a better understanding of the classic car culture on the island, read our guide to classic cars in Cuba.
Coco Taxis
A Coco Taxi is a motorised vehicle that can accommodate up to three people. They are popular with visitors in major tourist cities, especially Havana, Varadero, and Trinidad. The Cuban people call them "coco taxis" because they look like a coconut.
You should hire a Coco Taxi only for short rides within the city. Feel free to negotiate the price in advance, which starts at 2 CAD.
Public buses ("guaguas")
Public buses, also known as "guagas", are one of the cheapest ways to move around cities and towns. They will cost less than a dime. However, public buses in Cuba are notoriously crowded and in bad condition. They are not recommended.
Intercity buses
Astro and Viazul are the two companies that run buses between cities. Astro buses are generally for locals because they are cheaper. The downside is Astro buses are harder to get a seat on, older, and less reliable than Viazul buses.
Viazul buses are generally more suited for visitors. They offer better comfort, are relatively cheap, and can be pre-booked (recommended) on its website.
Intercity trucks
Locals also use large trucks ("camiones") for intercity transportation. They are super cheap but very uncomfortable and unsafe. As a tourist, you definitely shouldn't ride on one of these.
Trains
Trains in Cuba are slow, old, unreliable, lack AC, and are hard to get on. Although safe, trains in Cuba are in an inferior condition. Even locals want to avoid them at all costs.
However, in 2019 Cuba started renovating the rail system and acquired brand-new Chinese-built trains that are already available for some intercity routes. Check out the latest developments in train travel in Cuba in Seat61.
Domestic flights
Cubana de Aviacion is the only airline that offers domestic flights in Cuba. It's difficult and expensive to book these flights. Your best chance is to book them through the airline's website. However, please don't count on it.
Renting a Car in Cuba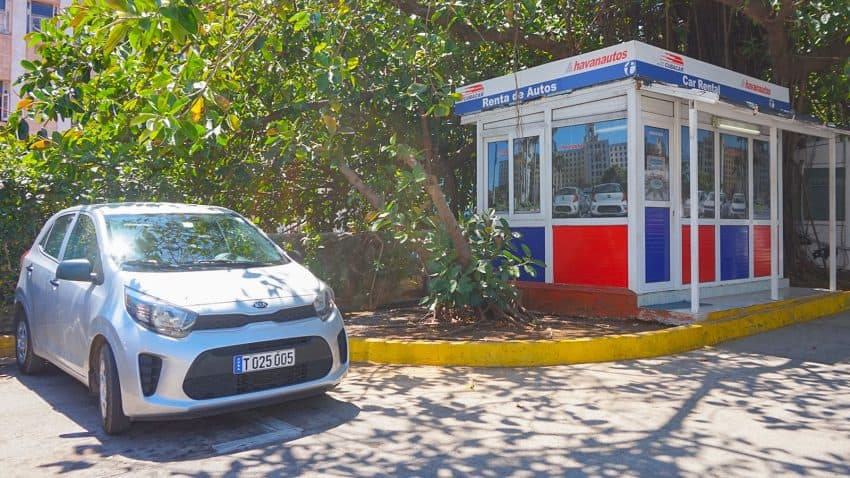 Renting a car in Cuba is expensive and must be done well in advance. The best option is to book it online on sites such as Holiplus.
Renting a basic model car in Cuba starts at 65 CAD per day with an additional daily insurance fee of 28 CAD. On top of these, other charges may involve gas, drop-off fees, and any other drivers. If you are renting a car during the high season, it can get even more expensive.
You will pick up and drop off your car at an office of a car rental company in the country: Havanautos, Cubacar, Rex, or Via Rent A Car. Although you may find websites on the internet that claim to belong to these companies, the truth is that they don't offer online bookings.
We generally don't recommend renting a car in Cuba because it's costly and burdensome. Additionally, parking is hard to find, and driving in Cuba is not exactly safe.
Driving in Cuba
Road conditions are deplorable. They lack maintenance, are poorly lit, and road signs and traffic lights are scarce.
On top of that, you will have to deal with pedestrians who don't give way to vehicles, animals lose on the road, and aggressive driving.
GPS is also unavailable, so you either download the offline maps from Google Maps or buy a StreetSmart map of Cuba.
The Essential Packing List for Cuba
There are a few indispensable items that you should bring with you from Canada. They will help you deal with extreme heat, bugs, and the unexpected. These items are also hard to find on the island:
Review our ultimate packing guide for Cuba for more on this.
Other Cuba Travel Tips for Canadians
Travelling to Cuba from Canada will definitely be a memorable trip. But, like any other developing country, Cuba faces economic and political challenges that can impact your travel experience. Here are a few quick tips to prevent stressful situations and make the most of your trip to Cuba:
Shortages of food, fuel and medications are widespread.
There are long lines everywhere.
Blackouts are common.
Don't take photographs of military or police facilities.
Don't talk about politics.
Don't expect the entire restaurant menu to be available.
Don't expect top-quality service.
Tipping in Cuba is expected.
For even more detailed and practical tips, browse our list of 58 travel tips for Cuba.
Overwhelmed Much?
As you can see, when you travel to Cuba from Canada, there is a lot to consider as you plan your trip.
However, please don't fret about it! If you made it through here, you are way more informed than the typical tourist. We are sure you will find these tips very helpful during your stay. Yes? No? Let us know your thoughts below!
Essential Travel Logistics For Cuba
Cuban Tourist Card – If your Cuban Tourist Card (a.k.a Cuban Tourist Visa) isn't bundled into your airline ticket or travel package, buy it only through EasyTouristCard. 
Travel Health Insurance – Travel medical insurance is an entry requirement for Cuba, so you can't skip it. Travelers can get travel health insurance for Cuba via Insubuy. Travel protection benefits such as trip interruption and cancellation, baggage delay insurance, etc., are not required.
Essential Items to Pack – Bring the essential travel necessities that you may not be able to get in Cuba:
Read our complete packing list for Cuba.
Find Accommodations – Find hotels or casas particulares (private accommodations) on Skyscanner, which lists thousands of accommodations available in Cuba.
Book Your Flight – Book cheap flights to Cuba on Skyscanner, our favorite flight search engine to find deals on flights to Cuba.