Is drinking water in Cuba safe? What to eat and what not to eat in Cuba? These are usually burning questions for first-time travelers to the island. And if you are one of them, you have a legit concern.
Of the many wonders Cuba has to offer its guests, its food is one of the most exciting, unique, and memorable. There are quite a few options for eating in Cuba, from gourmet meals made at independent restaurants known as paladares to authentic homemade meals cooked at casas particulares.
However, alongside these up-and-coming dining establishments are food vendors and casual eateries that aren't quite high-quality. Cuba's aging infrastructure also means that drinking water in Cuba can be tricky.
To make things worse, Cuba's hot, rainy climate creates the ideal conditions for pathogens, bacteria, viruses, and molds to flourish. Yuck!
Fortunately, this guide will provide you with the right information and tools in your travel kit. Follow our tips, and you will surely have an awesome (and healthy!) trip.
Drinking Water in Cuba: Can You Drink the Water in Cuba?
As a general rule, you should avoid tap water in Cuba and stick to drinking bottled water.
This includes mixed drinks made with tap water and beverages containing ice made from tap water (pro tip: when drinking water in Cuba at local restaurants, ask for your drinks without ice).
Poor sanitation, old pipes, pollution, exposure to human waste, and pesticide run-off are all factors that impact water quality. Although drinking water in Cuba is treated with chlorine to kill bacteria, pollution is still a risk.
Another fact about Cuba is that even perfectly safe water for the local population may give you traveler's diarrhea. That's because your stomach is not used to the water's bacterial makeup. According to the Centers for Disease Control (CDC), between 20 and 50% of tourists traveling to other countries will suffer from traveler's diarrhea.
Say no thanks to stomach aches!
Where to buy bottled water in Cuba?
Since bottled water is most commonly consumed by tourists and international travelers, head to where the tourists are! Many large hotels and resorts that cater to international clientele have bottled water for sale.
If you plan on staying in a resort, getting water will be as easy as stopping by the hotel for dinner to pick up a few bottles. However, if you stay in a casa particular or Airbnb in Cuba, you'll have to plan a separate trip and stock up on a few days' worth of water.
Be warned: bottled water from hotels can be expensive. You can pick up a small bottle for about 15 CUP (the Cuban currency).
You can also get bottled water from small shops, like TRDs and Tiendas Panamericanas, and from high-end paladares.
Pro tip: plan for the unexpected
Cuba has an average temperature of 81F during the summer. It drops to about 70F during January, the coldest time of the year. The point is, Cuba is going to make you thirsty!
Don't let Cuba's heavy annual rainfall fool you into thinking the island has unlimited water. Quite the opposite! Cuba is currently in the grips of a shortage of drinkable water.
If you are backpacking Cuba, water availability may be even worse.
Since water bottles are not always easy to come by and tap water is best avoided, you should have a Plan B for getting clean, safe water.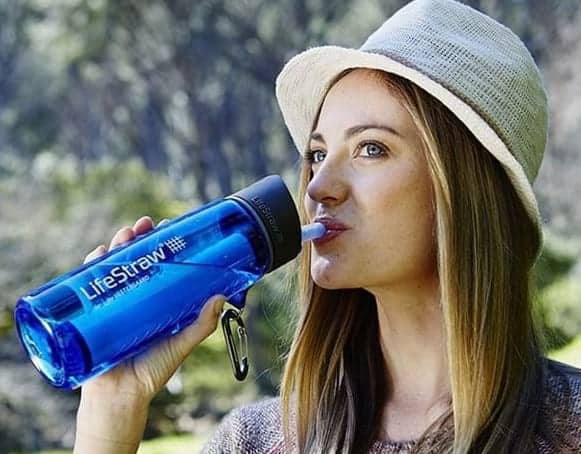 A water bottle with a built-in filter can make the difference between staying hydrated and going thirsty (or worse, getting sick in Cuba!).
A reusable bottle like this one from LifeStraw uses a two-stage carbon filter to purify harmful contaminants like waterborne bacteria, parasites, and chlorine.
What Not to Eat in Cuba: Basic Food Safety Measures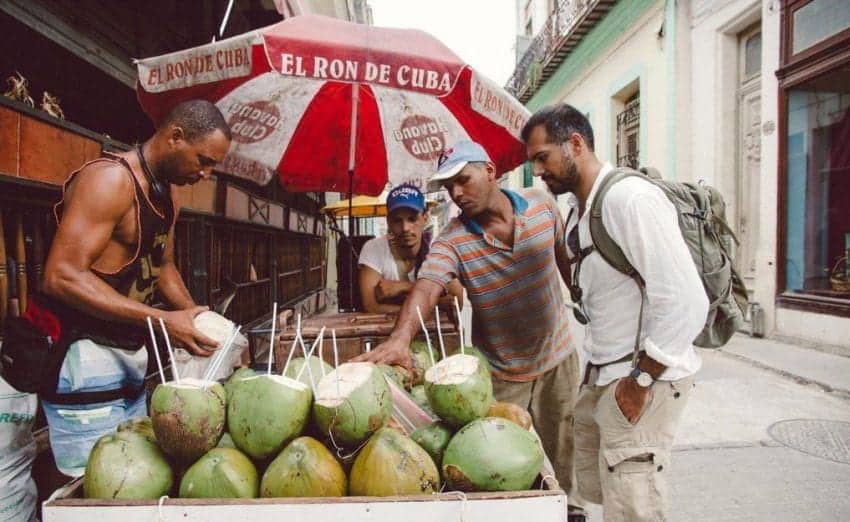 Wash your hands
Keeping your hands clean is an important part of your everyday hygiene routine. Still, it becomes imperative when you travel to a new country. This is especially true if you travel during the COVID-19 pandemic.
To keep your hands clean and healthy, the CDC recommends:
Washing your hands before every meal
Using soap and water if possible. If not possible, use a hand sanitizer that contains 60% alcohol or higher.
Purell's hand sanitizer is popular with travelers because you can latch it onto the outside of your backpack. At 1 ounce per bottle, it's small enough to go through airport security without hassle.
Keep your things clean on the go
For anything other than your hands (like your spork, for example!), you should bring a bottle of safe, biodegradable travel soap.
Soap will be easier to come by in large cities like Havana and Santiago de Cuba. Still, it may be scarce off the beaten path in rural areas.
Using soap is essential to disinfect your gear of any tropical bacteria it may have picked up along the way.
Don't eat raw vegetables, fruits, or eggs
These are considered "high-risk" foods and great examples of what not to eat in Cuba.
The International Association for Medical Assistance for Travellers (IAMAT) offers this advice: "BOIL IT, COOK IT, PEEL IT, OR FORGET IT."
Avoid undercooked and prepared foods
Eating raw or undercooked food is a serious health risk and should be avoided at all costs.
Dishes containing beans and roots are typically safe to eat in Cuba since they need to be cooked anyway. Check out for bananas, yucca, pumpkins, sweet potatoes, frijoles negros (black beans), and other potajes.
Wash and peel fruits and vegetables
Rinsing your fruits and vegetables under hot water will clean off dirt and debris, and harmful bacteria lurking on the surface.
Remember that washing your veggies with dirty, stagnant, or contaminated water can introduce new bacteria to your food. Only use water that is clean and from a known origin.
Peeling your fruits and vegetables is beneficial because it removes any outer skin that may have previously come into contact with harmful bacteria. You can easily peel most fruits and veggies with a small Swiss Army Knife. (Note: if you plan to pack a Swiss Army Knife, you need to put it in your checked bag since it's not allowed in the plane's cabin).
Don't consume unpasteurized dairy products
Milk that has not been pasteurized is considered "raw" and can harbor dangerous bacteria and pathogens like E. Coli, Salmonella, and Listeria.
Pregnant women, children, and the elderly are especially vulnerable to food-borne illnesses. However, that doesn't mean young and healthy adults are immune.
Don't take the risk!
Transport food safely
Keeping your food safe means keeping it cool in Cuba's hot, humid climate.
We recommend using a small, portable cooler to keep your food from spoiling. One like this is perfect for the beach or long, scenic hikes.
Don't buy food from street vendors
What not to eat in Cuba? Definitely, street foods. Cuba is known for its delicious street food, but that from a food stall or a street vendor can come with health risks. Also, avoid vendors roaming on the Cuban beaches.
Food sold from street stalls often doesn't benefit from the same sanitation and refrigeration level as food from restaurants.
If you take a risk and order food from a street vendor, be extremely careful with fish. Certain local fish, especially from Cuba's southern coast, can become poisonous (siguato) by eating toxic sea vegetation.
Eat at restaurants recommended by the experts
Now that you've had a crash course in food safety in Cuba, it's time for the fun part!
Paladares are a great option for budget-savvy travelers. Expect to spend 10-25 USD on a meal, which will not likely hit hard on your holiday budget for Cuba. Eating at paladares is also an activity that qualifies for the Support for the Cuban People license, if you travel from the US.
Check out the list of Cuba's top restaurants ranked by CubaPaladar, which reviews the island's culinary scene.
This list is a great place to start your Cuban culinary adventure. Still, you can find many more recommendations in LonelyPlanet's Pocket Havana Travel Guide.
Buen provecho!
Pick your foods smartly
Selecting food in a foreign country can be especially challenging for people who suffer from a food allergy, especially if there's a language barrier. Be extra careful when choosing exotic or unknown foods. Ask locals about the food ingredients and additives.
What to Bring to Avoid Getting Sick in Cuba?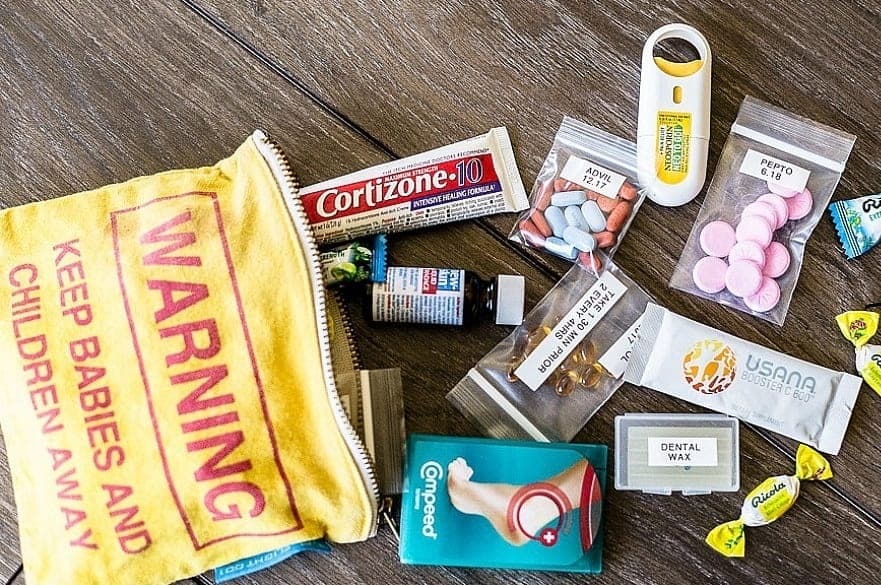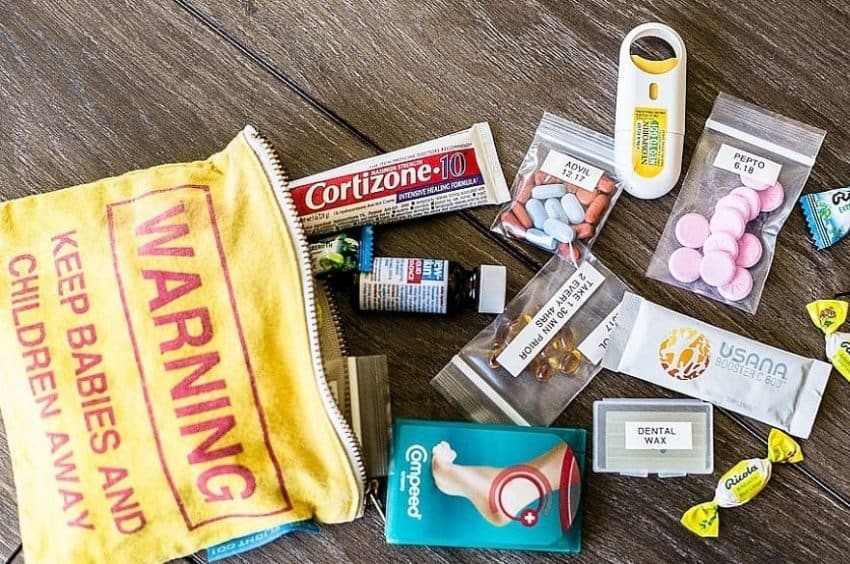 Get travel health insurance for Cuba
Travel health insurance is an entry requirement to Cuba.
It's also highly recommended. Nobody wants to think about getting sick on vacation, but it does happen occasionally. You don't want to be in a situation where you're far from home and unable to pay for medical treatment.
Insubuy offers flexible health insurance policies for travelers visiting Cuba from the US, Canada, or anywhere in the world. They will cover your medical emergencies at a reasonable budget, starting at 8 USD per week per person.
Pack your prescription medications
Don't leave home without any prescription medications you'll need to take during your trip.
To avoid being unprepared, create a list of all your prescription and any over-the-counter medications you may need. Don't cross them off the list until they are packed securely in your travel bag.
Bring a travel health kit
Fortunately, many medical situations you're likely to encounter abroad won't fall into the "medical emergency" category.
Some essentials like basic medications and emergency supplies can help you overcome minor issues or discomfort.
Here's a list of items the CDC recommends you pack:
Diarrhea medicine
Antacid
Allergy medicine
Medicine for pain and fever (acetaminophen, aspirin, or ibuprofen)
Sleep aid (especially if you're traveling from a different time zone)
Hand sanitizer or wipes
Water purification tablets
Bug spray
Sunscreen (and Aloe gel in case you get sunburned!)
Antibacterial cream
Antiseptics to clean minor wounds
Band-aids
Thermometer
Tweezers
Eye drops
You can find many of these items in pre-packed First Aid kits like this one. Designed with travelers in mind, this kit comes with 300 essentials packed into a small, lightweight bag you can easily slip into your backpack or suitcase.
Remember that if you have a specific health condition (chronic disease, pregnancy, compromised immune system), you may need additional supplies. The CDC's Traveler Information Center provides suggestions for travelers with specific health needs under "Types of Travelers."
Carry a card with your health information in the local language
A card that identifies key information about you, like your blood type, allergies, important medications, or chronic illnesses you suffer from, can be helpful to hospital staff. Make sure the information is translated into the local language.
Cards can be lost or misplaced, but a personalized medical bracelet will remain attached safely to your wrist in an emergency.
The spork
The spork is the Swiss Army Knife for eating utensils. It's a spoon, fork, and knife in one convenient package.
In addition to being useful, it's also a safe and sanitary way to eat while traveling. If you're in a situation where you don't have access to cutlery (like hiking or backpacking in a remote area), having a spork makes all the difference.
Bring some healthy snacks
Any time you travel, you want to have an adequate supply of snacks and water with you.
Whether you get hungry at the airport, late at night in your hotel room, or while on a guided tour through Cuba's rugged wilderness, some healthy snacks will give you the energy you need to power through the day.
What to Do if You Feel Sick in Cuba?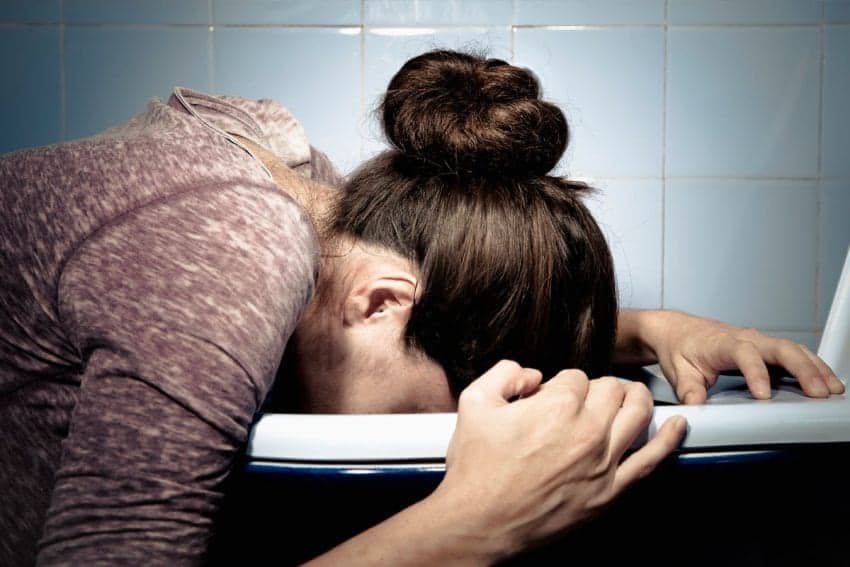 Common food-related illnesses
Let's say you didn't follow our guide to what not to eat in Cuba 🙁
You will want to know that salmonella, E. Coli, listeria, Norovirus, and Campylobacter are the most common foodborne illnesses.
Symptoms and severity vary, but fever, vomiting, diarrhea, and dehydration are common and may require medical attention.
A fever is a sure sign that your body is fighting off an infection. Pack a digital thermometer with you if you feel like you're coming down with a fever.
According to the Mayo Clinic, fever symptoms include sweating, chills, hotness, muscle aches, and loss of appetite.
Take over-the-counter products
If your sickness isn't serious enough to warrant a trip to the hospital, you'll want to have some over-the-counter products on hand to mitigate the nasty symptoms and flush the toxins out of your body.
Pepto Bismol can help settle your stomach, and Aspirin can help reduce your fever. Always seek the advice of a medical professional regarding which medications are best for you.
Keep in mind that vomiting and diarrhea result in your body losing a lot of fluids and can lead to dehydration, worsening your condition. Be sure to drink plenty of (clean, filtered) water to keep hydrated.
Find medical help
If you are in an emergency during your trip, you should have a few important numbers on hand.
See the list of numbers below. Write those down and keep them with you at all times.
Internet connectivity is not widespread on the island, so you don't want to wait until there's an emergency to discover that Googling the number for the Fire Department isn't going to work.
Emergency contacts:
Police: 106
Fire Department: 105
U.S. Embassy in Cuba: +53 7839-4100
(For Canadians traveling to Cuba) Canadian Embassy in Cuba: +53 7204-2516
Also, please check out a list of hospitals and physicians available in advance!
What to do if you get sick after travel
Sometimes an illness you contract in a foreign country won't present symptoms until days later. After you return from your Cuba trip, keep an eye out for any of the following symptoms:
Fever
Diahrrea (especially if it lasts 3 or more days)
Skin problems
If you have any of the above symptoms, call your healthcare provider to set up an appointment to be evaluated by a medical professional. Tell them you've recently been to Cuba and the date you came home from your trip.
Be prepared to answer the following questions when you speak with your doctor:
What did you do during your trip?
How long was your trip?
What kind of accommodations did you stay in?
What did you eat and drink?
Were you bitten by any insects or animals?
Did you swim in freshwater?
Did you receive any health care abroad?
A Comer!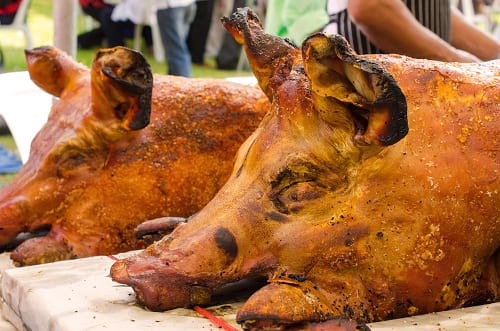 Cuba is a culinary gem with options to satisfy every taste and palette. Hundreds of new restaurants have opened thanks to the recent relaxation in policies on the island. They are just waiting to share some of Cuba's best-known national dishes.
While Cuba has much to offer its visitors, keep in mind that Cuba is still a developing country, and there are certain health risks you should be aware of.
Following the guidelines we discussed, you'll know what steps to take to stay healthy (plus what to do in case you get sick!) and what to eat versus what not to eat in Cuba.
Have you visited Cuba, or do you have an upcoming trip planned? What dish are you most excited to try? Let us know in the comments!
Essential Travel Logistics For Cuba
Cuban Tourist Card – If your Cuban Tourist Card (a.k.a Cuban Tourist Visa) isn't bundled into your airline ticket or travel package, buy it only through EasyTouristCard. 
Travel Health Insurance – Travel medical insurance is an entry requirement for Cuba, so you can't skip it. Travelers can get travel health insurance for Cuba via Insubuy. Travel protection benefits such as trip interruption and cancellation, baggage delay insurance, etc., are not required.
Essential Items to Pack – Bring the essential travel necessities that you may not be able to get in Cuba:
Read our complete packing list for Cuba.
Find Accommodations – Find hotels or casas particulares (private accommodations) on Skyscanner, which lists thousands of accommodations available in Cuba.
Book Your Flight – Book cheap flights to Cuba on Skyscanner, our favorite flight search engine to find deals on flights to Cuba.