Airbnb substantially changed Cuba's tourism when it opened on the island in 2016. For Cuban hosts, it replaced the traditional word-of-mouth and cash booking system. For travelers, Airbnb offered cheap accommodations, giving a glimpse into Cuba's unique and vibrant culture.
However, booking an Airbnb in Cuba may come with unpleasant surprises. It's just a little more complex than booking an Airbnb in your home country. For example, there is the issue of double bookings, poor amenities, unusable Airbnb app, potential blackouts, and even meeting a different host once in the country.
This article will explain everything you must know when booking an Airbnb in Cuba. We hope these tips save you from potential disappointment.
1 – Airbnbs in Cuba Are Called "Casas Particulares"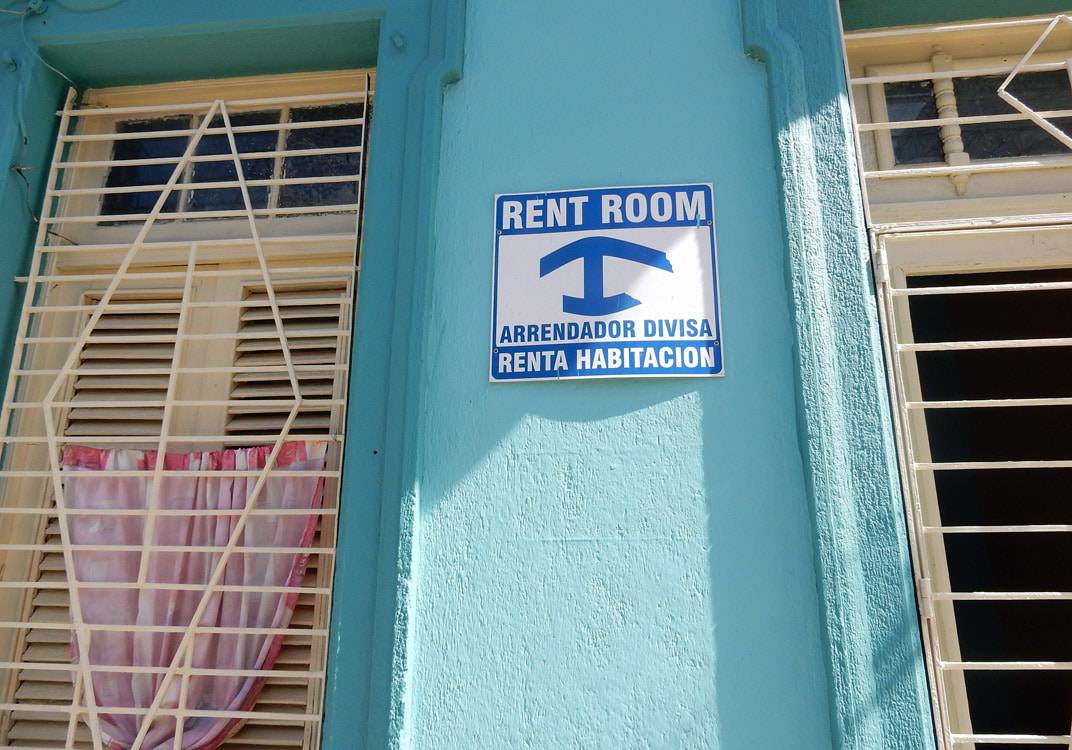 Airbnb rentals in Cuba are known as "casas particulares", meaning private houses. "Casas particulares" are privately owned homes converted into bed and breakfasts.
"Casas particulares" can vary in quality and amenities, ranging from basic rooms with shared bathrooms to more upscale accommodations with private bathrooms and other amenities. Some "casas particulares" offer breakfast and other meals, while others may provide additional services such as laundry and tour arrangements.
In Cuba, locals also refer to a "casa particular" as "hostal" (hostel) and "arrendador".
2 – They Are Cheaper Than Hotels
Airbnb offers a wide range of "casas particulares" with varying prices depending on the type of accommodation (basic room in a shared house vs. a whole house), location, size, and amenities offered.
For example, a few luxury rentals cost more than 300 USD a night in Havana. Still, as reported by Airdna, the average daily rate of Airbnb in the capital is about 50 USD, including cleaning fees. According to a search on Skyscanner, this price range is half the average nightly price of hotels in Havana, which exceeds 100 USD.
So, if you want to cut your Cuba travel costs but still stay in affordable yet comfortable lodging, browse through Airbnb's selection and find the best fit for your budget.
3 – Airbnb Is the Best (Legal) Accommodation Option For Americans Traveling to Cuba
If you are traveling to Cuba from the US, you will be happy to know that staying in a "casa particular" falls within the scope of the Support for the Cuban People travel category. In fact, that's what you should do since the US government has banned many hotels in Cuba for US citizens.
A "full-time schedule" supporting the Cuban people (more than 6 hours a day) is a requirement of the Support for the Cuban People travel category. Obviously, you may need more than just staying in a private room to have a "full-time schedule" doing activities to support the Cuban people. However, it can help if you ever need to justify your trip to Cuba (unlikely).
Take it from the OFAC itself. They offer an example of a trip complying with the Support for the Cuban People category:
An individual plans to travel to Cuba, stay in a room at a rented accommodation in a private Cuban residence (casa particular), eat at privately-owned Cuban restaurants (paladares), and shop at privately-owned stores run by self-employed Cubans (cuentapropista) during his or her four-day trip
Aren't those Canadians traveling to Cuba lucky? No legal stuff to worry about!
4 – The Airbnb App Is Unreliable in Cuba
In general, never rely on getting Internet access in Cuba to make travel plans. The Internet is slow and unstable, and even some US apps have restricted access from the island.
Unfortunately, you can't trust the Airbnb app in Cuba. If you don't have it, you won't be able to download it. If you have it, you can view your profile and past bookings but can't make new reservations.
You can circumvent these issues using a VPN (we recommend NordVPN). But still, why would you wait to be in Cuba to book your Airbnb?
5 – Always Contact Your Host
To ensure you have a comfortable and enjoyable stay, contact the Airbnb host. Address your special needs or requests directly with your host, but also ask the important questions:
Confirm your reservation details, including the room, location, check-in time, key exchange, and any specific instructions.
Who will be the contact person on the island? Who will attend you and your room?
What documentation will you need to you to the host (passport, ID, or Cuban visa)?
What is not included in your booking?
How can you get from the Havana Airport to the Airbnb?
What is the availability of towels, linens, and toiletries?
Will there be bottled water available? (Avoid tap water in Cuba, bring a water filter bottle just in case.)
Is the A/C working well?
Is there hot water all the time?
What are the options for getting Internet access?
Are there blackouts currently happening in the area?
Are there Cuban beaches nearby?
If you rented a car in Cuba, where can you park?
If you plan to take the Viazul bus, how can you get to the nearest Viazul station?
Are there nearby restaurants or attractions in Havana you can easily visit from the Airbnb?
Is the area safe to walk around alone at night? (Cuba is generally a safe country.)
What other Cuba travel tips can they offer?
Don't be shy and ask everything you need to know. This will help you avoid surprises, which is especially important in the Cuban context, as you will see below.
6 – Read the Reviews
Many people make the mistake of solely relying on the house description or pictures, only to be disappointed upon arrival. Don't be like them!
Always read the reviews, especially the recent ones. Look for mentions of double bookings, poor amenities, a wrong location, or broken A/C. These are the most common issues you may face when booking an Airbnb in Cuba.
However, in most cases, you should expect reassuring positive reviews.
7 – The Airbnb Host Might Not Be the "Real" Host
An interesting fact about Cuba is that the owners of "casas particulares" will hire people abroad to manage their Airbnb accounts. That's because the Cuban banking system does not allow Cuban hosts to receive online payments.
Therefore, don't be surprised if a different person shows up to welcome you to your room once you get to the island.
8 – Cuban Hosts May Not Speak Fluent English, Manage Your Expectations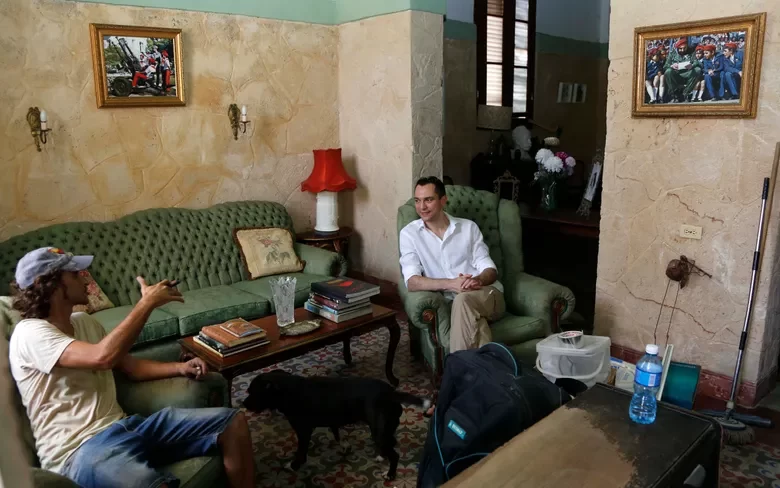 Don't expect Cuban hosts to be proficient in English, even if the Airbnb listing is written in perfect English (remember that Airbnb accounts are managed by other people abroad).
This is not to say that you won't be able to communicate with them. Most "casas" owners, and Cubans in general, will have their basics covered. They can understand common expressions, participate in conversations, and share experiences related to the Cuban way of life.
Bringing a Cuban Spanish phrasebook to Cuba can be incredibly helpful. It can enhance your travel experience and help you better communicate with Cubans.
9 – You Might Be Relocated
If there are two bookings for your room on the same date, Cuban hosts may relocate you to another room in a different "casa particular".
Now, you may ask, "Why would there be another booking for your room on the same date?" Because of Cuba's unreliable Internet access, it's difficult for hosts to update multiple listings in real-time (Airbnb, Skyscanner, Hotels.com, and other local websites). This leads to double bookings.
It's rare, but it can happen, even in developed countries. If it does, you may be able to get some money back through your Cuba travel insurance (ask your provider).
Please, always confirm your booking details with the Airbnb host.
10 – Amenities: The Fine Print
Amenities in Cuba may not be up to the same standards as what you are used to in your country.
For example, many Cuban homes have limited or inconsistent access to hot water. So, while a hot water shower may be listed as an amenity, it may not always be available.
Also, the quality and quantity of towels, linens, and toiletries may not be what you would expect in a developed country. In fact, shortages of basic products are frequent in the country.
If this is a concern, please reach out to the Airbnb host and ask about it.
Consider bringing your own toiletries and a first aid kit if you can.
11 – Bring Extra Cash
Cuba is a cash country. You need it to pay for everything on the island, including extra services from your host (e.g., breakfast) and tipping.
You can use your home currency or the Cuban currency, although people in Cuba prefer USD, CAD, or Euros.
12 – Blackouts Can Happen: Don't Blame It on Your Host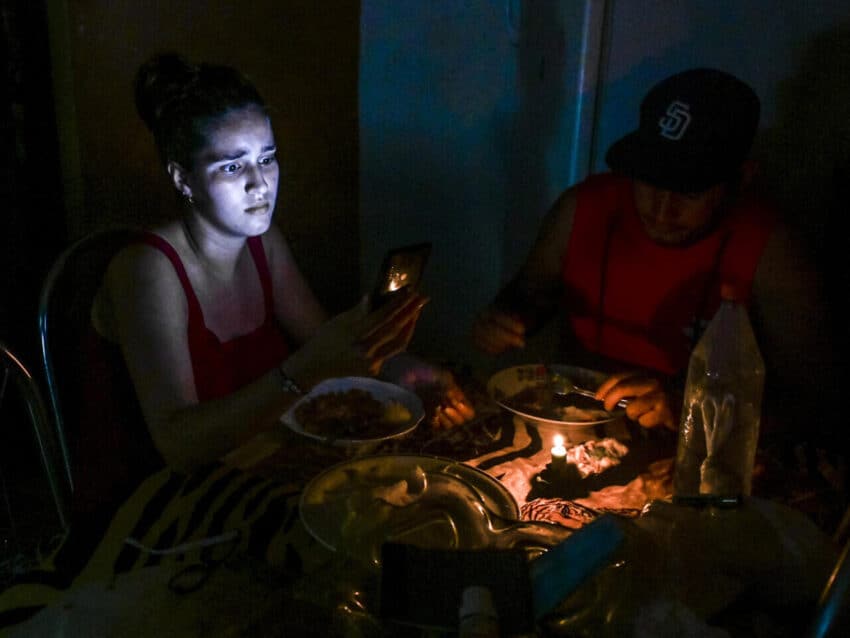 Power outages and blackouts in Cuba are more common than they should be. From time to time, the Cuban government schedules blackouts due to maintenance work or fuel crises.
Most "casas particulares" don't have backup generators. They are just too expensive and difficult for Cubans to obtain.
Please, don't take it out on your host. Blackouts in Cuba are unpredictable and, as you can imagine, frustrate everyone else too.
Bring a small flashlight with you, just in case. Also, if you travel during the mosquito season (not the best time to go to Cuba), pack mosquito repellent. These two items are easy to pack and may rescue you during a blackout.
Read our complete packing list for Cuba to know more essential items you should bring to the island.
13 – Little to No COVID-19 Restrictions
At the begging of the COVID-19 pandemic, the Cuban government implemented travel restrictions that affected Airbnbs. However, today, they are not enforced.
However, we still recommend bringing a face mask and hand sanitizer. They are difficult to obtain in the country!
The Bottom Line: Be Proactive
In conclusion, booking an Airbnb in Cuba can be a great way to experience the local culture and hospitality. Still, it is important to be aware of the unique challenges in the country to avoid disappointment.
Specifically, contact your host to confirm the booking details, handle your special requests, and answer your burning questions. Consider that the Airbnb host may not be the person who will accommodate you, and that person may not speak English fluently.
Also, remember that the Airbnb app won't work properly in Cuba, double bookings and blackouts can happen, amenities may not be up to the standard you think, and you must pay in cash for everything.
Finally: read the reviews!
Did we miss something? Share your experience booking a Cuban Airbnb in the comments below!
Essential Travel Logistics For Cuba
Cuban Tourist Card – If your Cuban Tourist Card (a.k.a Cuban Tourist Visa) isn't bundled into your airline ticket or travel package, buy it only through EasyTouristCard. 
Travel Health Insurance – Travel medical insurance is an entry requirement for Cuba, so you can't skip it. Travelers can get travel health insurance for Cuba via Insubuy. Travel protection benefits such as trip interruption and cancellation, baggage delay insurance, etc., are not required.
Essential Items to Pack – Bring the essential travel necessities that you may not be able to get in Cuba:
Read our complete packing list for Cuba.
Find Accommodations – Find hotels or casas particulares (private accommodations) on Skyscanner, which lists thousands of accommodations available in Cuba.
Book Your Flight – Book cheap flights to Cuba on Skyscanner, our favorite flight search engine to find deals on flights to Cuba.