Looking for guidance on how to travel to Cuba from the US? We know, as an American, planning a trip to Cuba may be certainly overwhelming.
Unlike visitors from Canada and the U.K., Americans are subject to certain restrictions. Since "tourism" technically isn't allowed, your trip will need to fall into an authorized travel category. You'll also be subject to certain financial restrictions while on the island.
This article has been updated to reflect all the travel restrictions to Cuba imposed during 2019 by the Trump administration (and there were many). Don't despair, though! You can still travel to Cuba and we will show you exactly how.
In this article, we want to answer all your burning questions about going to Cuba with a US passport. The latest Cuba travel rules. The entry requirements to Cuba. The 12 categories of authorized travel to Cuba. The difference between the Support for the Cuban People and the People-to-People Travel categories (prohibited after June 5, 2019). The practical tips for Americans traveling to Cuba. The new Trump's Cuba travel policy.
In this guide, we cover all of it.
Can Americans Travel to Cuba in 2020?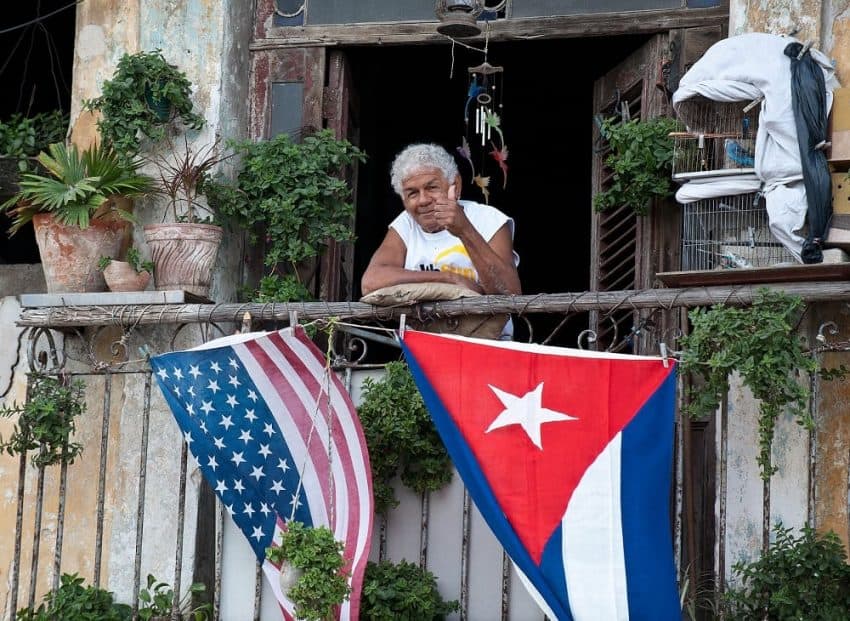 The simple answer is yes. It's perfectly legal for Americans to travel to Cuba with a U.S. passport, despite the Trump Administration's announcement in June 2019 that Cuba travel rules would change.
In other words, there's no Cuba travel ban preventing you from visiting the island. However, knowing how to travel to Cuba from the US legally is still a little trickier.
Unlike our friends in Canada and Europe, Americans can't simply hop on a flight and jet out to Cuba on a whim! Instead, we need some extra documentation and paperwork for planning a trip to Cuba.
We'll fill you in on what you need to do, step by step, while going to Cuba from the US. We will also answer all your questions on how to travel to Cuba from the US!
Americans Are Allowed to Visit Cuba, but Tourist Travel to Cuba Is a Different Story
It's legal for Americans to travel to Cuba, but not for tourism, according to the current Cuba travel rules.
But if you've been dreaming about a Cuba trip, don't be disappointed! By following a few guidelines, you can still visit Cuba and check almost everything off of your Cuba bucket list. As an American traveler, you'll just have to do a bit more pre-planning than your Canadian neighbors.
What Do You Need to Travel to Cuba with a US Passport?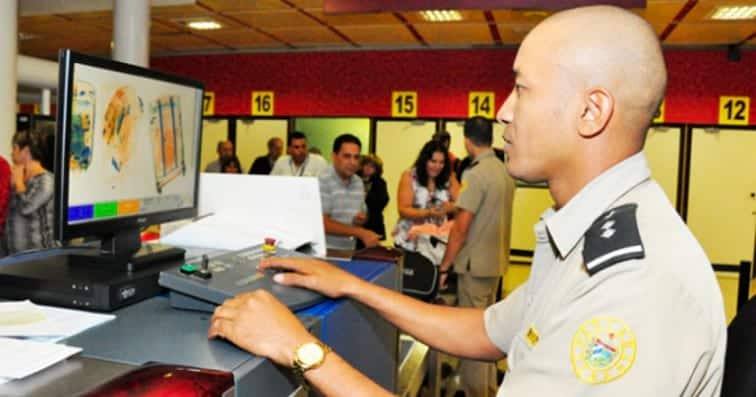 Here is a list of entry requirements to Cuba that you need to comply with before you arrive in a Cuban airport:
The Cuba passport requirements
You can travel to Cuba with your standard U.S. passport. To avoid any issues while going through customs, make sure your passport is valid for at least six months after your Cuba trip.
The Cuba visa requirements (Tourist Card) and how to get a visa for Cuba
All visitors to Cuba, regardless of country of origin, need to have a special visa called a tourist card. You'll need to have your tourist card in hand when you board your flight to Cuba.
Note: The specific process of getting your Cuba visa may vary by country origin. Since this article is specifically about how to travel to Cuba from the US, that's what we'll cover here. For Canadian and U.K. citizens, check your government's official Cuba travel pages.
How do you get the Cuba tourist visa? You've got a few different options:
1. Directly from the airline
The most common method visitors get their Cuba tourist card is by purchasing it directly through your airline.
Each company handles the process a bit differently. Some airlines will include the cost of the visa in the ticket price, while others will have you buy it separately. The visa itself costs $50 on top of a processing fee between $25-35.
Here are travel visa prices from a few major airlines:
American Airlines: $85 ($50 visa fee + $35 processing fee) if purchased online. $100 ($50 visa fee + $50 processing fee) if purchased in-person at Miami (MIA) airport
Delta: $50, purchase in-person at the gate.
JetBlue: $50, purchase in-person at the gate.
Southwest Airlines: $75 ($50 visa fee + $25 processing fee) can be purchased online or in-person at the gate.
United Airlines: $75 ($50 visa fee + $25 service charge), purchase in-person at the gate.
Not all flight search engines carry flights from the US to Cuba. To price out Cuba flights, we recommend using JetRadar.
2. Buy the Cuba visa online
If your airline ticket doesn't have your travel visa built-in, you can buy it separately using the site Easy Tourist Card.
You can expect to pay around $144 USD for a 30-day tourist card, which is more than if you bought it packaged in with your ticket.
Travel insurance for Cuba
Travel insurance is a requirement for all visitors to Cuba. Your insurance needs to cover any unexpected medical expenses you may incur during your time on the island.
That's why there are companies that specialize in insurance just for travelers, like RoamRight. With RoamRight, you'll get coverage for any medical emergencies that might pop up during your trip. It also offers coverage for travel inconveniences like trip cancellation and lost or stolen gear. One week of RoamRight costs about $50 per person.
Valid general travel "license" to Cuba
All Americans traveling to Cuba need a "license", technically referred to as a "general license" or as a category of authorized travel to Cuba. These categories are defined by the Office of Foreign Assets Control (OFAC).
For the purpose of this article, we indistinctively use "license", "travel license", "general license" and "travel category".
Confusingly, even though it's called a license, it's not actually a license like a driver's license or even the tourist visa. It's not a physical document that you need to bring with you to Cuba.
Getting a Cuba general license means:
You've chosen one of the U.S. government's 12 categories for legal travel to Cuba.
You meet all the criteria for traveling to Cuba under your chosen category.
Confusing terminology aside, getting your Cuba general license is pretty easy. Take a look at our step-by-step section below.
How to Travel to Cuba from the US (Legally): Planning a Trip to Cuba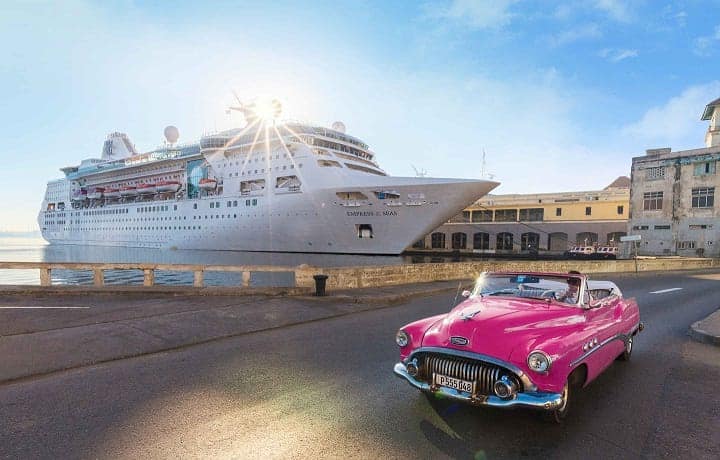 Again, there is so much confusion about exactly what you need to do to travel to Cuba as an American.
Let's try to simplify the process of planning a trip to Cuba from the US:
You'll have to select the most appropriate category of authorized travel to Cuba according to your travel purpose.
You'll need to create a full-time itinerary that is covered by the selected category of authorized travel to Cuba.
You may have to book accommodation in Cuba depending on where you stay as part of your itinerary.
You must not spend money at certain businesses in Cuba.
You'll need to keep your records and receipts for 5 years.
Now, let's go further on each step!
Step 1. Choose one of the 12 categories of authorized travel to Cuba
The only step in getting your Cuba general license is to declare the reason for your trip, according to the list of 12 categories of authorized travel to Cuba. If your trip falls into one of the 12 categories, you're good to go.
The twelve categories of legal travel under the Cuba General License are:
Family visits
Official business for the US government, foreign government, and certain intergovernmental organizations
Journalism
Professional research
Educational activities (NOTE: This category grandfathered the once-popular People-to-People Travel "subcategory", which is now prohibited.)
Religious activities
Public performances
Support for the Cuban People
Exportation, importation or transmission of information or informational materials
Humanitarian projects
Activities of private foundations or research or educational institutes
Certain export transactions
During the booking process, you'll need to declare your category of authorized travel to Cuba.
The Support for the Cuban People travel category
We're giving this category its own section because it currently is the most popular category for traveling to Cuba from the US. But also, because it may be really confusing!
Support for the Cuban People is the best license to use for Cuba solo trips when any other license does not cover your purpose of travel.
American travelers love this category because, as you probably already gleaned from the wording, it's pretty vague. You have lots of wiggle room and can pretty much do many of the activities you would in any other Caribbean country.
However, you will have to demonstrate that you've participated in activities that "strengthen Cuban society." Luckily, these activities tend to be fun, and many of them are things you'd probably do anyway.
Visit museums and historical sites
Eat at locally-owned restaurants (paladares)
Take Cuban cooking classes
Take salsa dancing lessons
Tour a tobacco farm and learn how to roll Cuban cigars
Volunteer with a local organization or non-profit
But the OFAC itself offers the very best example of the type of activities that the Support for the Cuban People category may cover:
"An individual plans to travel to Cuba, stay in a room at a rented accommodation in a private Cuban residence (casa particular), eat at privately-owned Cuban restaurants (paladares), and shop at privately-owned stores run by self-employed Cubans (cuentapropista) during his or her four-day trip.
While at the casa particular, the individual will have breakfast each morning with the Cuban host and engage with the Cuban host to learn about Cuban culture. In addition, the traveler will complete his or her full-time schedule by supporting Cuban entrepreneurs launching their privately-owned businesses. The traveler's activities promote independent activity intended to strengthen civil society in Cuba.
Because the individual's qualifying activities are not limited to staying in a room at a rented accommodation in a private Cuban residence (casa particular), eating at privately-owned Cuban restaurants (paladares), and shopping at privately owned stores run by self-employed Cubans (cuentapropista) and the traveler maintains a full-time schedule that enhances contact with the Cuban people, supports civil society in Cuba, and promotes the Cuban people's independence from Cuban authorities, and that results in meaningful interaction between the traveler and Cuban individuals, the individual's travel qualifies for the general license."
How does it sound?
When it comes to planning your daily schedule in Cuba, you're technically supposed to spend about eight hours a day doing activities that support the Cuban people. That being said, it's not like an American official will be calling you each day to verify your schedule, so don't stress about it.
Instead, pick out some of the activities mentioned above and immerse yourself in the beauty of Cuban culture. After you tackle the logistics of visiting Cuba from as a US citizen, be sure to add lots of fun activities as well!
Step 2. Book a flight to Cuba
Once you defined the license you will use, you'll be ready to book your tickets to Cuba. JetRadar is a flight search engine where you can find flight deals to Cuba. Keep in mind that after December 10, 2019, US airlines only have the authorization to fly into Havana.
Step 3: Plan your itinerary in Cuba
Now the fun part begins! It's time to plan how you'll spend each day in sunny Cuba.
Whichever category you chose for your travel license will have a big impact on your itinerary.
If you decide to travel under the "Support the Cuban People" category, your schedule is completely up to you. Take a look at the type of suggested activities in the previous section to help you build out your schedule.
You can also review the tours available on our platform!
Step 4: Book accommodations in Cuba
Once you've booked your tickets to Cuba, you'll need to set up a place to stay, according to your itinerary. You may be able to stay in some hotels, resorts, and casas particulares.
However, we highly recommend renting a room in a casa particular because they give you an authentic Cuban experience at an affordable price. Check out Booking.com for the latest listings.
Step 5. Don't spend money at restricted businesses
US-Cuba relations have improved over the last decade, but the US Treasury Department doesn't like Americans to spend money just anywhere in Cuba.
By the way, if you need help understanding the super complicated dual currency system in Cuba, read our handy guide to the Cuban money.
In fact, the Treasury keeps a list of businesses that Americans must not give money to. Most of these businesses are backed by the Cuban military or security services, which the US still has a frosty relationship with. You can see the full, updated list here.
Step 6. Keep your receipts and records for 5 years
For up to 5 years after your Cuba trip, the US government can ask to see the travel records and receipts from your trip.
This sounds kind of spooky, but anecdotally, it doesn't seem to happen very often. But it's better to be safe than sorry, so keep your records stored in a safe place for 5 years in case you're questioned about your trip.
Bonus Tip for Americans Traveling to Cuba: Stick to Private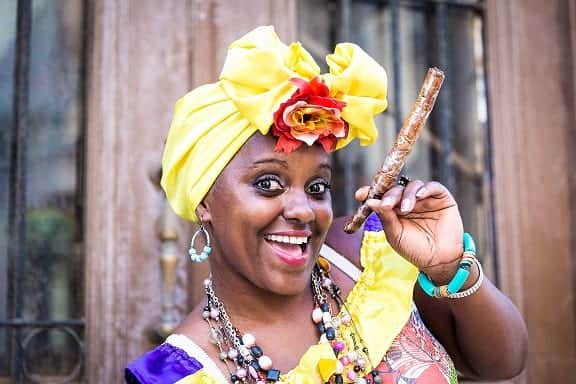 Book tours directly from local guides
Cuba is filled with tour guides ready to introduce you to the island, its culture, and history. Plus, there are tours for everyone–from riding around Havana in a vintage car to horseback riding in rugged Viñales or hiking in the Sierra Maestra mountains.
However, keep in mind that not all tour guides are reputable. Cuba has only recently begun to experience a huge burst in tourism–especially from the US–and there are lots of people looking to profit off tourists. To avoid getting scammed by fake or unprofessional guides, you should only book tours through legitimate local guides. And if they do a good job, don't forget to tip them!
Tour Republic offers exciting adventures all over the island led by skilled local guides. You'll be in good hands!
Stay in casas particulares
Casas particulares (private houses) are like the Cuban version of bed and breakfasts.
They're owned by Cuban families who rent out rooms for a daily fee. Not only are they more affordable than staying in a hotel, but they also offer a much more authentic Cuban experience.
Plus, many casas even offer home-cooked breakfast in the morning. You can stay in a casa for around 20-50 CUC/night.
Eat at paladares
Paladares are private restaurants owned by Cubans who have a passion and talent for serving up fine Cuban food.
Menus at paladares have more variety and better service than Cuba's government-owned restaurants. The cost of dining in a paladar varies depending on how fancy or down-to-earth the place is. But generally speaking, you can expect to pay between 6-10 CUC per meal.
At home, you're probably used to using websites like Yelp to help you decide where to eat next, but the Internet is limited in Cuba. Thus, we recommend bringing a travel guide like this one from Lonely Planet instead.
Please, check out our food safety and travel budget guides for more information on how to stay healthy in Cuba and save some bucks on your trip.
Ride in private taxis
When you flag down a taxi in Cuba, you'll notice there are two different kinds of taxis: state taxis and private taxis (almendrones).
State taxis are owned and operated by the Cuban government, while private taxis are run by private taxi drivers. Chances are, the almendrones will catch your eye because many of them are the colorful, beautifully restored vintage American cars that have become synonymous with Cuba.
Support the local businesses
If you travel to Cuba under the Support for the Cuban People category, you'll need to support local Cuban businesses during your trip.
Supporting local businesses includes staying in casas particulares, eating at paladares, attending a performance by a local musician or artist, or taking a cooking or salsa dancing class.
The Latest Updates to Trump's Cuba Travel Policy (2020)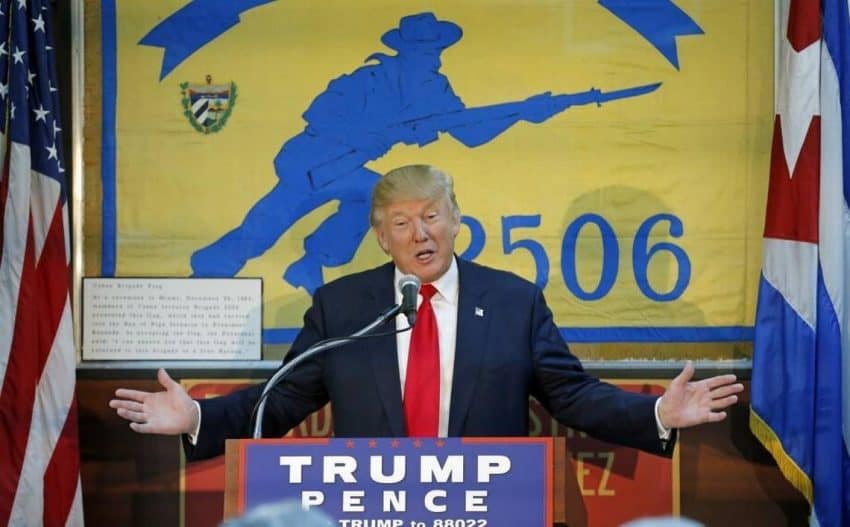 The Cuba travel rules for US citizens can seem tangled and confusing, especially with the changes that have taken place in the last decade.
To add to the confusion, US President Donald Trump has recently rolled back some Obama's changes. It's enough to make your head spin!
Changes to the Cuba travel restrictions in 2017
President Trump introduced a new set of Cuba travel rules in November 2017 to tighten travel restrictions to Cuba. These changes include:
Restricting US travelers from spending money at Cuban businesses with ties to the Cuban military.
Doing away with the individual People-to-People travel category (Remember: you still could travel under the group People-to-People category with an authorized tour group).
What about the Cuba travel warnings from the State Department?
If you paid attention to the news last year, you probably remember hearing stories about American diplomats in Cuba suffering from mysterious "sonic attacks." Rumors about these attacks sparked the State Department to issue a travel warning.
As of the writing of this article, no American visitors to Cuba have been targeted by sonic attacks, so you should be just fine during your trip.
Overall, Cuba is an extremely safe country to visit, especially compared to other neighboring countries in the Caribbean. Check out our full list of Cuba safety tips!
Changes to the Cuba travel restrictions in 2019 (the latest)
The Trump admin announced new travel to Cuba restrictions on June 4, 2019. They essentially include:
Ending the group People-to-People Travel category
Ending exports of passenger vessels, recreational vessels, and private aircraft. This includes cruise stops in Cuba too 🙁
On July 26, 2019, the US State Department expanded the list of Cuban businesses where US travelers are not legally allowed to spend money on.
On October 25, 2019, the Trump administration suspended commercial flights to nine destinations in Cuba. After December 10, 2019, US airlines are permitted to only fly into Havana.
FAQs About Traveling to Cuba from the US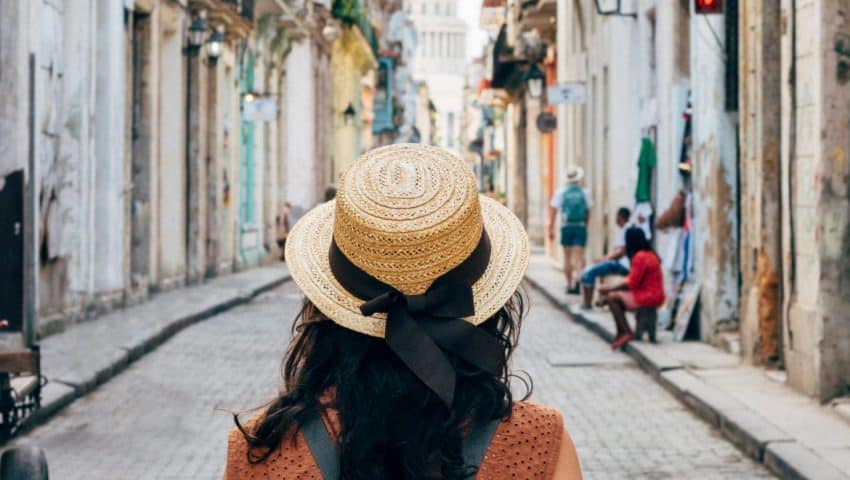 Here is a list of the most common questions on how to travel to Cuba from the US. We want to keep this article updated, so please let us know if we should another question!
Can you travel to Cuba with a US passport?
Yes! You will need to meet some requirements, but it's perfectly legal to travel to Cuba with a US passport. Specifically, you will need three things: a visa to Cuba (a.k.a Tourist Card), travel insurance, and a self-certification under one of the 12 travel categories of authorized travel to Cuba.
How do you obtain an OFAC general license to Cuba?
A "general license" or travel category is not an actual paper that you need to obtain. You just need to decide which authorized travel category to go with. Then, just declare it while booking your trip to Cuba.
Can you travel to Cuba independently as a US citizen?
Yes, the majority of American visitors travel independently under any of the 12 categories of authorized travel to Cuba.
What represents a full-time schedule of activities under a category of authorized travel to Cuba?
Technically, your schedule should add from six to eight hours a day of activities done to fulfill the requirements of your general license.
As far as we can tell, American tourists are not usually questioned about their schedules upon returning to the US, but you should be prepared just in case it happens.
Is there any requirement to how you spend your evening in Cuba?
There aren't restrictions for what you do during the evening in Havana as long as you've fulfilled the requirements stipulated by OFAC Cuba travel regulations.
Are you allowed to do only typical tourist activities in Cuba, like swimming at the beach?
Unfortunately, the answer is no. The OFAC is very explicit: you must not engage in mere tourist experiences. Here is an example of a trip that is NOT considered by the Support for the Cuban People category:
"An individual plans to travel to Cuba, rent a bicycle to explore the neighborhoods and beaches, and engage in brief exchanges with local beach vendors. The individual intends to stay at a hotel that does not appear on the Cuba Restricted List.
The traveler's trip does not qualify for this general license because none of these activities promote independent activity intended to strengthen civil society in Cuba"
How can you spend your money as a US citizen traveling to Cuba?
There's no limit on how much money you can spend while in Cuba.
The places you choose to spend money do matter, though. American visitors can't spend money at businesses linked to the Cuban military. See the full list of restricted businesses on the State Department's website.
Is there any restriction on what you can bring back from Cuba?
Yes, there are limits on what you can bring back to the US from Cuba, although the limits have been relaxed in recent years.
For example, American tourists can bring home $800 worth of Cuban souvenirs duty-free. Please, check the full BP Public Notice on Process for Imports from Cuba.
For a vetted list of things to bring to Cuba, check out our updated packing list for Cuba!
What else should you know about visiting Cuba from the US?
Once you are in Cuba, there are three pieces of advice that you should keep in mind: stick to private whenever you can, don't spend money on restricted businesses, and keep your records for five years.
Once you overcome some of the challenges of traveling to Cuba, you'll discover that the island is a fascinating, one-of-a-kind place to visit.
Due to its unique history, Cuba is in some ways very different from other destinations in the Caribbean. So, be fully prepared before you embark on your trip.
Luckily, we've put together a resource to help you! Check out our list of Cuba Travel Tips: 50 Travel Tips For Cuba That You Will Regret Ignoring.
The Final Step…
… here you have it, how to travel to Cuba from the US in 4000 words (ugh)!
Keep this handy guide open while planning a trip to Cuba. Cuba is an exciting, unforgettable, (and perfectly legal!) destination for Americans to visit. As long as you follow the guidelines we outlined in this article, you will have a smooth, seamless trip.
And now that we've put to rest those rumors about a Cuba travel ban, it's time to get packing!
We plan to keep this guide constantly updated. Please, let us know in the comments if you want us to address any other questions!
Disclaimer: Legal information is not the same as legal advice. Although we do our absolute best to provide legal information that is both useful and accurate, we recommend you consult with a lawyer if you need actual legal advice.