Recreational trips to Cuba are not yet allowed by the US embargo, even after the easing of travel restrictions. There are twelve General Licenses for American people to visit Cuba, including family visits. Family trips to Cuba are permitted in the case you have a close relative living or residing there, and the visiting group shares the same dwelling.
Once all barriers beat, let's talk about your destination.  If you travel with kids, beach hotels will be perfect places to delightfully expand their drives, also very invigorating for adults. Besides Havana, beaches in Cuba are the main tourist attraction, especially those at Varadero (Matanzas) and archipelago Jardines del Rey (central provinces). And if all you need is to truly enjoy the authentic Cuba with your family, then want to pick the best to do in Cuba from our travel marketplace.
Let's take a look at four of the best all-inclusive family resorts and some of the things families can do there.
Barceló Arenas Blancas, shining the white and blue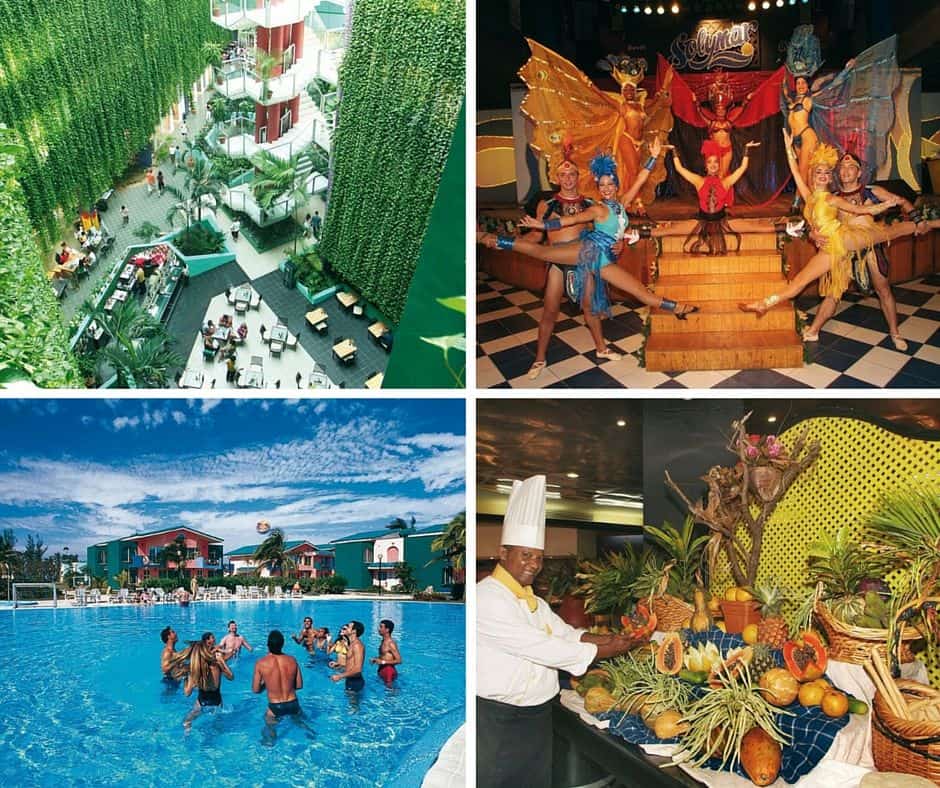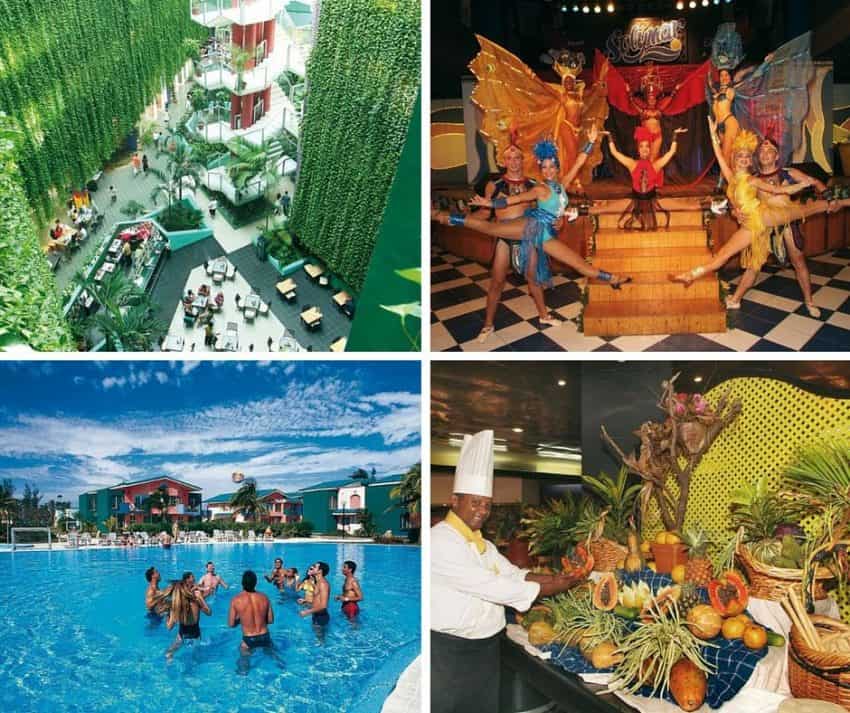 Address: Carretera Las Americas Km. 3, Varadero
Classification: 4 stars
Number of rooms: 883
Average Standard Room Price (USD): 170 to 330
Varadero is the most beautiful beach in the world, as many think. In arceló Arenas Blancas, a high approval-rating resort, travelers will find an outstanding option there, especially those planning family trips to Cuba. Besides its paradisiac location and good general comfort, Barceló Arenas Blancas offers additional privileges for travelers with children. Kids from 2 to 12 years play and eat for free, while boys and girls from 13 to 17 have a special discount. No single supplement applies for parents with two kids sharing the same standard room.
There are lots of things to do for the whole family in Barceló Arenas Blancas. From learning Spanish -for those kids who miss so much their school teachers… to room games and shaded playground and pool. Sports lovers have a real chance at this place since badminton, beach volleyball, basketball, soccer, chess, darts, and shuffleboard are included. Of course, water sports do not remain backward: kayak, pedal boating, sailing, snorkeling, polo, windsurf, and water volleyball are available too.
The outdoor scenario offers a whole Peninsula to discover for parents with or without the little ones. A babysitting service is offered to kids below 4 years by a reasonable charge. From the suggestive Varadero southern beaches to the ancient town, you can get closer to the real dwellers, fishers, and natural beauties of this special land.
Aguas Azules Hotel, for the best family trips to Cuba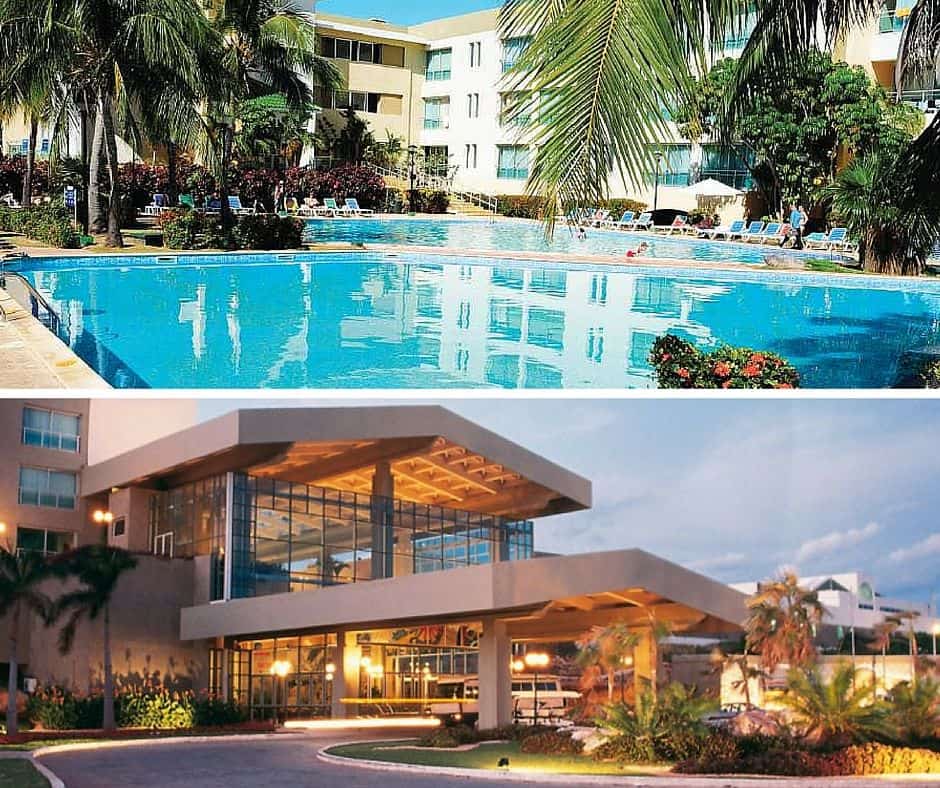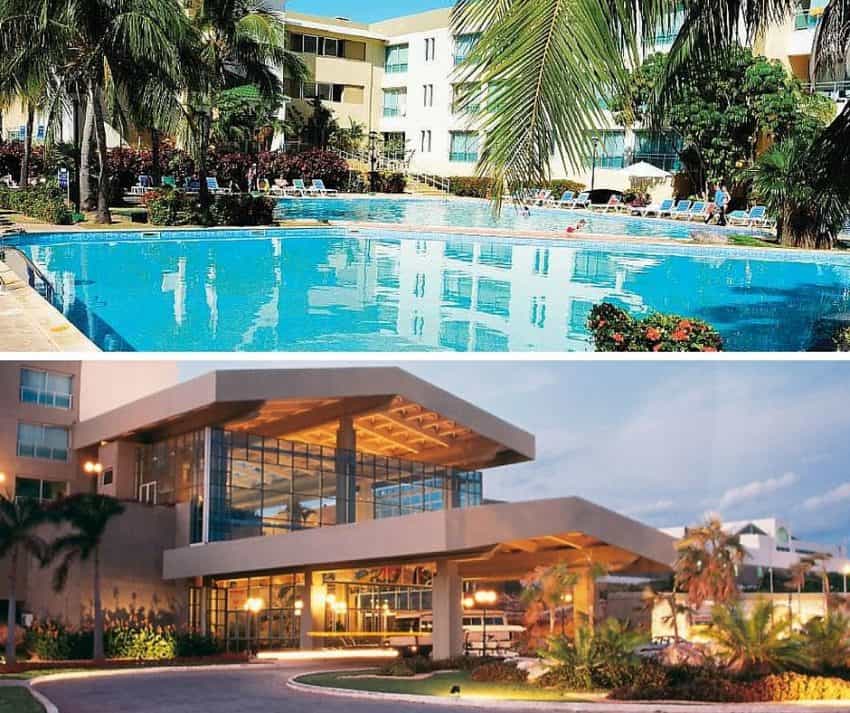 Address: Carretera Las Morlas, Km 14, Varadero
Classification: 3 stars
Number of rooms: 411
Average Standard Room Price (USD): 60 to 140
Aguas Azules Hotel is a beachfront resort offering beautiful bungalows and hotel rooms with an adequate level of services and amenities, including five restaurants, six bars, shops, spa, pool, fitness center, night club, and disco, among others. The beach is also well attended with chairs, towels, sun shelters, restrooms, and a bar, including security and lifeguard on duty. As many clients assure in their reviews, this is a favorable cost-benefit place, especially for family trips to Cuba.
The whole family, especially the kids, will love to open the door in the morning and find themselves surrounded by the coconut trees and dancing palms in front of a white-sandy beach. Parents would love to know that kids from 2 to 12 years can stay, play and eat for free. Teens from 13 to 17 years also get special pricing. For single parents sharing standard rooms with a couple of kids will be no single supplement.
Entertainment is permanent at Aguas Azules Hotel so much for children as parents. Sports under the sun are activities to share. Beach volleyball, tennis, darts, and ping-pong are to choose, even archery and rifle shooting. More relaxing doings like dancing lessons, yoga, chess, board games, and bingo are available.
Of course, you can rent some scooters or a sedan and take a family ride through the wavy surroundings. You'll find a gorgeous outskirt, with lots of things to see and shot from a colonial fortress castle to the Irenee Du Pond sumptuous residence over a cliff by the blue ocean, a notorious public restaurant today call Las Américas. You can go to Varadero town about a dozen kilometers to the west, a small but very lively settlement also bathed by blue sandy beaches.  By then, parents would have learned about the only golf course in the peninsula and probably love to try some pars without the children. Don't worry about seeing that Aguas Azules has a Kid Club from 4 to 12 years to remain very safely playing. There is no doubt that this resort is especially suitable for family trips to Cuba.
Hotel Colonial Cayo Coco, an Island in the Stream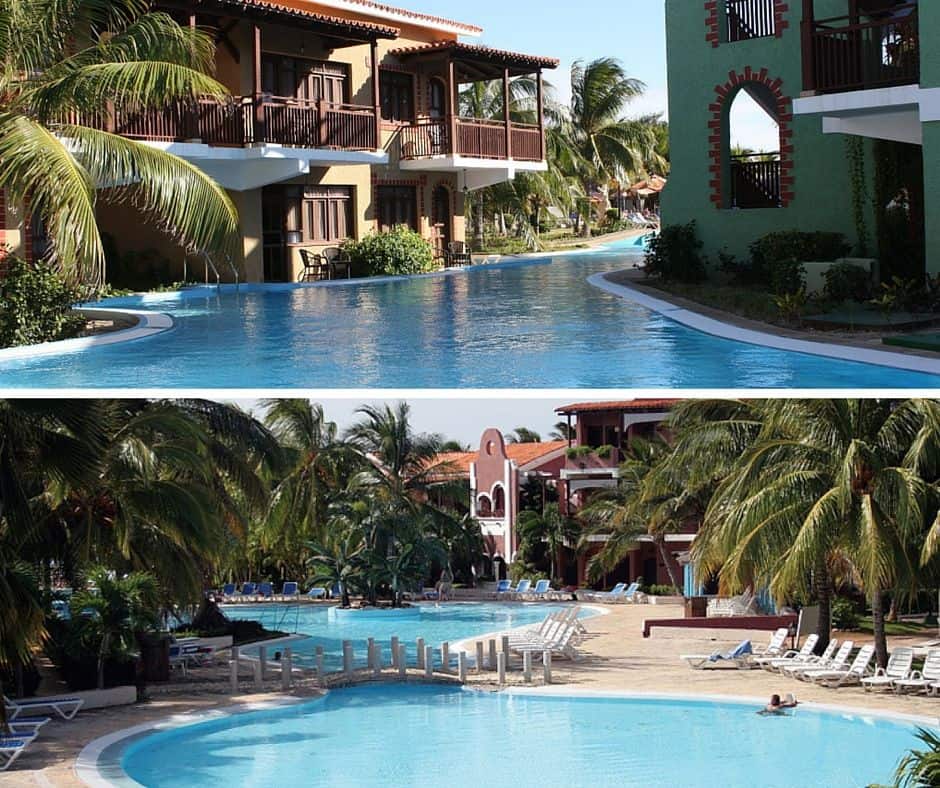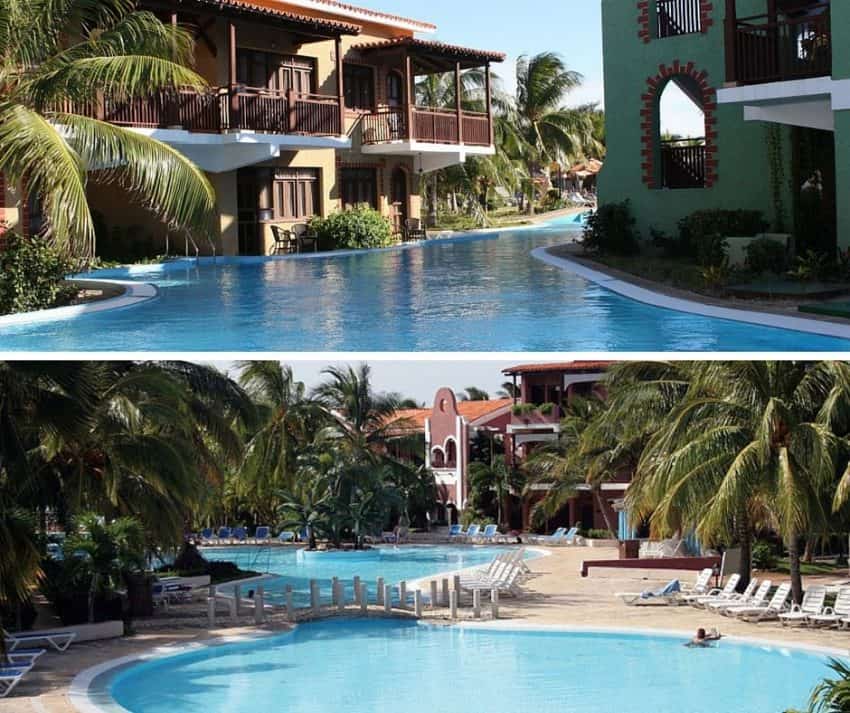 Address: Cayo Coco Island, Ciego de Ávila
Classification: 4 stars
Number of rooms: 458
Average Standard Room Price (USD): 120 to 200
Cayo Coco is a beautiful, huge sandy island located over the Cuban north-central littoral, known to be the inspirational setting for Ernst Hemingway´s classic Island In The Stream. Colonial Cayo Coco is an outstanding Spanish-style hotel offering four restaurants, six bars, two pools, a beauty salon, and Spa. Anyone planning family trips to Cuba must consider this convenient option so much for parents as for the kids. To start with, boys and girls from 2 to 12 years will stay, play and eat for free, while teens from 13 to 17 count on special rates. By the way, single parents with two children to share a standard room are free from the single supplement.
In Hotel Colonial Cayo Coco entertainments for the family seem to have no end.  While mom gets Cleopatra´s Bath with massage, steam bath, milk tube, and reflexology, daddy can go sporting with the kids. If you prefer the sea ones, you'll get windsurfing, water polo, pedal boats, kayak, sailing, water volleyball, and more. But if you are ready to spend some money, parasailing, scuba diving, and an unforgettable deep-sea fishing journey are also at hand. When the sun gets hot, many inside activities are available, like billiard, chess, board games, darts, and ping-pong.  Dancing lessons could be a good idea for the whole family to learn some Cuban popular booty-shakes moves.
To top it off, there is a wonderful world outside, throughout the Cayo Coco island. More than 12 magnificent resorts give shape to a beautiful tourism town full of life and activities all the time. Of course, Mother Nature permanently offers its changing beauties, from the turquoise to indigo ocean waters through El Baga, an old airport came about Natural Park where local vegetation and fauna now prevail.
Playa Pesquero Resort, a paradise into another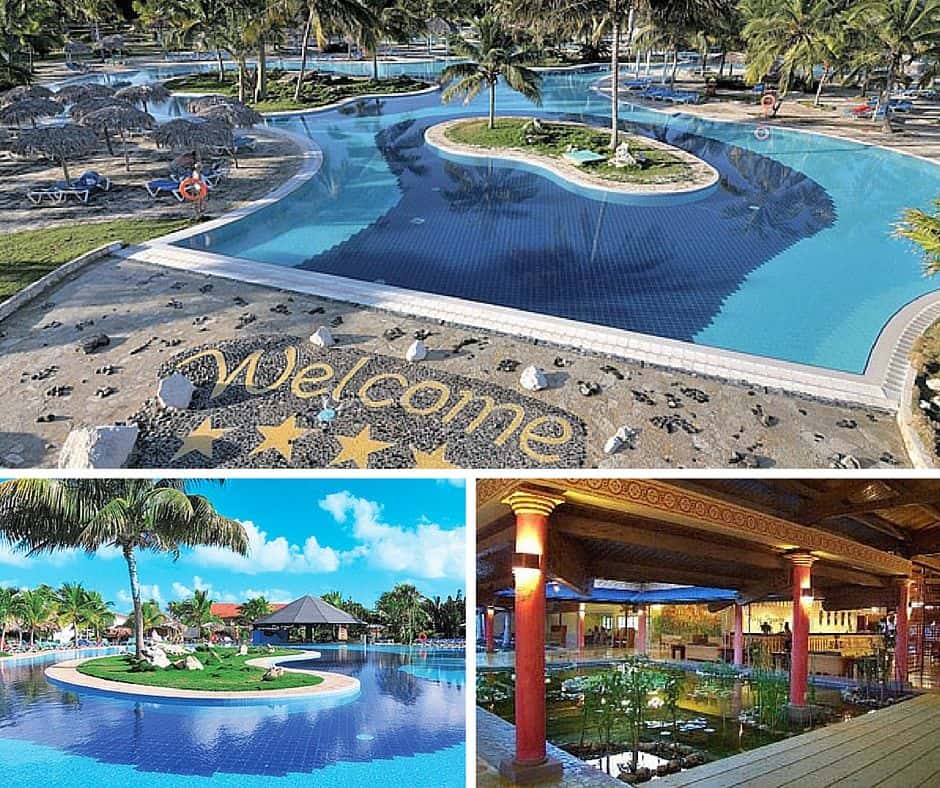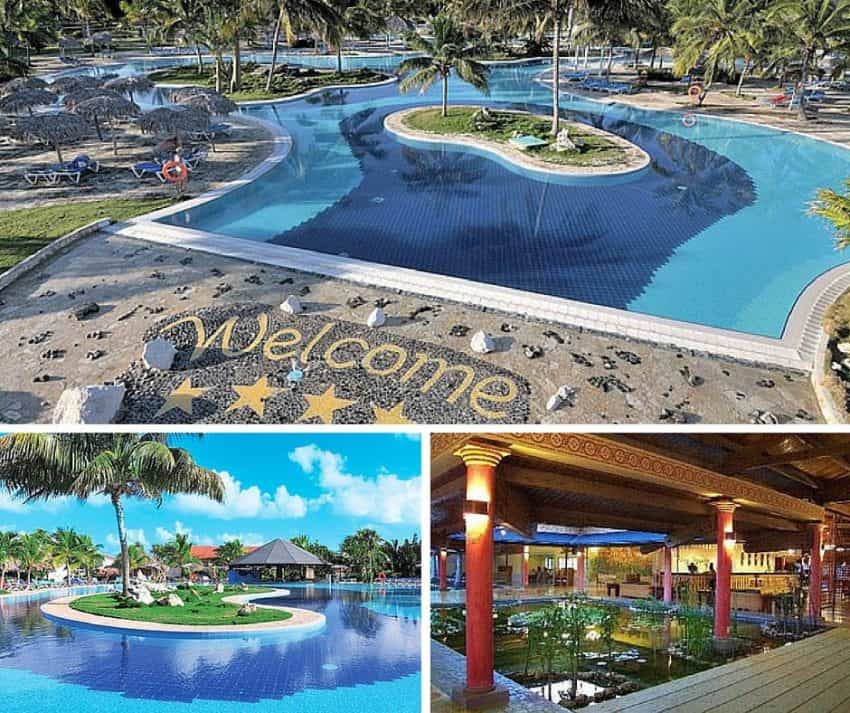 Address: Carretera a Guardalavaca, Rafael Freyre, Holguín
Classification: 5 stars
Number of rooms: 968
Average Standard Room Price (USD): 120 to 250
This amazing resort stands on a remote sandy harbor at the northeastern Cuban coast, ten miles from Guardalavaca Beach, Holguín. Its bungalow-style and the exuberant vegetation between the houses, including Asian gardens with goldfish, make it just great for honeymooners and romantic lovers and superb for family trips to Cuba. Some incentives for parents with children are the following: kids up to two years stay and eat for free between May and October if sharing a standard room with two adults. Also, first-child and youngsters from 3 to 12 years get special discounts under the same condition.
Searching hidden treasures in a coastland visited by the buccaneers many centuries ago would sound like a crazy thing to do, but… who knows. Anyway, natural landscapes around the hotel are beautiful and a perfect motive to set in motion. If you love sports and prefer to stay near you can choose from archery to beach volleyball, besides board games, basketball, soccer or badminton, sailing, kayaking, deep-sea fishing, water polo or scuba diving among many others. Need something more unruffled? Then get chess, billiard, darts, or even an organized excursion for bird-watching in the surroundings.
Parents can enjoy some romantic moments together by leaving their youngsters at the Kids Club from 9:30 a.m. to 5 p.m., where the children are sorted by ages into four categories: Baby Club, Mini Club, Club 13, and Club 17. Babysitting service is also provided at a reasonable charge.  Then the grown-ups could take a spa time, rent a car for the city or go buying local arts and crafts or perhaps, simply refreshing dips at the beach.
Different categories, prices, and places but the same good reviews at the family trips to Cuba niche, these four resorts are ready to welcome you via previous reservation. Remember, Cuba is a place where many lesser products can be in the lack sometimes. If you go to a beach hotel, do not forget to take a good repellent product and your favorite UVA/UVB sunscreen lotion too. Don't let the splendid sun surprise you in the wrong way… and don't think it would be much different if you go in the wintertime either.
If you live in the United States and lastly selected any resort for family trips to Cuba, go no matter where with enough cash to spend, since US credit cards don't do the trick down there yet, even after the recent relief on the financial embargo by the Obama Administration. By the way, change all your dollars to CUC as soon as you can (1 USD=0,87 CUC), or if you want to avoid the 13% penalty still effective against the American currency, take some other currency like Euro, Canadian Dollar, UK Pounds or even Mexican Peso.
Have you visited Cuba with your family before? What other resorts and activities do you think are more suitable for family trips to Cuba? Leave your comments below!
(TIP: Traveling to Cuba on your own, instead? First, ask yourself these 7 questions about backpacking Cuba)
Essential Travel Logistics For Cuba
Cuban Tourist Card – If your Cuban Tourist Card (a.k.a Cuban Tourist Visa) isn't bundled into your airline ticket or travel package, buy it only through EasyTouristCard.
Travel Health Insurance – Travel medical insurance is an entry requirement for Cuba, so you can't skip it. Travelers can get travel health insurance for Cuba via Insubuy. Travel protection benefits such as trip interruption and cancellation, baggage delay insurance, etc., are not required.
Essential Items to Pack – Bring the essential travel necessities that you may not be able to get in Cuba:
Read our complete packing list for Cuba.
Find Accommodations – Find hotels or casas particulares (private accommodations) on Skyscanner, which lists thousands of accommodations available in Cuba.
Book Your Flight – Book cheap flights to Cuba on Skyscanner, our favorite flight search engine to find deals on flights to Cuba.